This page contains affiliate links. This means that we may get a small commission for recommending products, if you choose to click on something and buy it. This does not cost you anything, but we wanted to be honest and let you know!
(Last Updated On: April 10, 2022)
Both the boat vinyl and leather seats become covered in dirt, debris, and mildew over time. This can completely ruin the appearance onboard the boat but with the correct boat cleaner, you can tackle all types of dirt with ease.
The best boat cleaner is the 303 Multi-Surface Cleaner, which safely brightens and rejuvenates vinyl, fabric, plastics, and other surfaces.
After cleaning your boat interior, it is important that you also protect it. The interior of your boat such as the seats or other vinyl components is subjected to constant exposure to UV rays, which are damaging, which makes protection essential.
Best Boat Cleaning Products
White boat interior is by far the most common and when its clean, it looks great but its quite the opposite once dirty. Unlike other colored interiors, white requires the most amount of maintenance because even the smallest amount of dirt will show up.
Maintaining your boat interior on a regular basis will make things far easier in the long run. If the boat is not in use, you should really be using a suitable boat cover to protect the interior from the outdoor elements.
Along with cleaning, you will also want the interior to feel nice and not too greasy, which can be fairly common with cheap products. Below is a list of the best boat cleaners that will effectively remove dirt and debris from your boat's upholstery.
303 (30570) Multi-Surface Boat Cleaner

303 produce a variety of cleaning products for a range of different surfaces. This multi-surface boat cleaner provides the perfect amount of cleaning power that is safe to use with no caustics or acids included in the formula.
Features of the 303 (30570) Multi-Surface boat cleaner include:
Water-based formula that is safe for all surfaces
PH neutral and fragrance-free
Zero residues once applied
Available in 32 or 128 oz bottles
Made in the USA
Easily and effectively removes tough dirt
303 is by far one of the most popular boat cleaners among those within the marine industry. It works great on the boat seats, fabrics, vinyl and so much more. Overall, it is the best boat cleaner that provides excellent cleaning power and value for money. For the best bang for your buck, we highly recommend opting for the large 128 oz bottle with an additional spray bottle.
Boat Bling Vinyl Sauce

Unlike the 303 boat cleaner that is used for a range of applications, the Boat Bling alternative is primarily used just for boat interior surfaces. The vinyl sauce formula is suitable for both vinyl and leather with the aim of removing dirt, mildew and protecting against UV.
Features of the Boat Bling Vinyl Sauce include:
Non-caustic and non-silicone cleaner
Wipe on and off application
Safe to also use on plastic or carpet
Help reduce mold and mildew buildup
Available in a 32 or 128 oz bottle
Boat Bling products are highly rated throughout the boating community with a whole range of products available. The Vinyl Sauce is by far the best boat vinyl cleaner that will effortlessly clean and protect your boat interior.
CarGuys Super Cleaner
Instead of having a different product for each item you need to be cleaned, especially in your car, have just one: CarGuys Super Cleaner. This multi-use cleaner will work on leather, vinyl, plastic, and rubber surfaces.
This product uses cleaning properties that penetrate the surface of the embedded dirt, oil, and grime. Then use a microfiber towel to wipe the mess away. 
The CarGuys Super Cleaner has these great features:
Works great on leather, vinyl, plastic, rubber and cloth, carpet, finished wood, trim, and metals
Use with a towel or brush
Uses no ammonia
Spray on bugs in the grill or bumper
Lifts grime at the molecular level
This super cleaner is water-based and is a no-rinse formula. The bottle has a new design that makes it fully adjustable and it has a comfortable ergonomic handle to make it easier to use. 
Use the CarGuys Super Cleaner on your floor mats, tires, trim, and much more. This product is mixed and bottled in the USA.
Strataglass Protective Boat Cleaner

The Strataglass is a boat cleaner that not only cleans but also protects and increases shine at the same time. The UV resistant formula may have an expensive price tag but the 3-in-1 formula will not disappoint.
Features of the Startaglass Boat Cleaner include:
Proven history on yachts
Extends the life of vinyl surfaces
Scratch-resistant coating
UV inhibitors included in the formula
Safe to use on a regular basis
Available in a 16 or 128 oz bottle
Overall, the Startaglass Boat Cleaner does come with an inflated price tag but it will not disappoint. The 3-in-1 formula is all you need to keep your vinyl boat interior in excellent condition and protected whilst in direct sunlight.
Star Brite Non-Skid Deck Cleaner
The Star Brite Non-Skid Deck Cleaner with PTEF is a very efficient all-surface cleaner. This cleaner has special chelating agents that lift the dirt and spills without the need for excessive scrubbing. 
This is formulated to clean fiberglass, vinyl, plastic, rubber, metal, and painted surfaces and also ideal for cleaning non-textured areas without removing the wax or polish. The cleanser comes with protective polymers that provide a barrier against future stains, making the surface clean up a breeze. 
Boat Cleaner Buying Guide
Replacing the vinyl of your boat upholstery and seats can be a fairly expensive repair. The lack of maintenance, direct sunlight and general wear and tear can destroy the boat interior over time but by using a simple boat cleaner, you can extend the lifespan fairly easily. There are various boat cleaning products on the market that are suited to the marine environment and we highly recommend the products mentioned above.
To help you make an informed buying decision, we have produced the below-buying cleaner to help improve your boat cleaning knowledge.
How To Clean Your Boat Seats
Boat seats can be the worst to clean due to the tiny areas where dirt or debris can collect. However, as you will be sitting on them for long periods of time, it's important that they are clean and free of mildew because these will transfer onto your clothes. In order to clean your boat seats, we recommend the following tips:
Use a vacuum or brush to remove loose debris or dirt.
Pick a suitable boat cleaner.
Spray the cleaner into the seats and allow them to settle.
Use a soft brush to rub the formula into the worst affected areas.
Wipe down with a slightly damp but clean cloth.
Remove wet residue with a dry cloth to finish.
Cleaning boat seats that are completely covered in dirt can be very rewarding. White is a desirable color for boat upholstery but they do become dirty very quickly, therefore regular usage of a boat seat cleaner is highly recommended. As you can see below, the seats were in a bad way before a cleaner was used.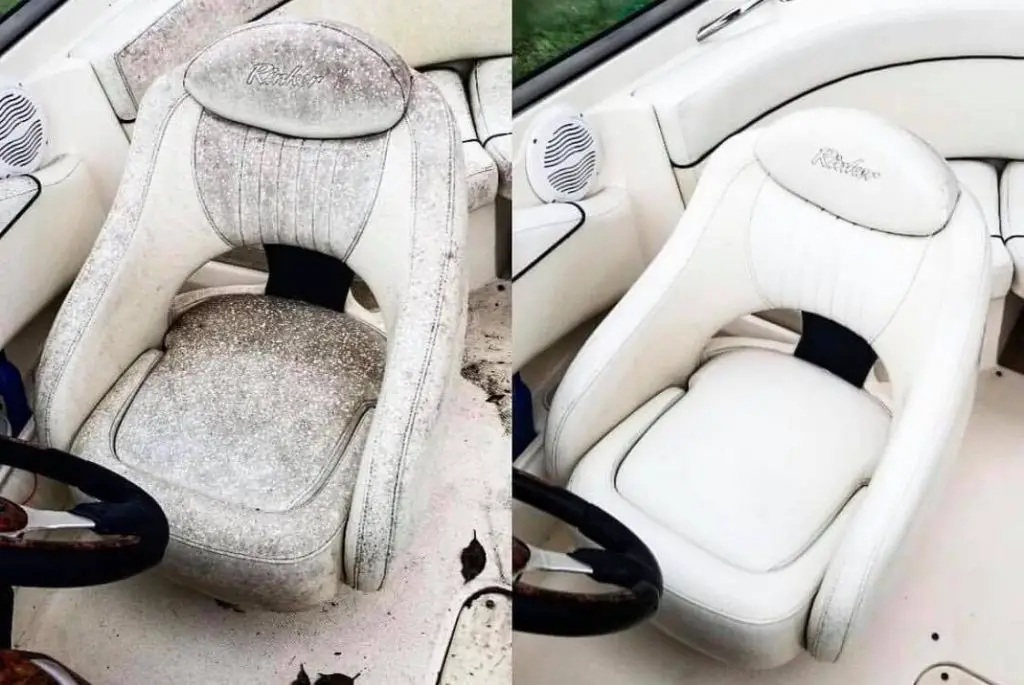 Cleaning Boat Vinyl
The boat vinyl that you see onboard most boats is designed to resist the buildup of mold and mildew. However, due to the tough marine environment, it can not always withstand the heavy buildup and overtime, they can become coated with dirt.
Wherever there is water, the buildup of moisture inside the boat is always going to produce mold and mildew on the vinyl. Luckily, there are many boat cleaning products available that target mold and mildew with ease. However, not all the cleaning products will be saved and it's important that you check the formula beforehand.
For example, some bleach-based products are known to completely ruin the stitching of the vinyl, which can cause the vinyl to come apart. The damaging effects of bleach and UV rays combined can cause even further issues with vinyl too. It can cause the threads that bind the vinyl materials such as seats or cushions to weaken, which can reduce the lifespan quite significantly.
If you are choosing alternative boat cleaner products, we strongly recommend checking the formula.
Preventive Maintenance
In order to avoid hours of cleaning the boat interior, taking time to prevent dirt from building up in the first place will help. Some of the worst molds come when boat owners put their boats away for storage during the winter. Before doing this, it's important that the boat is left to "air out" and completely dry inside. Putting a cover straight on the boat does not allow the moisture to escape thus causing mold.
It is near enough impossible to avoid dirt and debris forming onboard your boat, which is fine. However, leaving the dirt on vinyl or other upholstery whilst in direct sunlight can cause it to harden. This will result in a lot more scrubbing and boat cleaner being used. We highly recommend having a spray bottle on board at all times so that you can remove the dirt quickly.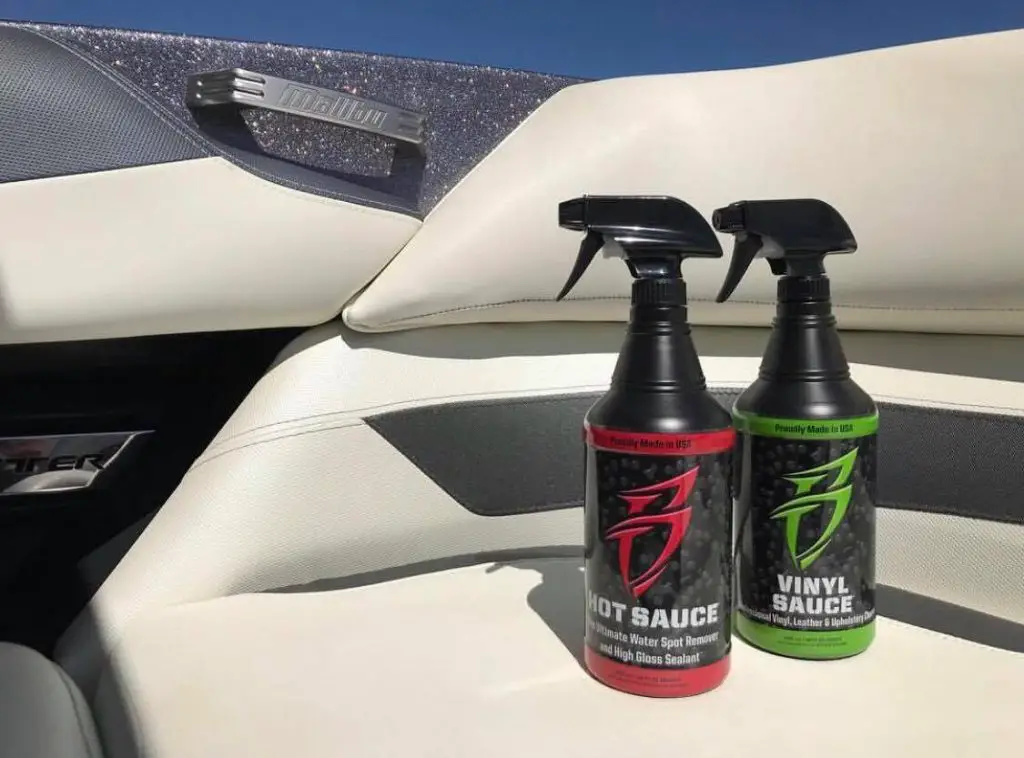 Bottle Sizes
Boat cleaner is not the cheapest of cleaning products and the small 16 oz bottles that most come in will not last long. We highly recommend investing in a 128 oz bottle and a spray bottle at the same time. This will allow you to keep refilling the spray bottle and save a considerable amount of money over time.
Conclusion
Avoiding dirt and debris can be hard and it is made even harder with white boat interior. Investing in a quality boat cleaner can make a world of difference when it comes time to removing mold, mildew and other tough stains.
All of our recommendations are suitable to be used onboard a boat and a range of other surfaces. If you are yet to use a true boat cleaner, then it will completely transform the ease of cleaning vinyl and other upholstery.