An inflatable boat for use in the ocean, fishing or cruising can be vary in shape, style or materials used within the construction. Some people may for the kayak but for the ocean or multiple passengers, a top rated inflatable boat is more appropriate.
The best inflatable boat is the Newport Vessel Dinghy , which features a 1,100D UV coated PVC construction and aluminum rigid floor slats for a solid ride.
The budget you may have for an inflatable boat can be small and it may be better going for a fully inflatable boat than a tender. Regardless, buying online rather than straight from the dealership can save you much more money.
Best Inflatable Fishing Boats
The materials used in many modern inflatable boats have improved greatly in terms of durability. Inflatable boats for the ocean are great for paddling along without the need of an outboard motor or Olympic rowers to get going.
One of the top reasons for owning an inflatable dinghy boat is that they can deflate in size. This means they can be stored in a small location without getting in the way. If you own a fiberglass boat, they have to be stored safely, which costs money over time.
Below is a list of the best inflatable boats for the ocean that can also be used for fishing or cruising. Minimal maintenance is required for inflatable boats and they can be bought for a very reasonable price nowadays.
Newport Vessels Dana Inflatable Dinghy
Newport Vessels are known for their impressive ribs and tenders that are used for many large boats/yachts. This Newport Vessels boat in particular is a rigid inflatable boat, which you could add a small outboard to and it offers excellent value for money.
With this inflatable boat will be able to take on at least 3 passengers with a maximum load capacity of 1,067 pounds. It is able to stay fully afloat upon the water thanks to the 18 inch tube diameter.
This Newport Vessel is a premium rigid inflatable boat and would work great as transportation to and from a large boat/yacht or to be used as fishing boat. Included with the Newport Vessels inflatable boat are:
Aluminum Framed Marine Wood Flooring Set
Aluminum bench seat
2 Aluminum oars
Carrying & storage bag
Foot pump
Pre packed repair kit
One way drain plug
Towing D-rings
2 Mounted carrying handles
Oar locks and oar holders
The inflatable tender has a triple layered (0.9mm) 1,100 denier polyester that is reinforced with an anti corrosive PVC. It has also been treated with a UV resistant coating to protect it against the sun when left for long periods.
For those who want a solid floor, then this Newport Vessel Dana Model has a 24mm thick aluminum framed plywood floor. In terms of flooring for inflatable boats, it does not get much better than this for a small inflatable boat.
Overall, it is the best inflatable boat for the ocean with a solid floor and a tough PVC construction. Unlike many of the other rigid inflatable boats, the Newport Vessels example is less than $1,000.
Check it Out
BRIS PVC Rigid Inflatable Boat

The 12.5 Foot inflatable boat by BRIS is made from a heavy duty 2,000 denier PVC material and has a 12.5 mm aluminum floor. The transom uses a marine plywood, which is suitable for a small outboard motor of up to 25 HP or alternatively a trolling motor. Other features of the BRIS inflatable boat include:
Double layers of fabric at the bottom of the tubes
Aluminum side joiners with rubber ends
Three individual chambers
One way drain valve with plug
Deep V-Keel
Built-in oarlock
9 tie down stainless steel D-rings
Two stainless steel D-rings on the bow and rear tubes
In terms of the maximum capacity of this inflatable boat, its recommended that you don't exceed 1,675 LBS, which should be fine for up to 6 people. The boat itself weighs 180 LBS and is built to be heavy duty compared with the Newport Vessel alternative.
Overall, it is the best rigid inflatable boat that can easily fit 6 people on board and handle a powerful outboard motor. It is more expensive than the Newport Vessel alternative but you get a tougher PVC construction and a higher weight capacity.
Check it Out
Inflatable Sport Boats Killer Whale

The 10.8 foot Killer Whale model by Inflatable Sport Boats has been designed for additional rear buoyancy, which means you are able to begin planning much easier. This also means you can install a large outboard motor to the transom, which the brand recommend a 15 HP motor.
It comes with a 25 mm aluminum floor that has been designed to slide together with ease. They claim that you are able to put together this inflatable boat in just 10 minutes, however, from experience you can double this time!
Unlike many cheap alternatives, the seams have been heat welded for an extended life span. The PVC is 0.9 mm in thickness and uses a 1,100 denier reinforced PVC material that is resistant to UV, oil and punctures.
Overall, it is a great all round rigid inflatable boat that comes with everything that you need to cruise around on the water. It also comes with a 3 year manufacturer limited warranty for peace of mind.
Check it Out
Intex Excursion 5 Inflatable Boat
The Intex Excursion is a 5 person inflatable boat with an excellent cockpit layout and is one of the most popular in the US. The weight capacity of this inflatable boat is 1,300 pounds, which is highly impressive considering it does not have an aluminum floor.
The stability at this weight is made possible through 3 air chambers including an auxiliary air chamber in the hull for the extra buoyancy.
Many people avoid inflatable boats as they don't like the feeling of rigidity on the floor of the boat. However, the Intex Excursion has a Inflatable I-Beam floor for comfort and rigidity that has 2 welded oar locks on each side.
Adequate room for at least 5 people on board makes this a one of the best inflatable boat to buy for the money. The Intex Excursion 5 has been approved by the US Coast Guard guidelines, which gives you peace of mind that it is a genuine and safe boat.
Check it Out
Bestaway HydroForce Voyager 1000 Inflatable Boat

The HyrdoForce Voyager 1000 is a popular choice for many people mainly due to the high quality materials used in the construction. The main material is the extra strength, 3-ply reinforced vinyl PVC which acts as a great barrier if you accidentally hit rocks or other obstacles on your travels as well as being resistant to UV problems.
For people looking for a fishing inflatable boat, the HydroForce Voyager 1000 has integrated fishing rod holders. Baring in mind that this is a cheap inflatable boat, that is great for those looking for the best inflatable boat for fishing.
The Voyager 1000 also has integrated removable cushions seats to provide extra comfort and stability on the boat. The benefit of these removable seats is that it enables you to create more room for storage of personal items.
You should be able to hold 2 adults and a child as the maximum weight capacity is 594 pounds of this boat. You could possibly even add a very small outboard motor. The size of the boat stands at 115 x 50 x 18 inches, with a gross weight of just 33 pounds, which is very lightweight for pulling it up of the beach and into your vehicle.
Check it Out
Intex Explorer 200 Small Inflatable Boat
If you are looking for a small and cheap inflatable boat so that you can cruise in around the beach or in a pool, the Intex Explorer 200 is one you should check out. It is suitable to squeeze in two people (although 2 adult may be tight) and there are 2 air chambers for safety. In terms of the weight capacity, it is only 210 LBS but for an inflatable boat of this size, it is as expected.
The Intex Explorer 200 comes with 2 oars, a mini air pump and a repair patch kit for those unavoidable puncture repairs. In terms of the construction, it is 73 x 16 x 37 inches in size and had a welded oar lock for rowing with ease.
Overall, it is the best cheap inflatable boat that is ideal for calm waters. Clearly you are not going to travel around the world on this boat and its simply a great inflatable for fun and enjoyment.
Check it Out
Inflatable Boat Buying Guide
Choosing the best inflatable boat can be a tricky question because it all comes down to the usage. There is not one "best" example as there are many that are better at certain things and there is the issue with how much money you are willing to spend.
For example, some people require an inflatable boat for fishing whereas some simply want something to jump on and cruise around on the sea. Some inflatable boats come with an aluminum floor whereas others are just inflatable beams. Budget also plays a big part because if you are looking for something to use on a regular basis, you are going to want to choose a rigid inflatable boat.
To those that are new to the world of inflatable boats, we have produced a detailed buying guide to help with your purchasing decision.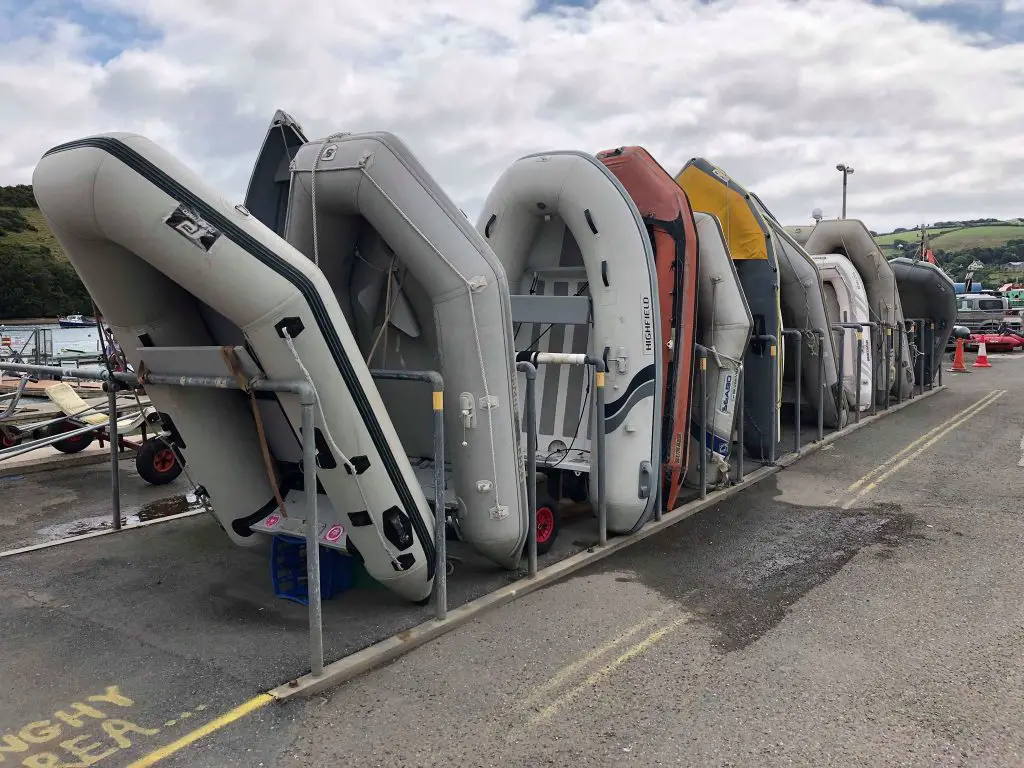 Inflatable Boats For Fishing
Many people that want to begin fishing on the ocean, river or lake will be firstly looking to buy a fishing inflatable boat. Luckily, there are many choices with some designed primarily for fishers with features such as rod holders and much more.
When fishing, you are more than likely going to bring a range of equipment such as tackle boxes, fishing rods, bait and much more. This means you are going to need enough room on board to store it all on, so the Intex Explorer 200 is not ideal.
However, the rest of the inflatable boats are ideal for fishing and with the rigid inflatable boats, you can even add an outboard motor or trolling motor to make fishing more pleasurable.
Adding an Outboard or Trolling Motor
Deciding on the type of usage you intend on doing, you may want to add an outboard motor on the inflatable boat. This is fairly standard for RIB's but Intex also offer an inflatable transom mount, which allows you to add a small outboard motor onto the back on the boat. Of course, this will be a small motor but nevertheless, it better than rowing everywhere.
Before purchasing an outboard motor, you should read the manufacturers max horsepower rating. Choosing an outboard motor that is too large will make getting on the plane much harder and you are better off going for a smaller motor.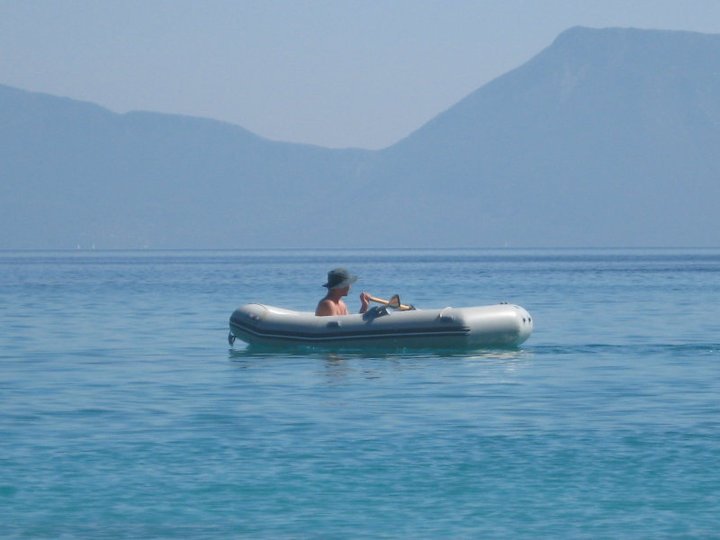 Weight Capacity
The maximum weight capacity that an inflatable boat can hold is very much dependent upon the type of construction. A larger PVC boat with wider tube diameters will be able to hold much more weight and therefore sit more passengers on board.
When it comes down to sitting passengers on your boat, you will want to strategically arrange them so that you can get up on the plane quickly. Even if you are below the maximum weight, if you are all sitting at the back of the boat, you will struggle to gain speed on the water.
PVC vs Hypalon
PVC is most common material used in the construction of inflatable boats due to the lightness and affordability. On top of this, it can be easily folded, which is great for those that roll up the boat for storage. The strength has also improved over the years too with threads woven into the material and an increase in denier ratings.
Hypalon on the other hand is the material more commonly found on heavy duty RIB's. It is not one that can be rolled up and will need a good boat cover for outdoor storage. Compared with PVC, it is much heavier and more expensive.
Within this article, all the inflatable boats use various thickness of PVC material rather than hypalon.
Air Deck vs Rigid Aluminum Slats
Within this article, we have recommend three inflatable boats of each category of flooring. Many people prefer the comfort of a high pressured air deck and they are often much cheaper. However, they are only suited to low speed and low weight capacity boating.
When it comes to rigid inflatable boats (RIB for short), they provide less flex and are much better for high speed operation. For rough seas, RIB's are a far better alternative as you feel safer on a sturdy aluminum floor compared to an air deck.
Unlike a fiberglass boat, RIB's are portable as the floor splits into several slats and installation can take less than 30 minutes. Plus, they are far lighter too, which means with a second person you are able to lift it on top of your car for movement around the boat park as per below: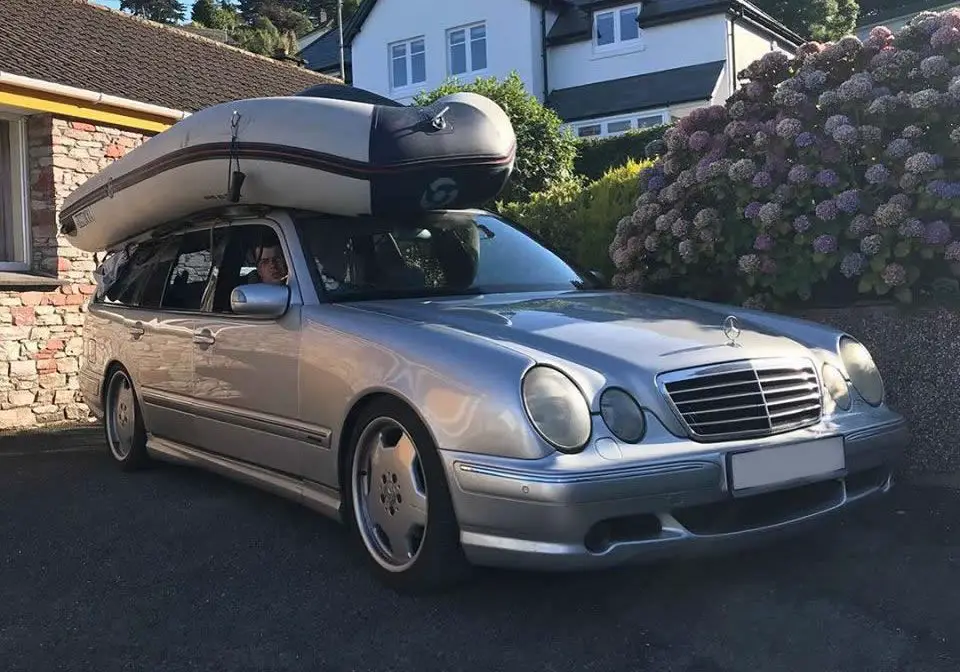 Additional Accessories
As mentioned earlier, many inflatable boats come with special features such as fishing rod holders, gear bags, transom bracket mounts, seats, covers, oars, instructions, straps and much more. Depending on how you intend to use the boat will give you an idea of what you should be looking for.
Not all the inflatable boats will come with an air pump and this is something that will be required to get it up and running.
If its not included, you can purchase a more powerful air pump for inflatables that can blow them up via an electric pump or manually.
Conclusion
Inflatable boats provide an efficient way of travelling on the water but its not the only inflatable form of transport. For example, there are inflatable kayaks that are great for white water rafting and also inflatable pontoon boats.
Within this article, we have only focused on small RIB's and cheap inflatable boats, which can be used for a range of activities.