An inflatable boat for use in the ocean, fishing or cruising can be vary in shape, style or materials used within the construction. Some people may for the kayak but for the ocean or multiple passengers, a top rated inflatable boat is more appropriate.
The best inflatable boat for oceans is the Newport Vessel Dana Dinghy with the premium German materials and performance specification for tackling any waters.
The budget you may have for an inflatable boat can be small and it may be better going for a fully inflatable boat than a tender. Regardless, buying online rather than straight from the dealership can save you much more money.
Best Inflatable Dinghies For The Ocean
The materials used in many modern inflatable boats have improved greatly in terms of durability. Inflatable boats for the ocean are great for paddling along without the need of an outboard motor or Olympic rowers to get going.
One of the top reasons for owning an inflatable dinghy boat is that they can deflate in size. This means they can be stored in a small location without getting in the way. If you own a fiberglass boat, they have to be stored safely, which costs money over time.
Below is a list of the best inflatable boats for the ocean that can also be used for fishing or cruising. Minimal maintenance is required for inflatable boats and they can be bought for a very reasonable price nowadays.
HydroForce Voyager 1000 Inflatable Boat

The HyrdoForce Voyager 1000 is a popular choice for many people mainly due to the high quality materials used. The main material is the extra strength, 3-ply reinforced vinyl PVC which acts as a great barrier if you accidentally hit rocks or other obstacles on your travels as well as being resistant to UV problems.
If you are looking for a boat that is ideal for fishing, the HydroForce Voyager 1000 has integrated fishing rod holders. Baring in mind that this is a cheap inflatable boat, that is great for those looking for the best inflatable boat for fishing.
The Voyager 1000 has integrated removable cushions seats to provide extra comfort and stability on the boat. I really like the fact that they are removable as this enables more room for storage of personal items.
Using this boat, you should be able to hold 2 adults and a child as the maximum weight capacity is 594 pounds. You could possibly even add a very small outboard motor but personally I don't see the point. The size of the boat stands at 115 x 50 x 18 inches, with a gross weight of just 33 pounds that is very lightweight for pulling it up of the beach and into your vehicle.
Check it Out
Intex Excursion 5 Inflatable Boat
The Intex Excursion is a 5 person inflatable boat with an excellent cockpit layout. The maximum weight capacity that the Intex inflatable boat can withstand is 1,300 pounds, which is highly impressive.
The stability at this weight is made possible through 3 air chambers including an auxiliary air chamber in the hull for the extra buoyancy.
Many people avoid inflatable boats as they don't like the feeling of rigidity on the floor of the boat. However, the Intex Excursion has a Inflatable I-Beam floor for comfort and rigidity that has 2 welded oar locks on each side.
Adequate room for at least 5 people on board makes this a one of the best large inflatable boat to buy for the money. The Intex Excursion 5 has been approved by the US Coast Guard guidelines, which gives you peace of mind that it is a genuine and safe boat.
Check it Out
Newport Vessels Dana Inflatable Tender Dinghy
Newport Vessels are known for their impressive ribs and tenders that are used for many large boats/yachts. This inflatable boat in particular is not fully a rib but an inflatable boat, which you could add a small outboard to. I would suggest a maximum of 10 horsepower short shaft outboard, otherwise it will never get up on the plane.
This inflatable boat will be able to take on at least 3 passengers with a maximum load capacity of 1067 pounds. It is able to stay fully afloat upon the water thanks to the 18 inch tube diameter.
This Newport Vessel is a premium inflatable boat and more of a tender to a more expensive boat. However, for the price you pay you also get the following:
Aluminum Framed Marine Wood Flooring Set
Aluminum bench seat
2 Aluminum oars
Carrying & storage bag
Foot pump
Pre packed repair kit
One way drain plug
Towing D-rings
2 Mounted carrying handles
Oar locks and oar holders
The inflatable tender has a triple layered (0.9mm) 1,100 denier polyester reinforced anti corrosive PVC that has UV resistant properties. This is important for when leaving the boat outside for long periods in the sun but also when tied up.
I often see boats tied up at the pontoon that get hit it into by other boats quite regularly. The thick PVC protects your boat from potential punctures that can occur.
For those who want a solid floor, then this Newport Vessel Dana Model has a 24mm thick aluminum framed plywood floor. In terms of flooring for inflatable boats, it does not get much better than this.
There are many more expensive tenders that you can buy, but this is the best buy inflatable boat. You can use this boat for fishing trips to attaching an outboard and going for a long boat drive. However, in my opinion, this is the best inflatable boat for the ocean.
Check it Out
Classic Accessories Colorado Pontoon Boat
If you are looking for the best alternative to an inflatable boat, an inflatable pontoon boat is something to think about. This Classic Accessories Colorado is the best inflatable pontoon boat on the market today and even has an outboard motor mounting at the rear.
This is a heavy duty boat which is perfect for shallow waters or rivers/lakes with obstacles such as rocks and wood. This is due to heavy duty steel tube frames and pontoons made from abrasion resistant PVC.
In terms of comfort, this inflatable pontoon boat has been designed specifically for a single passenger. For this passenger there are adjustable seat and footrests, three different oar-lock positions and a padded fold down plastic chair to sit on.
The design of an inflatable pontoon boat means that there is no solid floor. For storage, this boat has multiple storage locations from the rear storage metal container, 10 mesh pockets and 12 zipped waterproof pockets.
If you are worried about stability, inflatable pontoons offer great stability thanks to a wide stance design and centered sitting position. The size of this boat is 108 x 56 x 30 inches and has a maximum capacity of 400 pounds.
This really is the best inflatable pontoon boat money can buy and is made from high quality material. Only downside is that is slightly heavy to carry around at 70 pounds but the benefits outweigh the negatives by a country mile.
Check it Out
Saturn Kaboat SK385Xl Large Inflatable Boat

The cheapest way to get the most amount of people across a river is by using the largest inflatable boat you can find. The 13 foot Saturn inflatable boat is the best buy for moving people or personal items across waters.
This is a heavy duty inflatable boat that will take rough water and obstacles all day long. It has an extra thick PVC bottom of 1.5mm, which is double of similar large inflatable boats. The bottom of each tube is also overlapped with extra PVC for added protection.
The deck of the Kaboat SK385Xl is also thick with a 6 inch inflatable air deck floor. It also has 4 separate air chambers for additional safety of all passengers. The passengers can either sit on the side or the aluminium seating in the middle.
You have the option to add your own outboard motor to the rear of this inflatable boat. The maximum horsepower is 10 HP but the majority of people will say that either 4 or 5 HP is ideal for this boat.
The Saturn 13 ft Kaboat SK385Xl is a go anywhere type of boat that can handle any conditions that you through at it. The maximum weight capacity is 900 pounds, which is very good considering this large inflatable boat only weighs 80 pounds.
Check it Out
Inflatable Boat Buying Guide
Depending on how close you are to your decision to buy an inflatable boat, you are probably loaded with questions. Primary among these is "Which inflatable boat is the best?" The trouble is that there is no real "best" answer. Instead, it all depends on you and your needs. Ideally, the first thing you should do is decide on a few important guidelines:
Consider the materials that the best inflatable boats made of
Learn how you can best determine which brands of inflatable boats are best and which to stay away from
Learn what different types of inflatable boats are available
Learn what you should you look for if you decide to buy a used inflatable boat
Learn about the accessories that usually come with an inflatable boat. Also, learn about which accessories are nice and which can you live without
Think about how you would customize the inflatable boat you buy
Consider how you would haul an inflatable boat
Benefits of Owning an Inflatable Boat or Dinghy
Plainly stated, there are many benefits to owning an inflatable boat. This includes, most notably, their safety, fun, portability, durability, economy of operation, and being the four-wheel-drive of the water.
Unfortunately, when most people first start considering an inflatable boat, the first reason they do so is because they can't afford a "real" boat.
This is very shortsighted, especially since there are so many good reasons to pick an inflatable boat over other types.
Most people who have much experience with a boat know that, generally speaking, the bigger the boat you buy, the better since a bigger boat will allow you to carry more cargo, people, etc., and to buy a bigger inflatable boat is far less expensive than to buy a hard-hulled boat.
If all of this causes you to go down and buy an inflatable boat, don't. Instead, buying an inflatable boat without doing the necessary homework beforehand is foolhardy and a great way to get into trouble. Making matters worse, there is a lot of room for you to get into trouble when you buy an inflatable boat without doing your proper homework.
Here are a few reasons why:
Not all inflatable boats are created equal. Inflatable boats are just about like anything else. Some are made better than others. Further, just because something is priced high doesn't mean that comes with a higher quality. This is an assumption that gets a lot of people into trouble. You want an inflatable boat that is well made and will do what you want it to do. You also want an inflatable boat that is durable and will hold up to whatever you dish out to it.
Learn what you need to look out for and what to avoid. Take a lesson from many inflatable boat owners who bought boats that weren't right for them, and from those who did.
You want to have many safe and enjoyable experiences with your boat.
What to Watch Out For Before Buying an Inflatable Boat?
The first tendency for most people who decide to buy an inflatable boat is to visit a dealer or just check the website of a dealer to see what they have. This can give you a lot of information, but more often than not to buy from this stage is a mistake since what you will buy is the brand that they are selling. Obviously, they will paint a rosy picture of whatever they are selling and nothing more. This is obviously very shortsighted. Obviously, you should take your time to determine which brand and model is best for your uses and needs.
Another temptation for many prospective inflatable boat owners is to see a boat at the beach or other waterway and to ask the owner, "Well, so how do you like what you bought?" Frankly, how many owners of anything will admit to having made a bad purchasing decision? Also, just because a buying decision was good for one person, doesn't make it a good one for everyone. You need to pick an inflatable boat for the use you expect to get out of it.
Best Inflatable Boats for Fishing
The number one reason that inflatable boat owners cite for making their purchase is fishing. It doesn't matter whether it's ocean fishing, lake fishing, river fishing, salmon fishing, shrimping or crabbing. Most people who own an inflatable boat do so to fish from them. But that's not the only reason.
May people also own an inflatable boat for swimming and/or getting to a favorite waterside camping or picnic spot. Imagine having your own secret camping or picnic spot that you have discovered using your inflatable boat. Better yet, imagine being able to visit again and again that special spot with that same inflatable boat. Those are the kinds of things that memories are made of.
Imagine being able to take family members or friends to other locations around the lake to enjoy breakfast or a snack wherever along the waterway that you choose to enjoy. And if that's not enough for your enjoyment, try loading your inflatable boat aboard your trailer or on top of your vehicle to take to another of your waterways to enjoy whatever historical or cultural attractions await you there.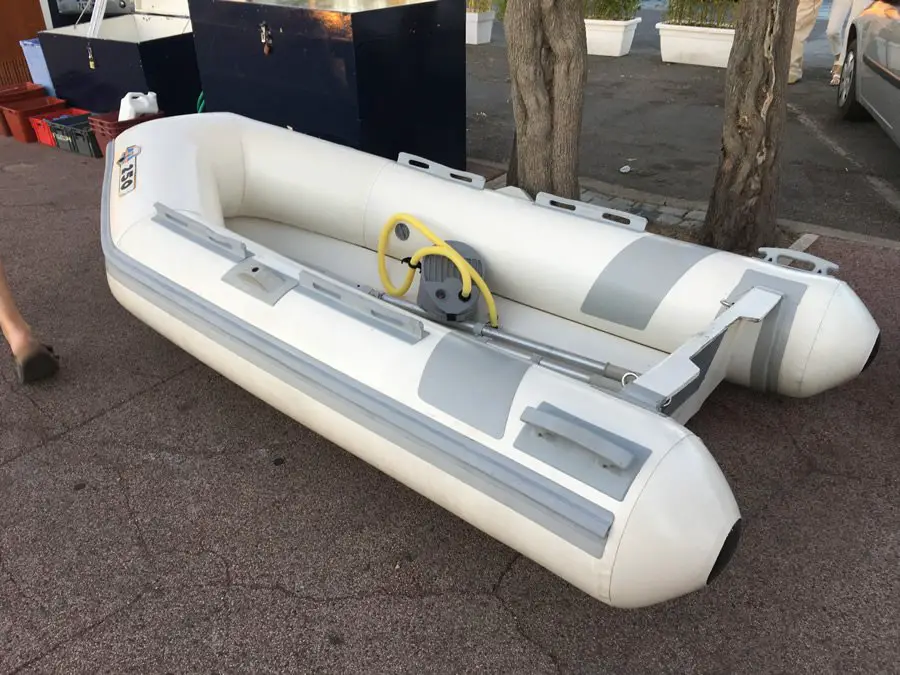 What Inflatable Boats Are Best?
Many people make the mistake of assuming that one inflatable boat is much like any other. As long as a boat is inflatable, they assume that they are part of a whole big group. They are not. In fact, there are many very different types of inflatable boat, each with their own pluses and minuses.
Complicating matters even further is the fact that with so many foreign makers coming into the fold that do not necessarily follow industry trends, it is difficult if not impossible to keep misinformation at bay. This is a short introduction:
Rigid Inflatable Boats
Rigid inflatable boats, usually nicknamed RIBs, are usually characterized by an inflatable collar or tube that is attached to a hull. RIBs are usually made of plastic, fiberglass, or aluminum.
Sport Boats or Dinghies
These boats are usually very small, but they are generally classed according to their size. Much of how they are classed also depends on how well they are made and how sturdy their construction is. Makers and sportsmen also disagree on what are sport boats and what are dinghies. They are also often further classified as heavy duty and light duty. Even from that point, there is a lot of disagreement.
Many people like inflatable sport boats for the same reason that they like SUVs, they can be loaded with lots of camping and other adventure gear and head for a far-off location for a weekend or a week of fun. And not only that, but you can outfit them for other fun as well. Inflatable sport boats are also great for use in towing a skier or an inner tube.
Despite their durability, an inflatable sport boat can be deflated and carried either inside, on top of, or behind a vehicle.
Inflatable Rafts
Another category of inflatable boat is the raft, or what some people call a soft tail since this type of vessel has no transom. Just as is the case with other inflatable boats, there is considerable confusion and misunderstanding among enthusiasts over what makes a raft a raft.
Many people refer to those cheap inflatable toys you see at the beach or in the pool as a raft. Likewise, others call those expensive highly durable vessels you see on the whitewaters rafts.
Once again, manufacturers as well as foreign makers have done little to alleviate the confusion, calling many styles rafts. It's up to you and me to sort out the confusion.
As a general guideline, most people refer to rafts as those small inflatable boats that you can deflate, fold up, and pack just about anywhere very easily. And as much fun as they are to use, the only real drawback is the lack of a keel, which will keep you headed in one direction for a considerable amount of time. Don't try to do this with a raft since if you try you will probably end up with arms like Arnold Schwarzenegger if you try.
Besides those rafts that could easily be called toys, higher priced rafts are great for whitewater rafting and fishing. It is also important to note that many manufacturers make their products with 10-year warranties.
Inflatable Pontoon Boats
Inflatable pontoon boats, also known as catarafts, are another variety of inflatable boats that can be confused with other types.
The easiest way to tell an inflatable pontoon boat from others is where you sit. Simply stated, if you are sitting on a platform that is suspended over two large floating tubes, you are probably on an inflatable pontoon boat, with "on" being the operative word. With an inflatable pontoon boat, you are not seated "in" a boat. You are sitting "on" the boat. So much for semantics.
Inflatable pontoon boats are great for just enjoying time on the water, especially if you are on a quiet lake or stream. Many makers create them just for fishing and partying.
A great feature of inflatable pontoon boats is the ease with which you can disassemble them, disconnect the pontoons from the platform, and shove them into the back of a car. They are very easy to store.
That's What They're All About
In a nutshell, that is what inflatable boats are all about. It's probably best at this point to avoid lots of confusing discussion over what makes an inflatable boat whatever type it is. Suffice it to say that whatever your idea of a pastime is, there will be an inflatable boat that is perfect for you. And even if you don't have a particular use in mind, but you want more of a general vessel, there is an inflatable boat that is made for that too. Your wish is the market's command.
Perhaps the best thing about inflatable boats is the fact that there are so many different types available that something is available for everyone. Do you want an inflatable boat that is lightweight, easy to assemble and use? Got it. Can't afford something very expensive? Got that too. Do you want something that is useful for fishing, rafting down a river, or just kicking back on a hot summer day? That's not only available but can also be gotten for a price you can afford. When it comes to inflatable boats, there is literally something for everyone. Don't let costs or requirements ever be a reason why you don't by an inflatable boat. That's because whatever your reason is, it can be outmatched in droves by the numerous makers who have developed products that are well made and designed to make everyone happy.
The key to picking the inflatable boat you want is to simply visit a local supplier with your list of requirements and continue shopping until you find a vessel that fits your needs and wants. You can be guaranteed that there is something, somewhere that will fit you.