Kayaking is made more fun when you are able to try out new locations. Owning a kayak trailer enables you to take multiple kayaks all at once to any location.
The best kayak trailer is the Malone Auto Racks MicroSport, which can transport 4 kayaks at once with a 350 LBS weight capacity and 5 year warranty.
Many people may argue that you can strap your kayak onto the roof of your vehicle.
This may be the case with a single kayak but the effort involved putting it onto the roof, strapping it down, scratching the car and safety concerns is not worth it.
Best Kayak Trailer Kits
Choosing the correct kayak trailer for your needs requires careful thought into the number of kayaks you will carry, the size of the kayaks and other factors.
Trailers for kayaks are an expensive investment and it's vital you choose the best.
Galvanized frames, carrying handles and additional carriers for cargo boxes or bikes are just some features of the best kayak trailers that make the difference between good and bad examples.
Trailers for kayaks have different weight capacities, kayak capacities, crossbar widths, and trailer weights with many good examples available online.
Below is a list of the best kayak trailers for transporting your kayaks safely to different locations.
Malone Auto Racks MicroSport Trailer Kayak
The Malone brand for kayak trailers is highly popular among the kayaking enthusiasts and there are many variations available.
Micro Sport is one of the favorites even with the expensive price tag but the high-quality materials and attention to detail involved make it a worthwhile investment.
Features of the Malone MicroSport Trailer Kayak Kit include:
Transports 4 kayaks
350 LBS weight capacity
78 inches wide and 164 inches long
Marine graded pre-galvanized steel frames
Includes 4 Malone J-Pro2 kayak carriers
Safety straps and chains included
Base trailer weighs 187 LBS
Comes with a 5-year warranty
Overall, it is the best kayak trailer you can buy with the ability to carry multiple kayaks securely and will attach straight onto the majority of trailer hitches.
The Malone MicroSport Kayak trailer also comes with a 5-year warranty against the trailer, which provides peace of mind bearing in mind the cost of purchasing it.
Ruff-Sport Trailer
The Ruff-Sport Trailer has a superior advantage to its competitors' thanks to a Galvanized steel frame, Soft springs, and a sturdy frame to absorb road vibration.
This trailer is perfect for lugging your gear along on a roof rack.
Ruff-Sport Trailer is designed to carry fishing kayaks, boards, SUP's, bicycles, and cargo boxes.
This is widely used to support the all roof rack accessories of companies like Yakama and Thule because of the outstanding 64′ Wide crossbars.
In addition to this, it also has a fold-up locking tongue stand and LED Lights making it a more reliable carrier.

Malone XtraLight Base Trailer

The Malone XtraLight kayak trailer is basically a lightweight version of the Micro Sport trailer mentioned above.
Not everyone will require (or want) the additional carriers and just want the base frame for transporting kayaks.
Features of the Malone XtraLight kayak trailer include:
Weight capacity of 275 LBS
Can hold kayaks that are up to 14 feet long
Powder-coated galvanized steel frame
Safely transport 4 kayaks
58-inch steel coated load bars
8-inch high speed galvanized wheels
Made in the USA
Overall, the Malone XtraLight kayak is the best lightweight kayak trailer for the money and comes with a 5-year warranty for peace of mind.
It is reasonably priced for a trailer built by the best kayak trailer brand, which of course is Malone.
Ironton Personal Kayak Trailer Kit
The Ironton is a heavy-duty kayak trailer that can be used for a range of watercraft and boat applications.
It has a 610 LBS load capacity, which is much heavier than the other kayaking trailers and even includes trailer lights, fenders, and coupler.
Other features of the Ironton Personal Kayak Trailer Kit include:
126.75 inches long and 52.5 inches wide
Rugged steel frame
The white powder coating finish
Requires assembly
Complete package that is ready for the road
For those looking for a heavy load kayak trailer, the Ironton is the best buy.
Although it is focused on a range of applications, storing multiple kayaks may be slightly harder compared to the other trailers mentioned above.
However, the low cost and rugged design are very appealing to many large kayak owners.
Yakima Rack and Roll 78 Trailer
The Yakima Rack and Roll is a 78-inch wide anodized aluminum framed trailer with zinc plated steel fasteners that weighs just 160 LBS.
Compared with most kayak trailers, it is very lightweight, which is great for moving it around to put in storage.
Other features of the Yakima Rack and Roll include:
Weight capacity of 300 LBS
Shock absorbers and independent soft suspension
78 inch wide crossbars
Compatible with Class I, II and III hitches
Anodized aluminum 6063 frame
Zinc-plated steel fasteners
If you have Yakima carriers, this trailer has a dedicated design towards Yakima J and horizontal bars.
There is also a clever mechanism that allows the whole trailer to collapse in seconds so that it can be stored in a smaller upright position.
Overall it is a good all-round package but it is a heavy load kayak trailer.
The Malone and other trailers can do everything the Yakima Rack can do and you will have a lot of money left over.
However, it is the easiest kayak trailer to store and this may be a feature you are wanting and this is the best at that particular functionality.
Kayak Trailer Buying Guide
Transporting kayaks can be achieved in various ways that are safe (or unsafe) and using a trailer is the preferred method.
Many people with just a single kayak can get away with simply placing the kayak on the roof, however over time this becomes quite a hassle due to the effort required and potential to damage the paintwork.
Choosing a kayak trailer that fits your requirements can be fairly difficult but there are many available.
You may have just bought the best kayak to use and you will now want to match it with the best kayak trailer you can find.
Below are some factors you should consider to increase your knowledge before purchasing a trailer.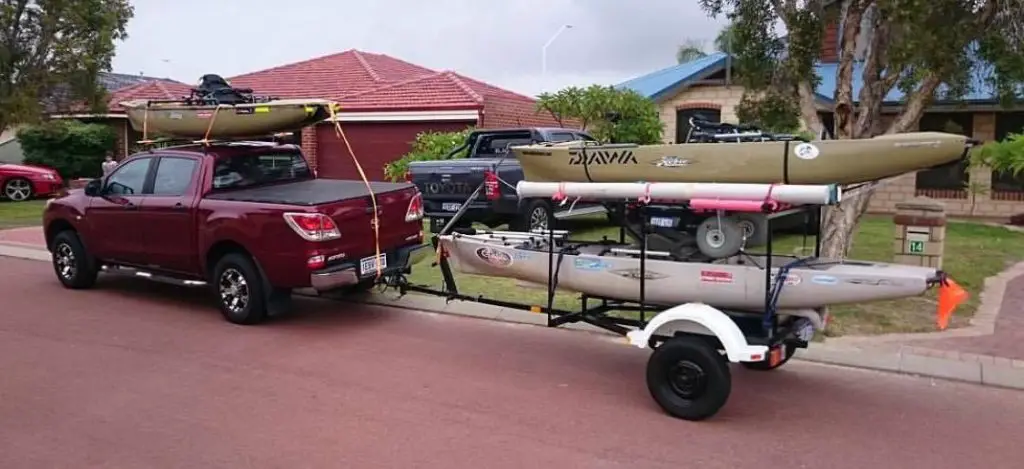 The Number of Kayaks
Nine times out of ten you will be purchasing a trailer because you have more than one kayak that you want to take to the lakes.
After all, kayaking is more enjoyable when there are more of you doing it. However, this poses a problem as there may be a limited number of kayak spaces available.
The majority of kayak trailers will be able to hold at least 4 kayaks and more when strapped securely.
Try not to overload to kayak as the last thing you want to happen is for it to fall off as you are traveling at high speeds.
Kayak Size on the Trailer
All trailers that are targeting the kayaking enthusiasts will be able to carry single and tandem kayaks.
The length varies greatly depending on the trailers, with some being extra long and others being smaller so they are easy to maneuver and store.
It takes a small amount of time to measure your kayak and all trailers will have there own measurements, so its always worth double-checking.
Weight Capacity
All trailers will have a weight capacity rating that you should not exceed for the safe carrying of your precious kayaks.
Almost every trailer for a kayak you find will be able to accommodate 2 kayaks but if you are planning on carrying a large amount, ensure the weight is not too heavy for the trailer.
Trailer Frame and Wheels
As the trailers are made from steel or aluminum in premium models, you will want to ensure that they are protected against corrosion.
As they will be in and out of the water, salt and other debris will latch on to the steel, which will cause damage.
Always ensure that the frame is galvanized and you will not need to worry about corrosion of the frame.
However, you will want to ensure the trailer is up to scratch as many requirements to work with the hubs requiring a trailer hub kit to repair corroded or non-functioning wheel hubs.
On the topic of wheels, there are many wheels designed for road or rougher terrain.
If you will be using a lightweight trailer, you will have smaller tires installed, which makes handling the trailer easier.
General wear and tear will occur over the years and many thousands of miles, so its critical you keep a check and upgrade to quality boat trailer tires when there are any defects.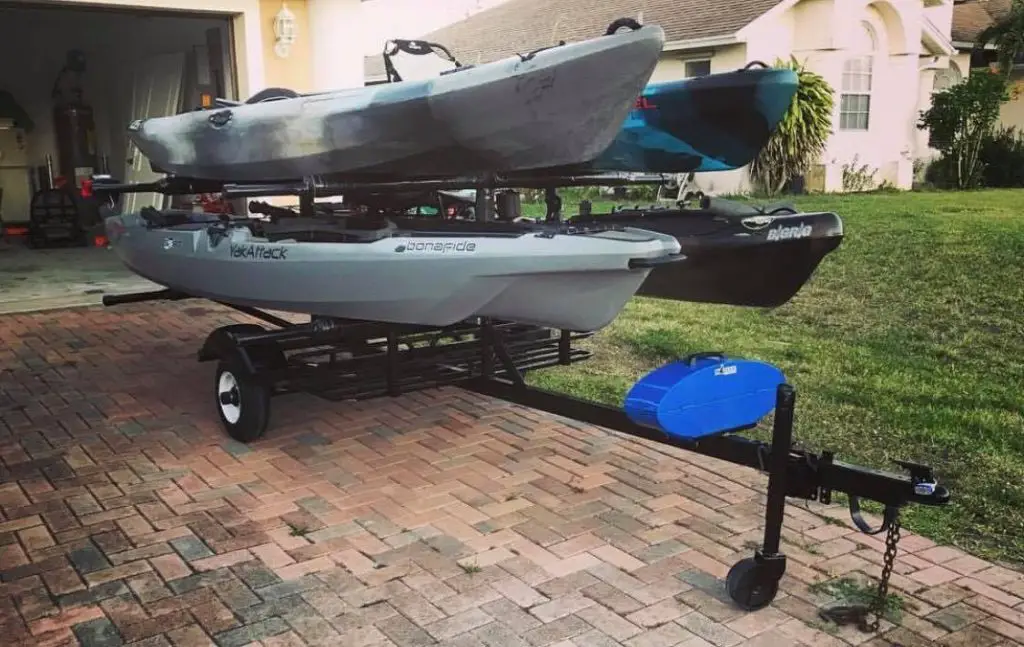 Additional Features
The bare bones of a kayaking trailer are the galvanized steel frame but there are many other different types.
For storing more than 2, usually, there will be a rack with multiple tiers for storing more kayaks on the trailer.
If you are planning on carrying multiple kayaks, it's critical that there is soft padding to prevent any damage to the kayak as it will be hitting the steel frame otherwise.
Trailer manufacturers offer many accessories along with the trailer and many are very useful.
Easy to Move
The reason you are buying a trailer for a kayak is to make your life easier and not even harder.
Ensuring your trailer is easy to maneuver when fully loaded is vital and this includes when driving on the road to moving around in the boatyard.
Nowadays many kayak trailers come with independent suspension to soften the bumps in the road and reduce vibration.
This reduces the risks of the kayaks knocking into one and another causing damage and is a desirable feature.
Storage
Storing the kayak trailer when not in use is often an afterthought and considering they are an expensive bulky item, its something you will want to store safely.
Luckily, many high-end kayaking trailers come with a folding functionality, which does save room but many do not.
Sadly, trailers are something that many criminals will steal if they are not secured properly.
It is always advised to purchase additional security i.e. padlock or clamp that will ensure it is not stolen if left outside.
Conclusion
Investing in a quality kayak trailer for transporting your kayaks safely is highly recommended.
Having to lift them onto your roof every time requires a lot of effort and you always have the potential of damaging your paintwork.
Not to mention that you will be limited to transporting only 2 or 3 kayaks at one time.
All of our recommendations are capable of transporting up to 6 kayaks safely and are suited to a range of different budgets.
Some are available as kits and we highly recommend them as they have everything you need to get set up and straight out of the road.