Marine speakers come in a range of forms from box, tower and 6.5 speakers where all must be suited to the marine environment. On top of this, they need to be able to produce high quality sound and high bass without becoming distorted.
The best marine speakers are the JL AUDIO MX650 series, which are built to the highest quality and have a peak power rating of 225 watts. However, if you are on a budget, the Kenwood KFC-1653MRW 6.5 marine speakers provides excellent value for money with a peak power of 150 watts.
When it comes to audio, you really do get what you pay for and the cheapest option isn't always the best. The materials used must be resistant to UV rays, dust, corrosion and water because they will be subject to this environment all the time.
Best Marine Speakers
The marine speaker setup can involve a range of speakers from a marine subwoofer, 6.5 speaker, tower, box and much more. Improving the audio system will involve changing a lot of the standard speakers with the latest upgrades.
Choosing marine speakers that have been certified over car speakers that have will not survive a day within a marine environment is highly recommended. It may be tempted to save a small amount of money but its not worth it.
Choosing boat speakers can become fairly confusing because they can become mixed with automotive speakers. However, we have done the research for you and below is a list of the best marine speakers that will provide high quality sound on your boat.
JL AUDIO MX650 Marine Speakers
JL Audio is a premium brand in the audio industry and the MX650 are suited to those that are looking for the ultimate audio experience on their boat. They are a standard coaxial size at 6.5 inches in diameter with separate 0.75 inch dome tweeters.
Compared with the standard 6.5 marine speakers, these provide 20% more radiating sound and benefit from 1.25 inch woofer voice coils for extra bass.
In terms of the performance of these marine speakers, they have a peak power rating of 225 watts and RMS of 60 watts, To get the most of these marine speakers, we highly recommend an amplifier that has between 75 and 100 watts per channel.
Overall, the JL Audio MX650 is the best marine speakers money can buy and not suited for those on a budget. Matched with a powerful amplifier, subwoofer and receiver, you would be able to produce a audio setup ready for boat parties.
Check it Out
Kenwood KFC1653MRW 6.5 Marine Speakers

Kenwood are leading audio specialists for both automotive and marine industry. With an impressive max wattage of 150 watts, these KFC1653MRW 6.5″ White Marine 2 Way Speakers provide big power for a reasonable price.
The water resistant design features a rugged polypropylene structure where the tweeter is built into the solid white grille. The 6.5 inch speaker is injection molded, which gives it the water resistant properties.
The grille that provide additional security and protection has also been developed to be UV Resistant. This is an important feature as boat speakers have very little protection from direct sunlight.
Overall, they are the best marine speakers for the money and even come as an 8 inch construction for boats with additional space.
Check it Out
Pioneer TS-MR1600 Nautica Series

The Pioneer TS-MR1600 are a reasonably priced marine speakers that make use of a water resistant IMPP composite woofer and dual cone tweeter. They are a pair of 6.5 marine speakers that produce a peak power rating of 100 watts and RMS of 25 watts.
Pioneer state that the TS-MR1600 Nautica series uses corrosion resistant materials for peace of mind. Many cheap marine speakers tend to only use a few corrosion resistant parts and leave a few covered components prone to durability issues.
Overall, they are a great all rounder and priced reasonably compared with other marine speakers of a similar performance rating.
Check it Out
BOSS Audio MR60W

Boss Audio are gaining more spotlight over the last few years due to their impressive range of speakers at low prices. They are weatherproof and are sold in pairs that are capable of producing a max output of 200 watts and 100 watts RMS.
These boat speakers are cheap, but don't think they will be poor quality. The fact that BOSS audio provide a 3 year dealer warranty should give you peace of mind that these speakers are high quality.
The speakers provide a fair amount of bass but the quality may not be as good due to the low cost of this model. However, this is very minor and for the price, these are the best cheap boat speakers and much better than the other cheap alternatives.
Check it Out
Kicker KMT674 Marine Speaker Tower System

Marine tower speakers attach to the wakeboard towel of your boat and are much more powerful than the standard 6.5 marine speakers. In terms of the performance of these tower speakers, the peak power is 300 watts and a RMS of 150 watts.
The weatherproof design is fully water resistant with sealed cones and motor assemblies with the addition of UV treated components. In terms of the installation, they require a 3 inch mounting and they can be mounted above or below the bar.
Overall, the Kicker KM,T674 system are the best wake tower speakers for the money without spending serious amounts of money with the like of the Wet Sounds Revolution series alternatives, which cost thousands.
Check it Out
MCM Custom Audio Wake Tower Speakers

The MCM Custom Audio marine wake tower speaker system is a cheaper alternative to the Kicker setup and uses a 8 inch poly cone woofer with a titanium dome tweeter.
In terms of the power rating, it has a 130 RMS watts with a maximum power output of 260 watts, which is fairly good considering the price.
Considering that these two speakers can be bought for less than $100 dollars, they are definitely the best cheap wakeboarding speakers available. If you were looking to improve the sound quality further, you could connect these speakers to an amplifier.
Check it Out
Kicker KB6000 Marine Box Speakers
Marine box speakers are another type of speaker setup that can be angled in a range of angles. This KB600 series by Kicker is very popular in the US due to its high quality audio from a full range speaker producing 75 watts RMS and 150 watts max power.
If you are after excellent sound quality over bass, these will do the job with a 12 decibel octave low-pass crossover with impedance compensation. The boxy design means that they are easy to fit anywhere for your marine application.
Overall, they are the best marine box speakers for the money and provide good performance at a small cost.
Check it Out
Marine Speakers Buying Guide
Improving the audio quality and bass on your boat will require marine speakers that are designed for the rough marine environment. It can be a fairly confusing topic when deciding on which speakers are required for your boat but our buying guide will help debunk myths and give you a brief overview.
Location of the Marine Speakers
Marine speakers come in a range of styles and sizes and you must decide where you want the speaker to be placed. The reason for this is because it must be proportional to the space you want to cover the sound too. It must amplify clearly around the cabin or if its on the deck, it must cancel out the wind noise. On top of this, you do not want it placed somewhere that is going to get covered in water.
When choosing the placement, you must remember that there will be wiring required and the speakers will get their power from the marine battery. Therefore, if they are up high, the wires will be clearly visible to anyone on the boat.
However, if you are able to box up areas of the boat, you can install marine speakers virtually anywhere inside the boat. For example, below we fitted speakers to the front of the boat with slight tilt to amplify the music towards the passengers of the boat.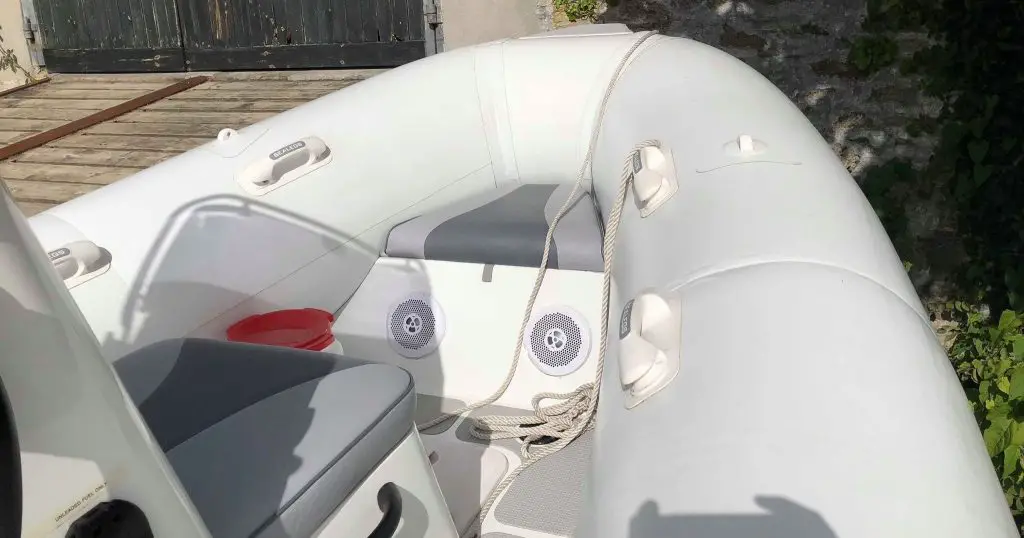 What the Difference?
Understanding the difference between automotive and marine speakers is a common question that we are asked regularly. They are not simply white speakers slapped with a certificate as it goes much further than that because they must be able to withstand salt, spray, UV, wide ranging temperatures and much more.
Marine speakers are made from a more heavy duty material to survive the marine environment. For example, instead of the paper cones used in the standard speaker, a marine rated speaker will use a plastic, which can withstand moisture. Additional components such as rubber surrounds will be used for protection too.
As salt and metals don't mix well, the majority of metal used is of higher quality and protected by the grill of the speaker.
Types of Marine Speakers
When it comes to the different types of marine speakers, the main ones include recessed/6.5 speaker, box and tower marine speakers. They all have separate benefits, installations and quality of sound. We have covered all of the best marine speakers of each type in this article for those looking to perform an overhaul of their audio system.
The recessed speaker is the most common form and can be installed in virtually anywhere inside your boat from the dash, floor, seats and much more. The most common form is usually 6.5 inches in diameter and they can have varying performance ratings depending upon your budget.
Marine tower speakers are much more powerful than 6.5 marine speakers and attach to a boats wake tower. They can be targeted to face the person on an inflatable towable or water skis or towards the direction of the boat passengers.
Finally, marine box speakers are fairly simple and can be installed in a range of locations around the boat. They can also be angled in different directions, unlike the likes of a recessed speaker.
Clarity of the Speakers
Unlike a car, which only needs to deal with engine and road noise, marine speakers have far more to deal with. You can improve the clarity instantly by installing a marine amplifier but if the speakers are poor quality, there won't be much of an improvement.
All of our recommendations are designed to output high and low bass without becoming distorted. This means you can switch the volume right up without worry about distortion.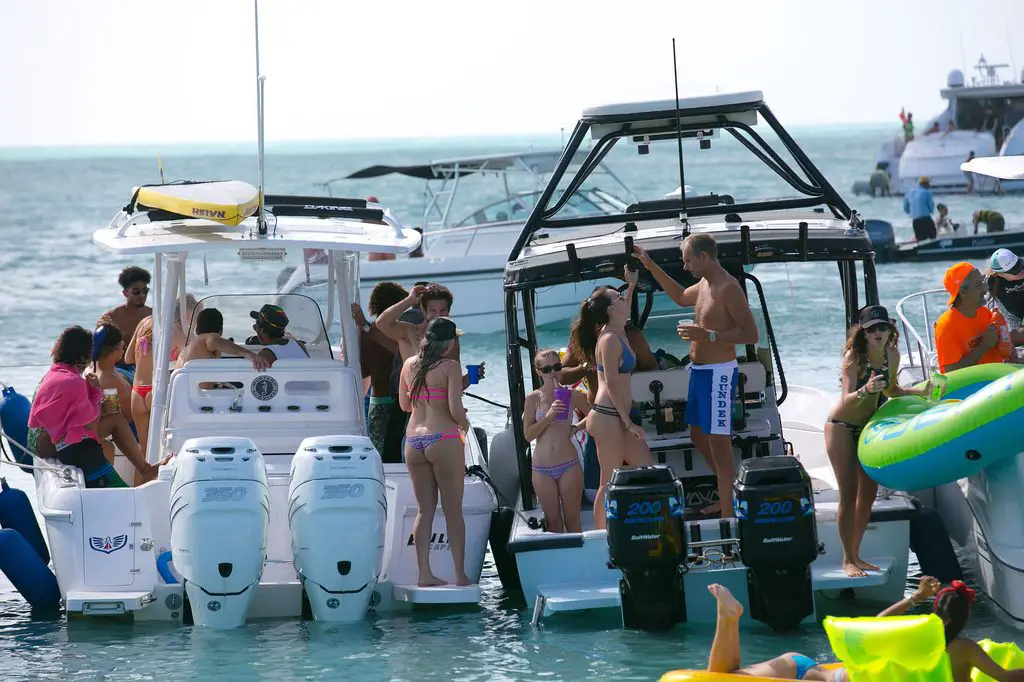 Power Handling
Not all marine speakers are the same and some provide a much higher power output than others. However, you cannot fit the most powerful marine speaker you can find without matching it against the power your receiver or amplifier can handle.
If you choose one that it too high, you can end up blowing them and causing damage to your new expensive marine speakers. Check the maximum power output of the speakers you buy and compare it against the stereos channels.
On top of the maximum power output, you must also consider the continuous power (RMS). The higher the values of these two ratings, will ultimately result in better quality and loud audio output. Premium brands will often have a higher output of both values, where other cheaper brands will aim to impress you with a high peak power rating.
Other Components
You simply cannot upgrade two marine speakers and expect miracles to happen. Along with the speakers, you must consider the bass and quality of the sound, which will require a subwoofer and an upgraded amplifier. However, so many people forget the most important aspect, which is the marine stereo.
Improving the wiring may be a good option too if you are planning a complete overhaul of your audio system. Building the an audio system for your boat from scratch can be a great project and make a world of difference.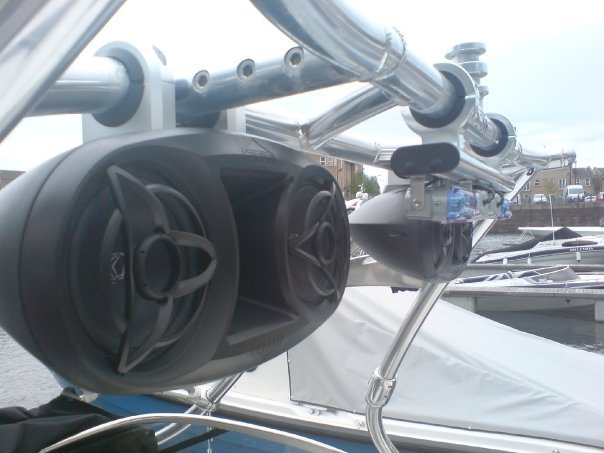 Specification of the Speaker
Alongside the the peak power rating and the RMS, there are various other ratings given to a speaker. One such rating is the sensitivity of the speaker, which is specified in decibels. The lower the sensitivity, the more power that must be input into the speaker.
The frequency response is specified by kHz and determines the type of audio coming from the speakers, which include deep low bass and the much higher frequencies.
Conclusion
Whether you are planning a boat party or simply enjoy blasting music whilst on your boat, upgrading your marine speakers is an affordable and effective modification for your boat. All our recommendations within this article are certain to improve the quality and bass on your boat.
It may be tempting to choose a cheaper automotive car speaker but we highly advise not to. The durability of marine speakers cannot be matched and you are able to blast music no matter the weather.
In terms of the amount of marine speakers you actually need on your boat, it really does depend on the size of your boat. Many people will just install two 6.5 marine speakers to the dash but those with a wakeboard tower will also install additional speakers onto that. Those that have large boats may find themselves buying 10 or more speakers with additional subwoofers and amplifiers.