This page contains affiliate links. This means that we may get a small commission for recommending products, if you choose to click on something and buy it. This does not cost you anything, but we wanted to be honest and let you know!
(Last Updated On: April 10, 2022)
Space on a boat, most any boat, is always limited. When you add small boat folding seats to your boat, you optimize your space while providing needed sitting options.
Spending the day on the water can become tedious without a place to sit, whether fishing or just enjoying the time on the water.
Foldable boat seats work on a pontoon, Jon boats, or fishing boats, to name a few.
We have reviewed seven small boat seats and feel that the Northcaptain Deluxe high back folding boat seats are the best option.
Here are our reviews of all seven seats for small boats.
| | | |
| --- | --- | --- |
| Small Boat Folding Seats | Preview | Brand |
| NORTHCAPTAIN S1 Deluxe High Back Folding Boat Seat(2 Seats) | | NORTHCAPTAIN |
| Millennium Marine B100 Boat Seat | | Millennium Marine |
| Wise Economy Low Back Seat | | Wise |
| Attwood Folding Boat Seat – Low-Back Padded, High-Impact Plastic Frame | | Attwood |
| Leader Accessories New Low Back Folding Boat Seat | | Leader Accessories |
| DeckMate Compact Folding Fishing Seat | | DeckMate |
| XGEAR Low Back Boat Seat, Fold-Down Fishing Boat Seat | | XGEAR |
#1 NORTHCAPTAIN S1 Deluxe High Back Folding Boat Seat(2 Seats)
The Northcaptain has a high back seat that provides the support and comfort you need when spending the day on the boat. 
These are especially nice if you have guests on the boat, as the seats provide the cushioning of a quality seat. 
The generous 23.5 inches high back relieves any discomfort from a too-small seat back so that this seat will be great for a day of fishing. 
This is a set of two Northcaptain seats that will install on any standard 4-bolt swivel or pedestal. The stainless steel mounting screws come with a set of seats. 
The seat frame is an injection molded polypropylene, made for durability and resistant to UV rays. Sturdy aluminum hinges give you the ability to flip the backrest down. 
The padding of the high back seat is compression foam padding. This type of padding remains firm even after long-term use. 
The Northcaptian does not use regular vinyl but uses 28 ounces Marine grade vinyl to cover the high-back folding seats. 
The Marine grade vinyl contains UV protection from the sun and mildew protection. The Northcaptain high back folding seats are ideal replacements for a bass, pontoon, fishing, or Jon boat. 
One happy reviewer even used the seats in his golf cart!
Features:
Two (2) High-back boat seats
Seats fold down
Compression foam padding
Marine-grade vinyl
Fits standard pedestals.
Holds up to 200 lbs each seat.
#2 Millennium Marine B100 Boat Seat
Millennium Marine boat seats help give you the all-day comfort and support needed when out on your boat. 
Using its exclusive ComfortMax technology, the Millennium boat seat contours the sling seat with breathable, cool fabric. 
The fabric will not lead to overheating but will keep you cool all day long. The B100 boat seat will mount on any boat seat pedestal, and being universally compatible is a great feature. 
Another aspect in the Millennium Marine boat seat essential to a seat exposed to moisture is that the Millennium is UV, mold, and mildew resistant. 
So no matter the weather, sun or rain, the boat seat will be able to stand up to the conditions. With all-aluminum construction, the seat frame will be rugged and durable. 
The aluminum frame will hold weights up to 400 pounds. While the seat can hold a lot of weight, the seat itself weighs only seven pounds. 
This makes it easy if you want to move the seat from one vessel to another. Designed for anglers, the seat will give you the flexibility you need to lean forward and cast. 
This folds down the boat seat when in the folded position, gives you greater visibility while underway.
Features:
Fabris is UV, mold, and mildew resistant
Folds flat for visibility
Holds up to 400 lbs.
Comfortable, breathable fabric
Universal pedestal compatibility
 #3 Wise Economy Low Back Seat
A great economy seat, the Wise low back boat seat is an excellent addition to your boat. These seats will not break the bank and are a good option when you need an inexpensive replacement. 
The Wise low back seat is not a high-end seat but an economy alternative for a small folding boat seat. 
The frame of the low back seat is injection molded plastic. 
Aluminum hinges permit the seat to fold down with a "no-pinch" hinge. Inside the seat is compression foam padding to provide cushioning. 
Marine-grade embossed vinyl has UV protection and resistance to moisture. The Wise low back boat seat will fit any standard BIA four-bolt pedestal system.
Features:
Compression foam padding
Marine-grade vinyl
Mildew resistant and UV treated
Aluminum no-pinch hinges
Economy priced
Holds up to 200 lbs.
#4 Attwood Folding Boat Seat – Low-Back Padded, High-Impact Plastic Frame
Decked out in a striking camo pattern, the Attwood folding boat seat offers more than just good looks for your boat. 
Done in a brown grass pattern, the Attwood low back seat will coordinate with your boat's appearance. 
Constructed with a plastic frame and aluminum hinges, the Attwood low back padded seat has a strap to hold the seat down when not in use. 
The camo pattern fabric is UV and mildew resistant. The material also is abrasion-resistant. 
One reviewer used an Attwood folding low-back boat seat in his tree stand, to good advantage. So keep in mind that this seat could have multiple uses!
Features:
Attractive camo pattern
Easy to clean material
Fabric has antibacterial properties
Fold-down seat
Mildew resistant fabric
Fits standard pedestals
#5 Leader Accessories New Low Back Folding Boat Seat
Choose from five different color patterns with the Leader low back folding boat seat. This folding boat seat comes black with red accents, white with black, white with green, white with blue, and white with red accents. 
Designed to give you a comfortable place to sit on your boat, the cushioned seat has a thick back and seat area that will make time on the water more enjoyable. 
The aluminum alloy hinges and injection-molded plastic frame will be able to hold up to your time on the water. 
Marine-grade vinyl upholstery covers the compression foam cushions. The seat folds down when not in use and comes with a strap to hold it in place. 
The Leader low back boat seat will fit on standard pedestals with 5″ X 5″ bolt patterns. The seat comes with four mounting screws.
Features:
Five color combinations to choose from
Seat folds down when not in use
Fits standard pedestals
UV treaded Marine-grade vinyl
#6 DeckMate Compact Folding Fishing Seat
The DeckMate is a compact fold down boat seat for your fishing boat. 
Costructed with Marine-grade vinyl, you will have your choice of three colors: charcoal and blue, charcoal and grey, or charcoal and red. 
Mounted on a plastic frame, the DeckMate has all stainless steel hardware on the seat. 
Designed to fit standard pedestals, the mounting hardware comes with the seat. The least expensive seat in our reviews, this seat is very budget-friendly. 
The DeckMate has a six-year full replacement warranty on the upholstery. This seat is rated to hold up to 200 lbs.
Features:
Three color combinations to choose from
Marine-grade vinyl
Holds up to 200 lbs.
Fits standard mountings
Low back folding seat
#7 XGEAR Low Back Boat Seat, Fold-Down Fishing Boat Seat
The XGear low back boat seat offers another economy option for your boat. 
It also adds some style with its choice of four color combinations: back and red, white with grey and blue, white with grey and olive, and white with grey and red. 
The high-impact injection molded seat frame has all-aluminum hinges to enable the seat to fold down when not in use. 
Upholstered in marine-grade vinyl, the XGear low back seat will stand up to years of service. 
The vinyl treatment resists mold and mildew. It also has UV properties to prevent fading and look good after years of use.
High-compression foam padding inside the seat gives it a comfortable feel when sitting for hours of fishing. 
The XGear fits standard 5″ X 5″ mounting bolt patterns and comes with the needed mounting hardware. When you fold the seat down, a tie-down strap is incorporated in the seat to keep it in place.
Features:
Compression foam padding
Marine-grade vinyl
Tie-down strap
Folds when not in use
Fits standard pedestals
Boat Seats Are Essential To Your Boat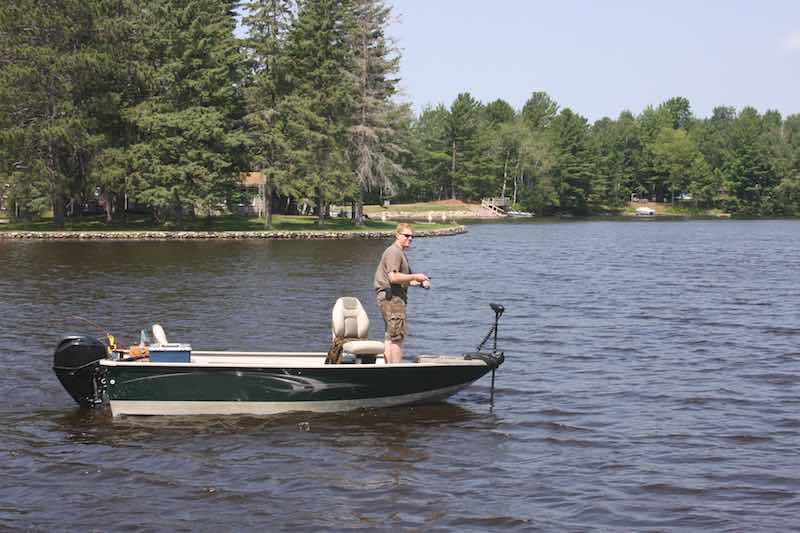 It does not matter if you have a bass boat or a Jon boat; space onboard a boat is always at a premium. 
If you are going out fishing, taking the family or friends out for the day, or just spending an hour or two by yourself on the water, a folding boat seat will make the experience so much more comfortable. 
Having a seat that you can fold down makes it possible to accommodate a Boat Cover [Ideal For Winter & Trailering]. 
It also makes it much better when trailering your boat and towing it down the road to have less resistance with a fold-down boat seat.
Boat Seats Are Specially Designed For Watercraft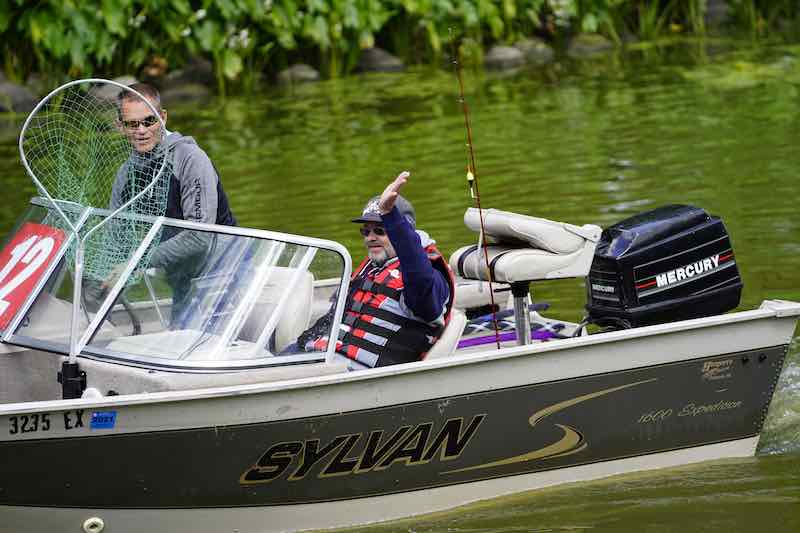 A boat seat is specially designed for use in a boat. The construction needs to withstand harsh weather conditions like the sun's heat, the salt in water, rain, wind, and everything in between. 
The upholstery on a boat seat needs to withstand the elements without immediately sprouting mold and mildew. 
It should support your body and your efforts to cast, reel in, and land the big one. Expectations for a boat seat are high, and fortunately, they deliver.
Types of boat seats
There are several types of boat seats that are available on the market to add to your boat. You should match the style of seat to your needs and the kind of boat you have. 
Make sure you are especially careful of the size. We spoke before about space on a boat being at a premium. 
Buying a too big seat for the area would make the seat a nuisance rather than a blessing, and will turn out to be an expensive mistake.
Captains Chair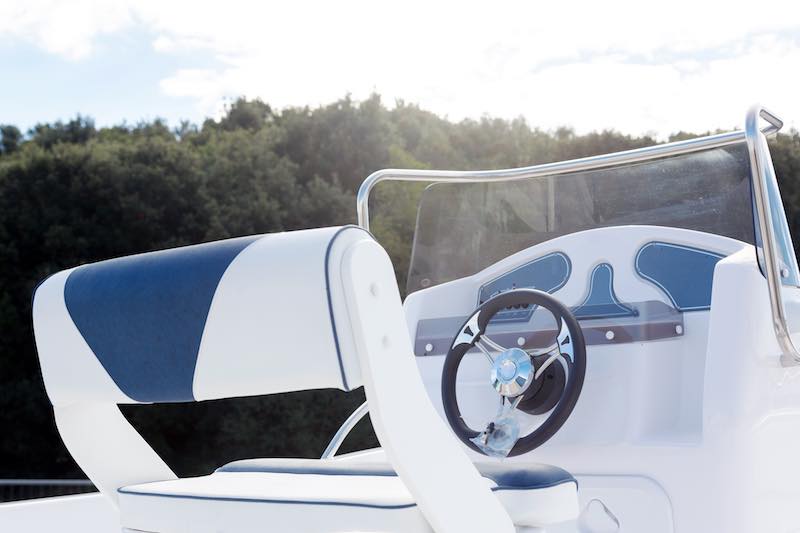 Speaking of expensive, a captain's chair is often the most expensive seat on the boat. As a rule, it is also the most comfortable. 
A captain's seat will have a high back that supports you. It will have armrests, and quite often, it is elaborate in design. 
If you are adding a captain's chair, it will be essential to match the boat's type and size.
Bucket Seat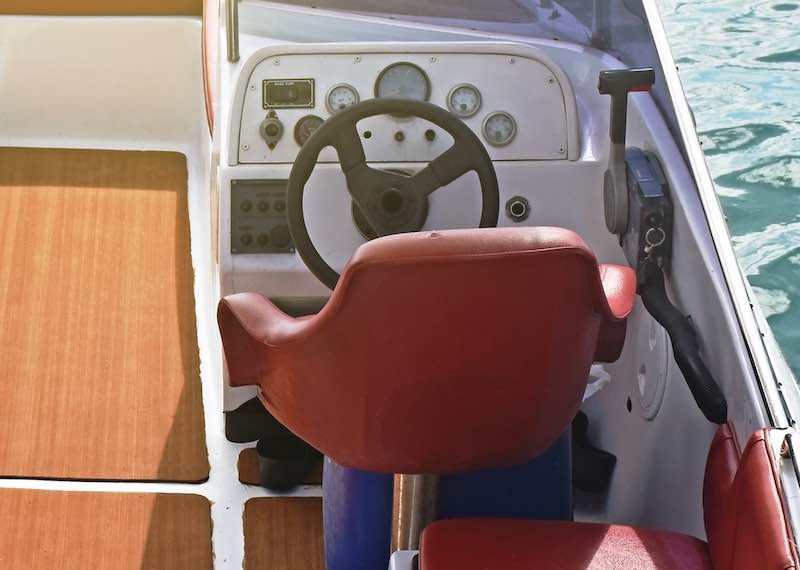 The bucket seat has a contoured and rounded seat made for just one person instead of a bench seat. 
Sports cars are an example of a vehicle that used bucket seats. A bucket seat has generous cushioning and provides good shock absorption. 
Both of those attributes are of benefit when on a boat.
Lounge Seat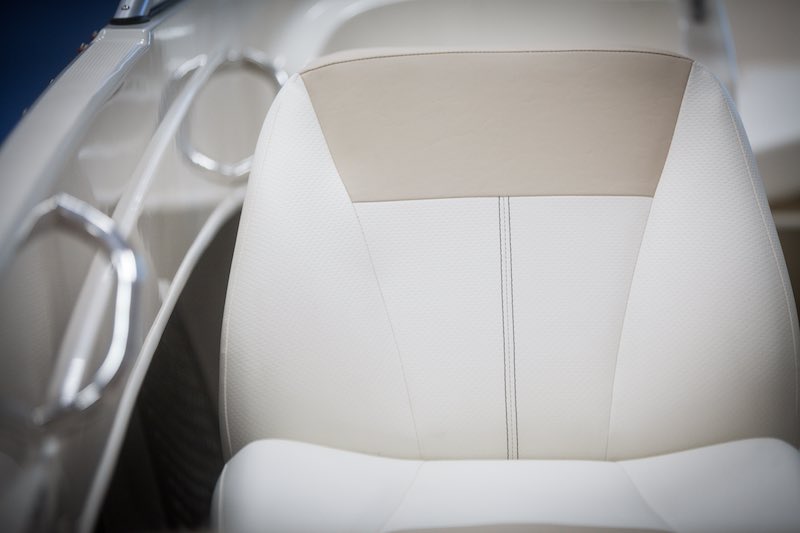 These seats are back to back seats, giving seats to two people and making the most out of the available space. Lounge seats, commonly, will have storage under the seats.
Bench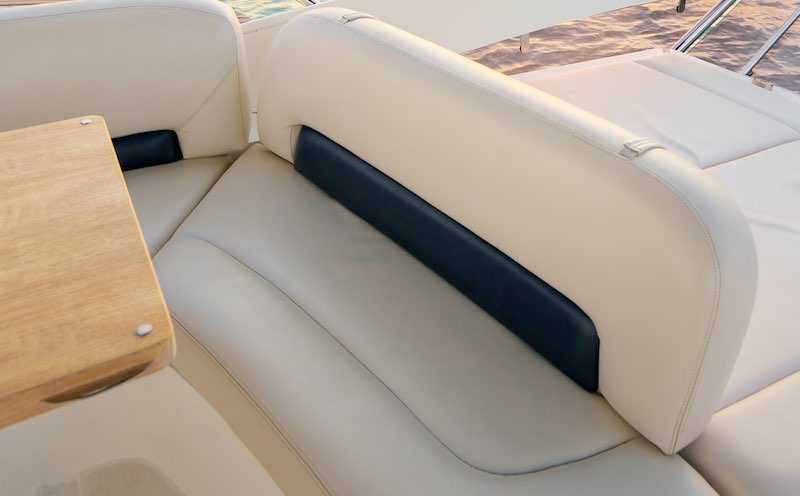 A bench seat is long and spacious but does take up room on a boat. You find bench seats along the sides or across the back of a boat. 
People using a bench seat are seated side-by-side. Some might feel a bit cramped, but there is only so much space on a boat, and a bench seat is often the best solution.
Casting Seat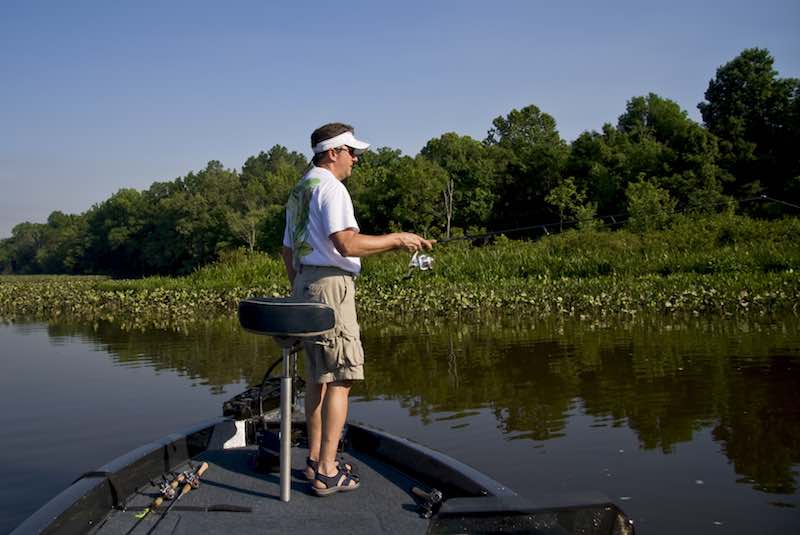 Essential for the avid angler, the casting seat is a swivel chair that helps you move with ease when fishing for the big one. 
A casting seat allows you to stay comfortable while fishing, especially if you plan on being out all day, patiently waiting for the fish to strike. 
A casting seat is also a good option for a smaller boat as they are a space-efficient option.
Portable Seat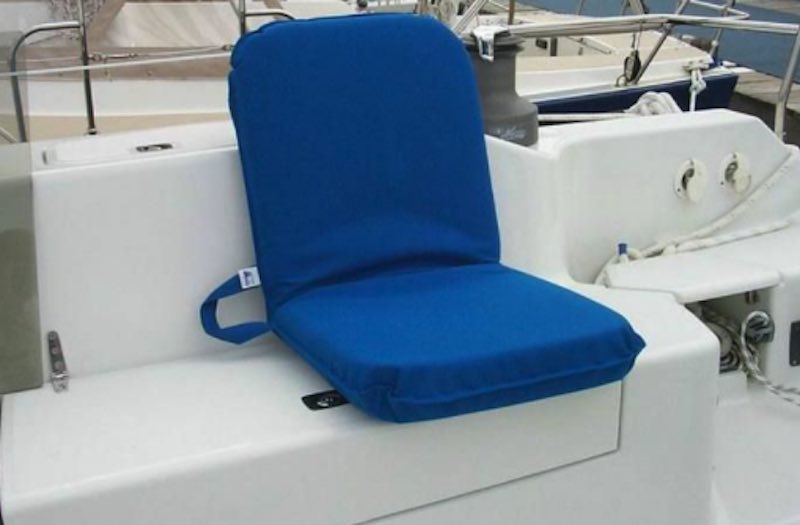 Exactly as it sounds, a portable seat is one that you can bring on and off the boat. Most of them fold, which makes it easier to tote. 
Unlike the other seats listed above, this seat will not be bolted into place permanently.
Buyers Guide For Small Boat Folding Seats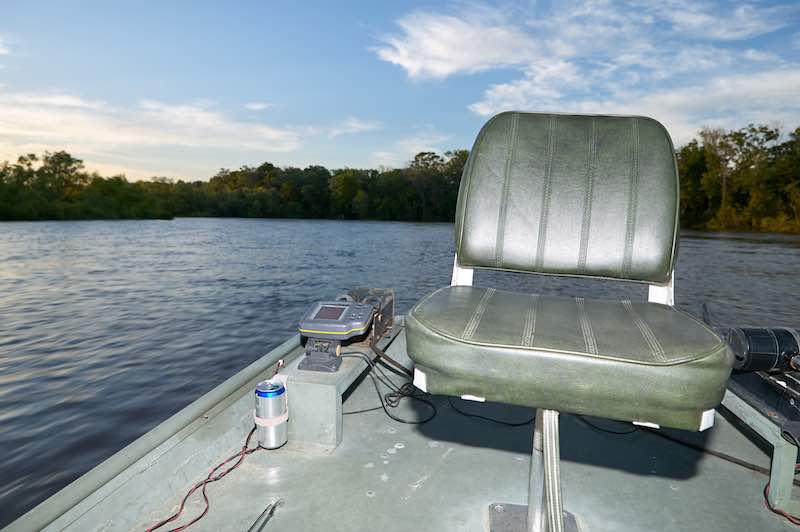 When looking for a seat for your boat, try not to consider price only. 
Yes, a boat is expensive, and the whole boating experience can add up, but if you are going to get a seat for your boat it is better to get one that will suit your purpose and last for years. 
Sometimes buying cheap costs you in the long run. Here are a few things to consider when looking for a boat seat.
Comfort
An uncomfortable seat is almost worse than no seat at all. It adds to the aches and pains, and when you think about what you spent on the seat, it hurts even more. 
Do some research online to narrow down what will work for your boat and what type of seat you might prefer. 
Before purchasing, it would be wise to visit a local sporting goods store or take a trip to a showroom. 
There you will be able to see the item "in person" to know how it folds down (if it does), and you will be able to sit in the seat to get a feel. 
Does the seat extend enough in the front so that it has support for your thighs? Or is it too far from your knees to be comfortable? 
Where does the seat come up on your back? Is it high enough? 
The padding is also important to consider. You want it to be firm, but not like sitting on a rock. 
The padding should be able to absorb the tossing you will get with waves and still feel supported. It should be thick foam that has a higher weight capacity. 
If you are buying an inexpensive seat and will use it infrequently, you may not need to go to that extent, but if you invest in an expensive seat, check it out as much as you can before buying.
Material
The boat seat material is all-important, as you want the seat to be durable and last for many years. 
Choose a marine-grade vinyl, as it is the most durable you will find for a seat exposed to the weather. 
Some people might tend towards leather, but the leather was only waterproof when it was still on the cow. 
Marine-grade vinyl is resistant to mold and mildew. It will also have UV protection to prevent it from fading quickly. Marine vinyl is easier to clean, too.
Installation of small boat folding seats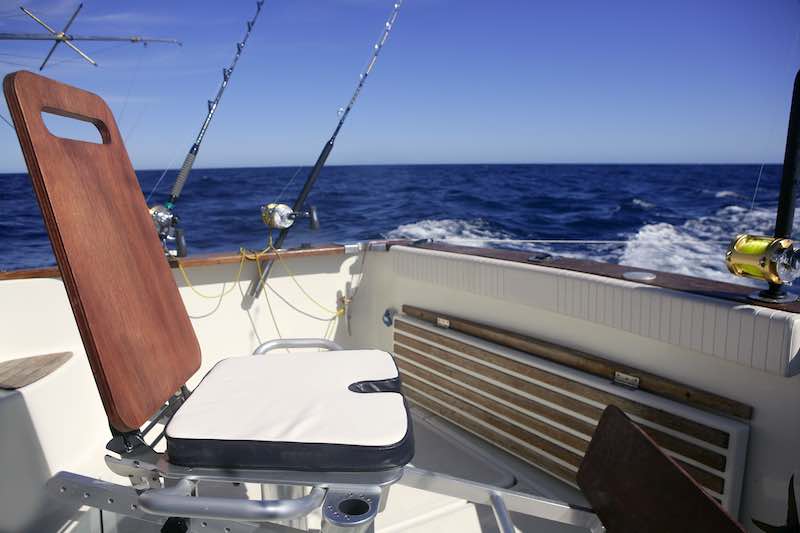 Choose a boat seat that will take minimum effort to install. Most seats (but double-check) will be compatible with all pedestals and mounting options. 
Mounting hardware should come with the seat. Stainless steel has high corrosion resistance to saltwater and is the best choice for bolts used to secure boat seats.
Capacity
Most boat seats will support between 200 and 400 pounds of weight. It would be best to choose a seat with the maximum capacity; this ensures structural integrity. 
As the seat needs to act as a shock absorber, choose a seat with high-impact construction.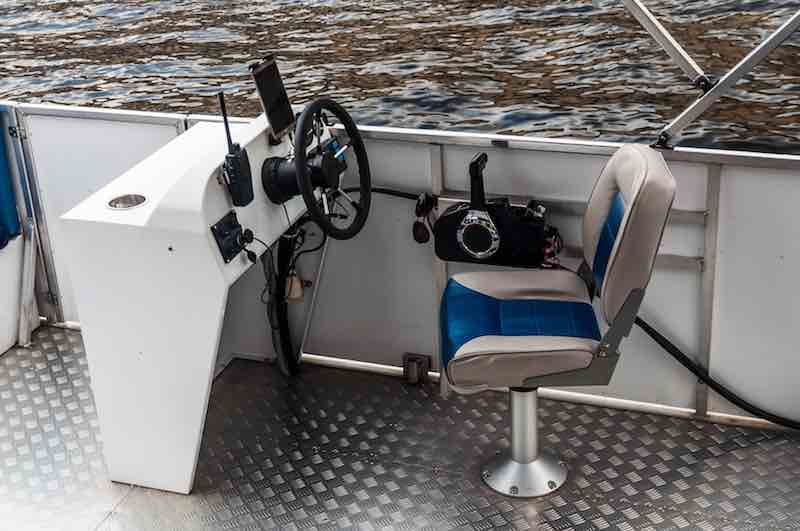 In Conclusion
The best seat for your boat should match your boat's purpose. Consider how you use the boat most; do you mainly fish, do watersports or entertain?
Look beyond the seat price to get the best product for your boat that will last you for years to come. Make sure that the seat you purchase will bring a high level of comfort.
FAQ
How do I clean marine-grade vinyl?
Clean any spills or dirt right away. Use mild dish soap and warm water to clean any dirt or marks off the vinyl. Cleaning your seats every few weeks will make the job easier.
What will harm marine-grade vinyl?
Do not ever use any of the following to try and get dirt or stains off marine vinyl:
– A power washer
– Magic Eraser
– Degreasers
– Bleach
– Goo B Gone
– 409
– Gasoline
– Household cleaners.
Are the seams on a boat seat waterproof?

Boat seats are sewn with a UV grade thread that helps the seat deter the sun's rays from breaking the seam down, but the seams themselves are not waterproof.
A seam sealer can be applied, but this is used on boat covers, not on the seats.