This page contains affiliate links. This means that we may get a small commission for recommending products, if you choose to click on something and buy it. This does not cost you anything, but we wanted to be honest and let you know!
(Last Updated On: April 10, 2022)
Whether you own a small boat, a large yacht, or simply work on a ship, you probably know how difficult it can be to scrub the decks.
Fiberglass decks, especially those with non-skid traction, can house lots of dirt and stains that can be tough to remove.
To help you get rid of the toughest filth, there are many excellent boat cleaning products out there.
Boat cleaners are safe for the ocean, and there are varieties specially designed for non-skid decks.
Also, you can find stain and adhesive removers for tricky stains and sticky spots.
However, the struggle to remove dirt and stains is not the only difficult part of boat deck cleaning.
Many people dread cleaning the boat decks for fear of knee pain as a result of kneeling for an extended period.
But thankfully, Growerology makes great kneeling pads made of thick, waterproof foam to help you alleviate the process.
The kneeling pads come in a large and extra-large size and are very lightweight and portable.
Also, you can clean the pads by simply wiping them down with a towel for the next time you need them.
You'll be amazed at how much easier cleaning the deck is with these pads.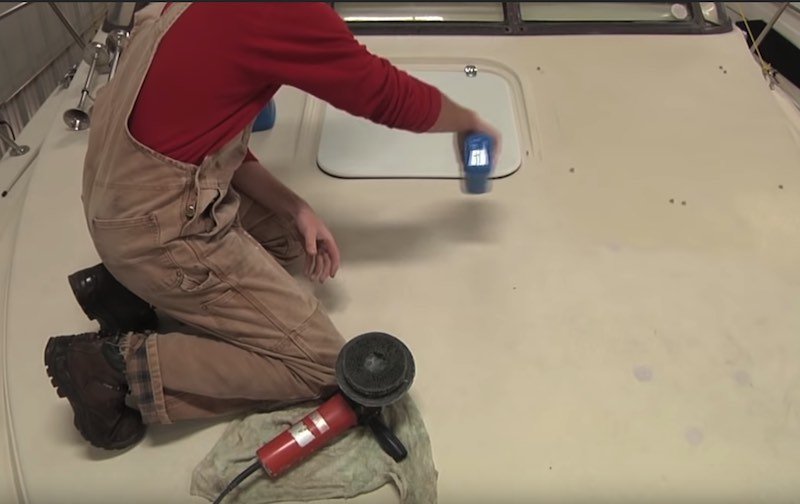 Quick Tips on Cleaning Boat Decks
Remove Surface Dirt First
Before you attempt to clean the deck of your boat, you should first remove any surface dirt.
You can do this with a broom that is specially designed for use on fiberglass. Once all the dirt is removed, spray the deck down with water and apply a marine-safe boat cleaner, then rinse again.
Use Non-Skid Deck Cleaner
Boats with non-skid decks are great, but they hold in the dirt. That's where specially-designed non-skid deck boat cleaners come in handy.
Cleaners like this work to remove all of that deeply-embedded dirt that has gotten stuck in the non-skid traction.
Use a Stain Remover
If you find that there are tough stains that remain on your boat after regular cleaning, you may want to try applying a stain remover.
There are great acid-based, fiberglass safe stain removers out there that will help you remove even the toughest stains.
Try an Adhesive Remover
Finally, an adhesive remover comes in handy for removing any sticky substances that have gotten stuck to the deck.
Using a scraper can easily damage fiberglass, but simply spraying the tough spots with adhesive-removing spray is a safe, easy way to get rid of the stick.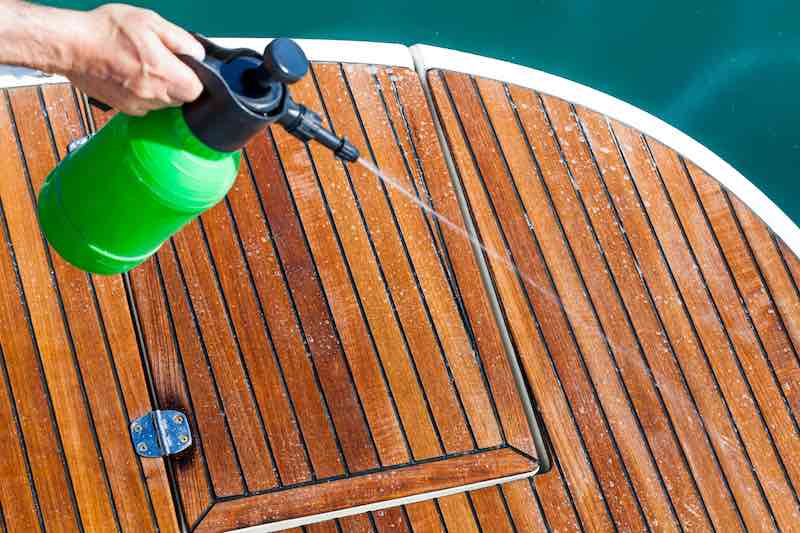 Why Use Kneeling Pads
Your Knees are Important
When cleaning the deck, it's vital to have protection for your knees because they are such an important part of your body.
Your knees are what help you do things like sit down, stand up, run, walk, and many other activities.
They also support almost all of your body weight. Because of this, it's important to make sure your knees are adequately protected.
Protecting Against Impact
Using kneeling pads is a great way to protect your knees against impact damage.
When you kneel to scrub, the impact of your knees hitting the deck can be quite painful and can result in injury to your knees.
But when you kneel onto 1 ½ inch foam, like the foam in Growerology Knee Pads, you'll be preventing that injury from impact.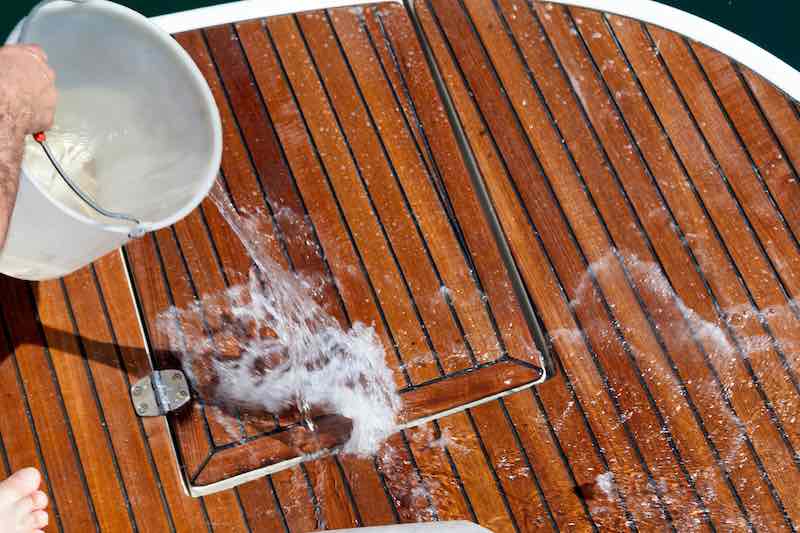 Preventing Knee Injuries
Knee injuries are prevalent, and they are often caused by long-term wear and tear damage from impact and pressure.
This means that frequently scrubbing the deck can result in an injury down the road.
Thankfully, using Growerology's knee pads can prevent that future injury by protecting your knees now.
You'll get two excellent kneeling pads in two different sizes to use while you're cleaning the deck.
Help You Work Better
Finally, kneeling pads will improve your workability. Have you ever been cleaning the boat deck, but had to keep getting up because of back pain or knee pain and pressure?
With Growerology's knee pads, you won't have to get up to stretch your legs frequently.
You'll be able to work for a much more extended period comfortably, so your deck will get cleaner.
Also, the Growerology kneeling pads are also waterproof, so they're well-suited to boat life.
Conclusion
If you find that cleaning the boat decks leads you to loads of frustration and pain, you'll love Growerology's fantastic kneeling pads.
The kneeling pads are thick and waterproof, so you don't have to worry about them failing during use.
You'll be able to focus on scrubbing to make your boat look ship-shape.
No one likes scrubbing the decks, but it's great to know that you can prevent knee pain and injury while you're doing it.
When you clean your deck with kneeling pads, your knees will thank you.