This page contains affiliate links. This means that we may get a small commission for recommending products, if you choose to click on something and buy it. This does not cost you anything, but we wanted to be honest and let you know!
(Last Updated On: April 10, 2022)
Yes, there's such a thing as a small boat transport must-haves list!
Whether you want to go fishing, float down a river and listen to the water and have a few drinks, or you just want to have a fun day with family and friends, transporting your boat safely is half of the trip.
That's why we are here to provide you with five small boat transport must-haves for your boat, a how-to on hitching your trailer, along with a checklist of safety items.
If you are reading this article, then you're well on your way to your next great adventure. 
Classic Accessories StormPro Heavy-Duty Boat Cover
An essential to transporting your boat is a sturdy boat cover. These seemingly unimportant items will ensure that the internal area of your boat remains damage-free and dry.
Classic Accessories produce their StormPro Heavy-Duty boat cover that comes in seven different sizes.
They're made using 100% polyester, which makes them durable to high winds, water-resistant, and effective in preventing other debris from entering your vessel.
Additionally, these covers are resistant to shrinking and stretching from use and weather conditions.
Each cover comes with a support pole to prevent water from pooling in the middle of your covered vessel, as well as a storage bag and trailering straps with quick-release buckles for easy installation and removal.
Pros
Easy to install
Durable
Fits tightly
 

Cons
Susceptible to dry rot when left in the sun
For a more in-depth article about boat covers please check The Best Boat Covers.
Adjustable Straps / Tie-down straps 

Adjustable straps are definitely a necessary part of boat transportation. These handy straps connect the boat transom to the trailer frame.
Seamander brand brings us these 2-inch tie-down straps. This is a two-pack that comes in at a budget-friendly price, so you can strap your boat down without breaking the bank.
These straps will hold up well, even with heavy use around saltwater.
The webbing of the fabric creates a tough strap that is difficult to rip or tear.
Everything about these is made to be durable and long-lasting, even down to the "S" hooks.
If you end up being a little rough on these while hooking them up, that is fine since the hooks on either end are coated to prevent scratching.
Pros
Durable and dependable
Inexpensive
User-friendly and easy to use
Cons
Hinge pins are hard to push down for adequate tension
Coupler Lock / Hitch Lock

Another must-have for any boat transportation are security measures to ensure that some thief is not transporting your boat away from your home.
Reese Towpower's produces a universal coupler lock that can adjust to eleven different positions.
The body is created out of aluminum, while the locking bar is produced from steel, making it a durable and lightweight security option for your trailer.
This lock can fit on 1-7/8", 2", and 2-5/16" couplers, making it an ideal mechanism to prevent theft on any type of trailer.
Moreover, this hitch lock is designed to withstand blunt force trauma, as well as prevent lockpicking.
Pros
Easy to use and install
Inexpensive
Secure and durable
 Cons 
Extended Mirrors

Boats can be bulky to transport. Depending on the size of your vessel, it can severely diminish your ability to see behind you with your standard rearview and side mirrors.
That's why we recommend mirror extensions, such as Fit System's clip-on trailer towing mirrors.
These mirrors clip directly onto your vehicle's side mirrors, all the way up to mirrors that are 11-1/2" tall.
The mirror is 5-inches by 8-inches, maximizing your viewing area to a little more than 5-1/8" by 7-3/4".
These mirror extensions allow you to see virtually behind your boat and will dramatically reduce the risk of colliding with other vehicles, curbs, and other items while making sharp turns.
Additionally, the clip-on technology that these mirrors utilize to ensure that they will remain attached to the mirror while driving at high speeds.
Pros
Greatly increases visibility
Mirrors do not vibrate, even at high speeds
Easy to install
Cons
Universal Mud/Stone Guard Flaps

Your vehicle is likely to get a little wet and muddy – especially if you will be taking your boat to less traditional lakes where there's little pavement into the water.
This makes mud flaps for your truck an essential addition to your system. Mudflaps prevent you from flinging debris onto your boat and other vehicles.
Rock Tamers offers its Hub Mudflap System that fits most 2" ball mounts.
The frame of the mount is made from stainless steel and can be extended to whatever width is needed for your vehicle.
Each flap is made from a tear-resistant fabric that incorporates an anti-splash pattern, along with other treatments to prevent corrosion.
They each cover an area that is a little more than 24 by 23-inches.
These flaps can also be custom cut to any length. Installation does not require any drilling, which makes the processes much easier than other systems.
Pros
Durable
High quality
Easy to install
Cons

 
Overview of Boat Towing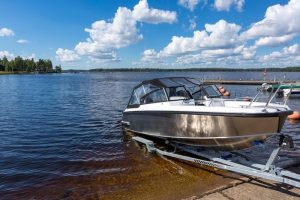 Now that you have the essentials, it's time to prepare for boat towing.
While it may appear to be an easy task, if done incorrectly, and unsafely, you can risk causing a lot of damage to your boat, your vehicle, and your life.
Below we will go over how you can prepare your boat for transportation, how to set up your trailer, and some basic safety tips so that you can get to your destination.
Preparing Your Boat for Transport
Getting Hitched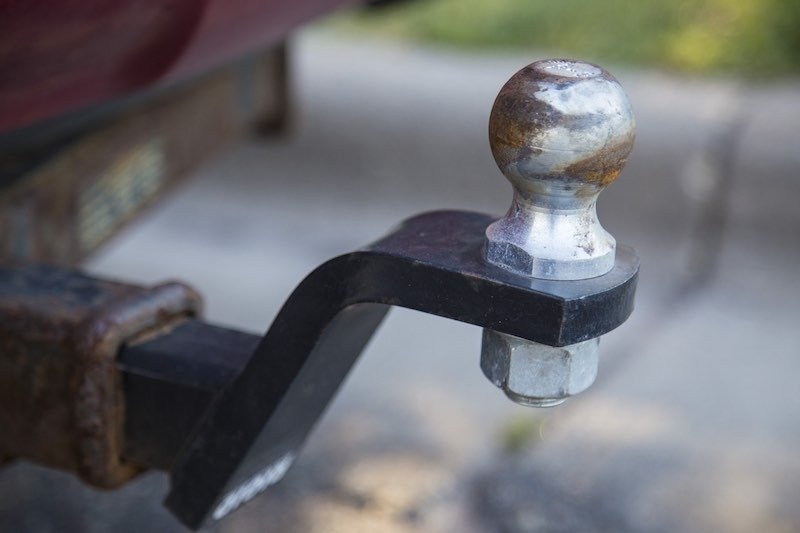 You will want to ensure that the trailer hitch you are using is the proper one. Hitches come in four classes, which relate to towing weight.
For example, a trailer listed as a class one can tow vehicles less than 2,000 pounds, whereas a class three trailer can transport vehicles up to 5,000 pounds.
Checking Weight Limits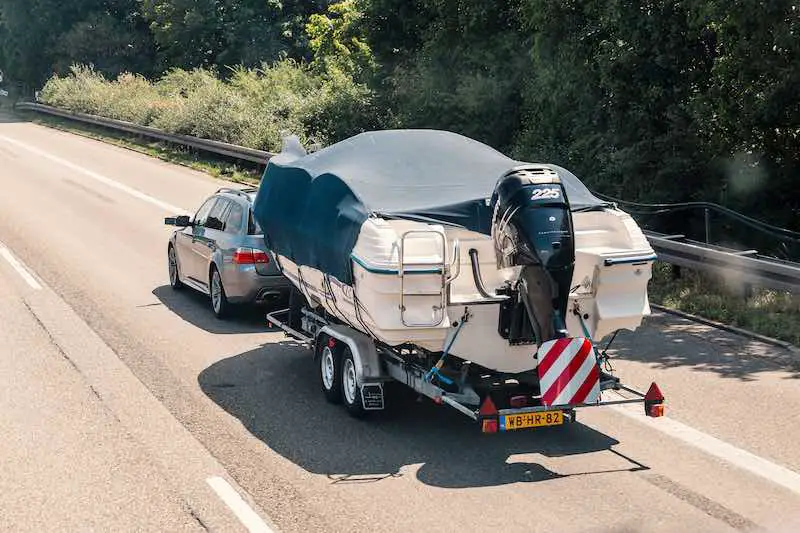 Before hitching your trailer to your vehicle, you should ensure that you will not exceed more than 80% of the weight limit for both your vehicle and your trailer. You should check the owner's manual for both.
For your vehicle, you will want to check the Gross Axle Weight Rating, and for your trailer the Gross Vehicle Weight Rating.
Your trailer should also have a capacity plate, which will also list other important information.
Get Your Trailer Checked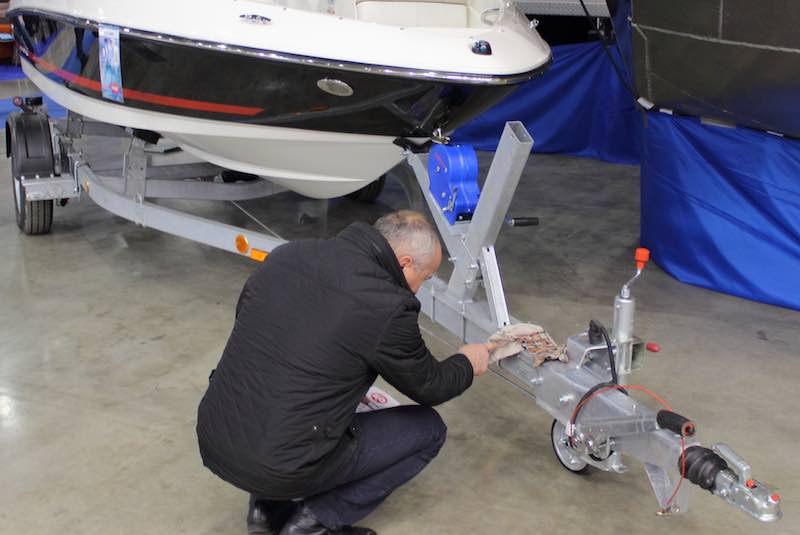 It may be best to have a professional do a check-up of your trailer.
This ensures that if your trailer needs a sway system or other form of weight stabilizer installed, you can find this out before it is too late.
Railings and pads that keep your boat secure and durable rely on this checkup to ensure that they are in good condition.
Hitching Your Trailer to Your Vehicle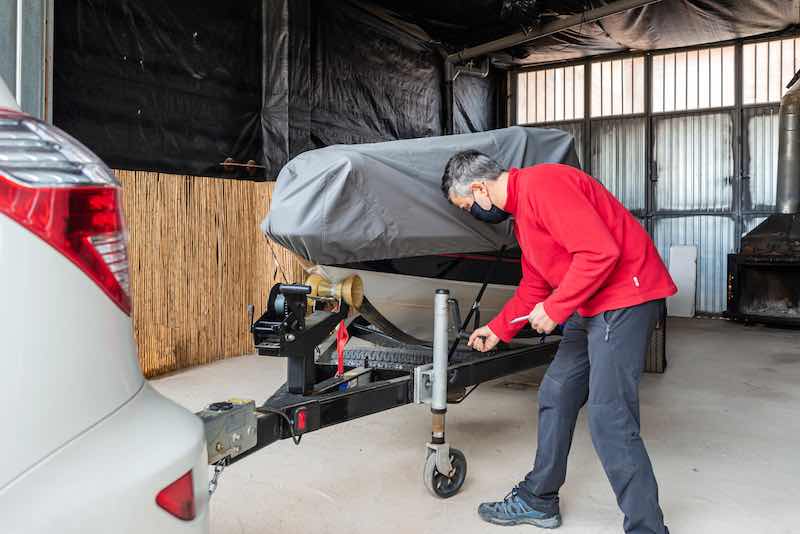 Chock Trailer Wheels
You will want to prevent your trailer from moving backward while you are attempting to hitch it.
To do this, place a traditional wheel chock, piece of wood, or a large brick behind each tire on your trailer.
Raise the Trailer
Using the jockey wheel attached to the front of the trailer, lower the jack until the trailer raises up just enough for the bottom of the coupling to be higher than the tow ball.
If you aren't sure how high that should be, the safest bet would be to use a tape measure
Get Help

 
Ask someone for assistance that can help guide the vehicle backward to ensure maximum efficiency.
A more expensive alternative would be to invest in cameras that can be installed on the back of your vehicle.
 

Back it up
Slowly drive your vehicle back and as aligned to the center as possible. If you've got someone assisting you, pay attention to their hand gestures.
The most important thing is to go slow and be patient. Don't worry if this takes a few attempts, especially if you are new to this.
Lower the Trailer
Once the tow ball is aligned directly under the trailer's coupling, it's time to lower the trailer using the jockey wheel. Be sure to raise the jack all the way up to minimize drag on the road.
Attach Safety Chains
Your trailer should have two safety chains attached, one on each side. Be sure to cross the chains. These attach to the couplings on the trailer, as well as the trailer hitch on your vehicle.
The chains should have enough slack that they refrain from being taught when turning the vehicle.
They ensure that if your trailer comes unhitched that it will not go wildly out of control.
Make sure they are tight enough to ensure that the hitch doesn't drag on the ground; this also ensures that you can maintain enough control until you can pull over.
Additionally, you could have a breakaway switch installed to your trailer.
These switches engage the brakes on your trailer if it decouples from the hitch, much like a treadmill.
These switches can be invaluable in preventing loss of property or damage to your boat.
Connect Electric Cables
Your trailer should have electronic cables attached to it that plug into a port on your bumper.
These chords enable your vehicle's lights, turn signals, and breaks to engage on the trailer as well.
Have your friend stand in the back to ensure that all lights and signals are working properly.
Remember, depending on the size of your boat, drivers behind you may be unable to see your vehicle's lights and signals.
Additionally, if your braking system is not working properly, this can lead to fishtailing or damage to your vehicle if you have to suddenly stop.
Adjust Your Mirrors
Ensure that your mirrors, or mirror extensions, are properly set before you begin transporting your boat.
If you are using mirror extensions, ensure that they are securely attached to your side mirrors. 
Safety Tips for Boat Towing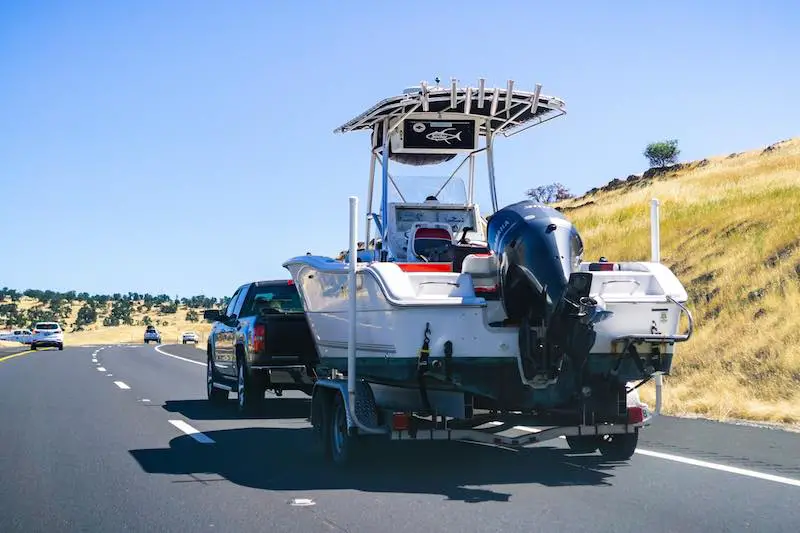 A few last tips before you set out on your adventure that often get overlooked but are important elements to boat towing.
Practice

 
If you are new to driving with a trailer, much less a trailer with a vehicle on it, try a few practices turns and backing up to get a sense for distance with your mirrors.
Adjust accordingly. You should feel comfortable and confident to minimize damage to people and property. 
Balance
Ensure that your boat is centered on your trailer and that anything in the boat, particularly heavy items, are either centered or counterbalanced.
Overbalanced trailers can lead to fishtailing, or risk to tipping over.
If you plan on storing luggage inside of your boat with a boat cover, it is imperative that the weight is distributed evenly. Also, an often glossed over item to check for is water.
If your boat was left out in the rain, it is possible that your boat may have some extra weight.
Water can be heavy, and it sloshes around, which can quickly add to uneven weight distribution.
Pressure
Check that all tires on your vehicle and your trailer, are filled to appropriate pressures.
Under or overpressure in tires can lead to poorer driving conditions and unsafe travel.
If you are not sure what the pressure should be, you can look on the wall of the tire.
Strapped in

 
Make sure that all chains and straps are secured tightly and appropriately fastened.
The turbulence while traveling down the road can make these steps easy to disengage, which could lead to loss of property.
Go slow
Whether you are new or experienced, be sure to take turns widely and slowly. Going too sharp can lead to a disconnection of the trailer or damage to property.
Going too fast can lead to your boat tipping over. Be sure to use your mirrors to help gauge your turns.
Conclusion

 
Now that you have learned what are the five small boat transport must-haves you can make appropriate choices to help ensure your safety and protect your property while traveling on your boat.
You have also learned how to connect your trailer and check for air pressure, security, and weight limits.
With these items in place, your trailer prepared and securely attached, it's time to get on the road.