This page contains affiliate links. This means that we may get a small commission for recommending products, if you choose to click on something and buy it. This does not cost you anything, but we wanted to be honest and let you know!
(Last Updated On: April 10, 2022)
If you are wondering how to mount a GoPro on your fishing boat, the answer is that there are several ways to do so, and they are easy to do.
GoPros enable every angler to capture all the fun, excitement, and action that fishing entails. It is great to show friends and family the fantastic experiences on the water and be able to relive them again yourself.
Here are some ways in which to mount a GoPro on your fishing boat to catch all the incredible action.
Suction Cup Mounts For GoPro
Using a suction cup type mounting will enable you to mount your GoPro onto any smooth surface. You will be able to use this on your fishing boat or even on a kayak. 
A suction cup mount will help stabilize the camera and enable you to get shots right after you land the big one and want evidence of it. This type of mount usually includes a "quick release," which allows you to use various accessories like a swivel arm to aim your camera anywhere.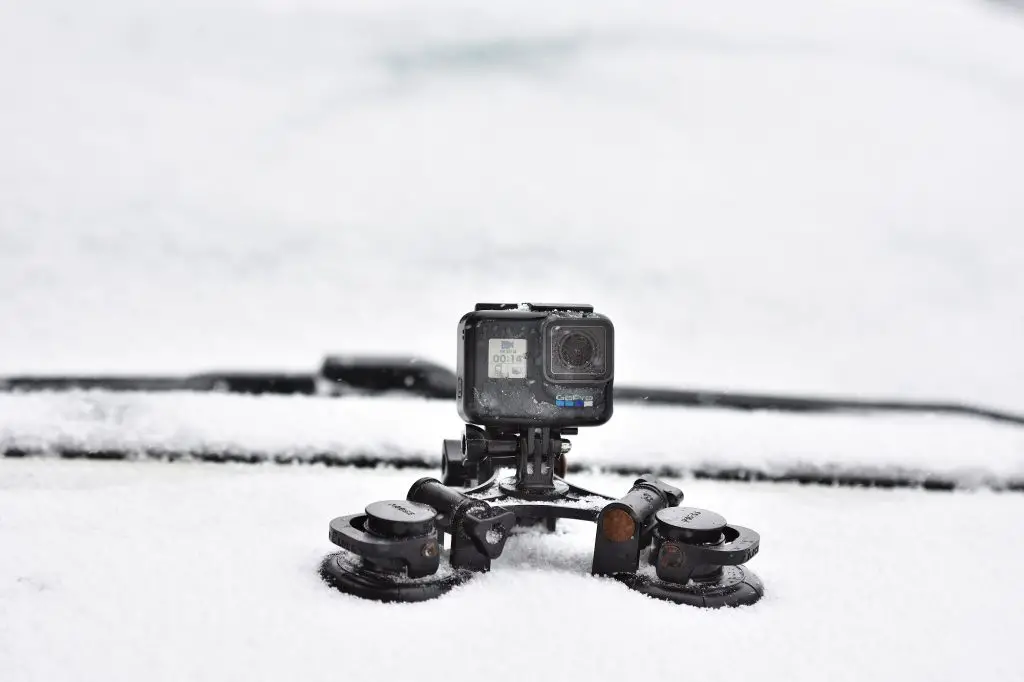 Rear Angle Wide Shot Using A Gooseneck Mount
Mounting a GoPro on your fishing boat in a position behind you and up higher gives you a full, wide-screen view of the fishing action. 
While the typical angle is lower on your fishing boat, the higher-up angle gives some interesting views of your casting, setting a hook, and the ensuing battle with the fish.
You will need to have a base, like the suction cup mounts, or adhesive mounts for a gooseneck mount. You will then want to pair one or more gooseneck extensions with the mounts that you have chosen. 
The gooseneck is what gets the camera up higher. You can attach several of the goosenecks together. 
They usually come at about 8 inches long each. With these extensions, you can get a nice high-angle rear shot that looks forward.
This high rear angle gives the viewer perspective of being above you and being part of the whole fishing experience. Some anglers have rigged their fishing boat with an aluminum or PVC pole in the rear seat post hole, and they then attach the GoPro directly to this pole. 
Using this method will get your camera up even higher and provide a real bird's eye view of the fishing experience.
Front And Side Views With Jaws Flex Clamp
If you use a jaws flex clamp, as with the gooseneck, you will first select a base to use and then attach your GoPro to it facing towards you. You can mount it on top of the trolling motor housing with either an adhesive or suction cup base, then use a swivel arm to line it up precisely. 
A jaws flex clamp can be used with a gooseneck and attached directly to the frontal cockpit coaming.
When you use this angle, your facial expressions and reactions will be captured on camera, along with your body movements. This angle helps capture the excitement, smiles, surprises making the experience more immersive. 
Many anglers consider a jaws flex clamp to be the best mount for GoPro to capture the authentic fishing experience. 
Attaching a jaws flex clamp is as easy. Attach to any edge of the windshield or gunnels of your fishing boat using the spring clamp that comes with the jaws flex clamp. 
It will also work on any edge of a kayak. Clipping it in the edge of your kayak will give you shots of all the casting movements you make.
If you want more distance or a higher angle between you and the camera, you can always add another gooseneck. This will give you better depth perception so that the viewer has some room between you and the camera, rather than feeling like they are right on top of you.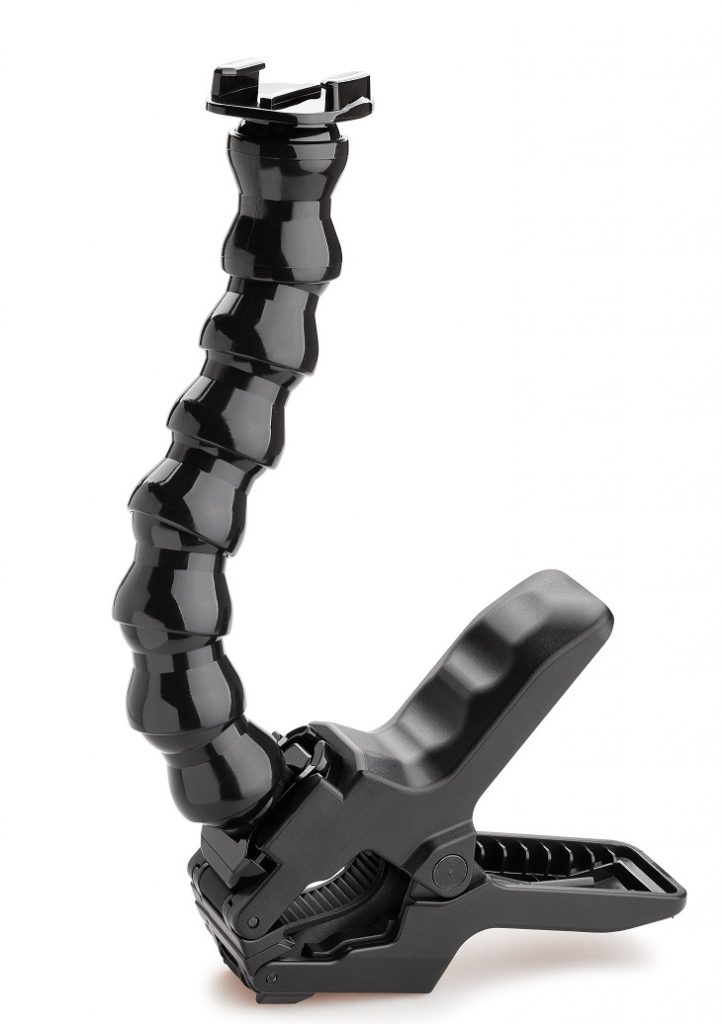 First Person Point Of View With A Head Or Chest Strap
The type of shots taken from the first person point of view (POV) is very popular. They put the viewer right in the middle of the action as if they were there themselves. 
They are also great for the person taking the pictures, as they can relive the moments and remember the exciting experience.
This type of mount, when used on a fishing boat, allows the viewer to see the same thing that the wearer sees with every cast, catch and release.
Using the head strap or hat clip is an increasingly popular way to mount a GoPro. This mount attaches to your head or hat, and the camera points directly out in front of you. 
The attachment strap will keep the GoPro pointed precisely where you are looking, and as you turn your head, the camera follows.
Things can happen quickly when you are out on the water trying to reel in a fighter, and the sequence of events can get blurry in your mind. 
Having a GoPro mounted on your head or your hat allows you to relive the action and share it with others. You can use the head stra[p mount over or under a hat, so it is versatile to adapt to your needs.
Using a chest-mounted camera will present the point of view of what is directly in front of you. It tends to be a more stable mount, as you are not turning your body as often as you are turning your head. If you tend to fish in rougher water, this mount will be better suited than a head strap.
If you fish from a kayak, a helmet front mount will turn with your head in the same way that a head strap does. You can also get a side helmet mount that gives a unique view as you travel on the water.
Specialty Mounts
If you have a water-loving dog that loves to join you on your adventures, there are dog harnesses that have GoPro camera mounts. You will see precisely what your dog sees and what is of most interest to them. 
GoPro cameras come in waterproof cases, so if your pet likes to dive overboard to help you retrieve your fish, the camera will be up to the challenge.
If you go out fishing with a partner, you can make use of a floating mount that can be used as a hand-held extension; just extend it out with your arm. 
When you catch a big fish, this type of mount will allow your fishing partner to pick up the camera and follow the action. They will be able to move around you or place the camera underwater to catch the action. 
All the while, you will be free to concentrate on landing the fish. Fortunately, this accessory floats, so if it gets accidentally dropped overboard, you should be able to retrieve it.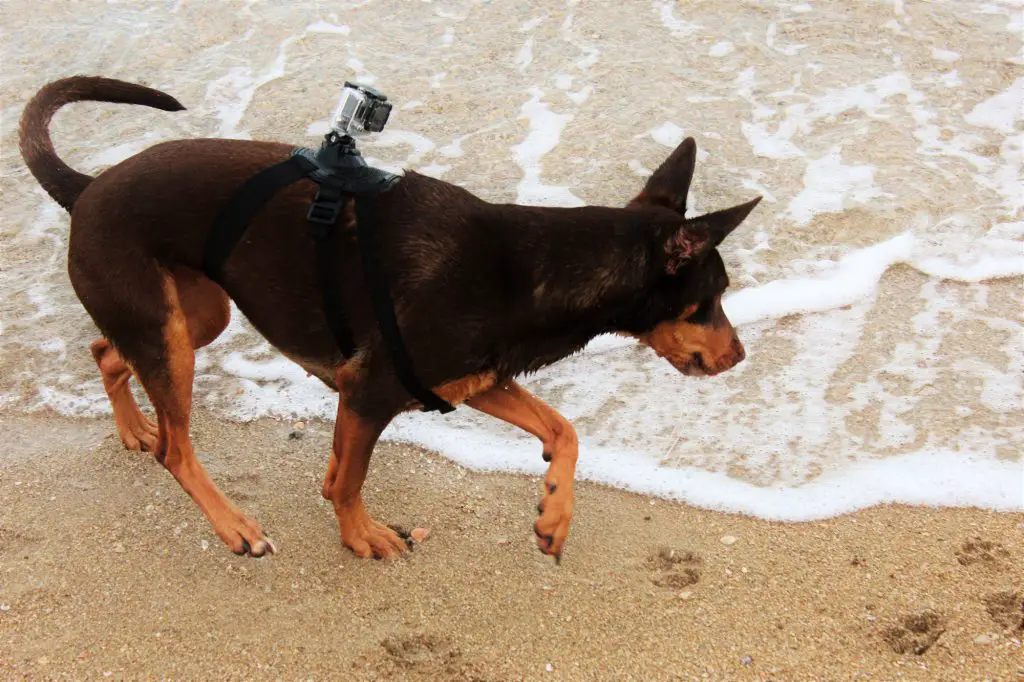 In Conclusion
Having a GoPro mounted to your fishing boat enables you to document exactly what happens on your fishing expeditions in the fishing world of catch and release. Never again will there be any doubt on just what happened as you will be able to have a visual record. 
Not only will others be able to share the experience with you, but you will be able to relive the thrill of fishing for years to come.Hopefully, if a fish ever swallows your GoPro, you will be as lucky as this diver! Check out this video that proves, while GoPro is ideal for capturing live-action, it does not make much of a snack! My GoPro camera was swallowed by a Napoleon Fish.