This page contains affiliate links. This means that we may get a small commission for recommending products, if you choose to click on something and buy it. This does not cost you anything, but we wanted to be honest and let you know!
(Last Updated On: April 10, 2022)
Fishermen are always on the lookout for the most effective lines to use when they plan to go on their next fishing trip.
There are many types of fishing lines to choose from. Fluorocarbon materials have been proven to be designed into some of the most productive fishing lines on the market.
Fluorocarbon fishing lines have recently risen in popularity amongst consumers, and rightfully so.
They have many amazing features that are highly sought after in fishing lines.
This will act as a buying guide for finding the best brands of fluorocarbon lines, and a guide to help you gain a better understanding of what fluorocarbon lines are and what features you should look for when purchasing a new line.
Best Fluorocarbon Lines
Seaguar Invizx
The Seaguar Invizx fishing line can be used in both baitcasting reels and spinning reels, and they can be used in both saltwater and freshwater environments.
Main features:
Has an advanced hook setting

Almost completely invisible to fish

Made from 100% Seaguar resins
Seaguar Blue Label
The Seaguar Blue Label fluorocarbon leader is a popular product amongst fishermen all over the world. Its effectiveness and capability to reel in even the strongest of fish is impressive.
Main features:
Can handle up to 80 pounds

Resistant to abrasions

Fast sinking
KastKing FluoroKote Fishing Line

The KastKing FluoroKote Fishing Line is manufactured by an award-winning brand. It is constructed through the combination of the KastKing Copolymer Fishing Line and 100% fluorocarbon coating.
Main features:
Fast sinking

Low visibility to fish

Amazing abrasion resistance
RUNCL PowerFluoro Fishing Line
The RUNCL PowerFluoro Fishing Line is constructed with a copolymer core and a 100% fluorocarbon outer coating. This build provides it with many useful features that will come to prove its usefulness.
Main features:
High sensitivity

Low visibility

High UV resistance
Seaguar Red Label Fluorocarbon
The Seaguar Red Label Fluorocarbon fishing line is strong and highly abrasion-resistant. This will come in handy for when you are trying to reel in much bigger fish.
Main features:
Highly sensitive

Decent impact strength

Dependable knot strength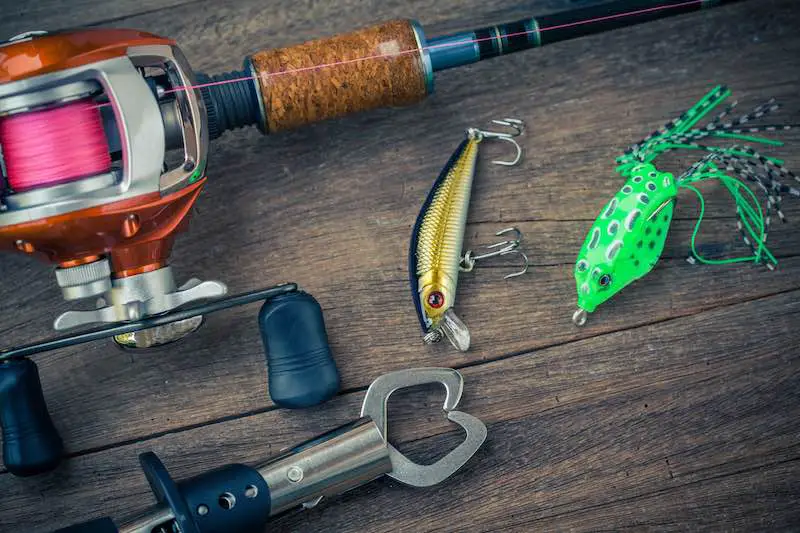 What Exactly is Fluorocarbon?
Fluorocarbon is a compound that is formed by replacing one or more of the hydrogen atoms in a hydrocarbon with fluorine atoms.
Fluorocarbon is used as a construction material for many different things, such as fishing lines, frying pans, etc.
As far as fishing lines go, it has become a more popular material amongst avid fishers within the past decade.
Fluorocarbon lines are nearly invisible to fish. They have all kinds of other advantages that have proven to be advantageous to the fishing industry.
It has a much better performer in the water compared to other types of lines.
To get the best value for your money, there are different types of fishing lines to choose from. There are also many other important features of fluorocarbon lines you need to be aware of.
Different Types of Fishing Lines
Fluorocarbon
Fluorocarbon lines offer low visibility, and they are highly recommended for both clearwater and saltwater environments.
It is a newer type of line compared to other kinds of lines. It has proven to be highly effective. Moreover, it's practically invisible in clear water.
It has a high level of abrasion resistance and does not absorb water as monofilament lines do.
However, it may be difficult to tie knots with fluorocarbon lines because of how stiff they are compared to braided or monofilament lines.
There is a possibility that the lines may hold only if you try to tie them while the line is wet.
It also sinks faster, so it is best to avoid using surface lures with fluorocarbon lines.
Braided
Braided lines have become popular amongst fishermen due to their fantastic abrasion resistance and the advantage of having no stretch.
Having no stretch means that the line is extremely sensitive. You will be able to feel even the smallest fish bite down on the hook.
It is a good type of fishing line to use for deepwater fishing. It can flow through the water more effectively than monofilament fishing lines.
Unfortunately, braided fishing lines do not offer low visibility as well as other types of fishing lines.
It also has the lowest level of abrasion resistance. That means that your line has a chance of becoming easily broken.
You will also have to be extremely careful while you are handling braided fishing lines. You could injure yourself on the thin and strong line.
Monofilament
Monofilament fluorocarbon lines are one of the most standard lines amongst anglers. They are extremely easy to tie knots and cast with.
The knots also hold exceptionally well, and it is capable of working with many different types of reels.
The low level of visibility and the high level of affordability are also bonuses of using monofilament lines.
One of the most significant disadvantages is that monofilament lines absorb salt water, which can cause it to deteriorate in strength.
The elasticity can also weaken your cast, although it will still work effectively enough to reel your fish in.
Furthermore, its level of abrasion resistance is not as high as other types of fishing lines.
Considerable Features
Level of Visibility
The fluorocarbon line offers a low level of visibility that is practically invisible to fish.
With a low level of visibility, the line will be able to blend into its surroundings depending on the type of water environment and what color line you choose.
You will also need to consider other environmental factors to determine how invisible your line will be to fish, such as the time of day or how dark or light it is outside.
Having a virtually invisible line to cast will increase your chances of success when catching fish.
Level of Sensitivity
The amount of stretch that your line is capable of will determine how sensitive your line will be.
The less stretch your line has, the more you will be able to feel a fish tugging at the end of your line.
This will give you more insight into what is happening below the surface of the water and will allow you to adjust your line to reel in fish more effectively.
Fluorocarbon lines have an exceptional level of sensitivity, so you will be able to feel even the smallest of fish nibbling on your hook.
Abrasion Resistance
Lines with abrasion resistance will be able to remain durable through multiple uses and be more effective in the water.
You will also be able to spend less time worrying about how environmental factors, such as rocks or plants, are damaging your line beyond repair.
Fortunately, fluorocarbon lines are usually designed with high levels of abrasion resistance.
They are built with harder types of metal that will be harder to break and will also ensure that it lasts longer.
Tensile Strength
The tensile strength of your fishing line will be able to determine how strong and effective your line will be while you are reeling in your fish.
The more tensile strength your line has, the longer it will be able to last regardless of how much it has been used under any environmental circumstances.
The tensile strength depends on the rating strength, which is determined by the fish you are trying to catch, the type of fishing you are trying to do, and the type of water you are fishing in.
Fluorocarbon lines are capable of having a high amount of tensile strength while also remaining weather resistant to ensure that it will remain durable.
Knot Strength
The strength of the knot will determine whether or not the knot on the line will hold firm once you cast it.
Any knot should be well tied and capable of holding at least 60% of the line's tensile strength to be effective.
There are many different ways to tie knots in fishing lines, but any good fisherman will know how to tie knots that will hold firm and strong.
Smooth Casting
The casting ability is one of the most important features of your line. The ability to make a good cast will prevent you from having to struggle with the line overall and ensure that the end of your line will end up where you want it to.
A really good cast will require a decent amount of accuracy and sensitivity, so you will want to make sure that your line has excellent casting abilities.
Size of the Fishing Line
Fishing lines come in many different sizes and weights, so knowing which specific sized line you will need may be difficult at first glance.
The size you will need will usually depend on the kind of water you are going fishing in as well as its depth.
The weight refers to how many pounds a line can take before breaking. Some fluorocarbon lines are available up to 600 yards or longer, so you may not have to worry about not having a long enough line.
Conclusion
Fluorocarbon fishing lines are quite effective as long as you know which features to look for and what types of environments you are working with.
Taking a closer look at some of the available products may help you determine what the most effective line for your rod should be.