This page contains affiliate links. This means that we may get a small commission for recommending products, if you choose to click on something and buy it. This does not cost you anything, but we wanted to be honest and let you know!
(Last Updated On: April 10, 2022)
You are in the market for a new fishing rod and have decided on a telescoping rod. Telescoping fishing rods have gained popularity in recent years, thanks to how convenient and portable they are.
Easily collapse them, and you're ready to go. In this guide, we'll give you the rundown of the best heavy-duty and strong telescoping fishing rods under $50.
Product Reviews
1. PLUSINNO Fishing Rod and Reel Combos Carbon Fiber
Plusinno fishing rod is made from strong carbon fiber with a mix of fiberglass. Combining the two materials makes for a yieldingly flexible, yet durable rod.
Included with your purchase is a stainless steel hooded reel seat. Corrosion resistance material makes the reel seat excellent for use in seawater. Telescoping rod is convenient to use, and classy looking with a copper finish.
Pros
12-month warranty

Strong, yet flexible, material

Collapses into a small size
Cons
Fragile can snap if not careful during use
2. KastKing Blackhawk II Telescopic Fishing Rods
Spinning reels and nice deals: This KastKing telescopic fishing rod hits all the best features. The spinning reel is great for beginners and pros alike. Variety is available with this option – there are seven different rod lengths offered.
Quickly assemble the graphite reel, and stainless steel line guides with ease. The portable telescoping rod is also easy to use. Leave this in a convenient location, and you can fish on any body of water you come across. Anti-corrosion materials mean this rod is set for use in saltwater.
Pros
Protective cover included

Reel seat locks in securely

Compact
Cons
Straight eyelet and full rod extension can be a hassle
3. PLUSINNO Fishing Rod and Reel Combos, Toray 24-Ton
You will be fishing in style with this sleek-looking rod. Shiny black and copper finish is sure to reel in the compliments. This rod isn't just pretty to look at, however. It also has plenty of great features.
Rod and reel handles are made with SuperPolymer material that is comfortable, durable and allows you to grip without losing your grip. This will enable you to stay in control when reeling in a fish.
The rod is made out of carbon fiber and reinforced with sturdy fiberglass. This allows for elasticity and stiffness to provide perfect sensitivity.
Pros
12-month warranty

Amazing appearance

Built sturdy
Cons
Line guide arrangement is odd but does not impact usage
4. PLUSINNO Telescopic Fishing Rod and Reel Combos Full Kit
This Plusinno set comes with the whole kit and caboodle. You have the option to get the package deal that includes the reel, rod, carrier, lures, and line.
The full kit is perfect for those just starting on their fisherman journey. The carbon fiber and fiberglass rod offer the ideal amount of flexibility.
The spool is aluminum and color-marked near the one line holes. This rod is very lightweight and portable.
Pros
12-month warranty

Lightweight

Easy to pack and carry
Cons
Best for use with smaller fish, larger fish may snap the rod.
5. Sougayilang Telescopic Fishing Rod – 24 Ton
This Sougayilang fishing rod compacts into the perfect size for storing in a backpack while traveling. It is incredibly lightweight, so if you need to walk a fair distance on foot, this won't be a nuisance weight.
The rod is made of high-density 24-ton carbon fiber creating a perfectly balanced rod for a variety of fishing.
Spinning guides are made of stainless steel and provide a tangle-free operation. This means a smooth cast and retrievable for you.
Pros
Easy to set up

Lightweight, solid build

Smooth casting
Cons
The rod itself is quite stiff
6. Sougayilang Fishing Rod Reel Combos Carbon Fiber 
This setup is excellent for those who will be fishing in saltwater and freshwater. Sougayilang has created a rod that is durable and flexible, with an excellent grip on the handle. The hard and lightweight guide ring makes set up more comfortable for you.
Sougayilang YB Fishing Reed has a handle that is left/right interchangeable. This is perfect for those who are left-handed and often forced to learn right-handed gear, or for those who will be sharing their gear. The reel also instantly locks when anti-reverse technology is activated.
Pros
Collapses small

Smooth reel

Removable butt cap
Cons
Be careful when extending/collapsing the rod as it may break.
7.

 

Sougayilang Spinning Fishing Rod and Reel Combos 
Another excellent setup for those who will be fishing in both saltwater and freshwater. The ball bearings and gears are corrosion resistant.  Although, don't forget to give your gear a good rinse in fresh water after use in saltwater to help prolong its life.
Aluminum spool is designed in a honeycomb pattern to keep it lightweight, yet strong. The handle on the rod and reel have EVA for non-slip and easy fishing.
Pros
Packable and convenient

Solid build

Smooth cast
Cons
Be mindful of rinsing after use around salt water to help prevent rust
8. PLUSINNO Carbon Fiber Telescopic Fishing Pole – Spinning Reel

Another Plusinno fishing rod landed on our list. The 12-year warranty of their products and great customer service help drive home our trust in this brand. Like the other Plusinno rods, this rod has a sharp black and copper appearance.
The full kit comes with everything you need to start a new fishing hobby; however, for more seasoned fishers, this carrying case, rod, and reel are perfect for a new telescope rod.
It closes down small so that you can take it anywhere. Welded stainless steel guides let you cast far with great accuracy.
Pros
12-year warranty

Smooth cast

Great value
Cons
9. FishOaky Fishing Rod kit, Carbon Fiber Telescopic
This FishOaky rod is the lowest priced rod on our list, but it does not lack in usability or quality materials. It is crafted with carbon fiber and fiberglass to create a stiff, yet flexible rod.
The guide sets are spaced out perfectly for most users and allow for efficient casting. High strength nylon fibers make up the reel seats for your comfort and to make a solid base.
Pros
12-month warranty

Great value

Carrying pouch included
Cons
Be careful when catching larger fish with this as it might snap.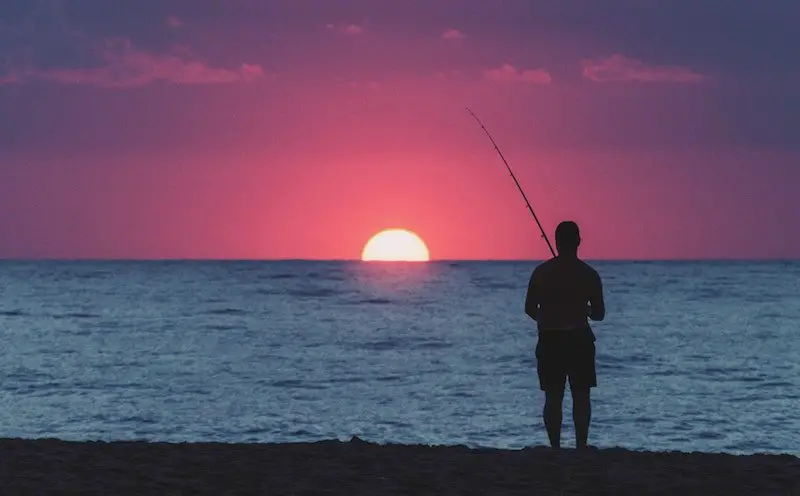 Advantages of Using a Telescopic Fishing Rod
Telescopic fishing rods are an option being chosen by more and more fishermen – from beginners to pros. Comparatively, these rods have many benefits.
Convenience
These rods collapse down to a short length. Compact rods like this are easier to travel with, whether you're hiking on foot to a remote location or storing the rods in the truck to go to a local river hotspot.
Powerful Luring
Functioning with a large bait, like bomb shackle, this will increase the number of hooks you will need to use for bait. Since you can use more hooks, you can use larger bait.
Farther Casting
Larger fish live in deeper water, so being able to cast your line farther is beneficial. Telescopic rods support nice storage line, bait, and weight. This makes it easier to throw the line far out into the water.
Features to Consider: Buyer's Guide
Materials
Carbon fiber and fiberglass are trending materials used in premium fishing rods. These rods are durable and will last a long time. However, graphite is often more affordable, lightweight, and a bit stiffer.
Handle
You will have your pick of the litter with handle options. Shape, size, and material vary, and you can pick according to your needs.
Rod Length
The length of the rod affects distance. If this is your preference, make sure you get a two-handed rod.
Reel Seat
The reel seat is where you place your reel on the rod and adjust as needed. Several varieties of reels are available. For example, spinning reels are lovely for beginners, while professions prefer bait casters.
Weight
Rod weight will affect everything from how long you can hold it, how fatigued you'll become, and how long you will be willing to carry it around.
Usage Tips
The most important tip is to be gentle when opening and breaking down the rod. Laying the rod on a flat surface, patiently pull out sections until it locks. To collapse the rod, gently twist each section to loosen them.
Try to avoid whipping or quickly pulling the rod to extend it. This may cause irreversible damage.
Conclusion
Don't flounder – as you can see, these rods are perfect for a new fisherman or a pro looking for something more travel-friendly on a budget. Telescopic rods are useful, and they are incredibly simple to use.