This page contains affiliate links. This means that we may get a small commission for recommending products, if you choose to click on something and buy it. This does not cost you anything, but we wanted to be honest and let you know!
(Last Updated On: April 10, 2022)
The pontoon boat of yesterday is often slow and a bit cumbersome, and known primarily as "party barge."
There is nothing wrong with that history, as the pontoon served a purpose back then.
Today's pontoon may physically resemble those boats of yesterday, but the boat's performance today is nothing like their ancestors.
This renaissance has been brought about by the advances in pontoon tube design, boating materials, outdoor fabrics, and more efficient outboard engines.
Some of today's pontoon's zip along at a top speed of 60 mph with 900 horsepower, leaving behind the "party barge" image in their wake.
The beauty of newer pontoons is that they have retained all that made them popular in the first place but have been upgraded in all aspects.
How a Pontoon Boat Works
Credit goes to Ambrose Weeres, a Minnesota farmer, for making the first pontoon boat in the United States.  Back in 1952, Weeres tied a wooden deck to aluminum cylinders. 
His goal had been to construct something that would be stable and hold his family for a spin on one of Minnesota's 10,000 lakes. 
His conveyance worked, prompting him to start the successful Weeres Pontoons and earning him an induction in the Minnesota Marina Hall of Fame.
Pontoons,  like the one Weeres constructed, are boats with a flat deck secured on two or more metal tubes called pontoons. 
The pontoons, or tubes, contain reserve buoyancy which, allows the deck to be outfitted with accommodations, such as seating.
Better tube design and a larger diameter tube enable an ever-increasing amount of horsepower to be mounted on the stern in the form of higher-performing engines.
This gives the pontoon the same power and maneuverability that a similar size v-hull boat has.
The tubes are made out of welded sheets of marine-grade aluminum and tapered to a point at the forward end of the boat.  The insides of the tubes usually hold the fuel tanks.
Manufacturers then weld deck support channels and cross beams atop these tubes. 
A key component in the ride and feel of a pontoon, these support channels are what give a pontoon its rigidity. 
The deck comes next and is made of various grades and thicknesses of plywood. 
Carpeting or vinyl flooring covers the deck and aluminum "fencing" or side panels are added to the deck. 
From this point on, all bets are off, as today's pontoon can accommodate toilets and changing rooms, enclosed cabins, live wells, fish finders, as well as coolers and mini-kitchens.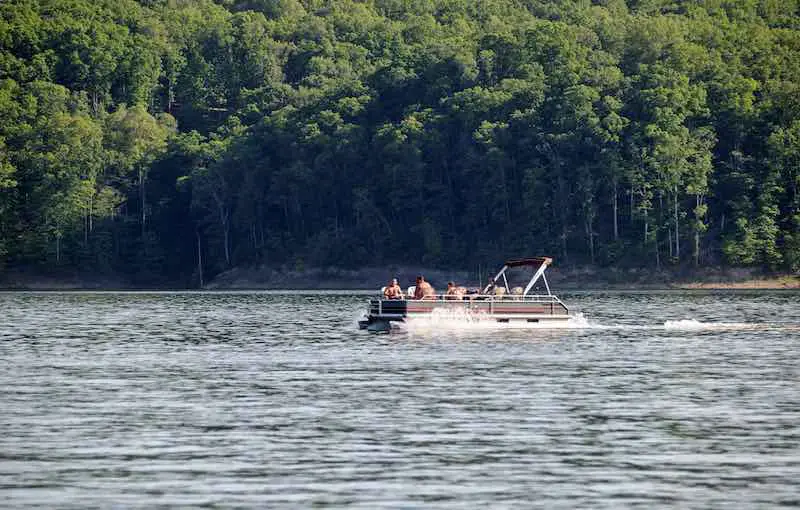 Uses Of a Pontoon
Towing tubers, skiers and wakeboarders are one of the many uses of a pontoon. 
Most pontoons will have enough horsepower for towing,  along with a towing pole or mount.  Some toons will have metal sports arches and brackets for boards and skis.  
Performance pontoons, or "rocketoons," can have as much as 900 horsepower. 
These toons have enhanced stability and water displacement that allows for quick planing and handling that will rival fiberglass sport boats.
Fishing from a pontoon is a truly comfortable experience. Being able to walk around the boat is a huge bonus, along with deck space for live-wells, rods, and tackle. 
Pontoons have a low draft which makes them perfect for shallow water.
Harking back to its original purpose, as seen by Ambrose Weerer, a pontoon is ideal for families. 
They are much like an SUV of the sea; they hold the whole family, have many ergonomic features and lots of lounge space.
Luxury pontoons are all about class and comfort. Attention is paid to detail like high-quality seats, computerized control panels, and joystick-like steering. 
Most will have twin engines and chaise lounges, stand-up bars, and LED lighting.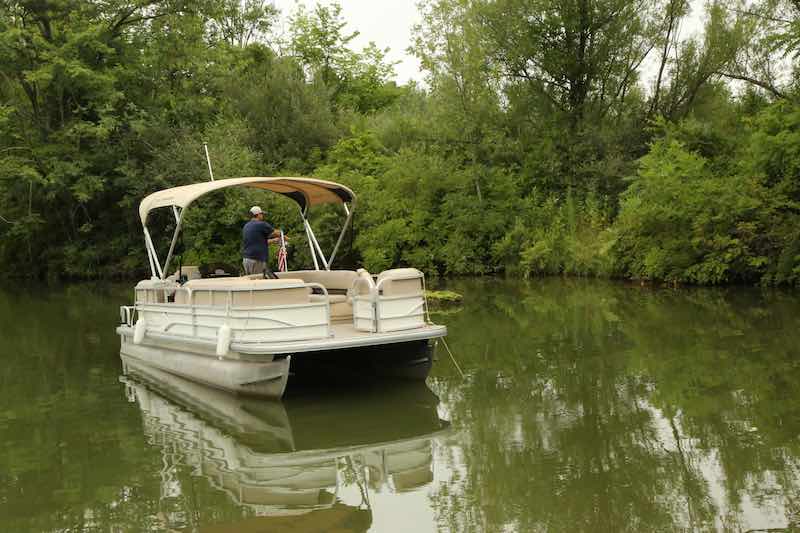 Cost of a Pontoon
As with any other type of boat, prices for a pontoon are going to vary.  It will depend on several factors, such as size, engine type, and features. 
The manufacturer will also be a factor, as will its condition, either new or used.
Many websites for boats do not have advertised prices but will ask you to request a quote.  However, a new pontoon boat can cost as little as $14,000 or as much as $50,000 and more.
We have compiled prices for new pontoons to give you a general idea.  These are average prices, and additional features would change the price.
| | | |
| --- | --- | --- |
| Manufacturer | Size | Average Price |
| Bennington | 22 feet | $35,000 |
| Crestliner | 24 | $28,000 |
| Cypress Cay | 23 | $29,000 |
| Regency | 22 | $59,000 |
| South Bay | 22 | $35,000 |
| Suntracker | 22 | $21,000 |
| Sylvan | 22 | $27,000 |
Avalon pontoon does display costs on its site 2021 Pontoon Boat Models.  Their Venture compact model will cost $18,300, and their Flagship model will cause sticker shock at $101,600.
When thinking about the cost of a pontoon, also consider the other expenditures that will be associated with ownership.
You can finance a boat, much like a car, with terms ranging from two to twenty years
Options and add-ons and accessories will contribute to the cost. Don't skimp on safety items 
Operating costs should be factored in, although today's engines are more efficient and 64% of boaters use about 50 gallons of gas a season
If you do not live on the water, you will need a trailer for transporting
Insurance, registration and, taxes at purchase
Maintenance and upkeep, winterization if applicable
Storage or marina fees
You can go to the National Automobile Dealers Association (NADA) to research new and used boat pricing: Powerboat, Sailboat Prices & Personal Watercraft Values.
Pontoons Hold Their Value
Over time, and due to the steady demand for pontoons, they hold their value better than other boats.  That can make a pontoon a financially smart investment.
Pontoons have excellent stability, are family-friendly and versatile.  They can be used for fishing, tubing, or just enjoying a day on the lake.
Seasoned boaters agree that pontoons are cheaper to operate and to maintain. All of these factors contribute to a pontoon holding their value over time. 
Pontoons Tend to Be Reliable
The design of a pontoon enables the boat to handle well in windy conditions or on choppy water.
A pontoon boat has two hulls (the welded metal tubes under the deck), and these allow the boat to sit on top of waves, while a mono-hull boat sits in the waves.
The displacement of water is different in a pontoon, and it makes a difference when you are out on the water. 
This smaller water displacement means that the boat can move forward through the water, fighting the waves less. 
For this reason, it is unlikely that the pontoon will flip or capsize. 
Maintenance of a Pontoon Boat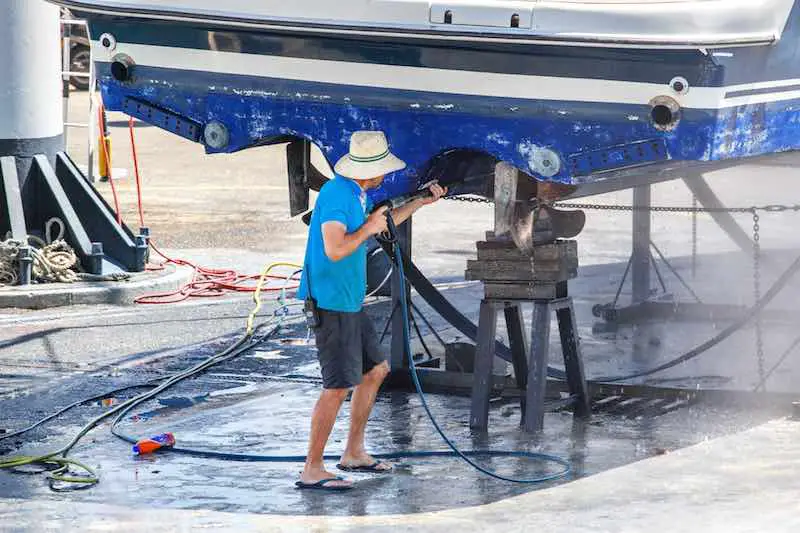 Just as you would with any other investment you have, as in a home or a car, your pontoon needs proper care and maintenance to keep it running for years to come. 
It may seem that the boat sits in water for the majority of the time, but don't forget to wash your pontoon on a regular basis.
The great thing is that you do not need any type of special soap, the same soap that you use on your car will work on your boat. 
The washing will remove minerals and salt deposited by the water that can be damaging to your boat's surface. 
When not in use, cover your pontoon. The cover will help to guard against sun fading and keep unwanted critters off of the boat.
Check the pontoons (the tubes) regularly for dents or leaks. If you see a problem, have it addressed immediately.  Either take it to your dealer or an authorized aluminum repair shop.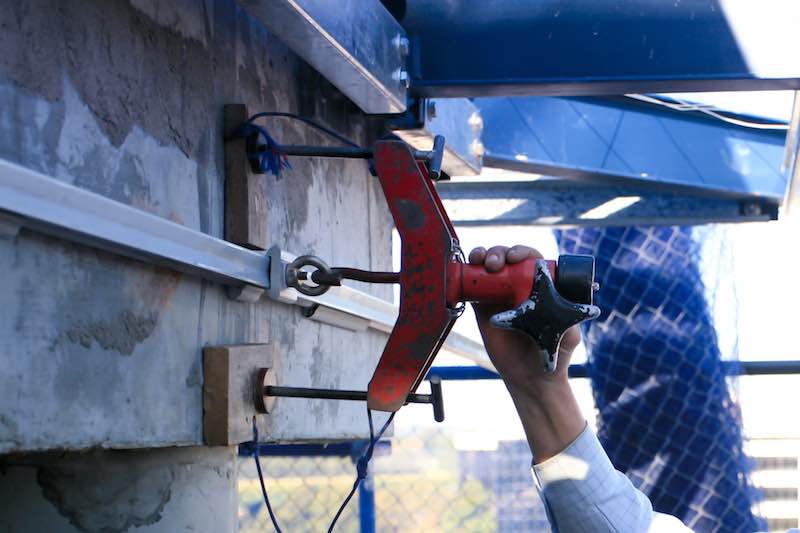 If you use your pontoon in saltwater, make sure to flush the engine after each use and clean the bottom of the pontoon boat periodically to prevent salt build-up.
Clean the boat decking with a non-skid cleaner if you have vinyl decking.  If you have carpet, 
use a broom, cordless vacuum, or even a leaf blower to remove dirt and debris.
Wax your boat every few months to help keep the paint job looking fresh and protected. 
The aluminum parts on the boat, such as the fencing, should also be gone over with a cleaner that is made for aluminum.  
Keeping your pontoon furniture looking new will be easier if you do a bi-yearly deep cleaning of the material. 
If you keep your furniture dry by wiping down seats when the boat is not in use, you will help to prevent mold and mildew from springing up. 
Check the manufacturer's recommendations for products that will enhance and prolong the life of your pontoon boat furniture. 
Driving a Pontoon Boat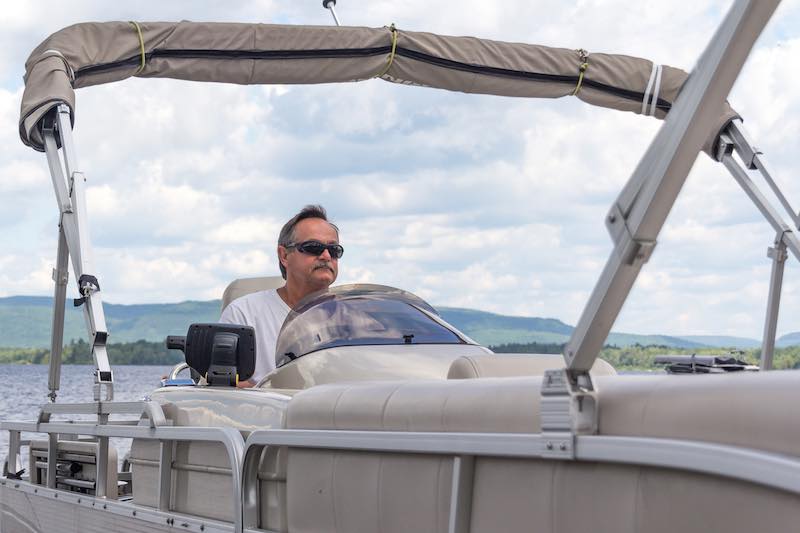 Driving a pontoon boat is not a lot different from driving a v-bottom boat, but because the pontoon is shaped differently, it does require a few adjustments and becoming familiar with how it handles.
If you do not have any boating experience, consider taking the USCG safe boating course. 
Welcome to the United States Coast Guard Auxiliary Official Web portal
Here are steps to operating a pontoon boat:
Safety is always first, so make sure that you and any passengers on board have life jackets.  
Check the fuel level and check the radio on-board
Secure any equipment that is on board
Start the engine and let it idle for one to five minutes
Trim the motor so that it is in the water, but not too deep
Untie the docking ropes and put the pontoon in reverse
Back away slowly by pushing the throttle in short, controlled bursts
With the steering wheel, turn the bow so that it points in the direction that you want to travel in
Shift into forward and move the boat forward
Keep the motor trimmed down 
Keep one hand on the throttle and the other hand on the steering wheel as you drive the boat
Be aware of your surroundings and watch 100 feet in front of you at all times
Try to maintain equal weight on the bow and the stern (in regard to passengers)
Boats don't have breaks, so keep a cruising speed that gives you plenty of time to slow down
When you turn the boat, do it downwind if possible, and at medium speed
To dock the boat, slow down when you see the dock in view
Accelerate downward, shifting into neutral while approaching the dock
Turn the wheel so that the center of the boat's bow is at the middle of the slip
As you turn, shift to forward. Let momentum do the work, and the boat will glide into the slip
If you need to make adjustments to your position, use reverse and turn the wheel slightly
Use the ropes to tie the pontoon back up to the dock
Watch this short video that demonstrates How to Drive a Pontoon Boat
Pontoon Sizes
When you are deciding what size pontoon to purchase, think about what the primary purpose of the boat will be.
Think about the number of people you will be transporting and the size of the body of water that you will be using your boat on regularly.
In general, a 17 to 19-foot pontoon boat is great on smaller bodies of water where the water tends to be calmer.  This size pontoon is for groups of up to eight people.
Boats that are 20 to 22 feet are equipped to seat up to 12 to 13 passengers and are best suited for lakes and rivers that do not have large waves.
The above guidelines are just a rough idea of the number of people.  There will be a capacity plate on the boat that will give approximate numbers for both weight and number of passengers.
Rather than relying on the number of people, it is essential to factor the weight that the pontoon will hold. 
If your pontoon has a weight limit of 1500 pounds, and you want to carry 15 people, that means that each person should weigh 100 pounds.
So when considering what size pontoon to choose, reflect on what you will carry in both passengers and gear. 
If you plan to fish a lot and take your fishing gear, or if you stay out on the water with coolers full of food and drink, take that into consideration, as it adds to the weight the boat is carrying.
Know that the Department of Natural Resources (DNR) and law enforcement make their own calls as far as what is safe. 
If a DNR officer were to see what he considers an overcrowded pontoon, he has the authority to pull that boat over for an inspection.
When considering size and horsepower, check out the video for more advice:  What Size Do You Need? How much HP Do You Need?
Manufacturers of Pontoon Boat
There are well over forty well-known pontoon manufacturers.  We will look at several of them here.
Bennington
Bennington has been one of the premier luxury pontoon boat manufacturers since 1997. While Bennington boats are available in hundreds of floor plans, the 22SSRXP is one of their most popular lines.
It offers seating for 12 passengers in two forward-facing radius benches that are located in the bow, with two more facing aft in the stern.
It provides a captain's chair for the co-pilot and is perfect for water sports. The boat comes with standard 25″ tubes and a 115 horsepower rating. 
Lowe
The Sport SS 210 series is the core of Lowe's pontoon selection.  This pontoon is functional yet comfortable. Chaise lounges are on the starboard side, with a port side settee and the side entry gate.
An L-shaped layout begins at the companion position and wraps around the aft of the deck area and ends at the walkthrough swim platform.
The swim platform has plenty of room as the outboard is mounted far back from the aluminum ladder.
While this pontoon may not have all the bells and whistles of luxury models, the 45 years of experience from Lowe Sports shows in a well-built pontoon boat.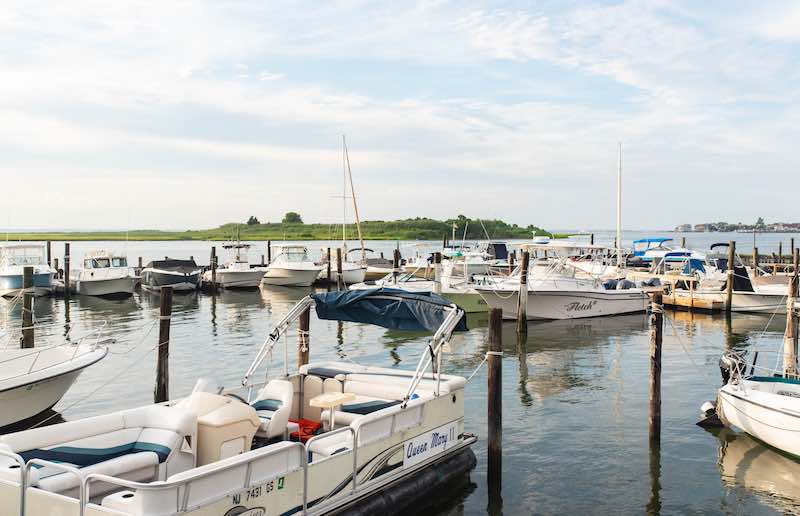 Montego Bay
Built-in Gillett, Wisconsin, Montego Bay pontoons offer three lines of pontoons:  fishing, cruising, and sport tri-toons. (a tri-toon has three support tubes rather than two, which allows for a larger deck area)
The Montego Bay Cruise 8522 has a three gate layout on the stern, port, and bow.  With space for up to 12 passengers and a horsepower rating of 115, this pontoon is ideal for a family.
All of the models are 8.5 feet wide and come in a variety of floorplans.  There are six carpet and flooring options with four different color choices.  
Princecraft 
The versatile Princecraft Sportfisher 21-2S is one of the classic pontoon boats. Having plenty of seats on board for up to 10 people, with benches along each side and an aft-facing recliner at the stern and two swivel chairs on the foredeck.
An excellent choice for fishing, the Princecraft offers options that include a trolling motor, fish-finders, and an aerated live well along with rod storage.
Other options include a full or half camper and a portable toilet. These items will help to extend your time on the water in this all-around pontoon. 
Starcraft Marine
If you are looking for something sporty, you will find that in Starcraft's SLS3. Capable of supporting 250 horsepower with a length of 24 feet, this pontoon will give you plenty of power and speed.
The center of the deck area has the captain's chair on starboard with a high-backed swivel companion chair to the port.
A ring of benches has been laid out in a symmetrical pattern both fore to aft and side to side.  A removable table can be positioned in either the forward or the aft end.
Coming standard with this performance-driven pontoon is a ski pylon, and there is the option of adding a wake tower package to the boat. 
Additional Information About Pontoons
Don't Forget The Rules
So you have chosen the perfect pontoon and are excited to take it for a spin.  Before you do so, find out what your state's rules and regulations are for operating watercraft.
At the end of this article, there is a listing of all 50 states, click on the appropriate state to find out what regulations are in your area. 
Average Weight of a Pontoon
The average weight of a pontoon is about 2,200 pounds, including the motor.  A pontoon can hold about 2,000 pounds of people and gear.   A trailer for a pontoon will weigh about 1,200 pounds.
A Pontoon's VIN and Registration Numbers
 A Hull Identification Number (HIN) is a 12 character, ¼ inch high, permanently attached number that is unique to each watercraft.  The location for the HIN (hull identification number) on a pontoon will be on the aft crossbeam within one foot of the starboard hull attachment. 
The registration numbers will be placed on each side of the bow on the forward half of the boat.   The numbers need to be visible; they need to be in block letters and at least 3 inches tall.
The registration numbers cannot be the same color as the background of the boat.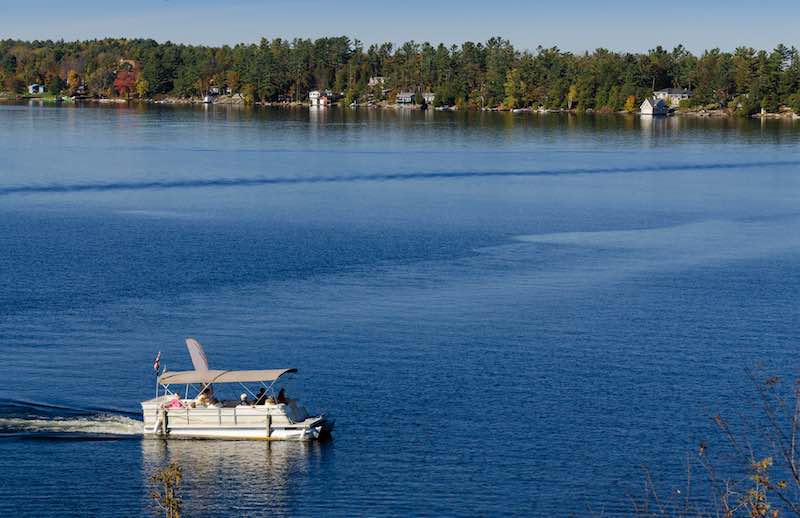 Pontoon Lifting Strakes
Looking at the hull of a pontoon, you will see a small bulge of metal that appears on the bottom and to the side of the pontoon.  That is the lifting stake.
When pontoons started to come equipped with larger outboard engines, they needed something that would help the tubes to generate lift so that the boat did not plow through the water.
Before the addition of lifting strakes, pontoons struggled to get to 30 mph.  The strakes can increase speed as much as 4.8 mph. 
 Without lifting strakes, pontoons struggled to reach even 30 mph, which is why, until recently, our pontoon performance parameters called for taking 0 to 20 mph speed recordings.
Now, there are plenty of 'toons capable of hitting 50, 60, or even 70 mph.
Customize
A pontoon is a customizable watercraft.  Manufacturers have dozens of floor plans, colors, and a dizzying number of accessories. 
You can add a grill, mini kitchen, a toilet, and custom led lights.
Bennington is in the process of adding a customizing 3D program to their sight to allow a customer to construct their perfect pontoon.
If you are adventurous, you could also build your own by following this guide from Wikihow:  How to Construct an Overnight Pontoon Boat.
Take a few minutes and look at the beautiful conversion of a pontoon.  It makes you want one, too.   Woodworker Builds The Perfect Tiny House Boat for Life on the Water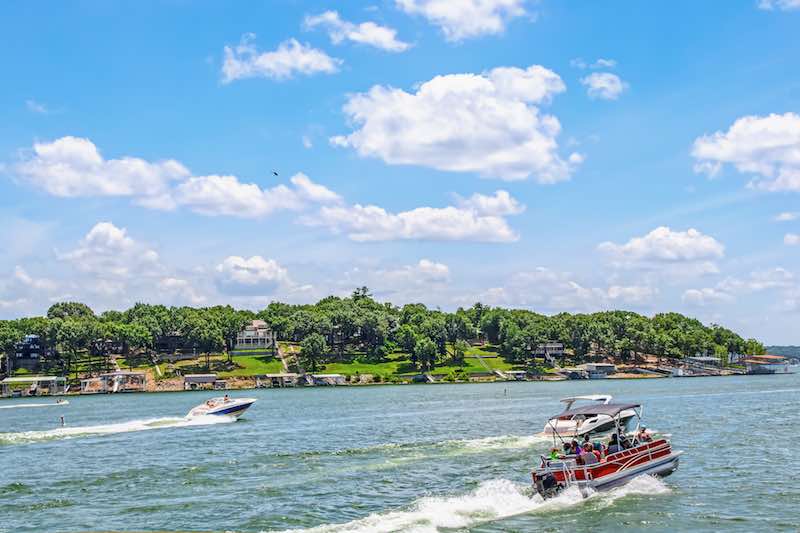 The Fastest Pontoon
Achieving a Guinness Book of World Records entry, Brad Rowland ran his 25 foot 2010 South Bay Triple pontoon at a record speed of 114 mph at the Lake of the Ozarks Shootout.  
His boat, the "Tooned In," is equipped with three (yikes!) Mercury Pro Max 300x engines.
Take a look at Brad piloting the Fastest Pontoon Boat in World.
Click on any state below to read its boating guidelines: