This page contains affiliate links. This means that we may get a small commission for recommending products, if you choose to click on something and buy it. This does not cost you anything, but we wanted to be honest and let you know!
(Last Updated On: April 10, 2022)
It might seem like standing is the only way to use your paddleboard, but many people are now attaching paddleboard seats and find that their paddleboards can actually be quite versatile.
There are many benefits to adding this simple accessory and having the option to kick back and relax.
If you want to add another element to your paddleboarding experience, attaching a seat is an easy yet impactful change you can make.
This guide is a great resource to help you become familiar with the different options and understand what to look for to make sure that you make the right choice. 
Products Reviews
SereneLife SLSUPST15
This paddle-board seat has a universal design, making it perfect for anybody – large and small.
It's designed to adjust and become form-fitting to people of all shapes and sizes.
The durable construction is made up of engineered EVA, polyester and strong, copper hooks for extra security. 
Another great thing about this seat is that it not only provides you with extra support, safety, and comfort on your stand-up paddle-board, you can also attach it to rowboats, fishing boats, and kayaks. 
Pros
Easily folds up to be compact and portable
Weighs just 2.4lbs
Form-fitting, universal design
WOOWAVE Kayak Seat
You love being out on the water, but it can play havoc with your back and make you want to cut your time on the water short. With a WOOWAVE Deluxe Canoe seat, you can stay on the water longer and enjoy it more.
This padded seat can be used on a stand-up paddleboard by using D-rings on the paddleboard. 
The durable EVA foam interior will provide a firm, yet comfortable rest for you back when you want to take a break from standing. 
Slip-resistant material on the bottom of the seat will help the seat to stay in place and the high back design will provide reliable support. The WOOWAVE is contoured to fit the curve of a body and will relieve stress on your back. 
Pros:
EVA foam interior
Anti-slip material on the bottom
Four-way adjustable straps
Waterproof detachable storage bag
Use on kayaks, canoes, rowboats, fishing boats, and paddleboards
Ocean Kayak Comfort Plus Seat Back (Black)
If you're looking for optimal support and comfort, this seat has it. It's extra tall; the high back design provides you with all-day comfort.
It also features exponentially more padding on the seat than most paddle board seats you'll find.
What makes this seat unique are the adjustable side straps that allow customizing the tilt and more. 
It's constructed of high quality, UV-resistant nylon material that features an integrated ventilation system to keep you dry and cool. 
Pros
The highly reflective logo keeps you visible in low-light
Adjustable 4-way mounting straps with brass buckles
Specially designed hull makes getting on and off easier
Harmony Standard Sit-On-Top Seat
This is a universal sit-on-top paddle-board seat that's compatible with most paddle-boards and kayaks.
It's fully adjustable, so you're able to customize it to your body and specifications.
It features a unique skid-resistant bottom that prevents you from slipping and sliding around on the wet surface of your paddle-board, which can be straining on the neck and back after a while. 
The seat is covered with a durable nylon material and corrosion-resistant metal clasps that hold up even after constant use in wet environments.
Pros
Half an inch of foam cushioning
Universal design makes it great for multi-purpose use
Slip and skid resistant bottom
Homde SUP Accessories: Kayak Seat
There are times when you just need to take a bit of a break, or the wind is fighting you when you are on the water. The Homde SUP seat and footrest will provide that break you need.
A quick installation will have you ready in seconds. The adjustable straps and sturdy clips will secure the seat to the paddleboard and keep it in place. 
This seat is suitable for all size paddle boards.
When you are ready to stand again, there is no need to remove the Homde seat, simply fold it down and out of the way.
The Homde can also be used in a kayak, fishing boat or rowboat.
Pros:
EVA interior of the cushion
Four adjustable straps for securing a seat
Soft footrest eases fatigue
Durable hooks
Installs in seconds
Folds flat on board when not in use
What is a Stand-up-paddleboard Seat?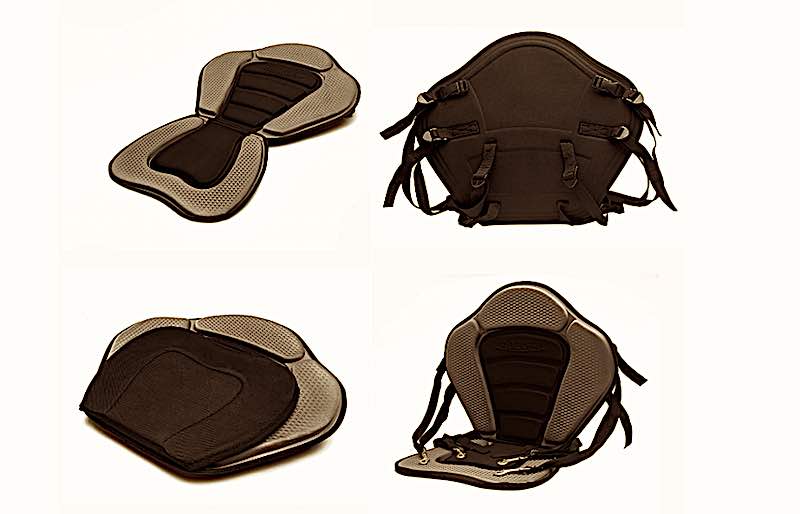 Stand-up paddleboarding is becoming an increasingly popular water sport, mainly because the stand-up paddle-boards themselves are much less bulky than traditional kayaks.
However, they can be quite a bit more challenging. When paddleboarding,  you're standing up and need to keep your balance for long periods to keep yourself from ending up in the water. 
A stand-up paddle-board seat is a perfect way to convert your stand up paddle-board into a comfortable kayak.
It's a great option to have if you're new to the sport and aren't ready to stand up just yet, or just to allow yourself to sit down and relax every once in a while. 
Choosing Kayak Seats for Paddle-board and How to Set-up
When you're shopping for a seat to add to your paddle-board you might feel like they're all starting to look the same, and you might begin to feel overwhelmed.
It's much easier to see the differences and pick the right one when you know what to look for. 
There are a few specific things to focus on and look for when considering your options:
Cushion and Padding 
Comfort is one of the most important things to look for in a kayak seat.
If you're not comfortable, you're not going to have a good time and will likely feel the pain and soreness after as well.
The best types of cushioning to look for are EVA and shaped froth.
EVA is durable, resilient, and doesn't raise the price of the product too much. 
The formed froth will provide support with prominent padding and shape, as opposed to just flat cushioning.
Along with the type of padding, it's a good idea to consider where the padding is placed.
Strategically placed cushioning is going to provide much more comfort and support than just flat, all-over padding.
Consider which regions of your body you'd like the most padding on and go from there. 
One more note on padding: think about what type of climate you'll generally be using it in.
If hot, sunny climates are where you'll be paddleboarding, a seat with thick padding and cushion is likely not going to allow for the most breathability and cause you to feel overheated.
Height and Size
It doesn't matter how well padded the seat is, if you don't fit in it properly, you won't be comfortable.
This is why it's always a good idea to compare your measurements to the dimensions of the seat.
The most important measurements are going to be the width of your hips and thighs while seated. 
When it comes to the backrest, it doesn't necessarily need to cover your entire back and neck, but it should at least cover the majority of your back.
It would be terribly uncomfortable to have it digging in halfway as you try to lean back on it.
Type of Fabric
Exposure to water and heat can be very harsh on the integrity of most materials.
To be sure that you're seat is going to be durable and long-lasting, it must be covered in sturdy, high-quality fabric.
Neoprene and nylon are the most commonly used fabrics for kayak and paddle-board seats. 
Both nylon and neoprene can endure constant exposure to the elements.
Neoprene especially is resistant to water and will prevent water from penetrating the seat and causing any damage to the padding. 
Another useful feature to look for in the fabric is the non-slip lining. This will prevent you from sliding around too much and having to readjust often. 
Backrest
It might sound odd, but you really don't want too much padding or cushion in your backrest.
Since it's supposed to be supportive, it needs to have some resistance and push-back so that you aren't just sagging into it.
Especially if you have any back issues, try to find a seat with an ergonomic design that will be more form-fitting on your back. 
Setting Up Your Standup Paddleboard Seats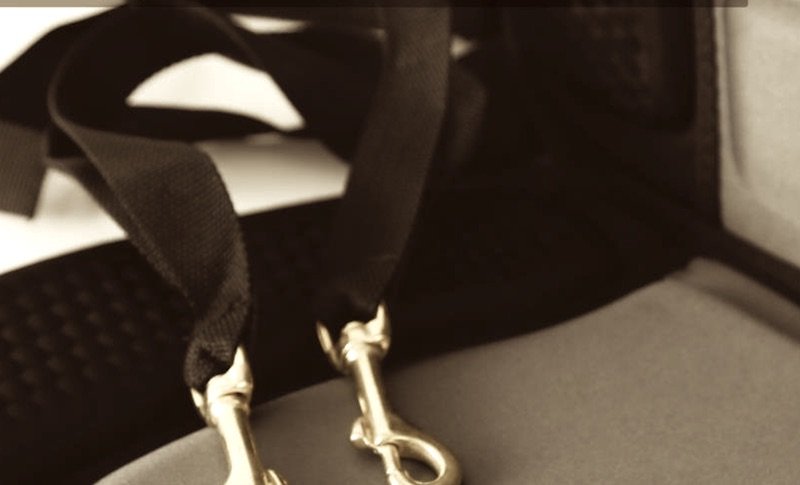 Proper set-up is essential to having a comfortable, functional seat.
Paddle-board seats have relatively simple designs that aren't too complicated to attach to your board, but you do want to make sure that you take the time to make sure it's secure and done correctly.
If it's not safe, you risk it sliding off and dumping you in the water.
You don't want to have any issues with it once you're out on the water. So you follow these simple instructions: 
1. Center the Seat
Center the bottom of the seat right where you would normally kneel or sit on the paddle-board. Look for the D-rings on the sides to get a general idea of where you'll be connecting the straps. 
2. Attach the Front Straps
Once your seat is centered, attach the straps on the front to the coordinating D-rings on the board itself. Depending on the seat you have, the straps might have D-rings as well or clips. 
3. Attach the Back Straps
Do the same thing you did in step two, but this time with the back straps and the back D-rings. 
4. Adjust Straps and Webbing
Sit in the seat as you would when paddling and adjust the seat to your comfort.
This is done by lengthening and shortening the straps to customize the tilt of the backrest.
Once you're actually on the water, you can make any extra adjustments if you need to. 
Why Use Paddleboard Seats
While standing is the intended why actually to use a stand-up paddle-board, there are so many reasons to consider getting a seat. 
Save Money on a Kayak
Some people will spend money on both a kayak and a paddle-board, but with a seat, you can have the best of both worlds for a much better price.
With stand-up paddle-boards costing up to $1000 and kayaks costing up to $500, it makes much more sense to simply add an accessory like a seat to your paddle-board.
Give Your Legs a Break
Standing for an extended time can be very tiresome, especially standing still in one place.
When standing on a paddleboard, you can't really move around or adjust too much with risking losing your balance and falling into the water.
Not only can standing still cause discomfort in your legs, but it can also cause tension in your lower back and foot numbness. 
Giving yourself the option to sit comfortably will protect your legs and back and allow you to stay out on the water and enjoy yourself longer.
It'll also prevent extreme post paddle boarding soreness and pain. 
Take Your Kids Along
If you like to take your kids out on the water, you probably know how difficult it is to keep your balance when they're moving around the board.
Having a seat will allow you to enjoy time with your kids on the water and keep the paddle-board sturdy.
If you have really small children, a seat also makes it easy to hold one comfortably on your lap.
Hang Out
Paddleboarding with friends can be so much fun. Eventually, you'll probably want to settle down at the right spot and have lunch and drinks and hang out.
It's nice to have the option to sit down on a comfy seat and float around. 
Even if you're just paddleboarding alone, it's nice to be able to take a break and sit and enjoy the scenery. 
Be Able to Take More Photos
The view from the water can be so beautiful, and if you've traveled to a scenic spot, you probably want to snap a few pictures.
It can be challenging to pull out your phone or camera when you're standing. If you're seated, it's much easier to put down the paddles for a while and take some pictures.
Since you're much more steady when seated, there's less of a chance that you'll rock the board too much and risk dropping expensive cameras and equipment in the water.
Conclusion
There are many different kinds of paddle-board seats on the market to choose from, and it can be overwhelming to compare them.
To make sure that you choose the best seat for your paddle-board, there are several different things to consider.
Ultimately you want it to properly fit your body, be comfortable, durable, and compatible with your paddle-board. 
Paddleboarding doesn't always have to be an intense, strenuous activity. Adding a kayak seat to your paddle-board is a great way to add comfort and support to your body if you want to sit down.
Sitting down creates a much more relaxing experience that makes it easier to bring along your kids, rest your legs, and enjoy the day.