This page contains affiliate links. This means that we may get a small commission for recommending products, if you choose to click on something and buy it. This does not cost you anything, but we wanted to be honest and let you know!
(Last Updated On: April 10, 2022)
The majority of people enjoy a good barbecue but when you have a boat grill to cook on, it is made even better.
A boat BBQ grill can be mounted in a range of areas that include the pontoon boat railings, transom, and other locations onboard the boat.
The best boat grill is the Magma Newport 2 Infra Red Gourmet Series, which is constructed of polished stainless steel and has a new resigned combustion system.
Mounting a boat BBQ grill is far easier than you think as many come with a mounting system such as a fishing rod holder mount or a bracket set that connects to the railings.
They are also available in a range of sizes to suit your boat.
Best Marine Grill For BBQs
Firing up the grill whilst on the water has become very popular over the last few years and is much cheaper than you would expect.
Most boat grills are universal too as they come with a variety of mounting and bracket options.
The majority of boat grills will be fueled by gas, which is more expensive than charcoal but offers convenience.
They are easier to operate, deliver efficient heat and offer the chef more control over the heat that is required for cooking the food correctly.
Marine BBQs are a fun investment to add to your boat and will certainly improve your enjoyment on the water.
Below is a list of the best boat grills that can easily mount to your boat and allow you to cook a tasty BBQ meal for friends and family.
Magma Newport 2 Infra Red Gourmet Series
Magma is a leading brand in the world of boat gas grills and the A10-918-2GS model is one of their most rated BBQs available.
It is constructed of a marine grade polished stainless steel that not only looks great but also provides protection against potential defects such as corrosion.
Other features of the Magma Newport 2 Infra Red Gourmet Series include:
162 square inch grilling area
Rounded edges design
Hermetically sealed thermometer
Swiveling control valve
A tempered viewing glass window
Fold-away legs and locking front grease tray
Made in the USA
Electronic ignition infrared radiant screens
The Anti Flare infrared technology is an improvement and has the effect of producing intense yet evenly distributed heat that reduces flare-ups.
This results in the immediate cooking of any drippings from the food, which provides excellent flavor.
Overall, it is the best boat grill you can buy and although it has an expensive price tag, it is totally worth paying the extra.
In terms of firing it up, it uses a standard 1 lb propane canister but you can adapt it to an onboard LPG or CNG system.
Dickinson Marine Sea-B-Que Boat Grill
Dickinson Marine is another premium brand within the marine grill industry and the Sea-B-Que uses a stainless steel construction with a roll-away hood to access the grilling area.
Compared with most boat grill alternatives, the Sea-B-Que features an impressive 220 square inch grilling area, which is one of the largest.
Features of the Dickinson Marine Sea-B-Que boat grill include:
Octagonal design
Includes standing deck legs
Thermally insulated silicon side handles
4 removable porcelain grill sections
Stainless steel latch and removable drip tray
Includes a one year warranty and three-year burner warranty
Overall, it is the best large marine grill that has been built to withstand impact damage and the saltwater environments.
Dickinson Marine also offers the same style in a smaller size but having a larger grill is always recommended if you have the space available.
Magma Connoisseur Series Marine BBQ
For boat owners that want to stay with the Magma brand but cannot stretch to the price of the Infra-Red Gourmet Series, the Connoisseur series is the best option with regards to affordability.
It shares the same marine grade polished stainless steel construction but comes with a smaller grilling area.
Features of the Magma Connoisseur Series Marine BBQ include:
108 square inch grilling area
Will heat up to 400 degrees in 1 minute using  propane gas
Includes a one-year manufacturer warranty
Stainless steel construction that is resistant to corrosion
Easily mountable with additional Magma mounting kit
The Connoisseur series is the cheapest way into the Magma Boat BBQ scene and it is still a top-rated boat grill.
However, there are many alternatives available for a similar price that offer more features.
You are paying for the Magma brand and its worth the bit extra for the ultimate marine grill, which is the Infra Red Gourmet Series listed above.
Kuuma Stow and Go Propane Marine Grill

The Kuuma Stow and Go is a cheap boat grill that comes with 5 choices of grill sizes (125, 160, 175, 216 and 316 square inch) as well as the choice of a propane, charcoal and kettle grill style of boat BBQ.
Features of the Kuuma Stow and Go marine grill that includes:
100% stainless steel construction
No assembly required
Includes removable grease tray
Easy to mount with a single-arm mounting bracket
Kuuma Stow and Go are targeting boat owners that are looking for a cheap boat grill and they have accomplished this.
There are no stand out features and it is a simple grill with a great selection of sizes to choose from.
The option to choose between a propane, charcoal or kettle type of grill is also very beneficial as some may prefer a specific type of grill.
Magma Marine Kettle Boat Gas Grill

Kettle Grills are is the most cost-effective way of lighting up a BBQ on board your boat.
Even the Magma kettle grill is reasonably priced when compared against many of the standard boat BBQs and this makes it the most popular type of grill.
Features of the Magma Marine Kettle Boat Gas Grill include:
Available with a 15 or 17-inch diameter
Marine-grade mirror polished stainless steel construction
Hinged lid that avoids slamming
Uses a "Stay Cool" handle with air-cooled supports
Patented swiveling turbo venturi tube for control valve adjustments
Uses standard propane canisters or adjust for use with LPG or CNG systems
Overall, it is the best marine kettle grill that offers great value for money and easy cooking onboard of your boat.
As it is a Magma BBQ, it is built to last and maintains its reputable build quality throughout.
Boat Grill Buying Guide
Firing up the BBQ is a satisfying feeling but a marine grill on your boat whilst in the middle of the ocean is far more satisfying.
However, you cannot simply purchase a domestic grill and place in onboard your boat, you must use a boat grill that has been designed for the marine environment.
This will include a boat grill that uses a stainless steel construction and a mounting system.
In terms of fuelling up the BBQ, most people will opt for the propane canister due to the ability to control the temperature far easier.
In order to help you make an informed buying decision, we have produced the below-buying guide regarding boat grills.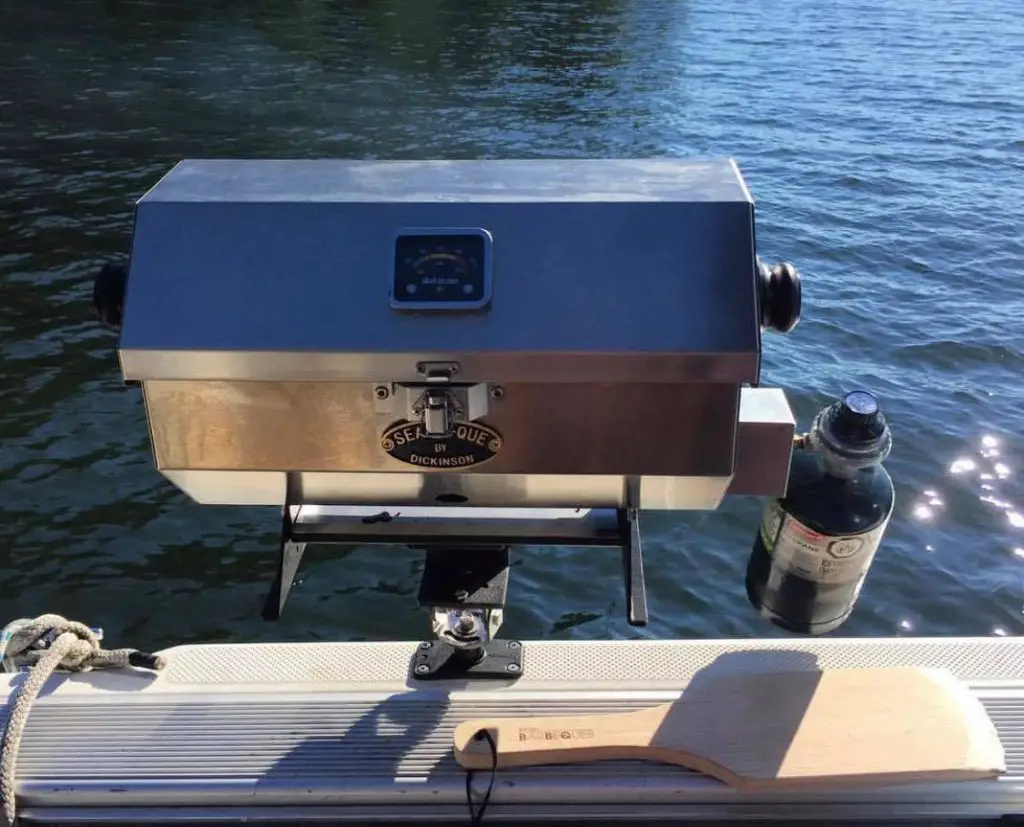 Boat BBQ Construction
As with any addition you add to your boat, it must be able to withstand a saltwater environment.
In order for a boat grill to work, it needs to be ideally constructed from a marine-grade stainless steel material.
Cheap boat BBQs tend to use poor quality steel that will simple rust after a few years of usage.
Considering they are fairly expensive to purchase, it is worth spending the extra for a stainless steel material that will last 5 times longer.
Fuel Types
In order to use a BBQ, you will require fuel in order to fire it up. Propane gas is the most popular source because it is convenient, easy to use and allows the chef to complete control of the temperature.
The majority do use propane gas but many people will prefer the charcoal taste and in that case, the Kuuma Stow and Go would be ideal as it offers both fuel types.
Mounting a Boat Grill
Rod holders or deck sockets are the most popular option for mounting a boat grill but it all depends on the boat.
If you have a pontoon boat, a railing bracket system will probably work best as it will be out of the way but easy to access whilst cooking.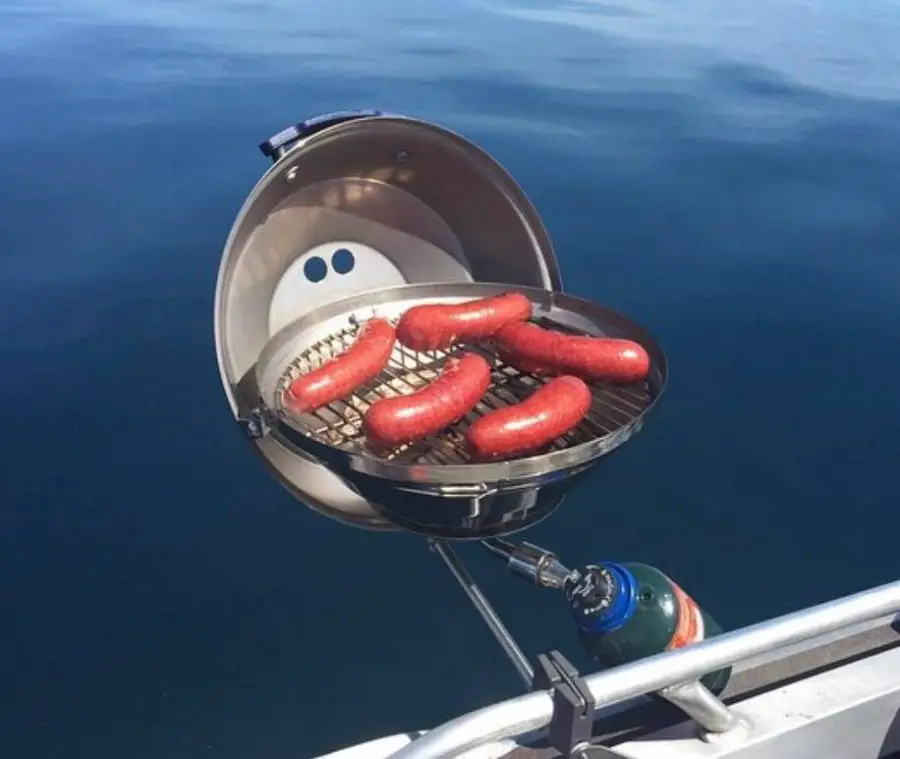 Infrared Technology
For boat owners looking for the ultimate boat grill, you will want to keep your eyes out for infrared technology.
The Magma Gourmet series offers this feature and it uses similar technology to that of a domestic microwave.
In short, the technology transfers the heat to the food, which allows the barbecue to sear from the outside yet keep the inside moist.
Not only does this make the food even tastier but it also makes the BBQ get to temperature much quicker.
Maintenance of the Boat BBQ
The stainless steel construction is great for protection against rust but does require regular cleaning due to the buildup of grease.
Once cleaned and dried, it is highly advised to cover it with a cover to prevent any build-up on salt when not in use.
In terms of the insides of the BBQ, you will want to get rid of any residue and clean the grease tray regularly.
As with standard barbecues, there is no need to extensively clean the insides but every 6 months is more than enough.
The grates of the boat grill will be similar to the standard BBQ and adding a touch of vegetable oil will prevent your food sticking.
If the food does stick and grease has built up over time, you can use an oven cleaner and a brass wire brush to give it a deep clean.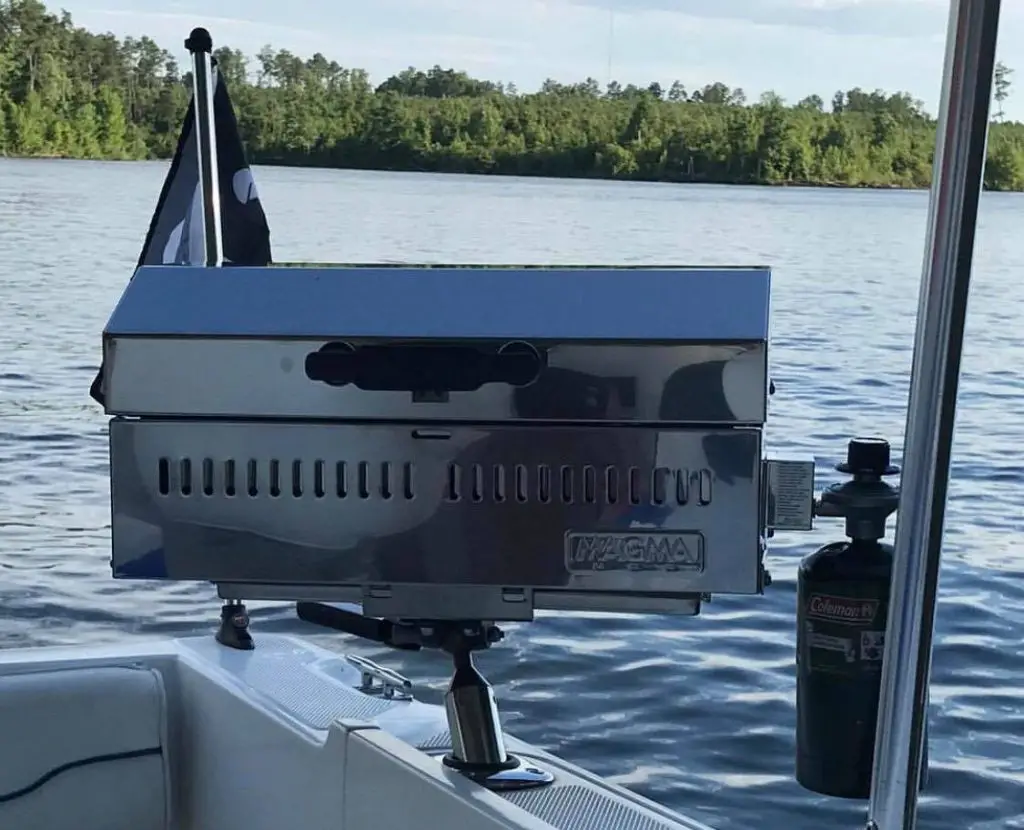 Conclusion
The recommended boat grills in this article are all highly rated and will offer an excellent barbecuing experience on the water.
Magma is the best brand in terms of marine grills and there are various models offering different features.
Mounting the boat grill can scare many people off the idea of getting a BBQ but as long as you purchase the dedicated mounting system, it is very easy to install the grill to your boat.