This page contains affiliate links. This means that we may get a small commission for recommending products, if you choose to click on something and buy it. This does not cost you anything, but we wanted to be honest and let you know!
(Last Updated On: April 10, 2022)
Keeping your marine batteries in perfect condition will require a suitable marine battery charger.
They are available in a range of different sizes with an onboard charger being the most popular choice due to its convenience and efficiency.
The best marine battery charger is the ProMariner ProSport 20 that uses 100% of the charging amps and automatically distributes charge among all the batteries.
Even if you have the best marine battery possible, with the lack of maintenance they can become problematic.
Most marine battery chargers come with several modes that not only charge but also act as a maintainer and can be used for desulfation.
Best Boat Battery Charger
The size of the marine battery charger is dependent upon the type and size of your battery.
Other factors are just as important, such as whether your boat is docked for long periods or it is connected to shore power.
The marine battery charger needs to match the sum of DC load and another 10% of the amp-hour capacity of the battery.
Whether you choose an onboard or portable charger, most come with additional features that help condition the battery.
This is a feature that is worth paying the extra for as it will improve the capacity and overall lifespan of the battery.
Below is a list of the best marine battery chargers that are suited for the marine environment and ensure your batteries are kept fully charged.
ProMariner ProSport 20 Marine Battery Charger
ProMariner is a reputable marine brand that produces a range of electrical products and has been known for its excellent build quality.
The ProSport 20 is the most popular onboard marine charger that they offer, which delivers fast charging.
Other features of the ProMariner ProSport 20 include:
Automatically distributes charge across all the batteries
Clear LED indicators on the face of the charger
3 different charge modes
20 amp, 3 battery bank charger
Waterproof and shockproof design
Various safety and protection functions
Includes a 2-year warranty
The ProSport 20+ will fully charge batteries in a respectable 8 to 10 hours and is compatible with flooded, gel, AGM and HP AGM batteries.
It also has dedicated charging types that can be selected depending upon the battery you are charging.
The Distributed On-Demand technology used in this marine battery charger ensures 100% of the available charging amps are fully utilized.
This is an advanced technology that not many cheaper alternatives will be able to carry out.
Overall, the ProMariner ProSport 20+ is the best onboard marine battery charger that has sophisticated technology to ensure the batteries' health is not affected and it is charged efficiently.
Guest 2711A ChargePro
Every Guest charger has dedicated battery charging sensing and control per bank. The Guest has easy to read graphics that indicate the status of each battery bank throughout the charging process. 
ChargePro's low profile and flangeless extruded aluminum housing is sealed by gaskets with heavy-duty end caps. This makes for 100% waterproof performance to IP67.
The Guest 2711A ChargePro features:
The Guest is an on-board battery charger
120 volts
Compact at 7.5 X2.4 x 9 inches
Works for 12 and 24-volt battery systems requiring 5 amps per battery
100% waterproof and shock-resistant
Two-year warranty
New construction design delivers an increase in charging and thermal management performance. The new ChargePro series is up to 40% light. At the same time, the charger has increased durability and easier installation than prior models. 
All high frequency, digital charging technology and microprocessor and software control make for precision. The 5-stage performance charging is fully automatic.
Pre-wired for easy installation and for use will all 12 volts flooded and AGM lead-acid batteries.
MinnKota MK 315D Trolling Motor Battery Charger
MinnKota is an established brand that is known for its trolling motors and has great knowledge regarding marine electrics.
Their onboard marine battery charger is designed to efficiently and safely charge batteries but it does come at a cost.
Features of the MK 315D Marine Battery Charger by MinnKota include:
3 battery banks that produce 5 amps each
Automatic temperature compensation
Multi-stage charging
Fully corrosion-resistant
Includes a 3-year warranty
One of the main components of this trolling motor battery charger includes a digital microprocessor.
The purpose of this technology is to protect your battery, provide twice as fast charging in high temperatures, short circuit protection, reverse polarity, and ignition corrosion and so much more.
Overall, it is the best trolling motor battery charger with the backing of the leading brand when it comes to trolling motors.
It is more expensive but there is no other alternative that comes close when it comes to trolling motors.
Schumacher Portable Marine Battery Charger
The Schumacher SSC-1500A-CA Ship 'N' Shore 15 Amp SpeedCharge is a portable marine battery charger that is lightweight and has a retractable handle for easy portability.
Not every boat is able to have an onboard charger, which makes portable devices very popular.
Features of the Schumacher SSC-1500A-CA Ship 'N' Shore SpeedCharge include:
Digital display for real-time feedback
The fully automatic charging control
Suitable for 12-volt batteries
4 rubberized feet for grip
Clamp and cable storage at the rear of the device
Built-in voltage tester and desulfation mode
The unique selling point of the Schumacher SSC-1500A-CA Ship 'N' Shore is that it can be taken wherever you wish.
It is the best portable marine battery charger for the money and it will easily restore your battery to full charge.
ChargePro Onboard Marine Battery Charger
For those that want a relatively cheaper alternative than the other onboard marine chargers within this article, the Marinco ChargePro is a great option.
Features of the Marinco ChargePro onboard battery charger include:
Suitable for flooded, AGM and gel batteries
Microprocessor controller for accurate charging
Universal inputs of both 120 and 230V
Silent operation
Sense-Send technology to send the correct amount of charge
Overall, the Marinco ChargePro is a refined and quiet marine battery charger that will maintain batteries automatically.
It is similarly priced to the other onboard battery chargers and has a range of different amperages to choose from.
Marine Battery Charger Buying Guide
Ensuring that your marine battery is kept topped up so that it can function at its best is fairly important.
You can opt to use a marine solar panel but of course, you are not always guaranteed to have the sun to provide power to your battery.
There are many cheap chargers around that will work but they do not feature the latest technology or features that improve efficiency.
Such features include automatic charging that stops when the battery is fully charged, battery desulfation and recovery and so much more.
Other factors to consider are the fact that there are many types that include more amperage and the choice of a portable or onboard marine battery charger.
To help you make an informed buying decision, we have produced the buying guide below.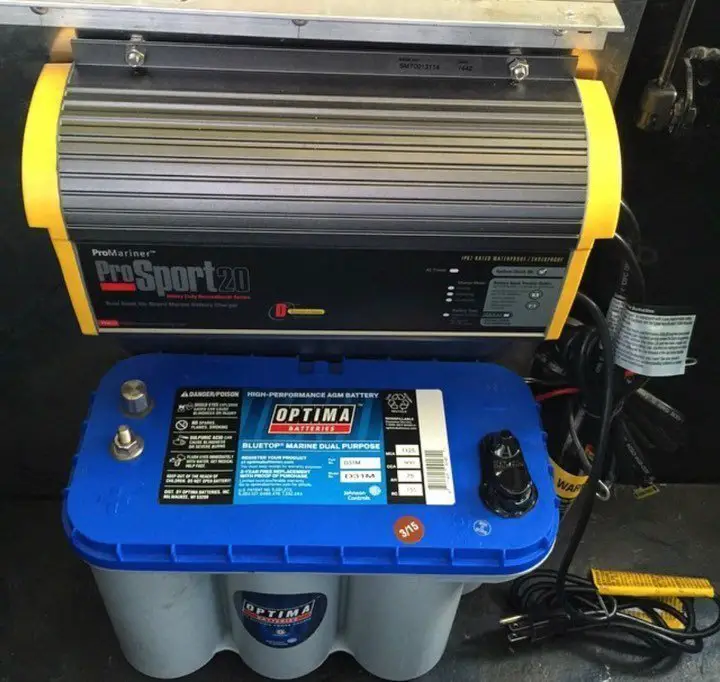 Onboard vs Portable
For smaller boats that simply do not require an onboard charger, portable examples such as the Schumacher charger are ideal.
However, they are not as powerful or refined as the onboard alternatives, which can be installed almost anywhere inside or "onboard" the boat.
Larger boats require bigger and more batteries to keep all the electronics and starting of the engine fully functioning.
Investing in one of the recommended marine battery chargers above ensure the battery is always at the optimum amount of charge.
Battery Compatibility
Boat batteries come in a range of types with the main types being flooded (also known as wet), gel and AGM batteries.
Each requires certain charging modes in order to charge safely and efficiently.
Some are very sensitive to overcharging and it is therefore vital that there is automation.
Wet batteries are the best at handling overcharging because they are not sealed but they do require maintenance during the off-season.
A maintenance mode features found on many chargers such as the ProSport is ideal for charging wet batteries.
The most popular marine battery is the AGM type as they are maintenance-free and survive shocks and vibrations better.
The charger you choose for AGM batteries should have automation that prevents overcharging and is temperature-sensitive.
Finally, Gel batteries are the most expensive to purchase due to their build quality but require accurate charging that is regulated often.
The Marinco ChargePro would be ideal for charging gel batteries safely.
Using an Automotive Charger
The majority of people will own or know someone with a car battery charger and it may be tempting to use that instead in order to save money.
However, this is certainly something you want to avoid as it can cause expensive damage.
In short, car chargers can cause current corrosion and are not built to the high standard of a marine battery charger that meets UL standards.
Unlike automotive batteries, the marine alternative is designed for both starting the boat and powering the electrics onboard.
There are so many differences to consider, so be sure to use a marine charger and not an automotive.
Charger Size and Number of Banks
When choosing the marine battery charger, you will notice that there is a variation of sizes, amperage, and banks.
If you own a relatively large vessel with many batteries, a charger with the same amount of bank as batteries would be required.
The majority of chargers will have 5 to 10 amps per bank but as a rule of thumb, the boat battery charger needs to match the sum of DC loads and another 10% of the amp-hour capacity of the battery.
Power Source for the Battery Charger
The majority of marine battery chargers rely solely onshore power for their battery charging requirements.
This is perfectly fine when docked up but if you were out to sea and the batteries run out of charge, what can you do?
Using a powerful marine inverter is the best way to charge your batteries when out to sea.
They have multiple outputs such as 12V DC, 120V AC and so much more.
Conclusion
Due to the fact that battery banks are becoming far larger and technology is becoming more expensive, you will want to ensure you have a quality charger.
You may be tempted to use a car charger but as discussed in this article, they can cause expensive damage.
All of the marine battery charger devices within this article suit a range of budgets and feature both portable and onboard chargers.
Hopefully, you have a bit more knowledge to help you make the correct buying decision for your requirements.