Ensuring your beverages and food are kept cool during the summer months is a luxury that makes a world of difference.
From fishing trips to simply enjoying yourself in the ocean, there is a range of marine coolers to satisfy your needs.
The best marine cooler is the Coolest Cooler and it has features that you would not have thought a marine cooler would have such as an ice-crushing blender, Bluetooth speakers, USB charger and so much more.
In addition to the long ice retention, you will want to ensure the marine cooler is rust-resistant and can withstand all the elements from the open water.
Best Boat Coolers
Top-rated marine coolers have a range of uses from transporting fish from the ocean to storing beverages and food.
Regardless of the use, they have improved massively with a range of new features to increase usability.
There is a range of sizes that are usually measured in quarts with a max capacity rating. In terms of ice retention, thicker insulation results in longer retention.
Having a marine cooler on-board for long journeys or gathering on your boat is a worthwhile investment.
Below is a list of the best marine coolers that provide long ice retention and a range of sizes.
Arctic Zone Titan
The Arctic Zone Cooler has deep freeze high-performance insulation with radiant heat layer and triple layer ColdBlock base combine to develop exceptional cooling.
The interior of the arctic zone cooler features sturdy HardBody liner with SmartShelf.
The SmartShelf allows you to separate hard stuff like drinks from soft stuff like sandwiches so it won't get easily crushed.
The Rhino-tech exterior is water-resistant, and it makes the Arctic Zone cooler tough, strong and durable.
It keeps your ice up to 3 days! It also has a Zipperless lid that provides easy access to your food, drinks, and cutlery. 
YETI Tundra 65 Marine Cooler
The Yeti marine cooler is a high performing cooler with 3-inch PermaFrost insulation and an extra thick FatWall design.
It will be able to keep all beverages and food cold for 5 days uses an InterLock that forms a barrier against the outside warm weather.
It is not just a box, the design is clever with molded grips and military graded rope that provide two methods of carrying it around.
It is a heavy-duty cooler that makes it pretty much indestructible from day to day usage.
The 65-quart capacity is surplus for all your items and it is the best heavy-duty marine cooler to buy.
It does not have as many features as the Coolest Cooler above but some people want simplicity and this is exactly what the Yeti Tundra does best.
Coleman Cooler
Coleman Cooler has the capacity to keep your ice for 4 days. It is built to deliver years of performance with rust-resistance and stainless steel hardware.
You can add your 2- Liter bottles upright to avoid spills. The comfort-grip handles allow you to lift and carry the cooler easily.

It has a sturdy Have-A-Seat 250 pounds support that allows your kids to use it as a chair while eating their marshmallows at the campfire.
The charming retro design would fit not only for your camping needs but also for your outdoor activities.

Pelican ProGear Elite Cooler

The duration of ice retention is a big factor when buying a marine cooler.
Pelican has focused all their efforts on increasing this rating and the ProGear Elite Cooler has impressive 10-day ice retention thanks to a freezer grade gasket and 2-inch polyurethane insulation.
It is available as a 45-quart cooler and has non-skid raised feet so that it does not move around on the boat.
As you would expect from a premium cooler, it also has stainless steel hardware so that it doesn't rust.
In terms of portability, there are dual handles that are molded-in with hinged handles for a heavyweight.
The Pelican ProGear is the best cooler for long ice retention and has heavy-duty qualities that are guaranteed for life.
Coleman Xtreme Marine Portable Cooler

The Coleman Coastal Xtreme Series is the cheapest marine cooler with a range of features.
It has the ability to hold 204 cans with size a of 120 quarts and will keep it cool for 6 days thanks to an insulated lid and wall.
All hardware is stainless steel that will not corrode and the exterior uses UVGuard to protect against sun damage.
Unlike many of the others, the Coleman allows people under 250 LBS to sit on the lid without causing damage.
It is a cheap cooler for your boat that will hold large quantities of beverages with ease.
The added benefits of being able to sit on the marine cooler is a big benefit and act as an extra seat.
Marine Cooler Buying Guide
It goes without saying that marine coolers are more expensive than you thought if you are looking at purchasing your first cooler.
However, even though they are pricey, they are very popular and ensure your beverages are kept cool for days.
The market for coolers is fairly saturated and it can be difficult to find the best marine cooler to buy.
The above-recommended examples tick every box but before buying, consider the factors below with regards to the correct cooler for your needs.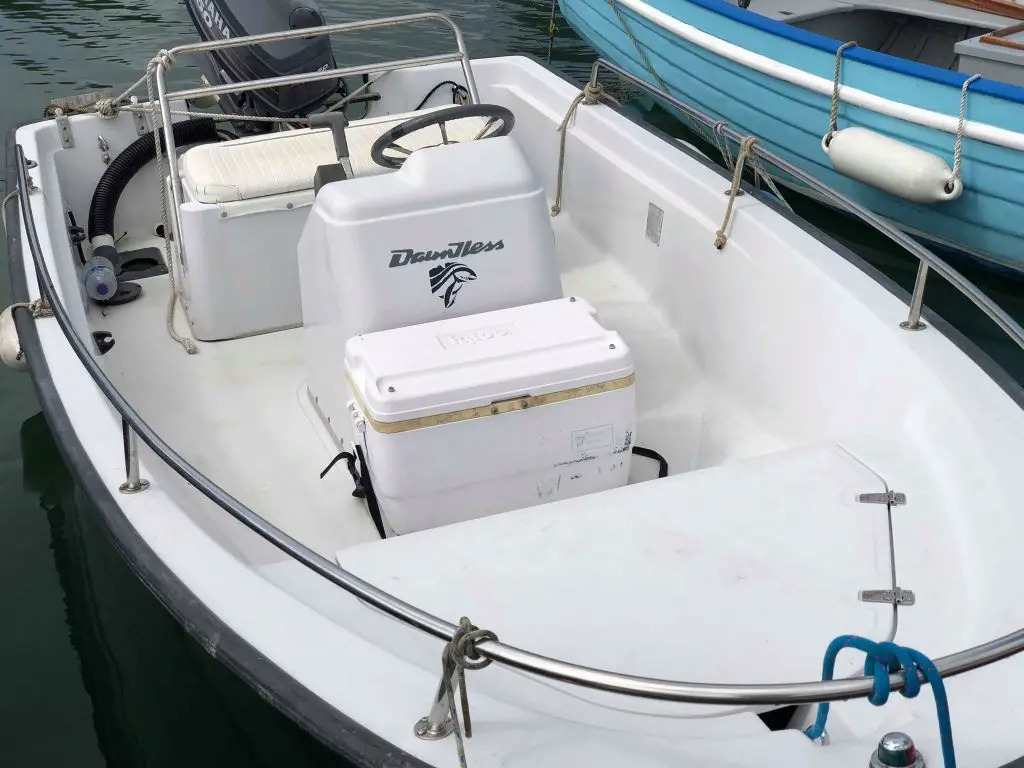 Size of the Cooler
The coolers are measured in quarts with many brands stating the number of cans that you are able to fit inside.
Large coolers are great but can be awkward to carry on your own and storing it on a small boat may be tight.
However, being able to add more cans is the main benefit and very useful for long boat trips.
On the flip side, small coolers provide easy transportation and can be stored easily but only really useful for one-man boat trips or storing a few cans.
The size of the cooler will be different for all buyers because it is dependent upon your personal requirements.
Ice Retention
All the coolers mentioned in this article are high performers with many days of ice retention with the longest being 10 days.
Unless you are a die-hard fisherman, this value is meaningless as a matter of fact.
Most trips last a day and the majority of coolers easily keep the contents cooler for that amount of time.
However, for those seriously hot days, having ice retention qualities will ensure it remains at its coolest.
Insulation is wrapped around the walls and the lid with 2 to 3 inches being the normal thickness.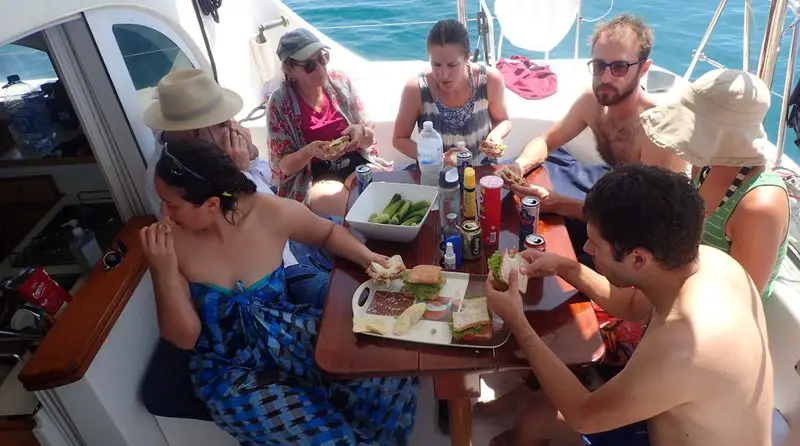 Durability and Materials
Marine coolers must be able to withstand impact damage to a certain extent but UV rays are something that will damage coolers.
They spend the majority of the day sitting in the sun and in order to resist deterioration, it must be UV resistant.
The cooler may also be subjected to salt water and other environmental elements so it's important that it does not corrode.
Stainless steel hardware is a must along with strong plastic and rope for the handles so that it holds up well.
Conclusion
Marine coolers are a worthwhile investment that does tend to last a very long time.
Many even come with a lifetime guarantee for peace of mind and long warranties.
Having a cooler that you can take without anywhere for trips lasting many days is nice to know.
The Coolest Cooler has really made something special with all the quirky features it is a really good buy.
For those that do not want all the fancy features, the Yeti is a simplistic design that does the job of keeping things cool better than any other cooler.