This page contains affiliate links. This means that we may get a small commission for recommending products, if you choose to click on something and buy it. This does not cost you anything, but we wanted to be honest and let you know!
(Last Updated On: April 10, 2022)
Outboard oil for your boat is not the same oil that is used for car engines.
The car's engine is used every day whereas an outboard motor may sit idling for days on end.
Four-stroke oil used for boats is kept in salty and damp environments, unlike the car.
The best four-stroke oil for boats is the Pennzoil 5063875 as its formula ensures the engine runs clean whilst running at widely varying temperatures.
A car has multiple gears that mean it can cruise along in overdrive at around 2,000 revs being the norm.
However, a boat under load will be revved out much higher for longer periods on time, which means it requires extra lubrication.
Best 4 Stroke Boat Engine Oil
You can use motor oil in a boat engine but this is not advised. Outboard engines require additional lubrication for the engine components at the higher revs.
Treating the outboard to the best four-stroke boat oil is the best thing you can do for a long-lasting engine.
Considering the 4 stroke oil for your boat is similar (maybe cheaper) than motor oil, there is no reason to use it.
In the long run, the lack of lubrication will wear the outboard engine down that will result in expensive repair bills.
Many manufacturers will also not honor any warranties claims where incorrect outboard oil has been used.
It may well be safe to use fully synthetic oil as an alternative but its not something I personally would advise.
All boat engine oils in this review are NMMA FC compatible and are for 4 stroke engines and not 2 stroke engines.
Below is a list of the best four-stroke oil for your outboard engine that will increase the lifespan and ensure it runs clean.
Pennzoil 5063875 Marine Outboard 4-Cycle 10W-30

The market leader for premium four stroke outboard oil is Pennzoil.
The Pennzoil brand is highly rated worldwide by the boating community for its improved viscosity and strength to deliver protection.
With additional additives, the Pennzoil 10W-30 outboard oil protects from engine rust from the salt and freshwater environments.
Pennzoil 5063875 has the certification to be used in the marine environment, the Pennzoil premium boat engine oil does what it says on the tin.
Pennzoil 5063875 10W-30 four-stroke boat engine oil is highly rated and I personally use this with my inflatable rib.
The engine did not smoke at all and ran as good as new after a well-needed service and I highly recommend using this oil.
Yamaha Outboard F200/F250 10W30 Oil Kit

The Yamaha outboard oil is a genuine kit that includes the oil filter as well as new washers and plugs.
The value for money within this package is outstanding and the oil itself is cheaper than the premium Pennzoil outboard oil.
Yamaha specifies using their outboard oil in their four-stroke engines to retain their warranty.
Using matching engine and oil brands are the best practice to ensure a long-lasting engine and smooth running.
The all in one package from Yamaha provides everything you need to perform an oil and filter change for your outboard engine.
Mercury 4-Cycle Synthetic Oil 8M0078630

Mercury is a market leader with any products related to the boating world.
Their 4-stroke synthetic motor oil is one of the best available on the market today.
The superior corrosion protection is one of the most recommended marine engine oils in this market.
Boating engineers that use this synthetic boat engine oil claim there are no leaks or burnt oil whatsoever.
The high-quality oil is certified to be used within the marine environment and is a 25W-40 synthetic blend.
The price alone for synthetic oil is excellent value for the money.
Mercury also sells its own branded oil filter to protect the engine from dirt build-up and should be replaced at the same time as the oil.
I use the Mercury Oil Filter and believe that it's the best outboard oil filter on the market that uses the highest quality material for extra protection.
Outboard oil tips
How Often Should You Change Your Four-Stroke Boat Outboard Oil?
The more modern four-stroke boats will have a service light similar to a car to remind you when to change the oil.
However, as a rule of thumb, an oil change for a four-stroke outboard engine in a boat should occur every 100 hours or at the end of the season.
As with cars, it's very important to stick to manufacturer guidelines when replacing oil.
Too much oil can cause crankcase failure due to the pressure and too little oil will reduce the lubrication of the outboard engine.
Always keep a small container of oil on board to top up the outboard oil. Older engines, in particular, like to burn small amounts of oil, which you can always top-up.
When changing your outboard oil, ensure that the oil filter is replaced at the same time.
Outboard oil filters prevent dirt/debris from entering the engine, which will ensure your engines don't get damaged and increases their lifespan.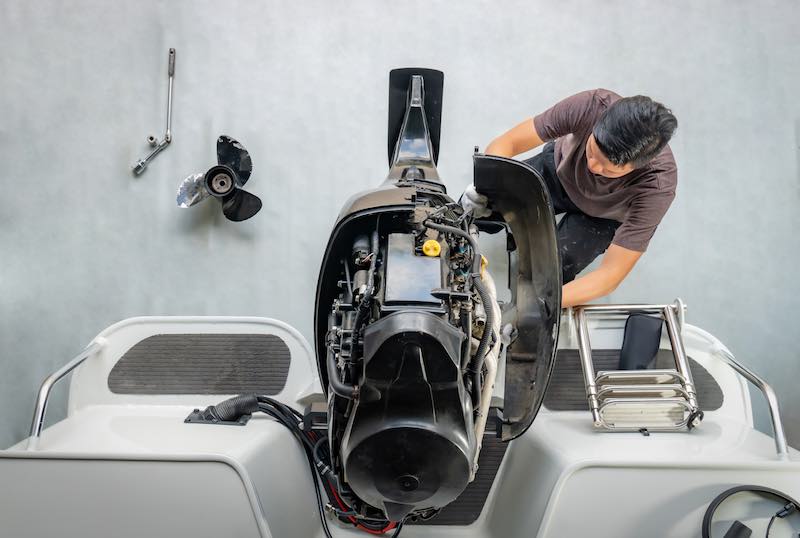 Can You Use Motor Oil in a 4 Stroke Outboard?
The "marine" grade that you will see on many outboard engine oils is usually more expensive than motor oil.
So this begs the question, can you use motor oil in your 4 stroke boat engine?
Yes, you can use motor oil in your 4 stroke boat engine but it's not advised.
There is less lubrication for the engine and it may void the warranty of the engine.
It's also important to note that motor oil will not have additives to protect the engine from rust that will be caused by salty environments.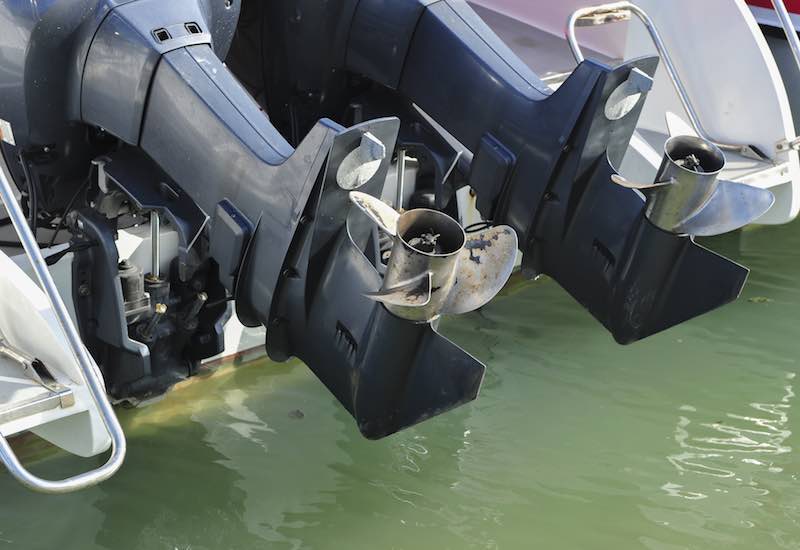 What is the Best Boat Engine Four Stroke Oil?
There are many factors that determine the oil you use in your outboard engine.
I strongly recommend that you use marine graded oil as opposed to motor oil. The additional additives are worth paying the extra.
Factors such as choosing matching brands (engine and oil) are also recommended but it really doesn't matter.
The outboard oil that has been recommended in this article are handpicked to be the best boat engine oils to choose from.
In my opinion, the best boat engine oil to buy if you are not going for matching brands is Pennzoil 5063875.
The performance fully synthetic formula is of the highest grade and provides many benefits that the others cannot match.
It may be slightly more expensive but is definitely worth every penny.
FAQs
How do I find out if my boat motor is 2 or 4 stroke?
The fuel cap will indicate that if it is the original one. For a 2-cycle engine, you will see the fuel and oil mix ratio or gas and oil can symbol printed on it. Make sure you look for the stickers the equipment is labeled with.
Should I use premium gas in my boat?
Logically, if you use lower-octane gas in a high-performance motor that was built for premium gasoline, it will slowly damage the motor. On the other hand, using high-octane gas in a regular outboard motor will give you no extra benefits.
How often should I change the oil in a four-stroke outboard?
Similar to your car, your outboard needs an oil change regularly. Your outboard lower unit oil requires changing every 100 hours of operating. The risk of not doing that is obvious – you can damage your engine.
Does a 4 stroke outboard need oil mix?
The four-stroke outboard motors are similar to automobile engines. The lubricating oil is on a separate circuit from the fuel. Most outboard motors have a two-stroke engine, which is lubricated by the oil mixed with the gasoline.
Should you use synthetic oil in my outboard motor?
It all depends on how much you are using your boat. If you want your oil to last an entire boating season, then yes, you should use synthetic. It will have an extended life making the intervals between drains longer.