This page contains affiliate links. This means that we may get a small commission for recommending products, if you choose to click on something and buy it. This does not cost you anything, but we wanted to be honest and let you know!
(Last Updated On: April 10, 2022)
A boat anchor is used to hold the boat in place by ensuring that the boat does not move due to external forces such as the tide and winds. It is placed in the river bed or sea and is integrated into the body of the boat with what is known as the rode.
The best boat anchor is the Galvanized Slide Box Anchor, which is suitable for boats up to 40 feet long and folds down for easy storage.
When choosing the ideal boat anchor and chain, ensure that you choose the appropriate size and type in relation to the size of your boat. More so, you might also need to consider environmental factors since an anchor that is used in an ocean is different from one that is used in a river.
Best Anchor for Boats
The traditional and earlier anchor modes comprise of a chain as the rode.
These anchors were rather heavy and could only be removed from the seabed by using a durable chain that would be attached to the front section of the boat.
With that being said, chains are still a prevalent occurrence today, but other materials such as cables and ropes are surpassing it in functionality.
If you own a large boat or yacht, you may want to check out the boat windlass for anchoring.
By understanding these various factors and more, you can be able to make an informed choice for your anchoring needs.
Below is a list of the best boat anchors in a range of forms and sizes in relation to your requirements.
Slide Anchor For Offshore Anchoring

One of the most popular boat anchors within this article is the Slide Anchor. It is not the cheapest but it is the best boat anchor option for choosing a precise placement that you wish your boat to stay and this anchor will ensure it stays.
In terms of the notable features of the Slide Anchor, they include:
Galvanized box anchor
25 LBS weight
Suitable for a boat measuring up to 40 feet
Folds flat for storage
3 different sizes to choose from
The Box Anchor is the best anchor for choosing the precise placement of your boat in the water and staying there.
There is no chain and it only uses half the amount of the line compared with a traditional anchor and even folds flat for storage.
Overall, it is the best boat anchor you can buy for boats up to 40 feet long. No matter what type of bottom or water conditions, this large boat anchor will easily latch on to the bottom and hold your boat in place with ease.
Mantus Anchor 

The Mantus boat anchor is a galvanized steel anchor that is built to the highest quality and comes with a lifetime warranty. 
In terms of performance, it digs strongly to provide a strong holding and sets faster and deeper compared to the alternatives.
Features and specs of the Mantus Boat Anchor include:
Plough anchor type
8 LBS to 175 LBS
Lifetime warranty
Ideal for grassy bottoms
Shank boot welded from top to bottom
Breaks down for easy storage
Like the Slide Box anchor, the Mantus boat anchor comes at a premium cost but the performance is next level.
The plow anchor type is known for having the best setting powder and the Mantus is built to be heavy-duty and comes with sizes up to a huge 175 LBS in weight. It is the best within its class and is the best boat anchor for holding power.
Greenfield 614-B Small Boat Anchor

When it comes to boat anchors, the marine brand Greenfield produces a wide range of anchors.
The 614-B is suited to smaller boats and has been been relatively cheap to purchase. Features and specs of the Greenfield 614-B boat anchor include:
14 LBS weight
Grapnel anchor type
Suitable for boats under 18 feet
All-weather and bottom conditions
Black coated protection
For those looking for "bang for their buck" and have a boat that is under 18 feet, the Greenfield 614-B Grapnel is the best small boat anchor.
Compared to other anchors, it is by far the most attractive too with the black coating.
Danielson Mushroom Boat Anchor

For those looking for a cost-effective solution for anchoring your boat, the Danielson mushroom anchor is a great option.
It offers 4 different weight sizes and is a cheap anchor for your boat. In terms of the features and specs, it includes:
Vinyl coating for corrosion protection
Mushroom anchor type
Ideal for mud and weeds
Available in 8, 10 and 15 LBS
Wide area mushroom cup provides sufficient holding power
Being a mushroom anchor, the wide cup shape provides the holding power when placed upon mud or weed bottoms.
Many people use this Danielson anchor as the anchor at the stern of the boat, which prevents the boat from turning in heavy wind.
Unlike other mushroom anchors, it is lightweight and easy to retrieve before you set off. Overall, it is a cheap small boat anchor that does the job on a tight budget.
Marine & Outdoors Kayak Fishing Anchor

When it comes to choosing your boat anchor, you will need an adequate amount of weight in order to hold your boat.
However, if you have a small boat, kayak, jet ski, SUP or any other small marine products, you will want something lightweight.
This is where this anchor becomes the best option and it features the following:
Grapnel boat anchor
3.5 LBS weight
40 feet long anchor line
Buoy ball
Stainless steel carabiner
Nylon storage bag
1-year warranty
Overall, it is a cheap small boat anchor suitable for paddleboards, kayaks, jet ski and many other small marine products that require anchoring.
The small upfront cost is a worthwhile investment and provides you with peace of mind that your boat will not move around when stored on the water.
Boat Anchor Buying Guide
An anchor is essential that you need on board your boat if you intend to leave it on the water.
They come in a range of types and sizes but choosing the boat anchor that is suitable for you is dependent upon the size of your boat and the bottom condition.
Below are some of the features that you should consider before purchasing the first boat anchor you find.
Bottom Conditions for Anchors
Anchors need to develop sufficient resistance levels in the seabed to accommodate the various environmental forces that act on the boat including the waves and the wind.
The ability of the anchor to provide sufficient resistance is dependent on its ability to function and penetrate the seabed section for optimal stability.
In fact, in most of the conventional anchor tests, the always seems to be one apparent factor: which is the fact choosing the appropriate anchor is depended on the overall design of the anchor.
Here are some of the conventional bottom conditions and their appropriate anchor designs:
Sand – these types are relatively easy for anchors to penetrate and it also provides sufficient holding power and set up results. In fact, the conventional anchor designs will hold well in the sand. The pivoting fluke anchors and the non-hinged scoop anchors are ideal for use in these types of conditions.
Mud – Mud also has low shear strength, and it features unique anchor designs with broader shank-fluke angles and improves fluke area levels as well. This lets the anchor penetrate into the deep sections of the seabed, which provides improved stability levels. It is important to note that mud is often a thin layer of material, such that anchors can be used to penetrate into the deepest section of the mud for even much more stability levels. There are various brands that provide improved stability in the mud and can be adjusted from their 32-inch standard levels to as much as 45 inches fluke angles.
Rock and coral – the holding power of the anchor is dependent on the location in which you drop the hook, rather than the type of anchor used. For instance, the plow shaped or grapnel type anchors, comprise of enhanced structural strength, which can accommodate the high point loads for optimal functionality.
Shale, grassy and clay bottoms – the tough bottoms are ideal for almost any type of anchor designs, whereby the weight of the anchor tends to be much more than the design. There are various brands that are ideal for use in such conditions especially those that are customized to penetrated even vegetation. Having said that, these conditions tend to have an immense probability of false settings, due to the anchor catching on roots or any other items that are found within the terrain.
Boat Anchor Materials
There are various types of materials that one can choose from including the galvanized steel, lightweight aluminum, Grade 316 stainless steel.
Most boating enthusiasts will opt for the galvanized anchors for affordability factors, with the added benefit of enhanced tensile capabilities.
The stainless steel anchors are also ideal, and boaters who choose the anchor in relation to the weight of the bow and they can choose from various types of materials.
Some of the main ones including aluminum-magnesium anchors which are affordable and durable at the same time.
Holding Capability
Weight is also another important factor to consider when you are searching for the ideal anchor for your needs.
It is important to note that when an anchor penetrates into the surface of the seabed, suction is produced by the bottom material along with the weight of the anchor, which also increases the resistance levels.
The holding power of a well-designed anchor is exceptional, and will often vary in between as much as 20 and 200 times the mass of the anchor.
As a result, some anchors only weight an average of 5lbs and can hold an average of 1,000 pounds.
Take a look at these independent performance testing results for a complete breakdown of all the holding powers.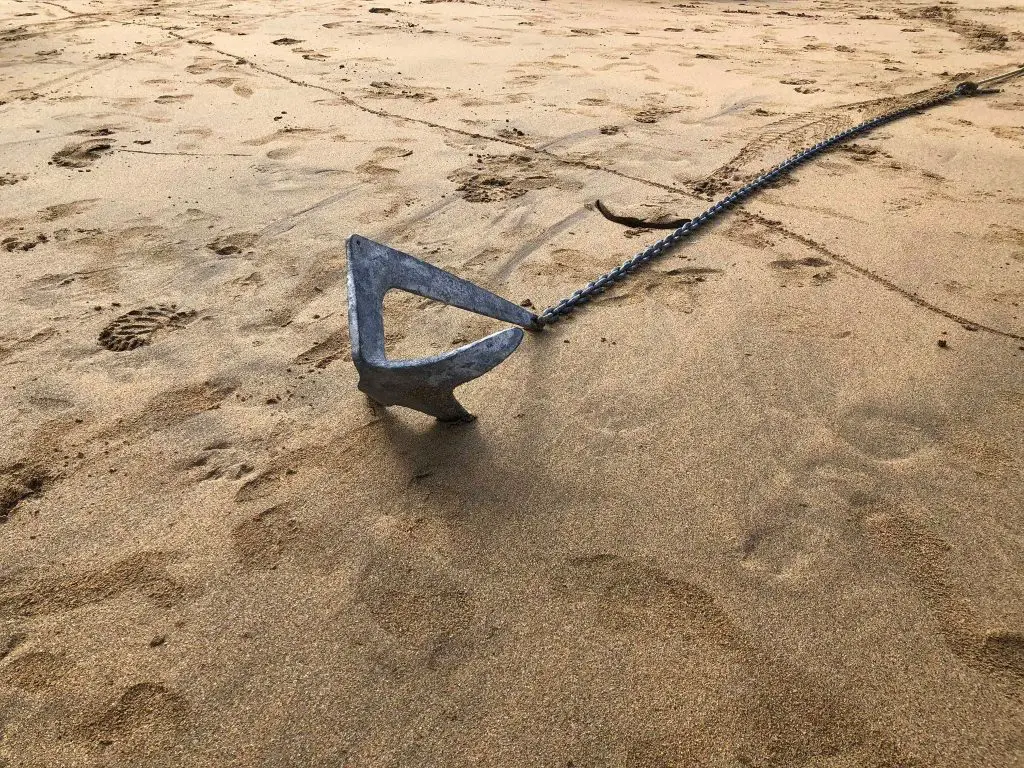 Anchor Weight
You should also choose an anchor that has the right size for your boat and the locations where you need anchoring.
Therefore, you need to consider your manufacturer's suggested size into consideration and in relation to your boating style as well.
For those who boat for several hours or day in the water, you might also have to consider the weight range of the boat since this plays an important role as well.
Choosing the appropriate anchor size for your boat requires some level of decision making.
For instance, you will need to consider if your engine fails, and the windage drifts the boat to the shore, then owning a well-sized anchor in such a situation might go a long way in saving your boat.
Types of Boat Anchors
There are various types of boat anchors that are available out there today. Some of the most popular versions include the plow, fluke, mushroom, claw and grapnel anchors.
These different anchor versions are compatible with as many different types of boats.
Grapnel Anchor
These types are the conventional anchor types that are often found in canoes, dinghies and small boats.
Also, these anchor types comprise of a unique shank that comprises of several ties that protrude from the shank section.
The tines are used to hold the anchor in the appropriate place in the seabed, and since it comprises of several tines, this provides better functionality for setting the anchor correctly.
Having said that, this unit does not stabilize well in muddy conditions due to the increased surface area of the fluke and blade section.
When this unit attaches and sets, the grapnel anchor provides exceptional holding power, and it may require an added tripping line to remove it. These anchors tend to be compact, portable and simple to lift.
Fluke Anchor
This also another prevalent anchor type. In most cases, these units comprise of unique flukes that have steel shank and blades that bow towards the bottom of the sea.
When these flukes are placed on the bottom section of the sea, they provide improved holding capability which makes them ideal for gravel or muddy functionalities.
Having said that, this unit may not provide sufficient holding in rocky or grassy locations.
Therefore, ensure that you use the fluke anchor as a secondary anchorage rather than the main anchorage.
These versions are simple to move and do not require extra-durable chains to realize their full potential.
Plough Anchor
Besides that, another notable type of anchor is referred to the as plow anchor. These types are classified under the plow name due to their similarities in design.
In fact, it comes with a hinged shank design that allows the anchor to change direction, thereby proving improved holding power in various types of weather and environmental conditions.
This is because the plow does well to penetrate even the innermost sections of the seabed, which makes it ideal for recreational boats.
More so, these anchor types are made using corrosion-resistant material and they tend to be heavier in size than their conventional counterparts.
Claw Anchor
The claw anchor is a multi-purpose anchor that comprises a unique claw shape.
The claw anchor can be used well with small boats since it adapts well to the conventional tide and weather patterns.
The fluke area automatically calibrates itself in relation to changes in the weather, thereby providing sufficing holding strength in most bottoms but with the exception of mud and dense grass.
These anchors won't break out like conventional anchors, and they are also simple to retrieve from the water, which makes them convenient.
In addition to this, these anchors are often made using high tensile metal alloys, which makes them heavier than the conventional anchor types.
Their immense weight levels goes a long way in improving their holding power. Having said that, they tend to be difficult to store due to their unique designs.
Mushroom Anchor
These types of anchors have a design that is similar to an upside-down mushroom. The small boats tend to feature this type of anchor, and they are sometimes used as the secondary anchor as well.
It is important to note that the lip of the anchor does well to penetrate in the muddy and sandy bottoms, thereby producing a unique suction force that will hold the anchor in the appropriate position.
However, this unit does not function well in rocky terrains or extreme weather and tide conditions.
The weight and the size of the anchor goes a long way in contributing to the holding strength of the anchor.
Moreover, the large mushroom anchors tend to provide immense holding strength, which is up to ten more times the weight of the conventional mushroom anchor designs.
These types tend to be designed using rust-resistant aluminum and can reach top weights of as much as 6.9kgs.
Types of Anchor Chains
The chain otherwise referred to as the rode, plays a major role in the functionality of the anchor.
This is because it integrates the anchor to the boat and it should, therefore, be durable enough to hold both in the appropriate position. The added advantage of boat chains is that they tend to be stronger and less likely to suffer from compromisation than ropes.
In fact, the heavier boats might have to use extra durable and high tensile material to hold the boat in position.
More so, it can also be used with a combination of ropes and chains to anchor the boats in position.
One disadvantage of using the chain only is that it can sometimes prove to be too weak for the weight of your boat.
As a result, the conventional manufacturers provide various anchor types for functionality Some of the main ones including the proof coil, GR 70 transport, high test and GR 43 high test among many others.
The chains tend to be classified in grades of steel, with the higher grades providing enhanced holding capability. More so, these materials tend to be galvanized or stainless steel, which makes them perfect for rust resistance.
Proof coil– this version is the most basic of all, and it is a steel chain that is used with the conventional anchor designs. The classification level is 30 and it's also often galvanized but can also be coated with Teflon. More so, it is also affordable than the higher grade chains and its durable in both salty and fresh glasses of water.
BBB– This also another basic classification anchor chain and it made from galvanized and low carbon steel. Additionally, it also tends to be more affordable than the high carbon anchors, and it comprises of small links, which guarantee enhanced functionality and flexibility levels.
High Test– This version tends to be costlier than the conventional chains due to its extra-durable design. These metals are often classified in grade 40 and will provide enhanced holding power than most chains that you will come across today.
Conclusion
Investing in a quality boat anchor will ensure your boat stays where it is in the water no matter the water, weather or bottom conditions.
You will need to ensure that you match the anchor to the length of your boat for the best performance.
All of our recommendations include various types for small boats to large vessels.
Along with the anchor itself, you must also purchase anchor rope and the chain to complete the setup for anchoring your boat in the water.