This page contains affiliate links. This means that we may get a small commission for recommending products, if you choose to click on something and buy it. This does not cost you anything, but we wanted to be honest and let you know!
(Last Updated On: April 10, 2022)
When reversing your boat into the ocean, your trailer lights play a big part in instructing those behind you on what you are doing. In the marine environment, they should be submersible trailer lights as they will be placed in salt water in some cases.
The best submersible trailer lights are the SeaSense Low Profile Tail Light, which comes with marine grade tinned wires and stainless steel hardware for durability.
LED trailer lights are preferred over the older halogen bulbs as they are a sealed diode unit that is more watertight. When installing the submersible lights to your trailer, ensure you use marine grade wiring with additional protection against corrosion.
Best Submersible Trailer Lights
Compared with normal trailers such as horseboxes or car transporters, a boat trailer has the added stress of being submerged in water. For this reason alone, you should always go for a marine led trailer light over a standard alternative.
There are additional steps to the installation such as shrink-wrapping all the connectors for protection.
They will make the lifespan of the lights much longer. Preparation is key to ensuring the lights are as waterproof as possible.
LED trailer lights that are wired correctly will last many years. The biggest issues are corroded ground wires from poor installation. Below is a list of the best submersible trailer lights for use with your boat trailer in the ocean.
SeaSense Submersible LED Trailer Light

The low profile SeaSense Tail Light is a pricey bit of kit but the materials used for installing the LED trailer lights are of high quality.
For example, the kit includes marine-grade tinned wires, stainless steel hardware, and an impact-resistant lens.
The LEDs themselves draw a low amperage, which ensures your marine battery retains all its power for the ocean.
The design and high-quality materials make installing these LED trailer lights much easier than sourcing hardware individually.
Overall, the SeaSense tail lights are the best submersible trailer lights you can buy. They are good for use in saltwater and will last many years.
Wesbar 407560 LED Waterproof Tail Lights

The Wesbar 407560 is a direct competitor to the SeaSense alternative. They are a completely sealed construction that prevents water from damaging the circuit board.
The kit includes a 25-inch trailer wiring harness with connectors and a license plate bracket.
Thanks to a compact design (4 x 6 inches), these lights can squeeze into tight spaces and meets the FMVSS/CMVSS requirements for trailer over 80 inches.
Although the Wesbar 407560 LED trailer lights are expensive, they do come with a limited 1-year warranty for peace of mind.
They are a top-rated waterproof trailer light with the fully sealed bulb capsule being the standout feature.
Optronics GloLight Sealed LED Trailer Light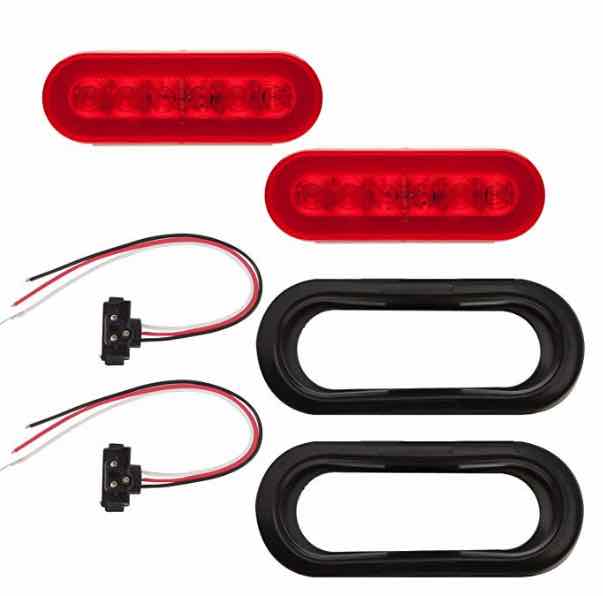 Optronics offers a range of trailer lighting but the GloLight sealed trailer light kit is sonically sealed to ensure that they are waterproof.
The LEDs themselves even come with a lifetime warranty and use solid-state components for performance.
The kit comes complete with grommets and plugs with the ability to install these lights in any 360-degree position.
They are known for being much brighter than any OEM trailer light thanks to the solid-state components that not only improve brightness but also reliability.
The Optronics GloLight is a cheaper alternative to many in the article and are the best boat trailer lights for the money.
If there were connectors and marine-grade tinned wire included like the SeaSense, it would be the ultimate package.
CZC AUTO 12V LED Trailer Tail Light
The CZC AUTO 12V Submersible LED Trailer Tail Lights are designed to offer super high visibility and longer lifetime. 
They are completely submersible and compatible with under 80-inch width towing vehicles. 
They are a direct replacement for any marine OEM trailer light. Their lenses are ultrasonically welded, which means there are no gaskets required during the installation.
They're easy to install and they can be mounted in 2 different ways – on the back or on the side of your boat trailer. 
If you are looking for a direct replacement for a broken light or simply want to provide your trailer with a fresh look, these are a very good price option.
MaxxHaul 70205 LED Trailer Light Kit

The most popular trailer light kit is by MaxxHaul. It includes a stop, tail, and turn signal light with two amber clearance lights and a wiring harness.
There is even hardware to install the LED trailer lights rather than sourcing it yourself.
The powerful LED bulb found within the taillights is DOT compliant. It can be submerged in the water thanks to copper-coated aluminum wires resisting corrosion.
Although the wires are copper coated, they will not be as durable as a marine-grade tinned wire alternative found with the SeaSense tail lights.
However, MaxxHaul is very cheap considering all the items within the kit.
Boat Trailer Light Buying Guide
What to look for in boat trailer lights
If you were to use a standard horsebox or car trailer light installation kit and bulb construction for your boat trailer, you will run into issues.
For starters, the majority are not waterproof or sealed, so water will get into the lenses straightaway.
On top of this, the wiring will not be friendly with salt water, which means they will corrode in very little time.
Ensuring you purchase a high-quality marine LED trailer light setup is crucial if you want them to last many years.
Below are some factors that you should consider when searching for marine trailer LED lights.
Trailer Light Hardware
Many people will spend a large amount of money on a high-quality LED trailer light but buy cheap with the hardware.
This is a huge mistake. Why? Because the hardware and wiring is the most important part and you will only end up having to rewire it at a later date.
Mounting hardware needs to be able to withstand saltwater with stainless steel being the most desirable.
The wiring is even more important with a marine-grade tinned wire being the best way to wire lights for boat trailers.
It is so tempting to go cheap with the hardware and wiring but this is the one part of the whole setup that requires high-quality materials.
Boat Trailer Lights Installation
The installation of submersible trailer lights can vary from trailer to trailer. It is the wiring and preparation that is the most time-consuming part.
Installing the LED lights for the boat trailer is relatively straightforward and in most cases a direct replacement.
When wiring the lights, you will want to think long term and to do this, you should ensure you are waterproofing the connections if you plan on submerging the boat trailer.
The best way of doing this is by having all lights with a separate ground wire to a junction box; the lights themselves having shrink wrap connectors. Also adding liquid electrical tape as a safety measure.
Preparation is key and taking your time during wiring will pay off when you hear about people rewiring every other year.
Design and Dimensions
You can be as unique as you want when it comes to trailer lights and there are many designs to choose from.
Many people prefer a low profile and boxy shape whereas others prefer the oval design that compliments their boat.
Regardless, before buying ensure you take measurements to prevent wasting your time and realizing they won't work or fit correctly.
Conclusion
Even though upgrading your boat trailer lights is cheap and easy to do, it makes a huge difference to the overall appearance.
Bright LED trailer lights are the first thing people will notice as you back the boat into the ocean or traveling down the highway.
Investing in a top-rated marine trailer light that comes with stainless steel hardware and marine-grade wiring is advised.
All of the above is highly rated throughout the boating community and is submersible when installing correctly.