Rebuilding your boat trailer hubs is a worthwhile exercise to improve the safety of your trailer whilst towing. The wheel bearings are made up of the cup, which is pushed against the hub and cone that contain the rollers. These should all be replaced at the same time for a complete rebuild.
The best trailer hub assembly is the Rigid Hitch Complete Kit, which is available for both 4 and 5 bolt patterns and includes everything for a rebuild.
Failure to maintain your wheel bearings, hubs, and springs can potentially cause the wheel to fall off the trailer whilst driving and there is nothing you can do.
Best Boat Trailer Hub Rebuild Kits
When carrying large heavy loads on your trailer such as a boat, you want to ensure that the hubs are fully functioning. Unused wheel hubs of trailers can easily become corroded as they are exposed to a range of elements.
Many boat trailers are decades old and investing time into changing the moving parts is going to increase the safety and the value of the trailer up.
You will have the choice of changing every single component of the hub assembly or just parts but we highly recommend a complete rebuild for old setups. Below is a list of the best trailer hub rebuild kits to increase the safety of your trailer.
Rigid Hitch Hub Assembly Rebuild Kit

The Rigid Hitch hub assembly kit comes with everything you need to completely rebuild the trailer hubs to its former new standard. Available for both 4 and 5 bolt patterns, you are able to rebuild the majority of trailers.
Included with the Rigid Hitch Kit are the following:
Pair of 1-1/16 inch straight spindles
Bearings
Hubs
Spindles with bearing surfaces
Castle nuts and cotter pins
Other bolts and brackets
All the parts included are the highest of qualities and simply bolt together without any mishap. Everything is there and all you have to do is rebuild it following the detailed instructions or pass it to a professional that will be able to install this trailer hub kit with ease. The Rigid Hitch is the best complete trailer assembly rebuild kit and you will not be disappointed.
CE Smith Galvanized Trailer Hub Kit

CE Smith's alternative is simply just the trailer hub kit and nothing else for those wanting to replace just the hubs. They are available for a range of stud diameter sizes and comes complete with the front and rear bearings and seals.
In terms of the specification, the CE Smith hubs are 5 x 4.5 inch with a 1-3/8 inch tapered to 1-1/16 inch shaft. It is recommended not to put a wheel larger than 15 inches onto this hub for safety precautions.
Overall, the CE Smith setup is the best trailer hub rebuilt kit for the money with quality galvanized parts used at a fraction of the dealership prices.
Tie Down Engineering 81045 Marine Hub Kit
The heavy-duty trailer hub kit with lug nuts by Tie Down Engineering has a weight rating of 1,750 and compatible with 5 stud applications. Compared to other trailer hubs with similar weight ratings, these offer great value for money.
Rebuilding trailer hubs can be a right pain with many kits but the Tie Down Engineering marine hub kit is made much easier to fit correctly.
The complete kit includes the bearings, sales, dust cap, cotter key, and lug nuts. The only drawback is that it is not galvanized but painted instead-but if you are not using it in saltwater, this shouldn't be an issue bearing in mind the budget price.
Martin Wheel Hub Repair Kit

If you are looking for a cheap method of repairing the boat trailer hub then Martin Wheel's hub repair kit is the best buy. Not only is it the cheapest rebuild kit in this article but it also offers all the necessary parts such as a hub, lug nuts, bearing cups, cones, grease seal and cap.
The manufacturer claims their kit is built to be long-lasting and excellent value for money, which can be agreed with the low cost and popularity.
Many people will prefer to spend more for better quality, which is understandable but for those on a budget, this is the best cheap trailer hub repair kit.
Libra Trailer Idler Hub Kit
The Libra rebuild kit is suited for 3,500 LBS trailer axles and has a bolt pattern of 5 x 4.5. The idler hub kit is used by many large trailer axle manufacturers for an inflated price but this kit is straight from Libra and includes the following:
Inner and outer cone bearings
Grease seals
Lube grease caps
10 Cone rubber wheel nuts
If you are looking for a direct replacement to your standard hub and bearings of your trailer, the Libra does exactly this. It is a great hub and bearings rebuild kit at a low cost to allow you to easily maintain your trailers functionality.
Boat Trailer Hub Rebuild Buying Guide
Not maintaining your trailers hubs and related moving parts can cause issues when you least expect it. To fully rebuild your trailers hubs requires a rebuild kit that is fairly cheap to buy but requires installation by yourself or a professional.
Boat trailers, in particular, require regular hub inspections due to the hub being exposed to water. If it is saltwater, choosing a high quality galvanized hub kit for the rebuild is highly recommended to avoid heavy corrosion.
Hub Weight Capacities
The hubs that you place on your trailer must be up to the job of holding the weight i.e. a boat. Many hubs are rated in the many thousands of kilograms, which is surplus for the majority of small boat owners that will be towing their boats on the highway.
Hub Bearings
As with the weight capacity rating, you should ensure you know the size and type of bearing in the wheel hub. The easiest way is to note down the existing size and type before buying the new trailer hub rebuild kit.
They usually have a reference number of some sort that will correspond with the many fitting available of the recommended hub kits mentioned above.
Not Maintaining the Hubs
From personal experience of buying second hands boats, you should always check the state of the hubs before making your journey.
If you are purchasing second-hand boats and plan on towing the boat back to your home or garage, ask the seller when the hubs were serviced last.
Below is the result of the trailer hub failing and many hours wasted at the side of the road: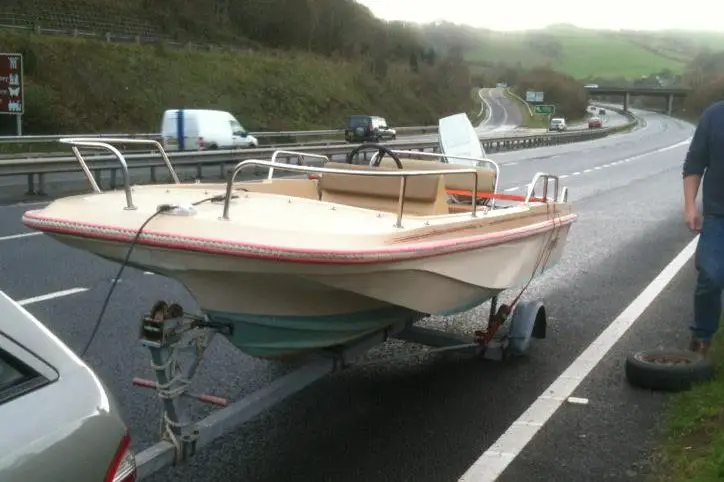 As the trailer is moved from the boatyard to the waters, it picks up moisture, salt and other debris that causes the internal parts to corrode and age. The trailer hubs need to be maintained as much as any part of your boat.
Hubs or Full Rebuild Kit
You will notice that many of the trail hub rebuild kits come with just the hubs or a complete rebuilding kit for those performing an overhaul.
Either of the options is better than no maintenance at all but if you are planning a full overhaul, ensure you know exactly what you are doing.
The average boat owner will be able to change the wheel hubs of the trailer without any major hiccups. Just always remember to apply lots of greases as this is something many novice boat owners will forget.