Many boat owners will not even check the health of their boat trailer tires before setting off. Unlike the regular car tire, these types of tires are subject to salty sea water and are rarely cleaned, which makes them prone to issues.
The best boat trailer tire is the Freestar M-108 Radial that has a 8 ply construction with a load range of D, which has a max weight rating of 1,820 LBS.
Trailer tires come with multiple measurements but the load range is an important as it determines the weight capacity per tire and the maximum inflation pressure.
Best Tires For Boat Trailers
Tires can wear out for a range of reasons but the boat trailer tire is often neglected and can become damaged for a range of reasons. Sidewalls can become cracked due to dry rot, UV damage and moisture but general wear and tear is also a big factor.
The trailer tires of your boat are prone to failing whilst out of the road as they have only been going a few MPH around the boat yard. Unless you have had a blow out or the hubs fail, you will not release the shock when something goes wrong.
Tires are not the most exciting thing to buy but it is not something you should put off doing. Below is a list of the best boat trailer tires that come with a multiple load ranges, speed ratings and other important features.
Freestar M-108 8 Ply D Load Radial Trailer Tire

The Freestar boat trailer tire is primarily for trailer use and not vehicle use. It has a 8 ply construction with a load range D, which has a max tire rating of 1,820 LBS per tire. The size of the tire is 205/75R15 and works great on the majority of trailers.
The Freestar has 8 piles of rubber in each tire, which makes it a heavy duty boat trailer tire for both short and long trips that may involve uneven roads or tracks.
Overall, the Freestar M-108 tires for your boat trailer are thicker and flexible compared to most trailer tires but also offers excellent value for money. They are the best trailer tires for the money and will be long lasting and reliable for many years to come.
Check it Out
Carlisle Radial Trail HD Trailer Tire

Carlisle are one of the best boat trailer tire brands with a range of sizes available for all applications. For usages in long or short journeys and compatible with the majority of boat trailers, there is no wonder why these tires are so popular worldwide.
The Carlisle Radial Trail HD has a max capacity of 2,150 LBS with a maximum PSI of 65 (load range D). The 205/75R15 is the most popular tire size choice but there are many other sizes produced by Carlisle.
Overall, it is the best trailer tire for heavy loads with the heaviest weight rating out of all the tires within this article. The Carlisle brand is one that you can trust for durability and build quality.
Check it Out
Trailer King ST Radial Trailer Tire

The Trailer King Tire is a 205/75R15 boat trailer tire with a weight rating of 1,820 LBS (load range C) and is a 8 ply construction. It has enhanced center grooves that ensure a consistent tracking and optimum stability when the trailer is being towed.
The nylon overlay construction is an addition that provides more strength and extra durability to the tire when under higher load capacities.
Overall, these boat trailer tires provide the best weight and speed ratings and are ideal for long journeys. Under higher load applications, these tires really excel and you will expect a longer tread life and even wear with the centered tire grooves.
Check it Out
eCustomRim Trailer Wheel & Tire

The classic styling of white powder coated wheels with chunky trailer tires is a favorite of many boat owners. These tire and wheel combo by eCustomRim are highly popular with a load range C that is capable of a weight rating of 1,360 LBS.
In terms of the dimensions of these tires, they are 175/80/R13 and they come as a matching pair for smooth towing in the boat yard and on the road.
Overall, the eCustomRim Trailer Wheel and Tire combo are the best cheap boat trailer tire and wheel combo that are great replacements for your current set. They are cheap but the rubber tire and rim are both high quality. The only improvement to be made is to galvanize the rim to protect against corrosion.
Check it Out
Wheels Express Inc Trailer Wheel

The Wheel Express Inc boat trailer tire is mounted onto a 14 inch rim with a Bias 205/75R15 Radial tire designed for boating. It is a fairly wide trailer tire and has a 8 ply construction, which is rated up to 1,820 LBS (load range D).
With a large amount of ply layers and load range, you are able to take this trailer tire and wheel combo under heavy duty usage.
Overall, it is a heavy duty trailer tire and wheel combo that is reasonably priced for those on a budget. The tread is deep and you can rest assure that this boat trailer tire will be long lasting for many thousands of miles.
Check it Out
Rainier ST Radial Trailer Galvanized Wheel & Tire

The galvanized spoke rim of the Rainier ST ensures that the exposure to salt and moisture does not cause corrosion. There are many boat trailer wheels that have not been galvanized but are simply painted to look nice. However, as time goes on, this shiny paint will wear down and eventually become corroded.
The RainerST tire is a 175/80R13, which is a smaller rim but has a big profile tire. It is rated as a load range C with a weight capacity of 1,360 LBS.
Overall, it is the best galvanized boat trailer wheel and tire, which is great for boat that are in and out of the ocean a lot. The rim of a wheel that is not galvanized will become heavily corroded overtime and can cause the tire to lose pressure.
Check it Out
Boat Trailer Tire and Rim Buying Guide
Boat trailer tires and wheel often become neglected unlike in an automotive perspective. It is quite silly really because boat tires go through more damaging usage such as in and out of salty waters, which not only causes corrosion but can also perish the tires.
If you have just splashed out on high quality galvanized boat trailer hubs and not on the tires and wheels, you really should rethink. Tires are not exciting but when something goes wrong, you will certainly know about it and at The Marine Lab, we known this first hand (see below).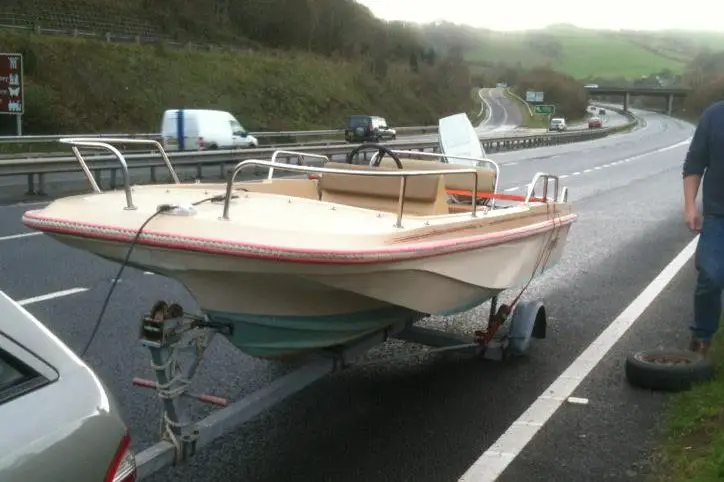 Its vital that you ensure the trailers hubs, wheels and tires are all healthy before setting off because danger could not be far away. Below are some factors you should consider before purchasing your tire and wheel combination for your boat trailer.
Load Range & Weight Ratings
You will notice that every tire will have a load range marked on the sidewall, with A being the lightest to E being the heaviest. The measurement is used to determine the maximum capacity that each tire can carry with many boat trailers being between B and C.
Many boats do not weight that much and requiring a heavy weight rating for tire can be pointless at times. However, if your boat exceeds the load range/weight rating of the tires, you are landing yourself into a world of trouble. It is highly advised to go with the manufacturers recommendation in terms of weight capacities.
Tire Inflation
So many people forget to check the air pressure of tires on their cars let alone on the trailers of boats. Unlike the car tires, boat trailer tires require much higher PSI and need to be checked regularly as they do heat up.
You should always inflate the tire when cold as the PSI will increase as the tire becomes heated whilst travelling. Running a flat trailer tire is a cause for disaster and will more than likely cause a blow out at high speeds when you least expect it.
For those that travel at a faster speed than most other driving towing, you should be putting in a higher PSI. Speed rating will be displayed on the side wall of the tires, where the common rating is 66 MPH but many exceed to 66 to 75 MPH.
Time to Change Tires
Many trailer tires are built to last but deciding when to buy new tires can be achieved quickly. You will want to firstly check for the most common issues, which is cracking on the sidewall, inability to hold tire pressure and general tire wear.
It is always important to check the age of the tire as some trailer may not get that much use. Simply check the sidewall for the DOT time stamp, which all tires will have. If it is too old, it is advised to change immediately before any long journeys.
When you change the tires, always ensure that you get the rim checked out and balanced at a tire shop. A word of warning for those that go to "backstreet" garages. Always ensure the tire you put onto your boat trailer is labeled with ST, which signals it is designed for a trailer. If you check this after, return to the tire shop and ask for a refund. All of the best trailer tires for boats above have the ST standard on the sidewalls.