The boat outboard engine has become much more complex and moved from 2 stroke to 4 stroke with most modern outboards. The amount of power you can achieve is highly dependent upon your budget.
The best boat outboard motor is the Mercury 20 HP Electric Start 4 Stroke, however if you have a smaller budget, the lower powered outboard motors are perfect.
To reach high speeds in your boat, you need to match the boat with an adequate amount of power. However, nowadays you see many boat owners putting engines that are too big on small boats meaning its heavier and harder to get on the plane.
Best Boat Outboard Motors For Small Boats
The majority of 2 stroke outboard motors were phased out for leisure use since January 2007. They are still available in parts of the world for commercial use but for the average boat owner, you will only be able to find second hand outboards.
The benefit of the 2 stroke outboard motor was that they have better throttle responses and are lighter over the 4 stroke engines. However, the combustion and weight issue is starting to improve with the latest batch of 4 stroke outboard motors.
If you are after a small outboard motor for your boat, you have come to the right place. Below is a list of the best boat outboard motors that range from 2 HP to 20 HP that are great for cruising or going flat out in the ocean.
Mercury 20 HP Electric Start 4 Stroke Outboard Motor

The Mercury outboard engine for boats is regarded as one of the best globally but this does come with an expensive price tag. It is the ultimate portable package that develops low end torque to plane boats much easier than other alternatives.
Many boat owners want the throttle response of the older 2 strokes and Mercury have managed to do this with this 20 HP outboard. With a tuned intake manifold, the acceleration is crisp with a fast throttle response.
Features include a multi functioning tiller handle, auto ratchet title and vibration adsorbing wishbone mounts. The list is endless but paying the extra for this outboard, you get the peace of mind of the "all mighty" Mercury brand.
Overall, it is the best 4 stroke outboard motor for small boats. Power, reliability and portability are three traits of this outboard motor that will increase the value of your current boat package.
Check it Out
Parsun 20HP Four Stroke Outboard Motor

If you are looking for 20 horsepower without the price tag of the Mercury outboard, then the Parsun alternative is the best cheap outboard for small boats. It includes desirable features such as manual and electric start, tiller handle, choice of shaft lengths, advanced induction, stainless steel water pump housing and much more.
The Parsun brand takes great pride in their tuning capabilities with the focus on performance and emissions. The main tuning feature is the advanced cross-flow induction that is used for smoothness on engine start and trolling as well as trolling.
This Parsun 20 HP outboard is available with or without electric start, short or long shaft as well as other outboard power. It offers great value for money for those wanting to upgrade from lower powered outboard engines.
Check it Out
Wakrays 6HP Ship Outboard Electric Motor

The Wakrays is a 6 horsepower outboard with an economical and compact construction that weighs just 20 KG. If you are looking at getting the "bang for your buck" in terms of power without going into the thousands, the Wakrays offers just this.
Performance features such as engine water cooling systems, CDI ignition for easy starting and performance improvements are just some of the large list of features.
It is a cost effective punchy outboard that would be perfect for small boats that require that little more power to battle wind speed and choppy waters.
Check it Out
Leadallway T4.0HP Four Stroke Outboard Motor
The Leadallway is a budget outboard motor for your boat that is easy to operate and perform regular maintenance. It is an air cooled outboard engine with 4 HP, which is perfect for cruising or fishing around the rivers.
The Leadallway is not the prettiest of outboards but it is the cheapest outboard motor that is actually rated by real boat owners. With the lightness, you can easily attach it to an inflatable boat, which would add much more enjoyment.
You are not going to win any races in the water with this motor but you will certainly have reliability. It is budget boating at its best and because its so light, its great for storing when not in use.
Check it Out
Coleman 2.6HP Manual Start Outboard Motor
The smallest power output is the Coleman outboard motor with 2.6 horsepower, which is a perfect amount of power for cruising around. There is also an offering of a 5 HP option but the 2.6 HP is the most popular option.
It weighs just 37 pounds and has a 1 cylinder OHV 4 stroke motor that runs quiet and efficiently. It is ideal small boats such as inflatables or used as an auxiliary trolling motor.
It has 360 degree steering with other features such as adjustable steering friction, shallow water drive, vibration reduction and marine alloy for corrosion protection. It is a premium small outboard with small power but perfect for those looking for a small motor.
Although its more expensive than both the Leadallway and Wakrays, it includes more premium features. This is the reason why its much more popular and overall it is the best outboard for cruising at low speeds.
Check it Out
Outboard Motor For Boats Buying Guide
Some of the best outboard motor brands are not mentioned within this article because they only produce high output outboards. Some of these include Evinrude, Yamaha, Suzuki, Mariner and others.
Most of these brands produce engines that produce triple figure power outputs. Mercury are the only premium brand that produce both low and high powered outboards but come with a hefty price tag that put off many beginner boat owners.
It is not as simple as getting any outboard motor for your boat and hitching it onto the back. There are many factors you should consider that are mentioned below.
Long Shaft or Short Shaft
The majority of inflatables are short shafted whereas fishing boats and yacht auxiliary motors are long shaft. However, to be sure whether you need a long shaft or short shaft, you can do some measurements.
You will need to measure the transom of your boat from the top to the bottom of the hull. 15/16 inches will be required for short shaft whereas 20/21 inches for long shaft.
Do not mix and match long shaft and short shaft outboard motors. If you put a short shaft on a long transom, it may not even reach the water, meaning the flow of water, cooling and the performance will all be effected.
The worst offender is when you put a long shaft on a short transom because the point of thrust is too low in the water and the bow of the craft could rear up and turn the boat over. Be sure to take the measurement and choose the correct shaft. Many come with different choices so you can choose before you buy if your heart is set on a certain outboard.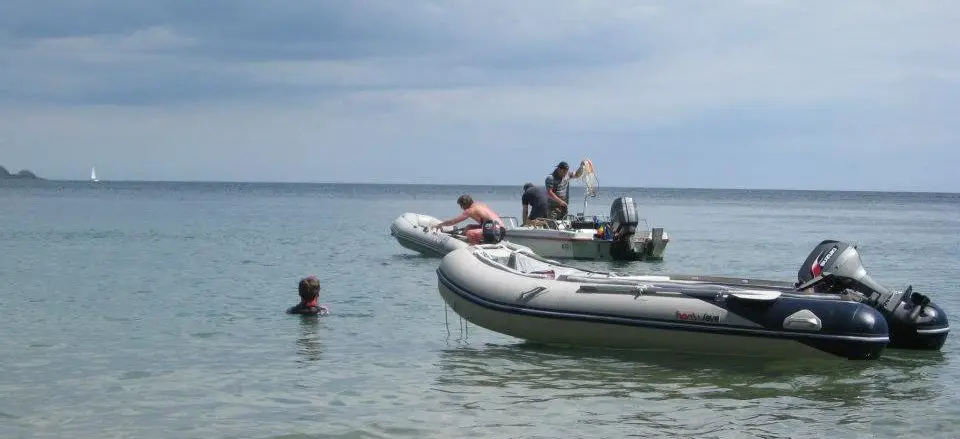 Outboard Motor Weight
The best benefit of small outboard motors over the large counterparts are that they can be carried easily. The majority of outboard motors from 2 HP to 10 HP weigh between 15 to 30 KG, which is certainly easy to lift and carry for most adults.
Moving to 20 HP outboard motors that often weight between 40 to 50 KG in weight, which can still be carried if you are feeling strong enough.
Matching Outboard To Boat Size
To match an outboard to a boats size is usually determined by 5 horsepower per tonne but to get a good forward motion, you will want more power. Head wind and choppy waters are just two factors that require more power in order to overcome.
5 horsepower per tonne is just enough to get you going at a good pace. If you are wanting a faster boat, you would need more power (stating the obvious here). Just like with cars, a 100 horsepower hatchback would be just as quick as a 250 horsepower 4×4.
Keeping with cars as an example, you wouldn't put a 6 liter V12 into a hatchback but you could with 4×4. It is all about matching the outboard to the boats size.
The outboard motor power not only need to match the size of your boat but must be matched with a propeller to cut through the water. High quality propellers can vary in size and make a huge difference and help you get on the plane much quicker.
To conclude, if its high speed in a inflatable rib, you will want plenty of power and better of looking at the higher power output outboards. If you are looking for outboards to cruise around in or use within yachts or canal boats, anything from 5 to 40 horsepower is plenty.
Electric Start Outboard Motor
Many boat owners will pay the extra for an electric start outboard for the convenience. However, this will be dependent upon your budget you have set aside for the outboard motor. Electric Start is highly desirable and saves the effort of a manual start each time you start your motor.
If you are upgrading to a larger outboard engine, you will also need to upgrade to a more powerful marine battery with high CCA rating.
If you already have a manual outboard motor but want it to have electric start, it cannot be done on the cheap. Way out the costs of a new outboard with this feature before undergoing the work on your existing outboard motor.
What Speed Can You Get With Small Outboards
To achieve optimum speeds on the water, you will need to get the boat on the plane. The majority of boats will need to get over 8 MPH in order to get on the plane depending on the size and weight.
If you have too heavy of an outboard motor, you will struggle to get on the plane unless you have some other passengers pushing weight at the front.
Servicing Outboards
The bigger the outboard, more often than not the more servicing you will require. For example, it may take much more two stroke oil or four stroke oil and all the rest that comes with servicing an outboard.
If you are able to service an automotive engine, an outboard engine will be very much similar. Just remember, when you are running the engine that it has water going through the system to keep the heat down.
Many people will only use their boats during the summer season and store them during winter. If this is the case, you will want to run the system through as above as well as clean the outside. Many boat owners will have dedicated outboard motor covers but many universal boat covers may stretch to the full size of the boat including the outboard.
Conclusion
If you are like myself, you will want as much power as the size of the boat can handle before performance reaches its limit. However, this is the point, it is purely personal preference because many other boat owners will just want enough power to move around of the waters in order to cruise or go fishing.
The best outboard motors mentioned in this article are suited to all different types of boat owners. Just be sure to check other factors such as the length of the shaft and more.