This page contains affiliate links. This means that we may get a small commission for recommending products, if you choose to click on something and buy it. This does not cost you anything, but we wanted to be honest and let you know!
(Last Updated On: April 10, 2022)
The fuel that is left in your boats motor will evaporate and oxidize when left for a long period of time.
Adding a fuel stabilizer during the winter season where you are less likely to be running the engine is highly recommended
The best fuel stabilizer is the STA-BIL 360 Marine with Vapor Technology that protects both the outboard motor and fuel system.
Leaving fuel to age whilst inside the outboard motor will eventually cause damage but it is easily avoidable.
Using a marine fuel stabilizer ensures that the fuel can be safely left inside the motor for years to come.
Best Marine Fuel Stabilizer
| | | |
| --- | --- | --- |
| Fuel Stabilizer | Preview | Brand |
| STA-BIL 360 Marine Fuel Stabilizer | | STA-BIL |
| Sea Foam Fuel Stabilizer & Treatment | | Sea Foam |
| PRI Boat Fuel Additive For Boats | | Crislan |
| Star Tron Enzyme Marine Fuel Treatment | | STAR BRITE |
| Yamaha ACC-FSTAB-PL-32 | | YAMAHA |
| PRI 32-D -D Fuel Stabilizer | | PRI |
The benefits of using a fuel stabilizer are not only for protection but it will also improve fuel economy, restore lost engine power, increase durability, and much more.
It is a cheap product to buy but comes with so many benefits for boat owners.
The magic ingredient in most marine fuel stabilizers is hydro-treated paraffinic distillate and solvent naphtha.
These two elements prevent the ethanol in the gas turning to crud and clogging the fuel lines of your engine.
If you are planning on storing your boat during the winter season, it is highly recommended to use this product.
Below is a list of the best fuel stabilizers to prevent stored fuel causing damage to your motor.
STA-BIL 360 Marine Fuel Stabilizer

The Sta-Bil 360 Marine stabilizer is a 5 in 1 formula that cleans the fuel system, maximizes fuel economy, prevents ethanol damage, increases engine power and removes water from the tank.
Features of the Sta-Bil 360 Marine Stabilizer include:
Advanced vapor technology
1 ounce treats 5 gallons of fuel
Stabilizes fuel for up to 2 years
Prevent corrosion damage
Available in a 8, 10 or 32 oz bottle
Unlike many other alternatives, this is suited for boat engines and other related water-based engines.
This is mostly due to the vapor technology that removes water from the tank and helps prevent corrosion damage.
Overall, it is the best marine fuel stabilizer you can buy and is ideal for boats, jet skies and all other watersports engines that are kept stored in the winter.
Sea Foam Fuel Stabilizer & Treatment

The Sea Foam motor treatment is by far the most popular fuel stabilizer within this article.
It is suitable for both automotive and marine motors as well as being able to treat both gasoline and diesel motors, which is fairly unique.
Other features of the Sea Foam Motor Treatment include:
Stabilizes fuel for up to 2 years
32 oz stabilizes 45 gallons of fuel
Clean fuel deposits and sticky residues
Contains no harsh detergent or abrasive chemicals
Only uses petroleum-based ingredients within its formula
Lubricates upper cylinders
Can be used for 2 or 4 cycle engines
Sea Foam is a multi-purpose fuel treatment that does far more than your average fuel stabilizer.
This is the reason why it's so popular in the US but the only drawback is that you will require a lot of the additive to stabilize a large tank of fuel.
PRI Boat Fuel Additive For Boats
The super-concentrated PRI-G fuel stabilizer is suitable for all gasoline 2 and 4 stroke motors and works effectively to prevent damaging deposits and restore lost performance.
In order to get the best bang for your buck, it is recommended to go for the gallon bottle of this fuel stabilizer, which will treat over 2,000 gallons of fuel.
Other features of the PRI-G Fuel Stabilizer include:
Contains no alcohol
Prevents damaging deposits
Ideal for E-10 gasoline
Will work for up to 3 years
Promises to improve fuel efficiency and power
PRI-G is one of the very few fuel treatments that contain no alcohol.
This is important as solutions that contain alcohol have a tendency to dissolve the salt, which then passes through all the fuel system that can cause issues.
However, there are benefits to having alcohol as it is a more powerful treatment.
Overall, the PRI-G is the best alcohol-free fuel stabilizer you can buy and works out as one of the cheapest fuel treatments per gallon.
Star Tron Enzyme Marine Fuel Treatment

The Star Tron Enzyme is a concentrated formula that can be used with all gasoline engines on an everyday basis or for seasonal storage.
Star Tron state that this solution will stabilize fuel for up to 2 years and bring the old fuel back to life.
Other features of the Star Tron Enzyme Fuel Treatment include:
32 oz of the fuel stabilizer treats 512 gallons of gas
Stabilizes fuel for up to 2 years
Cure and prevents ethanol fuel problems
Cleans valves and injector for better performance
Available in an 8 or 32 oz bottle
In terms of using the Star Tron Fuel Stabilizer, it is recommended on the first dosage to use 1 ounce per 8 gallons on fuel.
When refilling the tank, use 1 ounce per 16 gallons of fuel.
The Star Tron formula is one of the best ethanol fuel treatments available and between this and the Sta-Bil, there is not much to split them apart.
Yamaha ACC-FSTAB-PL-32
Yamaha Fuel Stabilizer and Conditioner is alcohol-free and specifically formulated to help protect your engine's fuel system. This fuel stabilizer will protect against the harmful effects of ethanol-enriched fuel. 
This Yamaha formula will guard against corrosive effects on metals, as well as fuel system gum and varnish that can be a result of fuel oxidation. 
Some of the features of Yamaha Fuel Stabilizer and Conditioner are:
Genuine OEM Yamaha part
Alcohol-free formula
Prevents Fuel Oxidation and varnish build-up
Corrosion protection for metals and aluminum fuel system components
Effective with non-ethanol fuels, too
Use as directed and you will keep fuel fresh and potent during normal use, and is effective for up to one year of storage.
It is best to use the Yamaha fuel stabilizer on a continuous basis to ensure that your engine continues to run efficiently and to minimize condensation in the fuel take. 
PRI 32-D -D Fuel Stabilizer
The PRI-D Fuel Stabilizer for diesel is a fuel stabilizer that preserves stored diesel fuel to refinery-fresh condition for years. It prevents deterioration and performance fails.
This super concentrated stabilizer fuel treatment improves all diesel fuels, including ultra low sulfur diesel and enables these fuels to perform at maximum potential when needed for disaster or energency.
The PRI-D Fuel Stabilizer for Diesel features:
Proides fuel economy 6% to 15%
Rescues NOx, SO2 and particulate emissions
32 ounce bottle treats 512 gallons
Unopened, this product last indefinitely
Opened, this product lasts 3 years
The PRI fuel stabilizer for diesel may seem a bit pricey for a fuel stabilzer.
One user from Amazon said of the PRI-D fuel stabilizer:  "We keep about 1,100 gallons of off-road diesel in our farm tank. Pri-D is THE additive to keep it stable. Yes, it costs more than what'd you'd find at an auto parts store or truck stop but it works!"
Marine Fuel Stabilizer Buying Guide
What to Look For in a Marine Fuel Stabilizer?
Many boat owners when storing their boats for the winter season will forget about the leftover fuel.
The ethanol that is present in the gas can turn into a crud texture, which will get into the fuel system and cause issues.
Stabilizing your fuel is an essential procedure you should do before storing your boat. Luckily, as technology, as improved, so have fuel stabilizers.
They not only stabilize fuel but stop varnishing, lubricate the engine, remove water and so much more.
There are so many fuel stabilizers on the market that are targeted towards certain aspects, so it's important to get the correct one.
Below are some factors that you should consider before dumping the wrong solution into the fuel tank.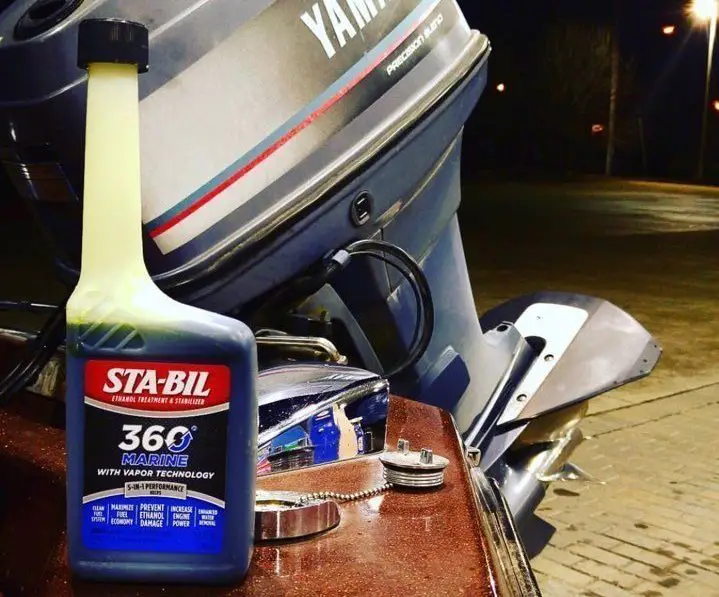 How Do Fuel Stabilizers Work?
After putting the magic potion in with the fuel, you are probably thinking about how it works.
As mentioned earlier, most fuel stabilizer uses a combination of paraffinic distillate and solvent naphtha, which produce a mixture that resists evaporation.
On top of resisting evaporation, the solution will also lubricate the fuel system and ensure all carbon deposits are removed from the surfaces.
Fuel stabilizers are the go-to fuel treatment for tackling ethanol problems from aged fuel left in engines.
Why Use Stabilizers?
The main reason people who own boats, cars, lawnmowers, and other combustion engines use fuel stabilizer is for storing fuel safely in the engine.
However, the full list of benefits of using fuel stabilizers include:
Safely storing fuel for long periods in the engine
Improve fuel economy
Restore lost power
Protect against ethanol damage
Corrosion inhibitors
Lubricate vital components
… and much more
Considering they are cheap to buy, it would be silly not to use it before you store your boat.
Many people go to the effort of putting a storage boat cover on their boat but forget to protect the engine!
Conclusion
Fuel stabilizers should be an important part of your maintenance schedule when putting your boat away in the winter.
Using high-quality fuel treatment to protect against ethanol damage is highly recommended.
The STA-BIL fuel stabilizer is the one to go for as an all-rounder but many boat owners prefer the alcohol-free solution.