This page contains affiliate links. This means that we may get a small commission for recommending products, if you choose to click on something and buy it. This does not cost you anything, but we wanted to be honest and let you know!
(Last Updated On: April 10, 2022)
The last thing you might think of needing on your vessel is a boat dehumidifier. It may seem like boats and water go together and in most cases, they do.
Where boats and water DON'T go together is when that water turns to humidity and the humidity promotes mold and mildew.
You want to keep your boat in the water and the water out of the boat. There are dehumidifiers for the small spaces on your boat that would benefit from dryer conditions. 
The best dehumidifier for small spaces is the Ivation Small Area Desiccant Dehumidifier that will remove 13 pints of moisture a day in spaces up to 270 square feet.
Stop a problem with mold and mildew before it begins by adding a compact boat dehumidifier to the cabin, head, or storage areas on your boat and protect your investment from damage.
Best Compact, And Portable Dehumidifier for Boats
There are two main types of compact dehumidifiers for small spaces. 
One type is a unit that removes moisture from the surrounding air by adsorption (not absorption) and is called a desiccant dehumidifier.
The second type passes moist air over coils and is called a condensate dehumidifier. 
A desiccant dehumidifier uses the adsorption process in which a solid holds molecules of a liquid on its surface. Typical examples of material used as adsorbents are clay and silica gel. 
A couple of the desiccant dehumidifiers we discuss in this article use silica beads to remove moisture from the air and hold it on the beads' surface.
The condensate dehumidifiers in this article use a fan to pull moist air over two sets of coils, one cool and one warm.
The cool coil causes the moisture in the air to create condensation that drips into a holding tank. The air then passes over the warm coil and back out into the room. 
Here are reviews of both desiccant and condensate dehumidifiers for the small spaces on your boat. 
#1. Eva Dry Mini Dehumidifier
The Eva Dry will remove moisture from the ambient air through adsorption.  
The unit itself is about 9″ by 8″, so relatively small in size, and weighing just a pound. The Eva has a white plastic case and looks much like a smoke detector type unit. 
The Eva Dry will work in small spaces that are up to 333 cubic feet. The way Eva does this is through the silica gel beads stocked in the unit.
Features of the Eva Dry Mini Dehumidifier are:
Compact and lightweight
Plastic housing
Color indicator on the front of the unit lets you know when to recharge silica beads.
Can be set on counter or hung by included hook
"Recharge" silica beads by plugging the device in an electrical outlet with a built-in plug.
Silica beads will last (with "recharging") up to ten years.
The Eva does not require batteries or any power source while working. The silica beads inside the unit will remove moisture from the air. 
The moisture will cling to the beads. When the beads are at their limit of adsorption, they will turn from orange to green. 
That will signal that it is time to plug the unit into a wall outlet. The device will heat the silica gel and release the moisture; thus, the device is "recharged." 
Ensure that you conduct this process in an area that will not be adversely affected by the moisture you release. 
This device would be ideal for space below the deck or an onboard closet.
Inexpensive and needing no power source, the Eva is best for relatively small spaces. You may want to consider using more than one. 
If moisture is a big problem, Eva Dry Mini Dehumidifier might not be equal to the task. 
#2. Pro Breeze Electric Mini Dehumidifier
Compact and portable, the lightweight Pro Breeze will remove moisture from a 150 square foot area. 
Ideal for small spaces like an RV, boat, bathroom, or closet.  The unit is not much louder than a computer fan but does need an electrical outlet for operation.
Features of the Pro Breeze PB-02_US Electric Mini Dehumidifier are:
Tank capacity of 16 ounces
Consumes 20 watts
LED indicator for a full tank
Auto shutdown when the tank is full
Works up to 150 square feet area
While not a high-powered dehumidifier, the Pro Breeze will help out in small spaces, such as the cabin of a boat. 
It might be just the thing you need to take out the excess moisture that can lead to mold and mildew. 
The damage that mold can do to your boat interior can be expensive to repair, so you want to avoid it. 
The Pro Breeze will remove 9 ounces of moisture a day. That is a little bit over a glass of water, but it can prevent mildew and smell from invading your cabin or closet on your boat.
#3. Honati Dehumidifier
A small plugin, a compact dehumidifier that is effective in small spaces.  
Almost 15 inches tall, 9 inches wide and 6 inches deep, it is compact but will take up some counter space and will need an electrical outlet.
Features of the Honati Dehumidifier are:
Automatic shut off
Removes moisture from 100-269 square foot space
Quiet operation
Weighs less than 6 pounds
2 Liter tank
LED indicator
Including removing moisture from the air, the Honati also has an air filter that will trap unwanted dust and particles from the air. 
This filter needs periodic cleaning, but it is a matter of rinsing the filter and putting it back, you do not need to purchase replacement filters. 
Simple to operate, just plug it in and turn it on.  
#4. Eva-Dry 1100 Electric Petite Dehumidifier
Another dehumidifier from Eva Dry, this compact portable, is thermo-electric. 
Features of the Eva-Dry Electric Petite Dehumidifier are:
Has an automatic shut off
Takes 23 watts of power 
Plastic housing weighing one pound
Works in space up to 1100 cubic foot area
Plugs into a wall outlet
The Eva-Dry Petite uses Peltier technology. This technology, discovered in 1834, found that when an electrical current passes between two different metals, heat transfers from one metal to another. 
In the Eva-Dry Petite, the unit will pull damp air over the front of a cold heat sink. When the air passes over the cold surface, it condenses and drips down into the holding tank.
Lightweight and quiet to run, the Eva-Dry petite will keep those smaller areas on a boat dry. 
Especially helpful if you use the galley for cooking, it can help to take the moisture out of the air rather than collecting on your cupboards and upholstery.
#5. Pure Enrichment Deluxe Mini Dehumidifier
Mobility is one of the advantages of this mini dehumidifier. Weighing just a little over three pounds, it is a sturdy unit but lightweight and compact.
Features of the Pure Enrichment Deluxe Mini are: 
One button control 
Eliminates up to 10 ounces of water per day
Removable water tank
Auto shut off
Compact design for small spaces
The design of the unit makes it easy to see when the tank is full. It is a simple and sleek design great for small spaces below the deck or in the closets or head.
You will not have to continually check to see when the tank is full as the unit has an automatic shut off that also prevents the dehumidifier from overheating.
#6. Ivation 13 Pint Small Area Desiccant Dehumidifier
Perfect for boats and RV's, the Ivation will do the job to maintain a dry environment for any small space.
 Features of the Ivation Desiccant Dehumidifier are:
Compact and portable
Optional continuous draining
Easy clean filter
Anti-tilt shutoff
Easy ready backlit display LCD control
Relative humidity meter monitors the moisture levels
Built-in timer for scheduled run times.
While this unit is larger than the others that we have reviewed, it is also powerful enough to get the job done. 
You want a unit that you can set and forget, and Ivation will be that unit. The unit has a handy carry handle and a removable water tank that will hold up to ½ gallon of recovered water. 
You also have the option of using a continuous drain tube so that you don't have to empty the tank. 
While this unit is larger (17 inches) and heavier (11 pounds), it will allow you to alleviate the problem of excess moisture on your boat. 
The unit gives you the ability to adjust the humidity level in 5% increments from 35% to 85%. There is also a continuous setting. 
You can change the fan speed and schedule a time from the unit to run anywhere from 1 to 12 hours. 
An adjustable air vent allows you to control the airflow out of the unit. The air filter is washable and replaceable.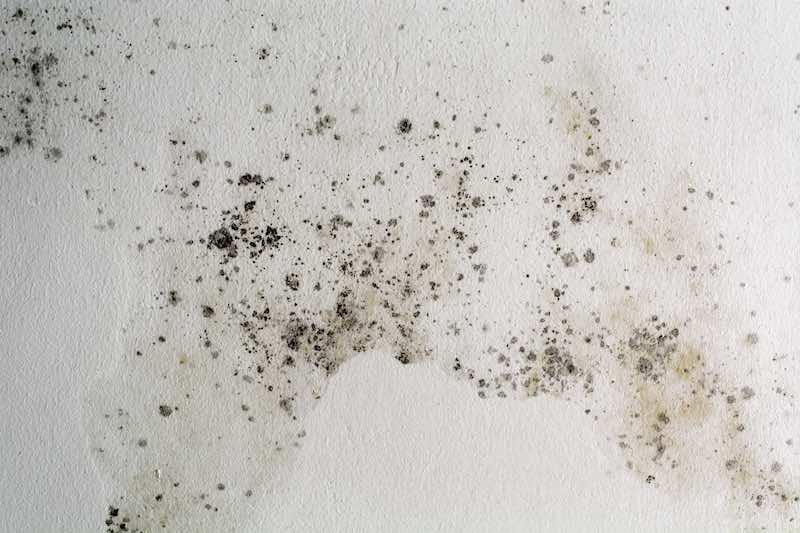 Mold and Mildew on Boats
Keeping both mold and mildew at bay are a real challenge for boaters. 
Because of the wet environment that boats are always in, there are chances every minute of the day for moisture in the air to get trapped in enclosed spaces on a boat. 
These are the conditions that mold thrives in. Once mold and mildew get established, you will have a hard way to go to get rid of it. 
Most boat insurances don't cover damage related to mold or mildew, so it is best to prevent it from ever happening.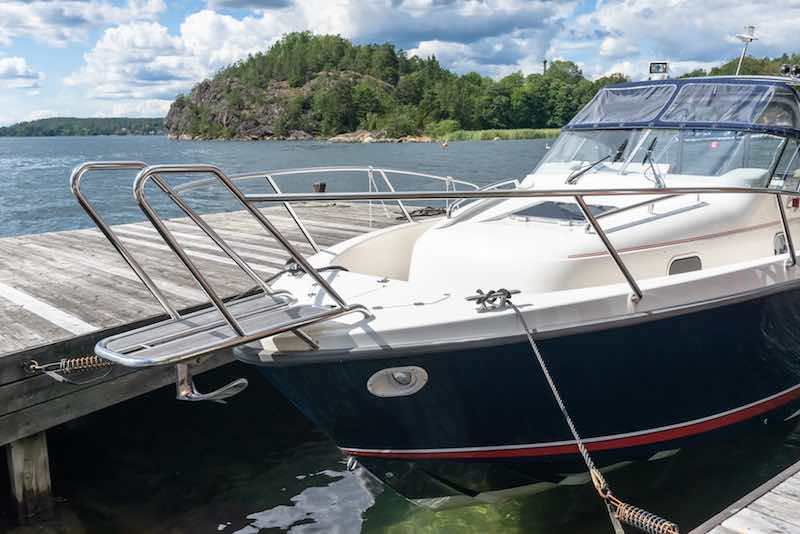 How To Prevent Dampness On A Boat
Just as a precaution, check for leaks in any area that water might be able to get in.. You might not think you have any, but a quick check around will assure you that you don't.
Check all the seals around hardware like hatches, stanchions, cleats, ports, vents, and bow rollers. 
If you find that water has leaked into this area, remove the hardware and check to see if it has seeped into the deck core. 
Repair any rot that you might find, fill the space, reseal it, and reinstall the hardware with the new sealant.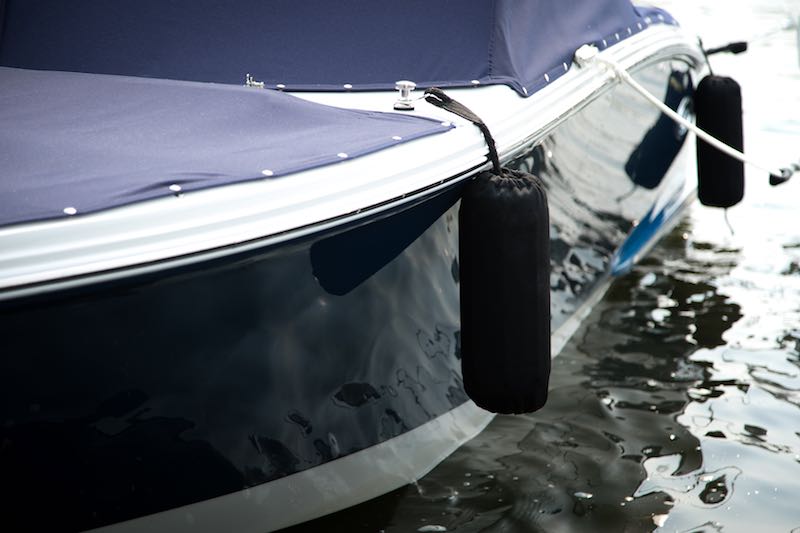 Cover Your Boat
Use a boat cover. This will keep water out, but be aware that it will also keep moisture in as a cover reduces airflow. 
When using a boat cover, make sure there is adequate ventilation.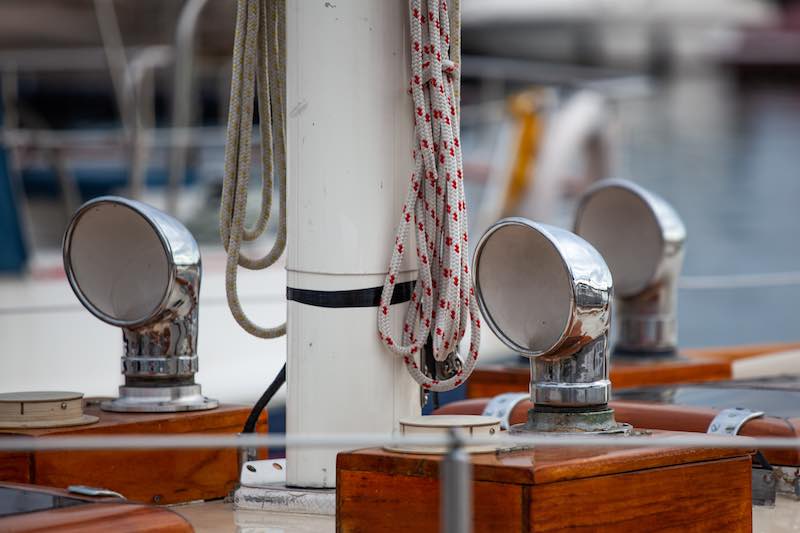 Ventilate Your Boat
The best and most important prevention against humidity and its accompanying problems is to ventilate your boat. 
When the air is not moving, it holds moisture and with changing temperatures, condensation will occur. 
All the areas of your boat should have airflow, the cupboards and lockers especially will hold moisture when there is no airflow. 
Leave them open cupboard doors open periodically. Install vents like cowls or dorades, which are passive, but inexpensive and easy to install. 
Install solar fans to keep the air moving. These are active vents. Just make sure that the vent will exchange the volume of air in your boat about once an hour. 
Increase air movement around cushions by adding an airflow barrier, a layer of woven polymer that allows for air circulation.
If you see any signs of mold beginning, get it cleaned immediately. Use a 1:3 vinegar and water solution to clean the areas. Vinegar will kill most mold species, as will a 10% solution of bleach. 
Routinely check the nooks and crannies in your boat, where mold can develop and adjust your strategies as needed.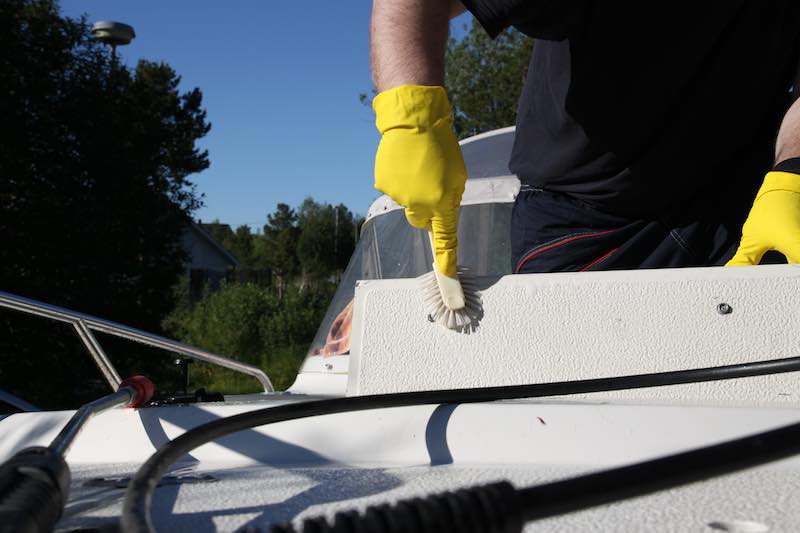 Humidity In The Air
Humidity is a reflection of the amount of moisture in the air, but it is relative to the air temperature being measured. 
You will already have noticed that warm air can hold more moisture than cold air. So humidity, measured as a percentage, will be higher in 80-degree air than in the 60-degree air. 
You will see the water from moist air condensing quickly on cold surfaces in the warmer temperatures.
The humidity of sea air is high, to begin with. 
The warm, moist air inside is cooled so that it can no longer hold the moisture and so it releases it onto cooled surfaces, which causes condensation.
Dampness can seep in everywhere and leave clothes and equipment on a boat a soggy mess.  
This is especially prevalent in the early mornings or cooler months. 
Unless you are diligent in going around wiping your items dry every few hours, you will get a build-up of moisture.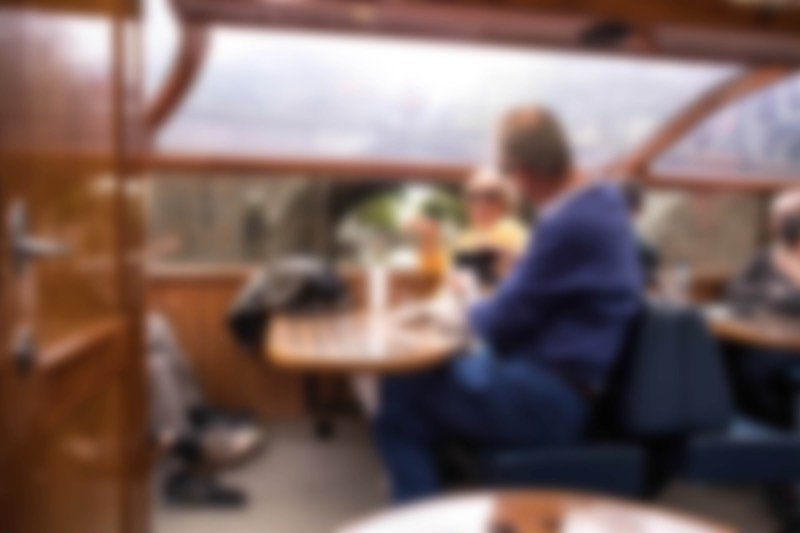 Excess Moisture Is Damaging
That moisture can affect the food and snack you have on board, making those chips less than crisp.
You can handle a bag of soggy chips, but where it hurts is when your expensive equipment starts to show signs of mold and the unmistakable odor of mildew. 
Unless you take care, the seats and cushions on your boat will begin to show distinct signs of the mold that will stain and discolor the material. 
Excess moisture in the air can accelerate the corrosion of electrical connections, the decay of internal furnishings, and aggravate some health conditions like asthma and arthritis.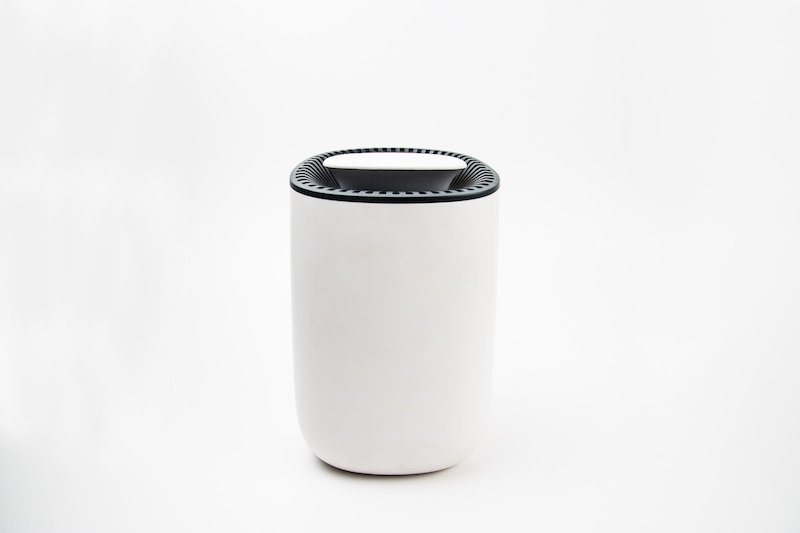 What To Look For In A Boat Dehumidifier
Whether you have a yacht, a sailboat, a pontoon, a houseboat, cabin cruiser, or walkabout, the chances are that you will be encountering issues with dampness somewhere along the way.
It is great to have your boat in the water, but not so great to have water in the form of moisture in your boat.
Condensate Dehumidifier
A traditional form of a dehumidifier is the condensate type. It uses a fan to draw moist air into the unit and passes it over a cooler coil. 
As it makes contact, the moisture condenses into a liquid, much like a cold mirror in a warm bathroom. 
The liquid collects in a small tank, and the dry air is pushed back through the unit into the room.
Desiccant Dehumidifier
Requiring no electricity or batteries, a desiccant dehumidifier uses adsorption to retain the moisture in the air and keep it until released by heating the material, either clay or silica.
This type of unit takes longer to remove the moisture from the air, and you may need more than one unit to do the job.
What To Choose 
When choosing a dehumidifier for your boat, you need first to decide if you want a condensate or desiccant type of unit.
Of the models that we reviewed in this article, there are examples of both kinds. 
Of course, you will pick a unit based on the size space or area you want to keep dry.
You are also going to look at how much moisture the unit is capable of extracting from the air per day. 
With a condensate type dehumidifier, they need relatively warm air to function, as they run the warm air over a cooler element. 
If the air is too cold, the unit can ice up, so they will not be of much use in cold weather. 
Desiccant dehumidifiers are smaller, lighter, more portable, and most don't require electricity or batteries. The downside is that they don't remove as much moisture or do it as quickly.
Things To Think About When Choosing a Boat Dehumidifier:
Will the boat be docked or cruising when you are using the dehumidifier?
If you are going to be using the unit most of the time when the boat is in use, you will need to consider how much power it will draw.
What is the size and weight of the boat dehumidifier?
In most boats, space is at a premium both on the floor and in storage. Decide if you have room to keep it during the times you are not using it. 
Does it have the volume for the size of your boat?
You want to find the right balance between the size of the unit and the moisture you want to remove. Too big and you lose space and it takes additional power.
You also run into the danger of removing too much moisture and drying out and cracking wood surfaces. 
If the unit is too small, it only does part of the job that you need it to do and is ineffectual.
Does the dehumidifier have an auto shut off?
This will be an important feature of the unit. If you plan on leaving it on, you don't want to have to continually monitor it from overflowing and putting the moisture right back into the boat.
How will the unit handle the motion of the boat?
Look for a unit that has a non-skid base. You don't want a unit on wheels as that would be a recipe for disaster. 
You would also want a unit that, if it did tip over, it would shut itself off. 
Decide where you will keep the unit. It will need good airflow and be in a spot where you can lash it down if needed.
In Conclusion
Boats are a big investment both in money and time spent in upkeep. They are also a whole lot of fun.
You are doing yourself a favor by using a dehumidifier to prevent the unsightly and serious damage that moisture can do to your boat. 
It is so much more cost effective, and a better use of your time to head mold off at the pass and spend your time enjoying your boat. 
FAQ's
Do I need a dehumidifier on my boat?
Yes, you probably do. However, you are the person who knows your boat best and has put the most time, effort, and money into it.
Excessive moisture can be insidious in its creation of mildew that can ruin upholstery and create a smell that never seems to go away. 
For the small investment in a dehumidifier, you will get a significant return.
Does a dehumidifier help with allergies?
Yes, they do. Common allergens like dust mites, mold, and mildew need moisture to grow.
People who live in more humid climates tend to have more allergies than those who live in drier areas.
Floridians experience more allergies than those who live in the dry heat of Arizona.
Does a dehumidifier add heat to the area?
Depending on the type of unit and how large it is, yes, a dehumidifier will add some heat into the immediate area.
With the size of the dehumidifier you would use on a boat, the amount of heat would be negligible. 
Can I use the water collected by the dehumidifier?
You can use the water for watering plants, but don't drink the water or give it to pets. 
Don't consider it safe potable drinking water as it has traveled over coils that are not sanitary. 
When it is collected, the water sits stagnant and can grow bacteria. So if you use the water, use it for non-drinking purposes.