A Marine VHF Radio is an important safety tool but is usually under rated by users unless there is a crisis looming. The term VHF means Very High Frequency and there are many frequencies and channels for certain scenarios.
The best handheld VHF marine radio is the Standard Horizon HX870 with its impressive waterproofing and GPS functionality. The best fixed mount VHF marine radio is the Standard Horizon GX1700W that has 12 built-in channels for GPS functionality and the 3 inch display for excellent usability.
Marine VHF radios are an essential for trips out to sea and have multiple uses such as rescue services, ship to shore communication, contacting the harbor and more.
Best VHF Marine Radios
The choice of marine VHF radios are endless but regardless of which one you go for, its important that you have one on board. The fact that this device can save your life within an emergency should be enough for you to buy one.
The marine VHF technology is getting better and better each year, which results in better value for the money spent on a marine VHF radio. We strongly recommend that you read our VHF buying guide to get a full insight into the world of VHF radios.
For serious boaters that want to add value to their boat, a fixed VHF radio is the best buy. If you are moving around from boat to boat, the handheld VHF radio would be the correct device to use instead. Regardless, below is a list of the best marine VHF radios for your boat with a mix of fixed and handheld radios.
Standard Horizon GX1700W Fixed Mount VHF Radio

The Standard Horizon GX1700W has built in 12 channel GPS functionality for displaying the boats position in latitude and longitude and more. The large 3 inch display allows easier reading on information unlike many of the other VHF radios.
Being a premium VHF radio that is the most expensive within this article, why is it so popular? For starters, the built in GPS works out of the box and is one of the best safety features for emergencies to give exact coordinates. This VHF marine radio also has a high level waterproofing rating that is backed up by a 3 year warranty.
Navigating to a waypoint is an important part of boating and the GX1700 is able to save up to 100 waypoints. Using the navigation system, you are able to use the compass to show nearby vessels, SOG, COG, BRG and DST to each way point.
Although it is on the pricey side, the GX1700W provides too many features to note, which makes it good value for money. If you are not on a budget as such, the GX1700W is the best fixed mount VHF marine radio for the money.
Check it Out
Uniden UM380 Fixed Marine VHF Radio
The Uniden UM380 comes in the choice of white or black with an orange backlit display for feedback of GPS data and radio features. The fixed mount marine VHF radio is a compact unit that outputs 25 watts in power.
The waterproof VHF Radio is rated up to JIS4/CFR46 level and is one of the best VHF radios for boats. The S.A.M.E weather alert provides a specific area message to alert you of any severe weather that you will be approaching.
In case of an emergency, there are dedicated distress buttons that allows you to click one button to call for help. The high performance transceiver will ensure perfect communication to prevent interference during the distressing time.
This fixed mount marine VHF radio is able to transmit frequencies at 1 to 2 miles and receive at 20+ miles. Overall, it is an excellent radio and the choice of color allows you to get the right finish if you are to fix it to your boat.
Check it Out
ICOM IC-M506 21 Fixed VHF Unit

The ICOM IC-M506 is for people looking at the ultimate VHF radio with all the features you can think of. From a built in foghorn to vessel traffic, this VHF radio features it. The large 3.4 inch LCD display provides a clear reading of GPS data, airs, DSC and radio menus.
The most impressive feature is the integrated AIS receiver that displays real time AIS vessel traffic. There are not many marine VHF radios that will be able to replicate this type of advanced functionality.
Other impressive features include last voice call recording, active noise cancelling, NMEA connectivity, 25 watt two way hail horn, built in horns and advanced waterproofing levels.
This is another premium fixed mount marine VHF radio that is for those looking to spend more in order to get more bang for their buck. The sheer length of the specification sheet is highly impressive and this would be the ultimate gadget on the majority of boats.
Check it Out
Standard Horizon HX870 Floating Handheld VHF

The most popular handheld marine VHF radio is by Standard Horizon with their HX870 model, which is full of excellent features. It is also 100% waterproof with a JIS8 certification that confirms its both water resistant and submersible.
The HX870 has built-in GPS that simply tracks your real time coordinates to detect your position. This benefits you as not only can you call for help via the radio but you can also send your location to a rescue team nearby.
Another standout feature is the large 2.3 inch display which can be operated via the intuitive menu system buttons. Near the button is also a strobe light and this can be activated manually but it will flash if it detects the radio itself is in the water.
Overall, it is the best handheld VHF marine radio you can buy and although it is more expensive than the alternatives, it is completely worth it for the additional features.
Check it Out
BaoFeng BF-F8HP Handheld Marine VHF Radio

The BF-F8HP model is the third generation of the handheld marine VHF radio produced by BaoFeng, which has twice as much power, stronger radio shell, larger battery and an improved antenna than the previous generation.
Even compared against the much larger brands, the BaoFeng is one of the best hand held dual band VHF radios available for the money.
One of the most important factors when buying a handheld VHF marine radio is the battery life. The BF-F8HP has three power settings and three battery packs that can provide up to 24 hours of battery life.
The range you can expect from the BaoFeng is around 25 miles whilst using this radio on multiple terrains. You can however upgrade this VHF marine radio with a performance aftermarket antenna to increase the performance.
One major drawback of the BaoFeng radio is that it is not waterproof but this is reflected in the low cost of the device. To overcome this issue, you can simply use a dry bag to keep it dry and when needed, you simply take it out of the waterproof dry bag.
Check it Out
Uniden MHS75 Handheld Submersible VHF
The Uniden MHS75 is a handheld marine VHF radio that can be submerged in water for up to 5 and a half minutes. The power ratings are switchable from 1, 2.5 and 5 watts of transmitting power.
For a handheld radio, the display screen is larger than the majority of competitors, which means information can be easily read. The N.O.A.A. Weather Channels with Weather Alerts are is part of the functionality of the Uniden MHS75.
The battery length is only 12 hours, which is half of the BaoFeng model, however this VHF is fully waterproof. If the power is a cause for concern, the Clip-On DC charger provides fast charging when mated with any 12 volt DC outlets.
The MHS75 has been designed to be a durable as possible and can even float on top of the water. From sprays of water to tidal waves, there is nothing this VHF cannot take. To build your confidence even further, Uniden offer a three year warranty.
If you are in and out of the water a lot and require the best waterproof VHF radio, the Uniden MHS75 is the one for you.
Check it Out
VHF Marine Radio Buying Guide
Shopping for a marine VHF radio can be fairly difficult as there are so many different brands, types and styles. From fixed to handheld marine VHF radios that all provide different features for certain situations. They work from radio waves to send and receive transmission and the more powerful radios will use a marine VHF antenna to provide the strongest signal. Many provide a talking range of up to 30 miles.
A common misconception is that you require a license to use a VHF marine radio and this is simply untrue. However, if you are operating a commercial boat such as cargo ship, commercial fishing and so forth, you will need a license.
To help you with your buying decision, we have created a detailed buying guide to the world of marine VHF radios.
Why Not Just Use a Mobile?
When you show a VHF marine radio to someone that is not familiar to the boating industry, they will straight away ask why you are not using your mobile. However, in short the main reason is due to the mobile network coverage whilst on open water.
As you go out to see, the signal on your mobile will be very poor. A VHF radio will always have signal unless is blocked by huge objects such as mountains but this is unlikely in open water. On top of this, when you send out a distress call via a VHF marine radio, it will be outputted to anyone that is in range. This will improve your chances of getting yourself out of a sticky situation.
Handheld Marine VHF Radio
Handheld VHF marine radios is not mounted to the dash of your boat and is a portable device, which is great for those that are on and off their boat. Most are designed to float on the water in case it becomes submerged and of course, they are waterproof to a certain extent.
In terms of the range, it will not transmit signals are far as a fixed mount alternative but you can expect between 3 and 8 miles with most devices.
This is due to being limited to 6 watts of power but you can add an aftermarket antenna for additional power.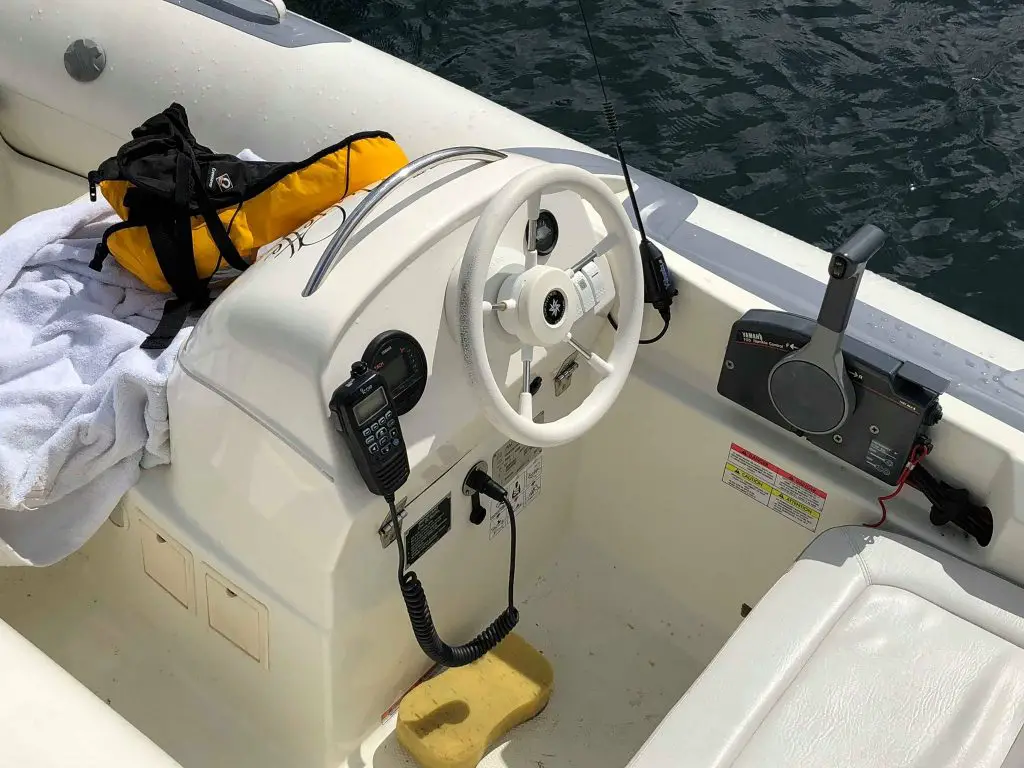 Battery is the main concern that many boat owners have with handheld marine VHF radios. However, if you setup a cradle and have a marine 12v installed (as shown above), you can have the device charged on the go.
Without charging, the battery life can range anywhere from 8 hours to 20 hours depending upon the quality of the handheld VHF you purchase. For those with bright LCD displays, you can always decrease the brightness to improve the life of the battery. However, simply having a backup battery will be more than enough to ensure you always have charge on the device.
Fixed Mount Marine VHF Radio
Fixed mount marine VHF radios offer more in terms of functionality and are able to use the legal limit of 25 watts in power. This means you are able to output signals further than the like of a handheld alternative. Most fixed mount devices will also use an antenna to get the best range possible. Where possible, its recommended to install the antenna as high up as possible, as shown below.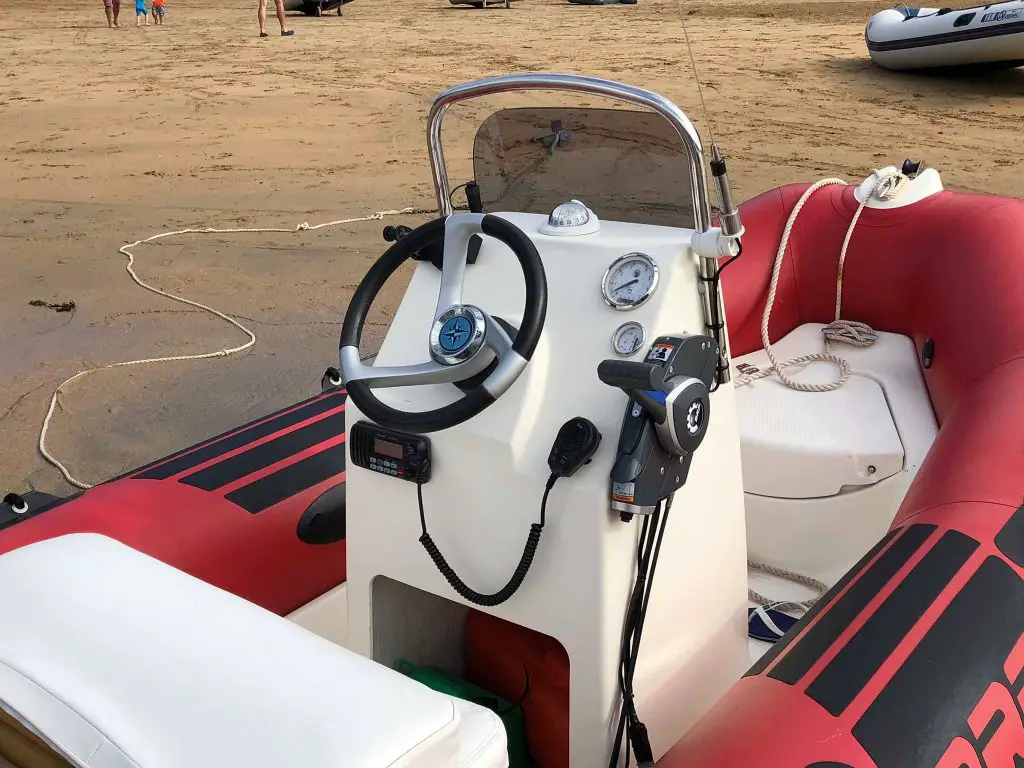 With a fixed mount device, you have the option to install a dual station, which allows you to install a microphone in another location on the boat and use it as an intercom.
Choosing between a handheld VHF marine radio and a fixed mount alternative will depend on the type of boat you own and your personal preferences. Both have improved hugely in the last few years with additional ranges and features.
Marine Radio User Interface
Let's face it; no one wants a radio that is difficult to operate. Everyone wants a model that comes with an easy to use and easy to understand user interface. This means that users are looking for radios that don't have complicated controls.
The first feature you need to look out for is soft keys. Always select models that come with three or four multiple use keys to help you accomplish different tasks. The soft keys should enable you to switch between software key functions.
Another user interface feature to look out for is up and down keys. They are important in that they allow you to select different menu functions on the available display.
Without these, it can be quite difficult to move from one channel to another in rapid succession. Majority of radios are incorporated with these feature to allow easier selection. Furthermore, a special button that allows selection of emergency channel 16 is available.
There are models that come with rotary knobs in place of keys such as up and down. They offer convenience when it comes to changing a function for example channels, volume, squelch and other features. When selecting between soft keys and knobs, it all depends with your personal preferences.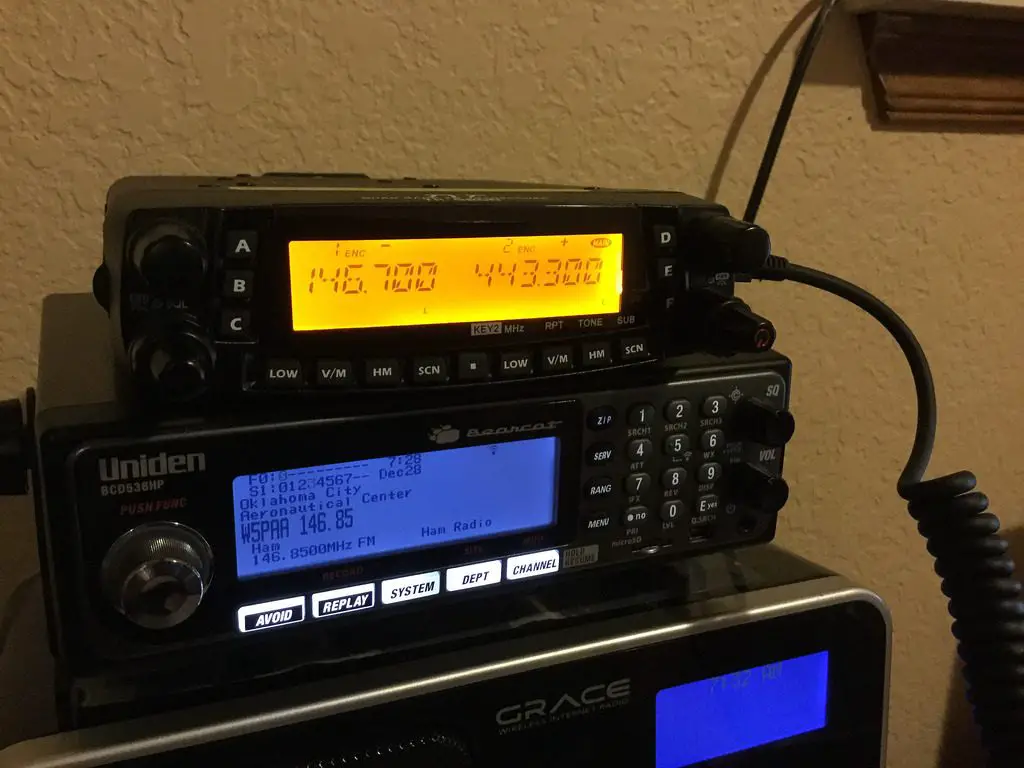 Marine VHF Brands
There are plenty of VHF marine radio brands out there but only a handful are worth mentioning. Reputation is key to finding a device that will work reliably when you need it to. Going for the cheapest option is not always the best and below are some brands that are worthy of a mention due to their excellent reputation:
Uniden
Standard Horizon
ICOM
Cobra
Lowrance
Every single day new companies are formed to provide products with cutting edge technology. While it may be difficult to trust an upcoming company on the first try, take your time and you will get learn if they have a great reputation or not.
Waterproofing
Since you will be working out in the sea, you need to have a radio with waterproof capability. It is common for water to splash into your boat when the weather is bad. To ensure that you are armed with the only gadget that can help you seek help, it is important to look for one with waterproof capability.
Experts use the International Protection Marking as a way of classifying and rating products according to their waterproof or splash proof capability. These standard aims to provide more detailed information than the use of vague terms like dustproof or waterproof. These rating include:
IPX0: No water resistance.
IPX1: Protection from dripping water.
IPX2: Protection from vertical drops when tilted up to 15 degrees.
IPX3: Protection from spray up to 60 degrees.
IPX4: Protection from splashes.
IPX5: Protection from water jets.
IPX6: Protection from powerful jets of water.
IPX7: Waterproofing in up to 1 meter in water.
IPX8: Protection when immersed more than 1 meter deep.
IPX9: Protection against powerful temperature water jets.
The best protection for your marine VHF radio should be IP7 to IP9K. For more information regarding waterproofing, visit the IP Code WikiPedia page.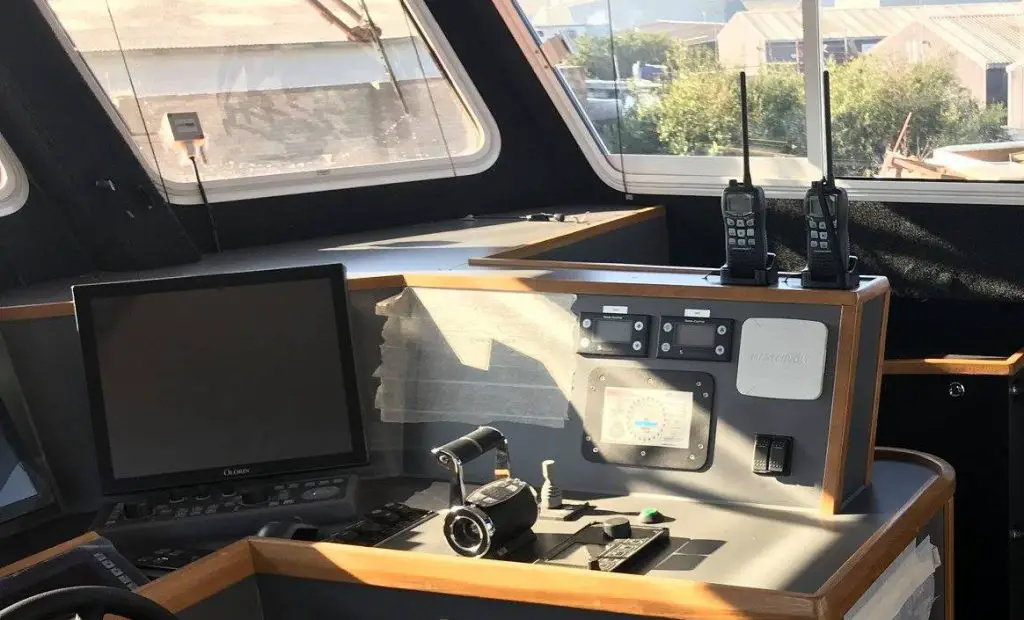 Other Features
Manufacturers are cramming in as many features as they can these days and its great for us consumers. Additional features include:
Digital Selective Calling – Sends out a distress call at a push of a button.
GPS – Allows you to transmit your exact location along with the distress call.
Automatic Identification System – Allows you to track and locate other vessels.
Weather Alerts – Recieve NOAA and SAME alerts for upcoming weather.
Active Noise Canceling – Filters out background noise to improve voice clarity.
We wrote a detailed explanation of all marine VHF functionalities for those looking for more information. Many boat owners will only use one feature, which is of course the distress call but learning about all the features that a VHF radio has to offer may be very beneficial.
Conclusion
Owning a marine VHF radio is an essential for those that go out to sea in their boats. Whether it be a fixed mount of handheld VHF marine radio, they both have the ability to transmit a distress call, which is the primary reason for owning such as device.
Our recommendations within this article cover both types and will provide a reliable method of calling for help when you become stuck out to sea. Relying on your mobile to call for help is bad practice as for anyone who has been out to sea will know, coverage becomes very bad.