The marine stereos have improved greatly within the last decade with advancements such as Bluetooth connectivity and other intuitive designs. They are suited to the marine environment with additional water resistance.
The best marine stereo is the Fusion Entertainment MS-RA70, which has Bluetooth connectivity for audio streaming and an intuitive design that fits in all standard DIN mounts for easy installation.
High quality audio onboard your boat can improve your enjoyment greatly and upgrading your marine head unit is very simple. There are various design but many will be a standard DIN size that will slot straight in.
Best Marine Stereos
Before marine stereos were a thing, many boat owners would result to using the standard automotive radios. The problem was as soon as water hits it, the electronics would break down and you would need another.
Luckily there are top rated marine stereos that are designed to be water resistant and continue to work. They offer just as much functionality as any car radio and are even slightly cheaper in some case which is fairly odd.
With so many stereos available, reading the specifications on whether they are suitable can be a big task. Below is a list of the best marine stereos for your boat that offer a range of functionality and are suited to the marine environment.
Fusion MS-RA70 Marine Head Unit
The Fushion Entertainment MS-RA70 model is the ultimate marine stereo with everything you need to enjoy your music out to sea. From Bluetooth connectivity to a USB port at the rear, it it the complete package.
In terms of the dimensions of this marine head unit, it is 2.4 x 4.9 x 7.4 inches and it has an appropriately sized LCD display for audio navigation. In terms of the styling, the interface is intuitively designed and it will fit perfectly in most boat stereo mounts that are standard DIN sized.
Fushion even offer there very own free mobile application (for both iPhone and Apple) that will provide wireless control of the marine stereo. This includes audio selection, navigation of the system and other functionality.
For those that are planning to install various audio equipment such as marine subwoofers and other speakers, it has perfect outputs, which include 4x50w class a amplifier, 2-zone with 1 discrete pre-out and sub-out.
The Fushion MS-RA70 has been designed specifically for the marine environment. Features such as optically bonded glass display make it perfectly suitable for use on the boat. It is the best marine stereo you can buy, which is easy to install and a great investment for your boat.
Check it Out
JVC KD-X33MBS Marine Stereo

JVC are a reputable brand in the car audio market for providing the highest quality sound. This KD-X33MBS is no different as there is a built-in amplifier and it has 50 watt x 4 channels output and 22 watts RMS.
To increase the water resistance of the JVC marine stereo, there is no CD player included which is a rather large water trap. However, AUX, USB and Bluetooth inputs are available as of course is FM/AM radio stations.
The Bluetooth connectivity of the JVC enables audio streaming and hands free phone calls. This means you are able to keep your phone in a dry storage unit near the radio and still able to speak through the built in microphone in the stereo.
The detachable front facing display gives off a blue illumination that looks very stylish compared to many other brands. The built-in amplifier is capable of handling additional speakers that make this heat unit able to produce a higher quality sound compared to other models.
If you are looking for a stylish head unit that provides capability for speakers, whilst ensuring high quality audio is paramount, the JVC is for you. It is the best marine stereo for the money and a great upgrade for those with an older head unit.
Check it Out
Kenwood KMRM312BT Marine Single Din Stereo

The main competitor to the JVC head unit is the Kenwood KMRM312BT that is renowned for its high quality audio. Similar to the JVC, there is no CD player whilst using the Kenwood but this does reduce the risk of water entering the system.
The built in amplifier of the KMRM312BT results in 50 watts x 4 channels and 22 watts RMS. This power output is great for those looking to add additional speakers to their boat but still want to retain their high quality music.
As with the other marine stereos, the Kenwood KMRM312BT has Bluetooth connectivity for audio streaming and hands-free calling. The KMRM312BT marine head unit is a great all rounder and will certainly improve on any old marine head unit.
Check it Out
Infinity 

INF-PRV250 

Bluetooth Marine Stereo
The Infinity INF-PRV250 is a compact marine stereo that packs a large amount of functionality. In term of the audio input, it includes
AM/FM Radio, MP3, USB and AUX. If you are planning on adding additional audio, the outputs are 50 watts x 4 channels and RMS of 20 watts x 4 channels surplus for additional speakers.
In terms of the Bluetooth technology, it has a range of up to 32.8 feet, which allows for audio streaming from your device using applications such as Spotify.
The design of the INF-PRV250 is one of the best in this article but the installation may require a bit of customisation due to the non standard dimensions. The Infinity marine stereo uses the highest quality materials, which can be seen by the aluminium structure of the stereo that protects against corrosion.
Check it Out
JBL PRV-175 Marine Stereo

JBL are another premium audio brand that takes pride in their high quality audio. The PRV-175 marine stereo is a compact 8 button head unit with a single LCD display. The power ratings of this JBL stereo are 45 watts x 4 channels and RMS is 20 watts x 4 channels.
The in-dash JVC is capable of FM/AM Radio and USB audio files as well as compatibility with Apple products via Bluetooth connectivity. This unit does have an AUX port but it is located at the rear next to the 2 sets of 2V pre-amp outputs (front and rear).
The circular design is certainly very good looking but it does mean you will have to customise the mounting area in order to hold it in place. However, once fitted it will look great and a worthwhile investment that will add value to your boat.
Check it Out
Marine Stereo Buying Guide
Many boat owners that are new to installing audio equipment onboard may simple install a regular stereo. However, the advantages of a marine stereo are really worth paying the extra for even if they seem identical to the automotive alternative. The waterproof rating is much greater on a marine head unit compared with an automotive stereo as well as many other critical factors.
Features such as AUX input and of course Bluetooth connectivity are very desirable and over the last decade, they have been seen in all the latest marine head units. Investing into a premium marine stereo will improve your audio quality and enjoyment instantly. Below are some of the factors that you should consider when purchasing a marine stereo.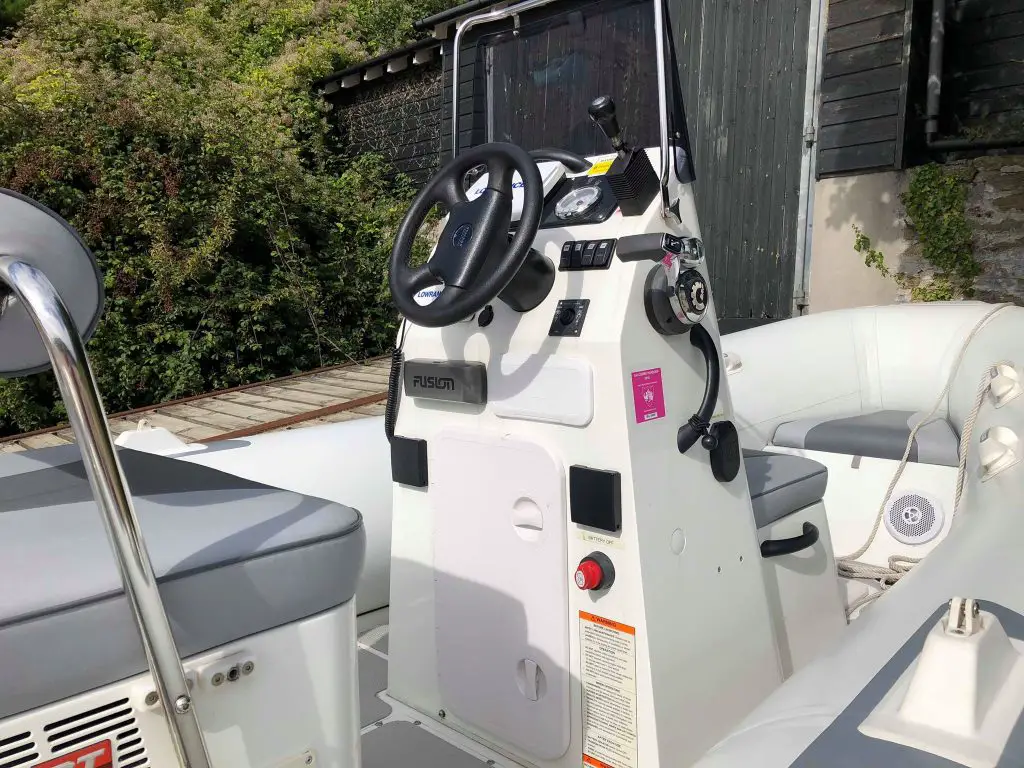 Using a Car Stereo in Your Boat?
The car radio head unit has been tried and tested millions of times, so why is it not advised to use them in your boat? The idea of using a car radio system in the boat can work but its extremely important that you use a protective cover. This plastic cover over the head of the radio will give the head unit some waterproof cover.
However, boats will get wet and not all stereo systems will be located within a cabin. Examples of this may be speedboats, ribs, tenders and more. Marine stereos are designed to be water proof and this is why they cost slightly more than car stereos. The waterproofing will prevent electrical components becoming shorted out as well as other benefits.
For the sake of a small amount extra, investing into a marine head unit that has been designed for the marine environment is highly recommended. Marine stereos may also be classed under motorcycle stereos as they too are water resistant due to obvious reasons.
Benefits of Using a Marine Stereo
UV Protection from the Sun
Water Resistance
Anti Corrosion Protection
High Quality Material (Compared to a Cars Stereo)
Inclusion of Marine Weather Radio
Of course a car stereo may be cheaper, but for the sake of a few extra dollars, the marine stereo alternative is definitely worth the extra money. The waterproofing and the extra sealed components of the stereo system will reduce water entering the electrical area of the boat.
Desirable Features
Many manufacturers will litter the description of marine stereos with technical jargon and you may just skim through it. However, you will want to ensure that the head unit that you buy is full with excellent functionality.
Bluetooth connectivity is a must with the smartphone craze with the likes of Spotify and Apple Music. Not only does it allow for the obvious music streaming but it also means there is less chance of water entering the stereo.
For example, if water was to come onboard, if you have a CD slot or AUX/USB port, water may enter the head unit. The CD player is the worst culprit and many marine stereos will completely get rid of the CD functionality to improve its qualities as a marine head unit.
Ensuring that the stereo also has a range of outputs is also critical for those planning on adding a range of marine speakers. You will want to pay particular attention to the number of channels, the wattage and whether it has a built-in amplifier (although you can add a separate marine amplifier).
Conclusion
Choosing a marine head unit for your boat that has excellent waterproof properties, is easy to use and has the output for additional speakers is a hard task. You have a choice of styles with many offering Bluetooth connectivity, which is a huge bonus because you are able to connect your smartphone form music streaming and even handsfree calling.
In terms of the single din style, the Kenwood is the winner. The styling suits a boat decking more than the boldness of the black JVC stereo. All the power output channels and audio inputs are all available, making it a very capable and reasonable priced stereo.
The best marine stereo overall has to be the INF-PRV250 by Infinity Audio. Like with the single din radio by Kenwood, it has excellent power and channels for extra speakers. However, its not styled like a car radio, but more for a boat. This for me makes it the winner as this will look much better within a boating environment.