In order to get the most out of your new marine speakers, you will need a marine amplifier to increase the amplitude of the electrical signals for higher quality audio. You can also wiring your marine subwoofer to the amplifier for additional bass.
The best marine amplifier is the JL Audio M700, which is a 5 channel, class D marine amp with a 300 watt RMS at 2 ohms and designed for the highest quality sound.
Choosing between marine amplifiers can be hard with a range of factors such as the amplifier class, inputs, filters, channels, power output and bass ratings to consider. Investing more money will result in much better quality sound and bass.
Best Marine Amplifier For The Money
Adding a marine amplifier to your boat will power up your aftermarket speakers and subwoofer for a better quality sound overall. Playing audio at high volume without an amplifier installed can see the quality decrease massively, regardless of the quality of your speakers or subwoofer installed.
Amplifiers differ in price from brand to brand with JL Audio being the most expensive due to their reputation for excellent audio quality. However, there are many alternatives to suit a variety of budgets and still maintain the high specifications.
If you are wanting to play loud music without the dreaded distortion of audio then an marine amp is the only solution. Below is a list of the best marine amplifiers for powering up your speakers and subwoofers on your boat.
JL Audio M700 Class D Marine Amplifier

JL Audio are known for producing highly rated audio accessories from speakers, subwoofers and of course, amplifiers. They are expensive but in return you get unbeatable sound quality that really makes a difference.
The M series by JL has several form, which are either cheaper or more expensive than this M700 model. However, this model in particular is best bang for your buck from the M series with 5 channels and class D design. In terms of the specification, it is rated a 300 watts RMS x 1 at 2 ohms and has a range of filters for each channel.
If you can afford the JL M700, it is the best marine amplifier for powering up all your speakers. There are more expensive models such as the M900 but the price difference is not worth paying the extra compared with the performance of this M700.
Check it Out
Alpine PDX-4.100M Boat Amplifier

Alpine is another premium audio brand with a great reputation and the PDX-4.100M model is a 4 channel amp that provides over 90% efficiency at all power levels. It is a class D design that can be easily stacked with quick disconnect terminals.
The Apline PDX-4.100M is rated at 100 watts RMS x 4 at 4 ohms with a signal to noise ratio of 76 dBA. Features such as gain control, gold plated connectors, over current protection and many others allow you to customize the audio to suit your needs.
Overall, it is a cheaper alternative to the JL Audio alternative and is a top rated marine amplifier that is suited to the marine environment. As they can be easily stacked, if you have multiple speakers on your boat, this would be the better buy.
Check it Out
Rockford Fosgate TM400X4AD Marine Amp

Rockford Fosgate produce a range of amplifiers to suit both high and low budgets. The TM400X4AD is suited to those with a high budget and it is a 4 channel class D amplifier that is designed to withstand the toughest of marine conditions.
The compact design of this amplifier with top mounted controls and dual fans to cool it down whilst on full load are very desirable. It is not all about its appearance either because it performs just as well as it looks with constant power being produced at both 4 ohm and 2 ohm impedance.
The Rockford Fosgate TM400X4AD performs just as well as the more expensive JL and Alpine alternatives with a RMS continuous power rating of 100 Watts x 4 at 4 ohm.
Overall, it is the best marine amplifier for the money with a dual fan for cooling and a range of other additional features for improving the audio quality of your speakers.
Check it Out
Wet Sounds Sinister SDX6 Amplifier

If there is no such budget and you want the best amplifier money can buy, the Wet Sounds Sinister SDX6 is the answer. It is a full range class D amplifier that comes with a marine graded wiring kit and RCA's for mounting close your marine battery.
It has 6 channels and superior performance with a RMS at 585 watts x 3 at 4 ohms. It is an extremely powerful amplifier and designed to provide high efficiency levels with low heat being generated unlike many of the other cheap alternatives.
Overall it is the ultimate marine amplifier and is the most powerful available but it does come at a large cost.
Check it Out
Kenwood 1177524 Small Marine Amplifier

The 1177524 marine amp by Kenwood is the cheapest within this article and offers excellent value for money. It produces a RMS of 45 watts x 4 at 4 ohms and a peak power rating of 400 watts.
A unique selling point of this Kenwood amplifier is the fact that it has Bluetooth, which can be used for connecting to other devices. As with the other marine amps within this article, it is a class D design and uses a MOS-FET switching power supply.
Overall, it is a cheap marine amplifier that performs well considering the low cost compared with the alternatives. Investing into an amplifier can be fairly expensive but this Kenwood model provides an affordable solution.
Check it Out
Marine Amplifier Buying Guide
Installing an aftermarket marine stereo, deep bass subwoofer and top of the range speakers will provide you with an improved audio experience. However, to get the most out of your latest audio upgrade, you will require a marine rated amplifier.
Powerful speakers and subwoofers will need more power and we recommend only 4 channel amps and above that provide adequate inputs to connect your speakers too. On your search, you should be checking the RMS rating that describes the continuous power going to the speakers. However, there are many other factors that you need to consider and these are all discussed in the buyers guide below.
Amplifier Channels
The number of channels that you will require in an amplifier is primarily determined with the amount of speakers you are going to install. If your boat is rather large and you are planning to install a large quantity, you will want as many channels as you can.
A small boat can get away with just a 3 channels amplifier with 2 inputs for a pair of speakers and 1 input for the subwoofer. However, you can always bridge channels in order to make the most from your boats audio system setup.
Premium marine amplifiers will have 5 or 6 channels (such as the JL Audio and Wet Sounds) that will be able to power your entire audio setup. However, there is nothing stopping you having multiple amplifiers that can be easily stacked.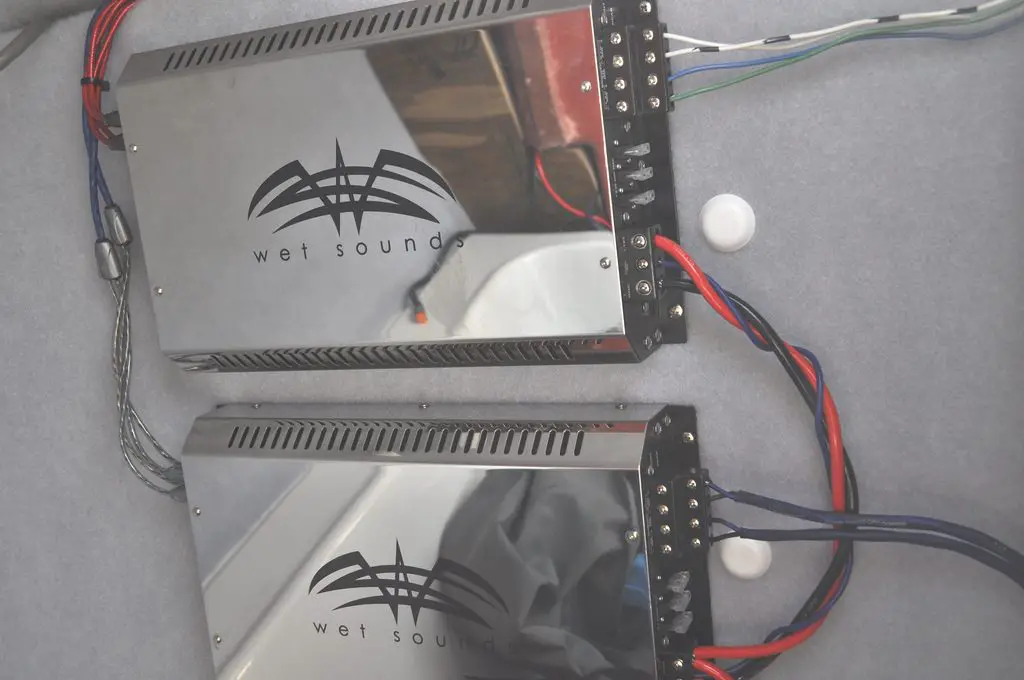 RMS Continuous Power
The RMS rating of an amplifier describes the amount of driving power at which each speaker will sound its best. The higher the number usually relates in the better sound quality but you will need to figure out the optimum minimum and maximum power for you speakers. Your subwoofer may require a higher RMS than your aftermarket speakers and its vital that you check the ratings before choosing your amplifier.
Installation of the Marine Amplifier
Not all the amplifiers for the marine environment come with any installation kits or wiring, therefore its vital that you purchase the recommended marine graded kit. Opting for a regular wiring kit is not ideal as it will not be suitable to the harsh conditions.
In short, you will require a marine grade wiring kit, speaker wire, capacitor and a high cranking marine battery that will not lose power quickly. On top of this, you will need all the standard hardware and fuses. Below is a brief setup guide of installing a JL marine amplifier:
Filters and Bass Boost
Amplifiers provides various ways to control the complete audio setup with built in electronic circuits. These direct frequencies away from the speakers in order to reduce the dreaded distortion and come in two forms, which are low and high pass filters.
A high pass filter will direct low frequencies away from your speaker whereas a low pass filter does the opposite. This results in a much higher sound quality and massive reduction in distortion.
Adjusting the bass boost will apply more gain to a particular bandwidth and it will bring more powerful bass to the speakers. However, adjusting this too far will see an increase in distortion. We recommend that you spend time to adjust the low pass filter, gain and bass boost levels to find the best quality bass.
Conclusion
Installing a marine amplifier will certainly increase the sound quality from your audio setup on your boat. Investing into a more premium type of amplifier with high RMS ratings and a range of channels is our recommendation but of course, it is down to your budget set for the amplifier.
A marine rated amplifier will be constructed of much higher materials compared to a domestic or automotive alternative. It may be tempting to choose one of those other a marine example but they will not be as durable on your boat and under the much harsher conditions.