This page contains affiliate links. This means that we may get a small commission for recommending products, if you choose to click on something and buy it. This does not cost you anything, but we wanted to be honest and let you know!
(Last Updated On: April 10, 2022)
A fishing tackle box is an essential piece of equipment for any fishermen so that they can store hooks, baits, reels, lures and much more.
They come in all sizes and shapes with designs that allow fishermen to sit on a tackle box or even float.
The best tackle box for fishing is the Plano 7771 Guide Series with the clever tackle system and the lifetime warranty as peace of mind.
A fishing tackle box helps you to become organized and also ensures that you do not forget anything essential.
Unfortunately, they have become so saturated on the market and although it gives you an opportunity to select from a variety it is quite difficult as each company tries to outdo the other by making one with unique features.
Best Tackle Box For Fishing
To some people, a tackle box may simply be a storage box but some offer different features than others. Some styles include:
Racked Tackle Box – Very large with boxes that pull out like trays and more suited to be stationary
Satchel Tackle Box – Small to medium-sized that are cheap, lightweight and very portable
Tray Tackle Box – Similar to most toolboxes where they are heavy-duty with multiple fold-out trays inside
Drawer Tackle Box – Similar to the trays but replaced with drawers that can also be lifted out
Hiproof Tackle Box – A tray-style box that has two sides instead of one and is usually very large
For the more experienced fishermen, there are specialist tackle boxes such as worm boxes, spinnerbait boxes, and combination boxes and more.
However, to make things much easier below is a list of the best tackle boxes available with an emphasis on value for money and quality.
Plano 7771 Guide Series Tackle System
The Plano 7771 tackle box is hugely popular across the US as a rack style box that provides a lifetime warranty and spacious storage solution.
There are three racks that are detachable from the box, which is very useful for quick access whilst fishing.
In terms of the dimensions and weight, it is 21″ x 12″ x 12″ and weighs 13 lbs whilst empty.
Whilst fully loaded, this box may become slightly heavy and would be suited for short distances or stationary on a boat.
This is one of the best large fishing tackle boxes on the market and will be able to hold all of your fishing equipment.
It comes with a lifetime guarantee so even under heavy usage, you will have peace of mind that it is covered.
Flambeau Tackle Box

The Flambeau Tackle Box is tall yet compact and is great for pan fishing lures and smaller game fishing lures.
It is one of the best cheap tackle boxes for the money with 6 quick access storage compartments with a flip-top lid.
In terms of its exact size, it measures 10.7″ x 13.7″ x 12″ with a weight of just 5.3 lbs.
Its a fairly lightweight tackle box compared to many of the others on the market, which means portability is a big bonus with the Flambeau box.
Plano Large 3 Tray Tackle Box
Another tackle box from Plano in the form of a Large three tray tackle box.
If you have multiple tackle or baits, the tray-style tackle box is the best as you can view all the equipment at once.
As you can see, there are three rows of nine that are clearly visible.
As with the Plano brand, there is a limited lifetime warranty against all of their heavy-duty tackle boxes.
The box itself measures at 19.2″ x 10″ x 9.8″ and weighs 5 lbs.
Plano 1444 Magnum Guide Series Tackle Box

The Plano 1444 Magnum contains a 4 layer storage system that is perfect for large bulk storage.
Being a Plano tackle box, it comes with a lifetime limited warranty and their legendary build quality.
The dimensions of the 1444 Magnum box is 18.5″ x 11.5″ x 8.5″ and it weighs 8.5 lbs.
The inside of the box is nicely laid out and provides ample space for all the equipment you would need on a fishing trip.
With the easy to grip handle, this tackle box may be on the heavy side but it is far less bulky.
Personally, I would prefer to carry two of these using the handles than one large bulk of a tackle box.
Plano 1354 4 Rack System 3500
This rack style tackle box by Plano has 4 pullout racks and a bulk storage underneath a lid.
It is a relatively small tackle box that measures 11″ x 7.3″ x 10″ and weighs just 2.8 lbs. The depth size is split between 3″ for the top and 1.25″ per rack.
It is a great "tower" design that leaves a small footprint if you are planning on having it's within your fishing boat.
It is one of the cheapest tackle boxes from the Plano range but this does not mean it lacks in their high-quality materials.
Fishing Tackle Box Buying Guide
Tackle boxes have come along way over the years from being simply a box to an extending tray masterpiece.
With some tackle boxes that float to ones that you can sit on, the choice is endless.
To boost your knowledge on the best tackle boxes for the money, we have a buying guide below.
Price
Plan your budget in order to know how much you want to spend on it.
If you have a relatively small budget and spend the majority on a box, how will you be able to fill the box with the accessories?
The smaller or mid-range boxes are usually cheaper and I would suggest starting small and once you require a larger and more expensive box, go for it.
Organization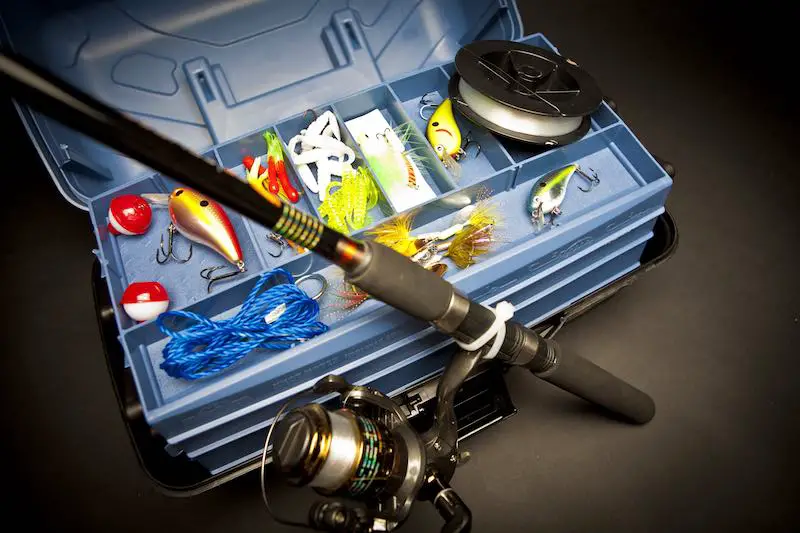 The main function of a tackle box is to ensure the organization of your gear.
With the number of tools required for fishing it might get difficult to organize them if you lack a well-designed tackle box.
In some cases, you might even end up forgetting some of the essential gear only to get to the lake/river and end up being disappointed.
To prevent this headache, look out for one that has adjustable slots, different compartments and trays, and a secure fastener.
So that once you start packing for that fishing session, you will not forget anything and most of all; you will know on which compartment you put a certain tool.
Size of the Box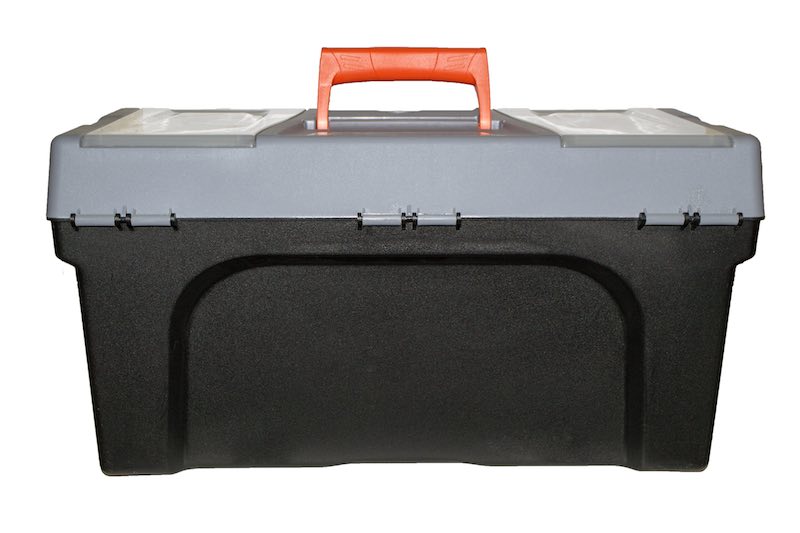 Fishing tackle boxes come in different sizes and shapes. You do not want to end up with one that seems too big for you to handle or too small to fit your tackle.
The size of the box matters when it comes to your fishing spot, for example, if you are a fisherman who fishes at open lakes, all you need to do is get to the lakeside by their cars, get into the boats on the bank and set out on their mission.
Therefore even if they get a big one, it does not really affect them as they will not carry them for a long duration.
However, there are those who like going to hidden ponds and rivers which are a little bit difficult to access.
If you are this type of fisherman, it's only advisable you go for a medium-sized one due to portability purposes.
Material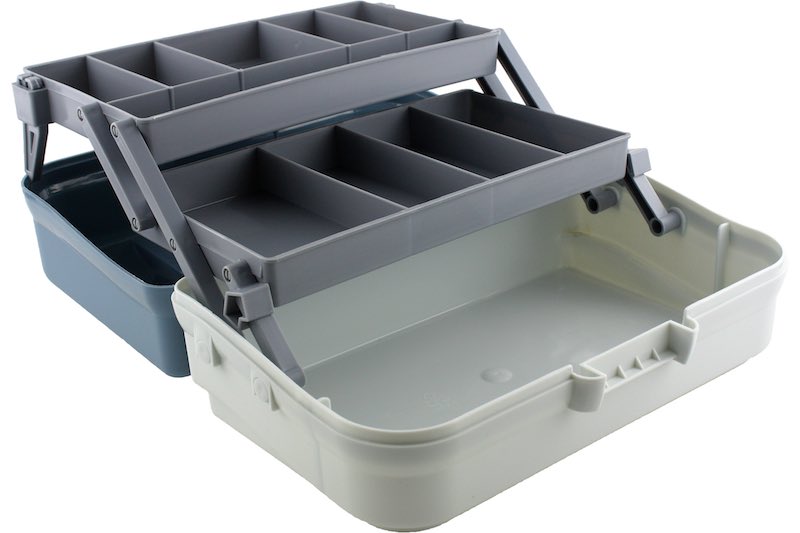 Tackle boxes come in two types of materials that are soft and hard. Softboxes are usually made out of nylon while hard boxes are from plastic.
All these come in different designs so as to appreciate the need for uniqueness.
Boxes made out of molded plastic are usually more durable than the softboxes.
They are normally big and have many compartments to store. However, they are quite expensive and are also heavy.
As for the soft tackle boxes, they are quite light and very mobile. They come in different sizes and shapes and also offer lots of space.
The type of material you go for depends on your level of movement.
If you like the serenity that being alone offers and hence you prefer hidden fishing spots, soft material tackle boxes might come in handy as they make your movement much easier.
Nonetheless, if you are seeking durability, then hard material ones are the perfect ones for you.
Water Resistance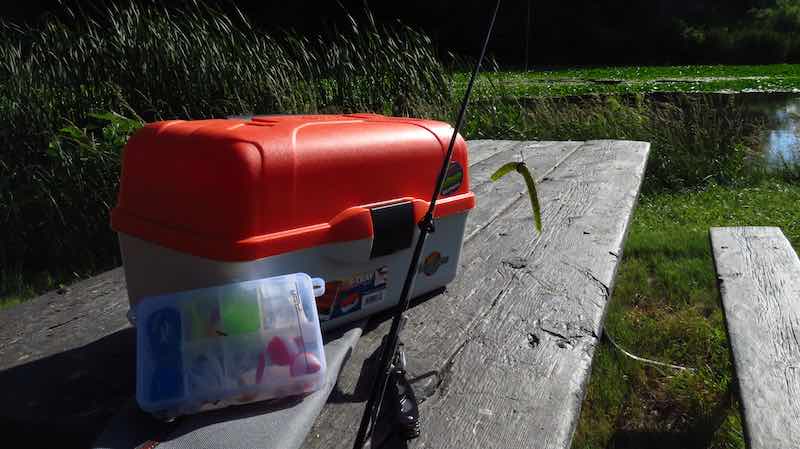 The main idea of buying a tackle box is to protect your hooks and sinkers from water.
Most of these fishing tools are usually metallic even if not wholly, a part of them is metal in nature.
If your tackle box leaks and lets water in, these metallic parts (as well as anything else) will suffer corrosion, rust, and other defects.
The only way possible to achieve that peace of mind after fishing is by buying a box that is waterproof.
If you do not put this into consideration, you might end up incurring double costs as your fishing equipment will be ruined.
Extra Storage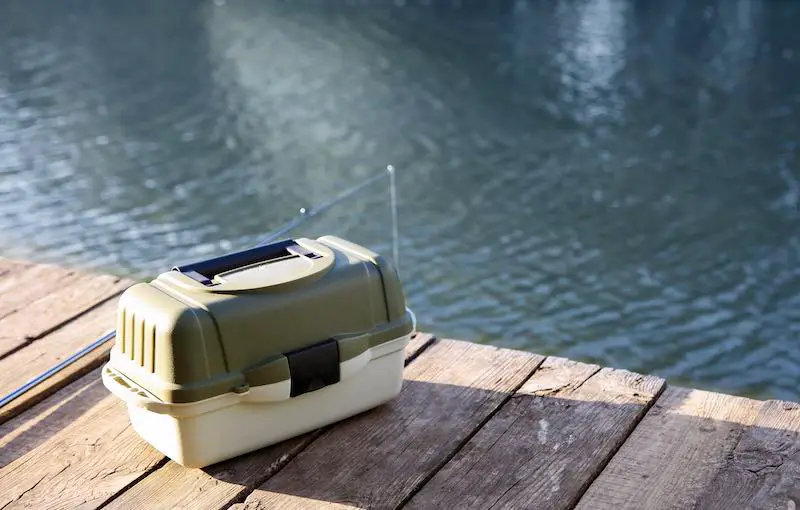 Whenever you are out fishing, things that you had not planned might happen.
For instance, your fishing line might break due to reasons better known to you.
There are different fish sizes and all these require different hooks. That means, you require an extra line, hooks, sinker, and many other types of equipment to come in pairs or even more depending on your fishing needs.
Therefore you cannot go just for any look for one that has the right size yet with extra storage compartments such as pockets on the side.
This will save you frustrations whenever your line breaks since you know you have another one. It will also clear any worries thus you fish at ease.
Warranty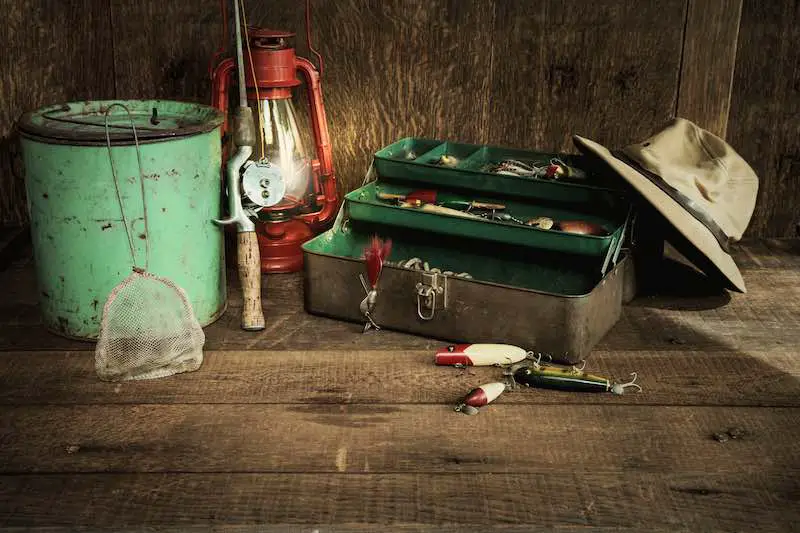 Nobody wants to run back to the shop every now and then to purchase something that he/she has just bought recently.
A fishing tackle box is no exception. The only way to be assured of the quality is through the length of terms and conditions offered in a guarantee. The longer it is the better.
The reason being no manufacturer will give you five years of unlimited warranty if their tackle box tends to be defective after one year of use.
In such a case the longest that they may offer might be six months because they have no confidence in their goods.
Therefore go for one that has good terms and conditions so that in case anything comes up all you need to do is contact the manufacturer for repairs.