If you are just getting started into the fishing world, you will want to start off with a beginner fishing rod and reel. An advanced rod may be a bit too much for the average new starter, which may make things harder to learn as you first start off.
The best fishing kit for beginners is the PLUSINNO Fishing Rod and Reel Combo with everything you require to begin to fish with lures, hooks and even a bag.
For beginner fishermen, you want to have a slow action rod that is easy to control and has adequate flex. Mated with a larger fishing reel, a smooth action of moving the rod back and forth is required for a successful launch.
Best Beginner Fishing Rods and Reels
Having the best fishing rod to start of with assists with the building blocks to becoming a good fishermen. Poor quality fishing rods will not help your progression in the fishing world and may even put you off continuing fishing.
Our main aim with this article is to avoid people who are new to fishing from spending too much money. There are so many different types of fishing equipment that you do and do not need, therefore take note of the fishing rods and reels in this post.
If you are just getting started with fishing, you do not want to jump straight into the deep end with a hard to use advanced fishing kit. To help you on your way to your fishing career, below is a list of the best fishing kits for beginners that include everything you need to start.
Sougayilang Fishing Rod Reel Combo Kit

Sougayilang have a complete fishing rod kit that is ideal for a beginner looking to get into the fishing world. There is a variety of sizes to cater for individuals that are small to tall and all fishing rods are made from high grade carbon fiber. This means that they are very durable and strong enough to withstand heavy usage.
The Sougayilang features a fully adjustable cast control with sound, aluminium spool with high tensile gear, line lay oscillation system and is fully extendable. All these features are available with this combo kit, which makes for great value.
A nice space saving feature is that the rod is fully extendable at 6 foot 2 but retracts to as little as 1 foot 7. Although Sougayilang are not a major brand in the fishing community, with fishing rod kits such as this one, they sure will be well known in the near future.
For a fishing beginner, this fishing rod and reel combo kit has everything you need to go fishing and is worth every penny.
Check it Out
KastKing Combo Spinning Rod and Reel Fishing Kit

KastKing are a more well known fishing rod brand that also made it into our best dry bags that we rated earlier this year. This KastKing combo kit is a combination of the best selling Mela spinning reel that is mated with a Blackhawk travel rod. This rod has the characteristics of being very light but providing a powerful throw.
An issue with many cheap low quality fishing reels is that they can become corroded over time. However, the Mela reel has a 10 + 1 corrosion resistant smooth ball bearing to prevent the rusting setting in.
Additional features of the KastKing fishing rod and reel are:
Ultra-mesh brass gears with the ratios designed for power
Triple disc carbon fiber drag washers
Main shaft is made from stainless steel
Right and Left CNC aluminium handle for your personal preference
When retracted to its smallest form, this fishing rod can be easily held within a suitcase or the supplied carrying case. The Mela reel is highly rated in the fishing community for the smoothness when swinging the fishing rod down stream. The KastKing provides excellent performance for the beginners at a low cost price.
Check it Out
PLUSINNO Fishing Spin Spinning Rod and Reel Combo

PLUSINNO have created a combo fishing rod and reel kit designed specifically for novice fishermen. Everything you need to start a new hobby in fishing is within the PLUSINNO combo kit.
The rod is a combination of elasticity and a carbon fiber mix with fiberglass that is designed to be durable yet resistant to corrosion from the sea water. The telescopic fishing rod is very portable where when closed it can be left in the car or carrying case.
The reel that is included within this fishing kit is a high quality part which spins and rigs with ease. Made from carbon fiber and fiberglass, it makes the Crystal River (below) seem very flimsy. You are also able to adjust the distance from the handle to the reel to your personal preference.
I personally highly rate this fishing rod and believe it provides the most value for money in terms of a performance fishing rod and reel for a beginner.
Check it Out
Redington Crosswater 890-4 Fly Rod and Reel Combo Kit

If you are not on a budget and wish to have that extra edge on your first fishing adventure, you could look into the brand Redington. They produce high quality fishing rods and reels for both beginners and experienced fishermen.
This complete fishing combo kit includes a performance rod and reel, RIO fly line, tapered leader and separate cases for both the rod and reel. With the backing of the Redington one year warranty, the high build quality of the rod and reel is second to none.
If you want to be able to cast long range, this rod has excellent flex to make casting very easy. The rod as a whole feels very strong and durable, which can be made small enough to fit in most kayaks using the supplied case.
Overall, this is a premium fishing rod for beginners (and experienced) fishermen that want the best starting fishing rod available.
Check it Out
Crystal River C/CTFK1 Fishing Rod/Reel Combo

The cheapest fishing rod and reel combo kit for beginners is the Crystal River with the Eva grip. This is strictly for those are on a strict budget that do not want to break the bank. It is the perfect way to introduce yourself to fishing without spending barely any money.
For learning to fly fish, the Crystal River provides you with a fish rod which has a good flexing motion and a reel (with the line) made from plastic. There may be concerns about this reel because its not a metal or high quality component but "it does the job" in hand.
Check it Out
What do you need to go Fishing?
Do not get tied down by a salesmen in a shop telling you what you do and don't need for his sky high commission. There is only 5 essential things that you require and you can be on your way into the fishing world.
Fishing Rod and Reel
Fishing Line (Bring a Spare)
Fishing Bait
Pliers
Waterproof Clothing
There are factors that determine which of the both you may bring. If you are in a clear stream or river, you may want to bring a clear fishing line and if you are catching heavy fish, you will need a stronger line. Some states will require a fishing license before you start fishing, please check that this is required to begin with.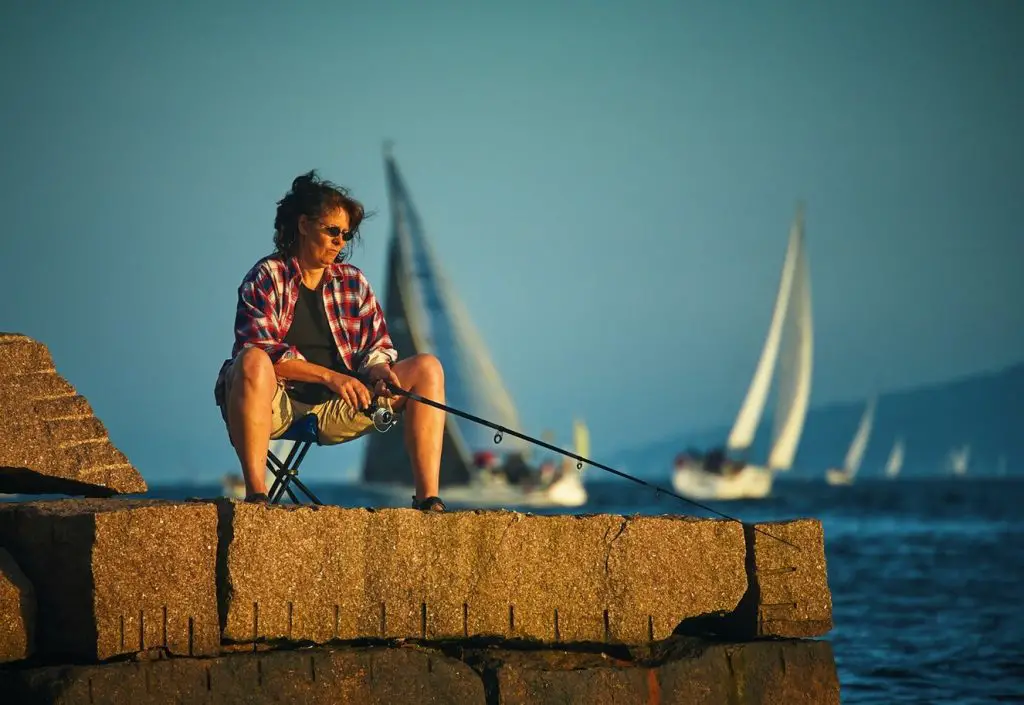 What is the Best Fishing Rod for a Beginner?
A common salesmen tactic is to force fishing beginner to buy the most expensive gear but this is simply bad practice. As a beginner, you should be looking at the bare basics to get to grips with things and then move to a more advance rod and reel as you gain experience.
If you are looking for the cheapest fishing rod and reel that is good for basic use once a year, then the Crystal River kit is ideal. However, if you want to stretch just a small amount, you can have the best rod and reel for a reasonable price by PLUSINNO.
The PLUSINNO fishing rod and reel provides everything you need to get started. The performance aided features give beginner fishermen the extra edge over other novice users with the cheapest combo kits they could find.