This page contains affiliate links. This means that we may get a small commission for recommending products, if you choose to click on something and buy it. This does not cost you anything, but we wanted to be honest and let you know!
(Last Updated On: April 10, 2022)
The colder months are on the horizon, and an electric heater for your boat cabin will help you extend the time you spend on the water.
If you don't have to completely winterize your boat or simply hesitate to wrap up the season when there are still great boating days on the horizon, a heater for your boat is all you need.
Our Recommendation: The Xtreme Boat Cabin Portable Electric Heater.
Xtreme Heaters Boat, Cabin & RV Heater 
IMPORTANT: NOT FOR USE IN ENGINE SPACES OR OTHER AREAS THAT MAY CONTAIN EXPLOSIVE FUMES, WATER, OR HIGH LEVELS OF MOISTURE (CONDENSING).
Features of The Xtreme Heater
Built-in overheat protection
"One Shot" secondary overheat protection
Two heat settings: 750/1500 Watts
Freeze prevention thermostat setting
Fan-only setting
Automatic thermostat
6-foot power cord
Color: white/black
Wattage: Low: 750 / High: 1500
Amps: Low: 6.25 / High: 12.5
Voltage: 120V
Dimensions: 10″L x 10¼"W x 4¾" H
Cord Length: 8ft
Weight: 6lbs
The Xtreme heater is designed to keep your boat, cabin, or R.V. toasty warm in the fall and winter months. 
This is a quiet space heater that draws air in from the top of the unit, making it great for small spaces as you can place it against a wall.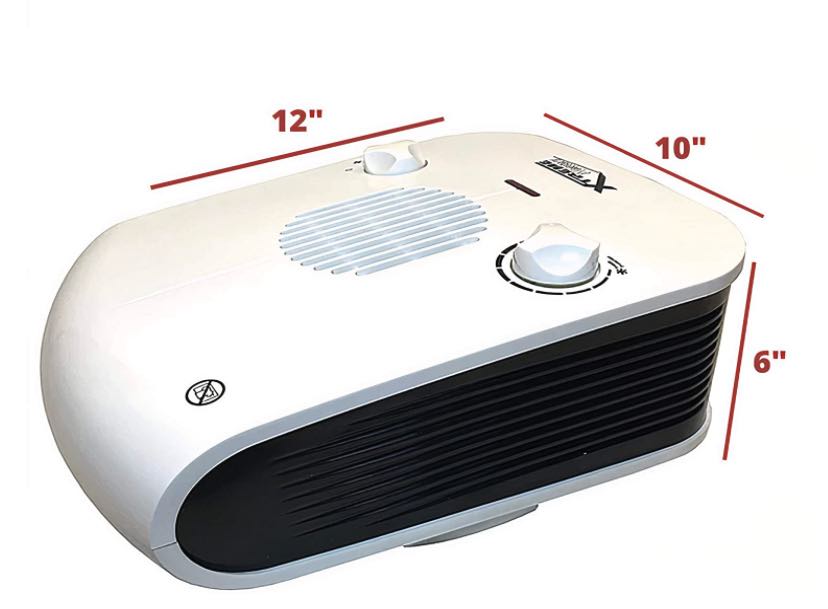 You can also set it on carpeted surfaces without blocking the air intake. Portable, take the heater wherever you need it. 
The Xtreme has a low profile and stable base, making it far less likely to tip over.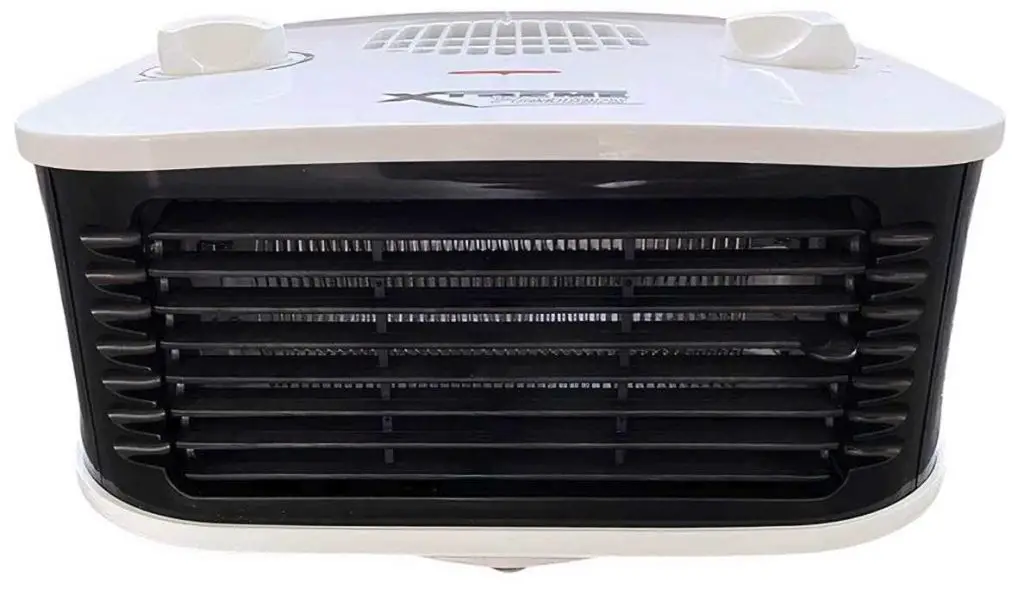 There is an added built-in overheat safeguard and an automatic thermostat to provide freeze protection for your protection.
Choose from two heat settings, 750 watts or 1500 watts, to warm and maintain a comfortable space. A six-foot cord allows you to place the unit to its best advantage.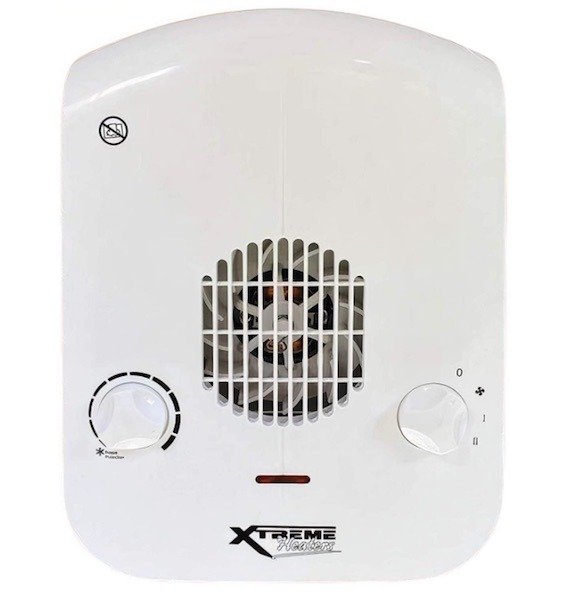 Stay on The Water With an Electric Heater For Your Boat
You would like to get as much time on the water as you possibly can, and having a heated cabin for those colder months will help you do just that. 
A cabin heater can make life on board more pleasant in the early or late seasons when the weather is cooler, but still, a great time to be on the water.
Safety Tips When Using an Electric Space Heater
It is best never to leave your heater running when you are not aboard.
Don't plug more than one space heater into a branch circuit with a rating of 20 amps.
Replace any shore power components that you see have damage, show any type of burn mark, or has melted insulation
If using a dockside receptacle, and you see that it is damaged, report it to your marina.
Use The Right Type of Heater For The Space
When looking for a heater for your boat, get the right heater for the space you will use it in. 
Cabin heaters and engine compartment heaters (these are also called bilge heaters) are two different things. 
Both types of heaters have different uses and different features. For example, you probably won't need a cabin space heater that is also waterproof.
Have an Adequate Power Source For Your Electric Heater
A slight downside of an electric boat heater is that they use a large power demand. 
If you are using your boat battery to power the electrical need, it can draw many amps and run your boat battery down quickly. 
The power draw can expose, or weaken, an electric system that might have some issues. 
If your boat already has incorrectly sized wires, damaged or inferior parts, those issues can pose a hazard when taxing the system with a space heater's demands.
It is best to make sure that wires were installed correctly on your boat, as it could overload your system when using a heater and cause damage.
A space heater in your boat cabin should be the type that is not apt to fall over. This situation could happen due to waves or the wake of another boat. 
If the unit were to come into contact with something flammable, a fire could start. That is the last thing you would want. Fires spread quickly, and when docked, it could endanger other boats.
How to Use a Boat Heater Safely
While there is a potential for hazard or damage when using an electric space heater for your boat cabin, there are plenty of boaters that use a heater and never run into any problems. 
If you take some precautions and exercise common sense, a space heater for your boat cabin will work just fine.
Here are some tips for using an electric space heater:
Only use a device that has a U.L. label.
The U.L. label indicates that the unit has undergone a set of product testings for safety.
A tall tower type space heater is not going to be suitable for a boat cabin. Look for an electric heater with a low profile, which will help keep it from tipping over.
When in use, keep the space heater on a flat, hard surface and not in an area subject to a lot of foot traffic.
Choose a space heater that remains cool to the touch, even when running.
Keep any flammable items at least three feet away from the space heater. Ensure nothing will fall on top of the heater, such as towels or papers.
To keep from overloading the circuit, do not plug any other devices into the same outlet as the heater.
Never use an extension cord with the heater, either.
If you use more than one space heater aboard your boat at the same time, you risk overloading your electrical system, so use just one heater at a time.
When you hook up to shore power, check your shore power cord for any fraying or faults before using it with an electric heater.
Never, ever, under any circumstances, leave an electric space heater unattended. If you leave the cabin or the boat, turn the heater off.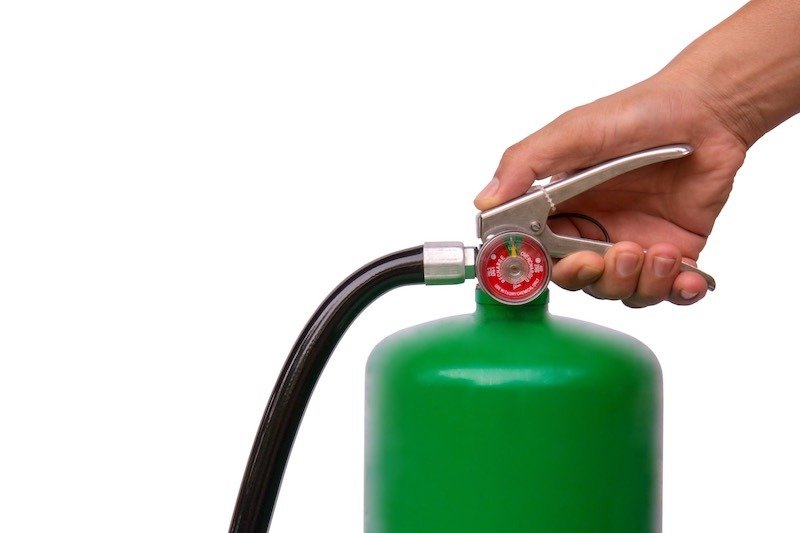 Know How to Put Out a Boat Fire
The United States Coast Guard (U.S.C.G.) boating website has a lot of information to answer questions you may have about boating safely.
And, while no one wants to envision ever needing the information, you should know how to put out a fire on a boat. 
This is a scenario that can be catastrophic and one that you should prevent if at all possible. 
It seems as if something that is already floating in water should be relatively easy to extinguish, but the materials involved make putting out a boat fire difficult. 
Both fuel and electrical fires can create a situation that gets out of hand rapidly.
An Ounce of Prevention Could Save Your Boat From Damage And Loss
When it comes to safety, you should begin your precautions initially, and that is when you are fueling your boat. 
Whether you have an outboard or an inboard, leaking fuel can surely be a hazardous situation to avoid. 
Some inboards have a great chance of leaking gasoline into the bilge as all fuel lines run inside the hull. 
With an outboard, fuel lines run from the tank, out the transom, and into the engines, so leaks are also a safety consideration. If you carry fuel or any combustible on board, it is a risk.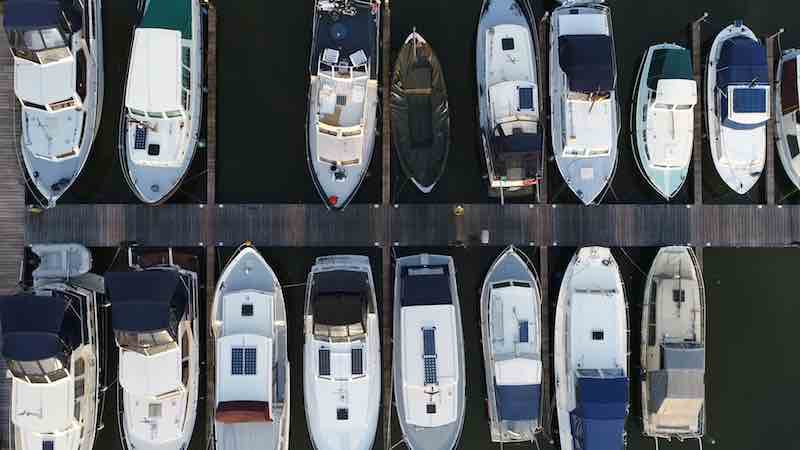 Check The Bilge For Fumes Before Leaving The Dock
While making preparations to head out on the water, make sure to check the bilge. You don't want to be able to smell fuel. 
If your boat has an inboard gas engine, close all of the hatches when you are fueling. 
Before hexagon out, open the hatches and run your blower to dissipate any fumes before you ever start your engine. 
With portable fuel tanks, leave the vents open when you are underway and close it when stopped.
As part of your standard maintenance, check the fuel line fittings regularly. Look over electrical connections to see if there is any fraying or corrosion. 
Attend to any repairs or replacements that need fixing before taking your boat out.
If you have any heating or cooking appliances, make sure that they have the correct power sources and that all breakers or fuses are in working order. 
Never leave, or store fuel-laden rags or towels onboard your boat. That is a recipe for disaster in itself.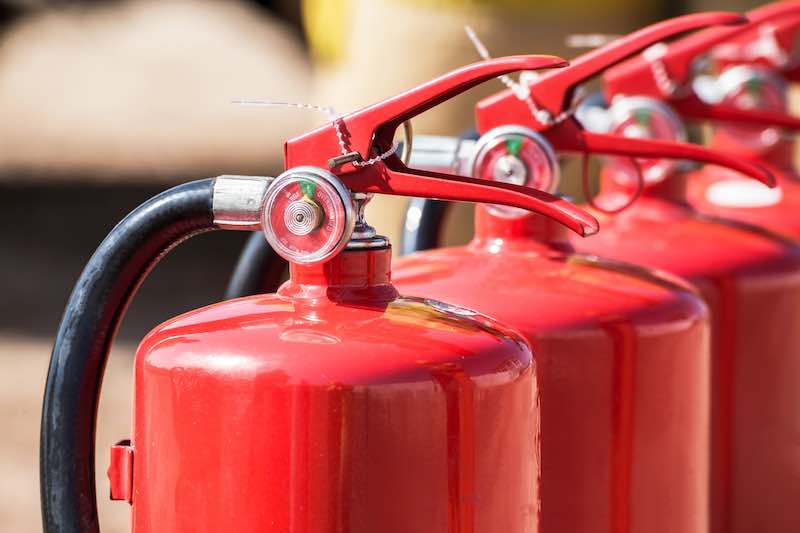 Have Full, Operational Fire Extinguishers Aboard
Have Coast-Guard approved fire extinguishers onboard your boat. Make sure they are up to date, full, and readily accessible. 
Know how to use a fire extinguisher and practice using one. You want to make sure it is second nature. 
When a fire breaks out is not the time to get out an instruction manual, so know how to use a fire extinguisher beforehand. 
Give any passengers aboard a quick introduction to using a fire extinguisher, depending on the situation; you might have your hands full and need someone else to use that piece of equipment. 
Consider printing out the instructions and posting them in an easy to see spot onboard.
The basics of using a fire extinguisher are:
Pull the pin at the top of the cylinder.
Aim the nozzle at the base of the fire
Squeeze or press the handle
Sweep the cylinder's contents from side to side at the base of the fire until it goes out.
The acronym P.A.S.S. will help you and others to remember how to use an extinguisher. It is also a good idea to have more than one fire extinguisher onboard.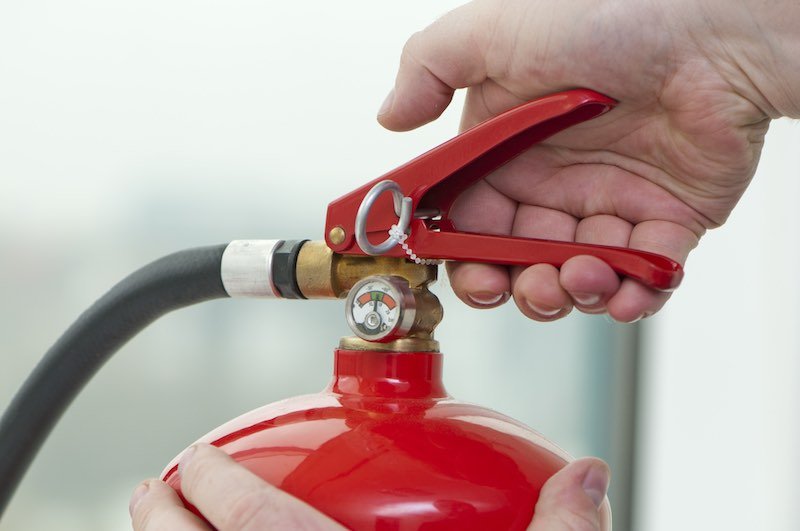 Have The Right Size Fire Extinguisher
There are different sizes of fire extinguishers, and they carry a rating that will tell you the size of the fire that the extinguisher can handle. 
The ratings use numbers and letters. For example, 1-A: 10-B: C is one such rating. The number that precedes the A gets multiplied by 1.25 to give the equivalent extinguishing capability in gallons of water. 
The number that comes before the B tells the size of the fire in square feet that the user should be able to extinguish. 
The letter C indicates that the extinguishing agent will not conduct electricity.
The higher-rated the extinguisher, the heavier it will be. Make sure that you will be able to hold and operate the extinguisher. 
If you get a rechargeable model, it will need servicing after use. If it is a disposable extinguisher, it can only be used one time and will need replacing afterward.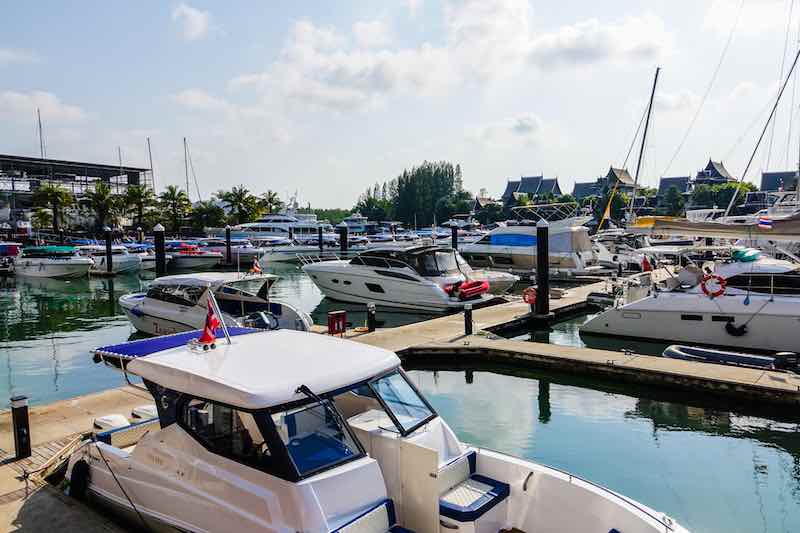 Give Safety Instructions to All Passengers Before Leaving The Dock
If you go take out friends or family on your board, you should make it a habit to go over emergency procedures before leaving the dock. 
The best time to prepare for an emergency is when there is no emergency. Practice fire drills, what to do if someone goes overboard, and how to use emergency communications. 
Those few minutes that you take to instruct your guests could save your life and theirs. As the saying goes, it is better to be safe than sorry.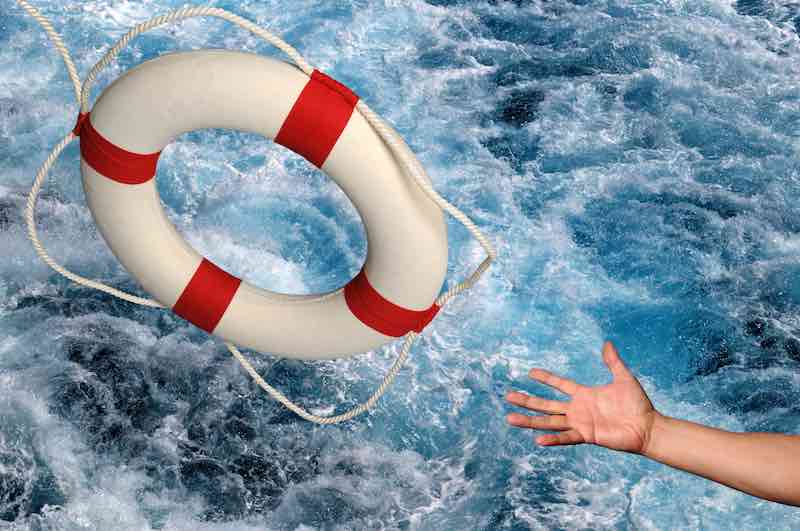 Know When to Deploy a Life Raft
You want to be able to live to boat another day. A boat is replaceable; although it would probably break your heart, at least you would be around to acquire another boat. 
If a fire breaks out onboard, have someone place a Mayday call, and someone get the life raft ready. You will get the fire extinguisher and use the P.A.S.S. steps to put out the fire.
If that is not successful, the Mayday has been placed, and you have a life raft to retreat to.
In Conclusion
You love being out on your boat and want to extend the time on the water as long as you can. A portable electric heater for your boat cabins can help you stay out longer.
With a heater for your boat, you can enjoy what you love most a lot longer in the fall and start earlier in the spring, making the most of the seasons!
F.A.Q.
Can I use an extension cord with the electric space heater for my boat cabin?
No, recommendations say not to use an extension cord or a power strip with your heater. These cords are not ignition protected or moisture resistant and are hazardous to operate with a space heater.
Is an "open coil" heater alright to use aboard a boat?
No, it is not advisable to use an "open coil" heater on a boat. The coils in these units run red hot and could potentially start a fire if used on a boat.