This page contains affiliate links. This means that we may get a small commission for recommending products, if you choose to click on something and buy it. This does not cost you anything, but we wanted to be honest and let you know!
(Last Updated On: April 10, 2022)
Thank God there's a tool that helps you both enjoy the day on the water fishing and keep your catch fresh. It's called a fish stringer. But you already know that. The question is: how to use a fish stringer the best way?
Fortunately, keeping your catch fresh is relatively easy when you use a stringer. Stringers can come in a couple of different forms, but they are usually a rope with a spike or a chain with clips.
Why Do You Need A Stringer Anyway?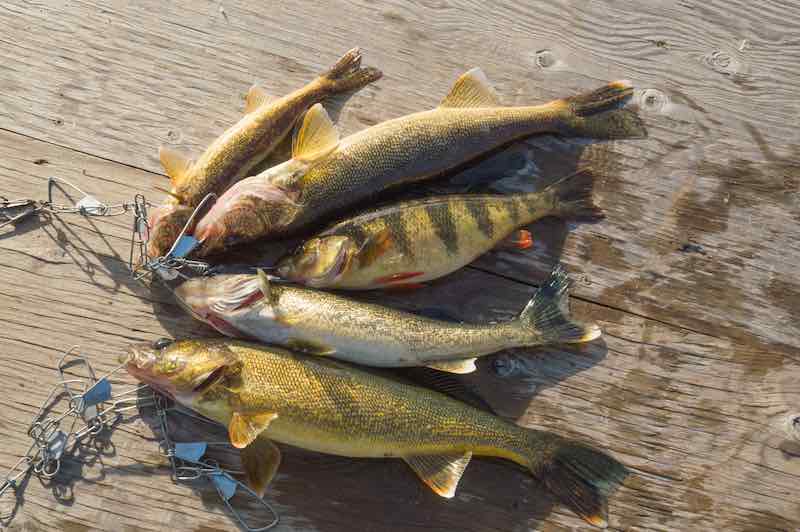 Fish flesh deteriorates very rapidly after the fish dies. So the fish that you caught at the start or your fishing expedition will have declined greatly in freshness and flavor from the last fish of the day. 
A stringer is a simple tool that keeps your fish alive and remains secured. Whatever fish you have the water in becomes, in essence, a live well that keeps your fish alive and fresh. 
Your two options for keeping your caught fish the freshest that you can is to do one of two things:
Keep the fish alive
Keep the fish on ice
The main reason for using a stringer is that it is a great way to keep your fish alive while you continue to fish throughout the day. If you are going to be fishing for just a short period of time, a stringer is still the best way to keep your fish secure until it is time to go home. 
Keeping fish on ice is a very good option for slowing down the metabolism of caught fish and keeping them fresh. But this method requires a cooler and, of course, ice. You must also maintain the ice in the cooler so that the fish stay cold enough. 
Again, this is a good method for keeping fish fresh, but not anywhere near as easy as a stringer. 
With a stringer, you are able to use this method from the banks of a river, lake or stream. You can use a stringer on a boat or from a kayak. 
Depending on your location and how you have to get there, a stringer is much less weildy than a cooler full of ice. Another benefit is that you can keep the fish with you in the water, and not have to leave the water to put the fish in the cooler. 
Two Types Of Fish Stringers
Fish stringers are very compact, and will fit in a tackleox, backpack or even in a large pocket. 
When looking for a stringer, there are a couple of things to look for. 
Rope Or Poly Stringers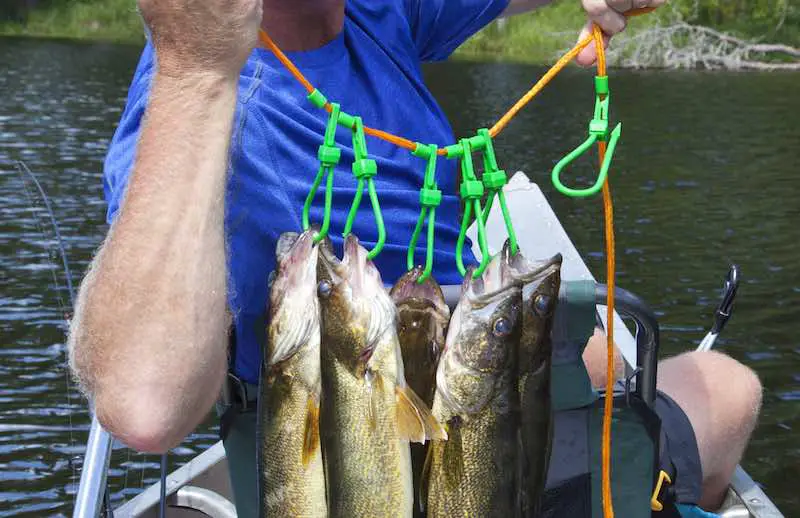 This is the very simplest of stringers. It is a piece of tough cord, like paracord, that has a spike on one end and a ring on the other end. It is tough and can be used on most all types of fish from trout flounder. 
If you add a lanyard and a float, this way of securing your fish is ideal if you like to wade while fishing. The float and the lanyard works like a fish holder and keeps your hands free and your fish secure. 
Metal Fish Stringer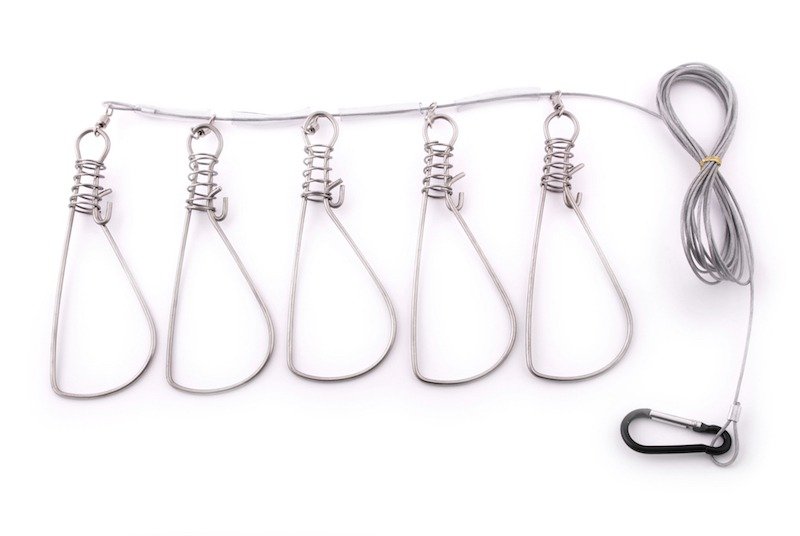 Constructed in the same manner, but instead of a rope, this stringer is made from a chain. The stainless steel fish stringer chain will have about nine or so clips along the length of the chain. 
The last clip on the chain will have a length of chain that is chipless so that you  can fasten the chain directly to your boat or use a piece of paracord to secure it.
This fish lock cable will be a strong manner in which to keep your catch from getting away.  If you are fishing from the shore, attach the chain to brush or something else like a camping chair or other secure item. 
How To Use A Fish Stringer Tutorial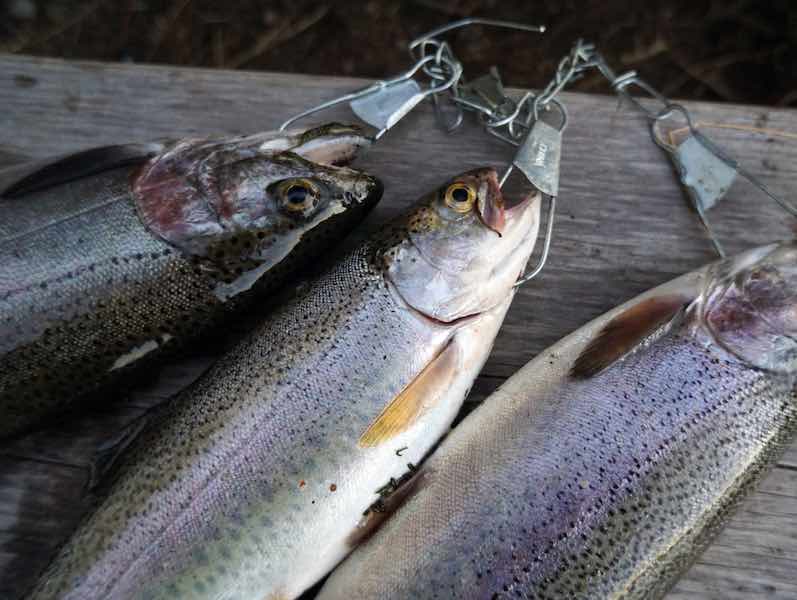 Whichever type of stringer you choose, the way to use a stringer is very simple. That is why this method of securing your fish and keeping them fresh at the same time, is a favorite. 
Pass the sharp end (spike on a rope stringer, open clip on a chain stringer) into the fish's mouth and down through the thin membrane, and out the underside of its mouth.
This manner orients the fish more vertically in the water. It also doesn't risk damage to its delicate gills. When you sting a fish in this manner, it breathes easier and it also lives longer. This keeps the fish fresh until you are ready to clean the fish. 
There is much controversy over how to string a caught fish. A lot of anglers will look at a fish and see the gills as a perfect entrance for a stringer. They will then pass the stringer through these easily damaged gills and out through the mouth. 
This will cause the fish to die more quickly and is counter-intuitive to keeping your fish fresh.  
You will also see some anglers who use their catch out of the water on a stringer. This will guarentee dead fish that will start to decompose and the delicate flesh will take on a whole different taste, other than fresh. 
At The Marine Lab, it is our suggestion that you try the Hurricane Stringer with 10 Stainless Steel Snaps. 
This stringer gives you the best of both worlds with a stringer made of strong, sturdy paracord with stainless steel clips. 
Many anglers find that the spike on the end of a cord string easier to use than the clip on the chain stringer. The Hurrican has the spike on one end of the stringer and a clip on the other. Again, the best of both worlds! 
Choose whichever end is your favorite for stringing the fish, and you have the flexibility of pushing the spike in the ground to hold the string in place, or to use a clip to secure it to your boat, kayak or dock. 
In Conclusion
Anglers are an avid bunch and many fish for the pleasure of it, in a catch and release fashion. If you do choose to select fish to enjoy, your best bet is to keep them alive as long as possible so that they will be fresh and delectable once they get to your table. 
BONUS
Once you get that big catch, try one of these fish recipes! 
Brown Butter Perch
Prep: 10 mins
Cook: 10 mins
Total: 20 mins
Servings: 4 
Ingredients
1 cup flour
1 teaspoon salt
½ teaspoon finely ground blackpepper
½ teaspoon cayenne pepper
8 ounces fresh perch fillets
2 tablespoons butter
1 lemon, cut in half
Directions
Whisk flour, salt, black pepper, and cayenne pepper in a bowl. Gentlypress perch fillets into flour mixture to coat, shaking any excess flour.
Heat butter in a skillet over medium heat until butter is foaming andnut-brown in color. Working in batches, place filets in skillet and cookuntil light golden, about 2 minutes per side. Transfer cooked fillets to aplate, squeeze lemon juice over the top, and serve.
Trout with Garlic Lemon Butter Herb Sauce
Prep: 10 mins
Cook: 20 mins
Total: 30 mins
Servings 4 servings
Ingredients
1.5 pounds trout or salmon, or arctic char – 2 large fish fillets with skin on the bottom
2 tablespoons olive oil more, if needed
1 tablespoon Italian seasoning (dried thyme, oregano, parsley, combined together)
1/4 teaspoon salt to taste
4 garlic cloves diced
3 tablespoons lemon juice freshly squeezed
2 tablespoons white wine
2 tablespoons butter softened
2 tablespoons parsley chopped
Directions
Season the top of fish fillets with Italian herb seasoning and salt (generously). Fish fillets will have skins on the bottom – no need to season the skins.
In a large skillet (large enough to fit 2 fish fillets), heat 2 tablespoons of olive oil on medium heat until heated but not smoking.  To the hot skillet with olive oil, add fish fillets skin side up – flesh side down. Cook the flesh side of the fish for about 3-5 minutes on medium heat, making sure the oil does not smoke, until lightly browned.
Flip the fillets over to the other side, skin side down (add more oil, if needed). Cook for another 2-4 minutes on medium heat (to prevent oil from burning). 
Remove the skillet from heat, close with the lid, and let the fish sit for 5-10 minutes, covered, in the skillet, until flaky and cooked through completely.
After the fish is cooked through, off heat, using spatula, carefully remove fillets to the plate, separating the fish from the skin. Carefully remove or scrape the fish skin off the bottom of the pan, making sure to leave all the cooking oils in the pan.
Add diced garlic, lemon juice, and white wine to the same pan with oil. Cook on medium-low heat for about 1 minute, until garlic softens a bit. Remove from heat. Add 1 tablespoon of chopped parsley, and 2 tablespoons of butter, off heat, to the sauce, stirring, until the butter melts and forms a creamy mixture.
Add fish to the pan, spoon sauce over the fish, top the fish and sauce with the remaining 1 tablespoon of parsley, and serve.