This page contains affiliate links. This means that we may get a small commission for recommending products, if you choose to click on something and buy it. This does not cost you anything, but we wanted to be honest and let you know!
(Last Updated On: April 10, 2022)
One of the best and most durable fishing boats, flats boats are invaluable for fishing skinny water. 
These boats are perfect to use in protected, shallow waters that are less than a foot deep. 
Equipped with an outboard engine for propulsion, a flats boat can accommodate two to three people and be maneuvered with a pole. 
The majority of flats boats will have enough deck space for casting and storage for fishing equipment and gear.
We have listed accessories that will make your experience fishing on a flats boat even more enjoyable. 
Flats Boats Accessories and Parts
1. Non-Slip Inspection Hatch – SEAFLO
Ideal for both interior and exterior applications, this water-tight, O-ring sealed deck plate is built for strength and durability. 
The Marine inspection hatch screw out deck plate has a strong ABS molded design. It is anti-aging and anti-corrosive. 
The ultraviolet resistant seal is a low profile design, reinforced design with a non-slip surface. 
You will find this inspection hatch is easy to install, and pre-drilled with countersunk holes with the screws that you provide. 
2. Boat Seat Swivel – ATTWOOD
Attwood Corporation has been an award-winning leader in the highest quality marine products for over 100 years. 
That is a pretty impressive record!  
Attwood engineers, tests, and manufacturers all types of products such as fuel systems, seating and pedestals, swim ladders, and upholstery. 
Their strong, swiveling mounting points for boat seats meet all regulatory compliance. 
Made of aluminum, the black powder coating helps to resist corrosion and perform reliably in marine environments. This 6 ¼ inch mount does not tilt. 
When you get your swivel, the first thing you might try to do is to see how easily it swivels. You might be disconcerted when the swivel does not move. 
Reviewers of the product have pointed out that the swivel needs leverage to move. 
Once you have mounted it to the seat, the pressure from your weight on the seat will cause the swivel to move.
3. Powerlock Rod Holder – SCOTTY
Made from fiber-reinforced engineering grade nylon, Scotty's power lock rod holder is designed with a universal cradle. 
Positive locking, this open style rod holder will hold virtually any type of reel. The front locking ring prevents losing your rod while traveling. 
To provide strength, resilience, and reliability, the holder is made from reinforced engineering grade nylon. 
This multi-functional rod holder works for a wide range of fish species and almost any watercraft and rod setup. 
Fully adjustable up and down the rod holder has 360 degrees of horizontal rotation.
4. Boat Casting Platform – FISHMASTER
Essential on a flats boat, this casting platform has a rigid structure and a non-skid surface. 
Constructed the same way your boat deck is, out of chopped fiberglass strands, any flexing by the platform is eliminated. 
This assures maximum stability. An attractive bone-white gel-coated surface will go with any other colors you have on your flats boat. 
Bright-dipped aluminum legs have an anodized finish and white rubber feet to protect your boat deck from marring. 
The trapezoidal-shaped casting platform contours with your boat's bow, so that the deck space is maximized. 
Water can quickly drain off the platform through the notched side edges. You can install this casting platform yourself in less than an hour. 
Once mounted, it is easy to remove the platform by releasing the tension knob so you will be able to take it off and put it on at will. 
This casting platform comes with a five-year warranty. 
A leaning rail is also available for purchase to enhance the fishing experience with this casting platform.
5. 6" Dock Cleats – SIMPLIFIED LIVING
These six-inch dock cleats can hold their own against rough weather. 
Roughcast in hot-dipped galvanized iron, these cleats have a large base for support. 
The hexagonal hole guarantees that the bolt (which you will need to supply) will stay in place, securing the cleat. 
They do sell the hardware separately, or you can pick it up at your local hardware. 
Another feature of these roughcast cleats was their advantage as nautical decor. 
A good number of reviewers purchased the cleats for their boats and docks and their homes. 
The cleats were used as drawer pulls, towel racks, tiebacks for curtains, and on staircases. 
Their use is limited only by your imagination to bring the touch of the nautical touch to your home.
6. Stellex Boat Center Console Cover – CLASSIC ACCESSORIES
Perfect for protecting the console on your boat, Classic cover will fit consoles up to 46″ wide, 40″ in length and 45″ in height.  
Lightweight but sturdy, the Sellex fabric protects from dirt, sun, and weather. 
The bottom drawstring has a cord lock in the bottom hem gives a quick and secure fit. 
Both dirt and water-resistant, the fabric is coated to resist dirt and stains and at the same time provide water resistance and repellency. 
Also, the boat console cover will provide UV protection too.
7. Boat Hook – STAR BRITE
Starbrite has manufactured marine products in the USA since 1973. 
Their telescoping boat hook is made of lightweight anodized aluminum. 
It will extend with a fast locking cam action. Just as quickly, it can be collapsed and stowed away. 
The reinforced nylon head will flex but not break. You can push off a dock or grab a mooring line. 
Not only great for around the water, but reviewers also found that the hook worked great for other things. 
One person uses it to get items out of the bed of his truck. 
Designed for marine use, the Star Brite will float if it is ever dropped in the water, making retrieval easy.
8. Deck Mount Trolling Motor Bracket – BROCRAFT
The Brocraft universal trolling motor bracket is made to use with clamp-on style electric trolling motors. 
The bracket is designed for easy removal of the clamp on electric motors. Sturdy, the Brocraft bracket is made of marine aluminum with a nylon plastic mounting block.
From center point to center point, it is a little over 12 inches. 
It will help you get the motor away from the boat at a distance safe enough to operate the trolling motor without hitting the boat and yet still have a great reach. 
9. Low Back Seat – WISE ECONOMY
Although the Wise economy low back boat seat is good for all boats, it is especially perfect for fishers. 
The seat offers great back support when you are out on the water for several hours. The seat has heavy-duty hinges that allow you to lean back confidently and relax. 
Durable construction, the seat is covered in marine-grade vinyl that will stand up to water and sun. 
Mildew resistant and UV treated, the polyurethane foam padding makes for a comfortable seat. 
Available in a variety of colors, so you are sure to find one that will go great with your boat.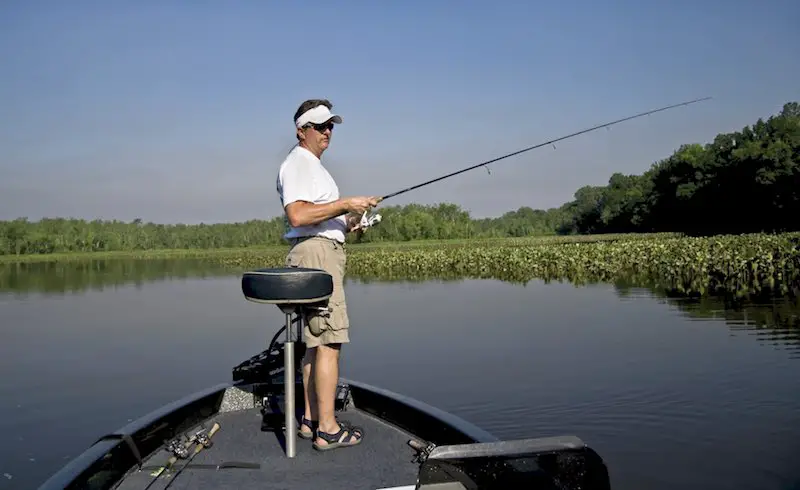 Flats Boats Basics
What is a Flats Boat?
A flatboat, also known as a broad horn, is a flat-bottomed boat with square ends. 
Originally, flatboats were used to transport freight and passengers on inland waterways. Of varying sizes, it was essentially a large, sturdy tub with a hull. 
It is a boat that has a flat bottom so that it can traverse very shallow waterways. 
Stable in calm water, a flats boat does not do well in rough water.
How Many Types Of Flats Boats Are There?
As with other types of boats, flats boats have different functions and different names. Here are some of them:
This small flat bottom boat is the most common type used primarily for fishing, hunting, and utility work.
One of the oldest flat bottom boat designs, the Barge dates back to ancient Egypt. Before the introduction of trains, barges were the primary method of moving heavy goods.
French for "boat," a bateau is a flat-bottomed boat used extensively across North America. 
During the colonial period, and as far back as 1650, bateaux (plural usage) were used in the fur trade. 
In 1776, during the American Revolutionary War, George Washington used Durham boats to transport troops on the Delaware River. 
This large, flat-bottomed, and double-ended boat was used almost exclusively on inland waterways for hauling freight.
Used for centuries, a dory is a flat bottomed boat with straight sides and straight bow. Still in use today, dories are used primarily for fishing. 
Ideal for small, shallow rivers, large ponds, or lakes, a punt has a square-cut bow and a square stern. 
Sometimes mistaken for a gondola, the punt has an entirely different structural design and is propelled by a pushing pole. 
Previously used as cargo boats for fowling and angling, today's punts are used for recreational purposes.
Capable of sailing in shallow bays and rivers, a scow is a flat-bottomed sailing boat. 
The scow could navigate shallow waters and could be beached to load or unload goods. 
This most unusual flat-bottomed boat uses a design thousands of years old. 
Traditionally used on the Tigris and Euphrates rivers, they are still used today to transport fresh produce. 
The name means "basket" and refers to the shape of the boat, which is circular and propelled by paddle or pole. 
A flatboat was almost always a one way (downstream) vessel. 
This was because the boat was a way to transport lumber; even the lumber the boat was made of. 
In the antebellum era, flatboats were among the most important modes of shipping in the United States.
Very popular in Britain and Ireland, narrowboats are used exclusively on canals. 
Never exceeding a width of seven feet, a narrowboat can be anywhere from 30 to 70 feet long. 
The narrow width allows the boat to traverse the man-made canals of the British Isles. 
Today, they are seldom used for their former commercial uses, but rather are popular for vacations and as homes. 
Flats Boats Gain Popularity
Their shallow draft and average beam make these boats ideal for saltwater fishing. 
Flats boats are also popular on rivers, lakes, and freshwater, where they can operate in less than two feet. 
When in the flats of Florida or the backcountry of the Gulf Coast, fishing for bonefish, nook, or red drum, a flats boat will get you there. 
Because they are designed with a very low draft, flats boats can sneak along sand bars and shoals. 
There is no substitute for fishing the flats effectively than a flats boat.
Flats Boats Details
Materials
Most flats boats are made of fiberglass. The advantage of fiberglass is that it is lightweight, has great strength, and is corrosion-free. 
It also requires minimal maintenance. For about the last five years or so, Kevlar and Carbon Fiber have been used for hulls, as it is lighter weight than fiberglass. 
It can cut 20% off the overall boat weight. They are lighter because they require less material and resin due to carbon fiber's strength and stiffness. 
With a flats boat, the lighter the boat, the more efficient the boat will be. They also will tend to float higher and be easier to pole-push.
Design
The design of a flats boat will vary depending on the style of the boat being built. However, most flats boats are rectangular. 
They are made to skim across the smooth water of lakes and rivers. They are also made to offer maximum stability.
Size
In general, the size of a flats boat is between 14 feet to 27 feet, with the average length of a flats boat being19 feet.
Weight
The average weight of a flats boat is about 800 pounds. They can weigh as little as 400 pounds or up to 1,500 pounds. 
Speed
An average flats boat goes an average of 10 to 15 miles per hour. But that is an average. Some hit 75 miles per hour, but that is well out of the norm.
Accessories For Flats Boats
No frills and little accouterments, flats boats have been designed as angling machines, pure and simple. 
As their popularity has grown, so too has the number of accessories. 
Recent years have seen the incorporation of the latest and greatest in accessories like power pole anchoring systems, fishfinders, and electric trolling motors.
Capacity Of Flats Boats
Commonly on the small side, flats boats range from 14 feet to 27 feet in length. 
According to federal law, if your flats boat is motorized and less than 20 feet, it must have a capacity plate in the helm. 
The capacity plate will tell you the maximum horsepower and maximum weight that your boat can carry. Below is an example of what a capacity plate will look like. 
If your boat does not have a capacity plate, use the following formula to determine the capacity.
| | |
| --- | --- |
| Horsepower Capacity |   |
| Boat Length (ft)  X Transom Width (ft) answer is: | Max HP is: |
| 35 or less | 3 |
| 36 – 39 | 5 |
| 40 – 42 | 7.5 |
| 43 – 45 | 10 |
| 46 – 52 | 15 |
Person Capacity
Average Weight per person is 150 lbs
Boat length (ft)  X boat width (ft)
Divide by 15
This is the number of people you can safely carry
Round fractions down to lower whole number
Flats Boat Safety Tips
Number one
This holds true for any boat; do not overload or overpower your boat. If you use a larger motor than is recommended, it will make the stern too heavy and cause your boat to flip. 
It will also make the transom ride too low in the water. This means you could be swamped by your own, or a passing boat's wake. 
If your boat is loaded beyond capacity, it will be difficult to control. The boat will become unstable. 
Too much weight, either in people or gear, on one side or the other side, will cause the boat to list and possibly take on water. 
Too much weight in the bow causes the boat to plow through the water.
Number two
When boating in shallow water and are unsure of the depth, slow down. Running aground at high speed can and will damage your boat.
Number three
When idling through very shallow water, don't trim the outdrive up as far as possible. It is best to leave it a few inches down. 
If you run aground, you can tilt it up the last bit and be able to back off to deeper water.
Number four
Check the tide before you go out. Knowing the tides is important in the case that you run aground. 
Take stock of where you are before you do anything if you run aground. If you try and back off immediately, you could suck up mud and vegetation into the engine intake. 
If you can back off safely, then back off. It might also be possible for you to get out and push off. 
If you know the tides, you could enjoy the view and wait for it to lift you. Conversely, if you see the tide is falling, you will know that you need to take measures quickly.
It might seem like a good idea to explore a bit of beach, but don't do so when the tide is falling. 
If you do get out, you need to keep an eye on the water level or become stranded for hours.
Number five
Watch for color changes in the water. Deeper depths tend to look darker. Shoals will look like light spots in the water. 
That being said, weed beds can look darker and be shallower than surrounding water. 
The lesson is to avoid any color changes so you will stay in about the same depth range. 
Another tip: if you see waves that break in the same spot repeatedly, it means bars that are shallower than their surroundings.
Number six
Know your boat's draft. Check the manufacturer's information to find out what your boat's draft is. 
If you don't have that information readily available, then you will need to measure for yourself.
Measure the distance from the boat's waterline (where the vessel's side meets the water) to the lowest part of the keel you have identified. 
This distance is the draft of your boat. Know that the weight of gear or passengers can increase the draft by as much as an inch. 
Knowing this number will enable you to determine the depth of water you can safely operate in.
In Conclusion
A perfect boat for fishing in skinny water, there is nothing quite like a flats boat. You can go exactly where the fish are and see them before they even know you are there.
The closest thing to walking on water, flats boats are a popular way to enjoy being out in nature and participating in your favorite sport. 
 FAQs
 Can I take a flats boat in the ocean?
Most flat-bottomed boats are not ideal for ocean use. 
Flat bottom boats have the advantage of being very stable in calm waters, but in choppy waters or with waves on the open seas, flats boats tend to take on water quickly.
How shallow can a flats boat go?
Some flats boats, like the Dolphin 18 Backcountry Pro, only require 10 inches of water to float. 
And then there is a no-frills flats boat, the Hells Bay Waterman, that has a draft of only 4.5 inches. 
Consult your owners manual for specifics on the exact depth your flats boat will need to float safely.
 How heavy is a flats boat?
Depending on the length, flats boats can range from less than 400 pounds up to 1,500 pounds. 
Again, it will depend on the length and material the boat is made out of.