Boat Polish is required to remove the harsh stains that the fiberglass boat collects whilst being in the water. The fiberglass is protected by a layer of gelcoat that also gives the boat its color and shine. Over time and harsh environments, the gelcoat tends to become dull and loses its shine.
The best marine polish for your boat is the Meguiar's M6732 that can be used by hand or machine and restores gel coats, fibreglass and more.
Marine polish should not be mixed up with boat wax because polish removes the defects whereas the wax aims to protect the gel coat from the defects.
Best Marine Polish For Fiberglass Boats
Neglected boats that have been heavily oxidized from the sun is nothing special to look out. With one of the recommended marine polishes, removing the oxidization, scratches, stains and tough water spots is easy and will add value to your boat.
Many marine polishes for your boat will state that you can use both machine and hand application. We strongly recommend that you use a polisher machine to get the best results with your marine polish.
Always use a marine polish over automotive as they have been tested to work on the gel coat and fiberglass surfaces. Below is a list of the best boat polishes for removing defects and restoring shine.
3M 09005 Marine Restorer Polish

3M are a market leader in both automotive and marine detailing products and their 09005 polish aims to remove heavy oxidization. This marine polish is also a wax that provides protection to your fiberglass and gelcoat bodywork.
The 3M 09005 is a combined formula of rubbing compounds and blends of waxes that aims at saving time when working on the bodywork. Usually a polish and wax of your boat would be a two steps process.
Swirl marks occur on boats just as much as cars and the 3M aims to remove swirls, scratches and scruffs. You are able to apply the 3M 09005 by hand but be sure your elbow is ready for a long hard day at work.
As a "two in one" polish and wax, this product is perfect for the average boat owner that wants to remove the chalkiness of the oxidization and provide protection to the gel coat.
Check it Out
Meguiar's M6732 Marine One Step Compound

Meguiars are market leaders within the automotive detailing scene and have not ventured into the marine category. The M6732 polishing compound is targeted directly at restoring gelcoat surfaces to reveal a shiny finish.
Neglected fiberglass boats can oxidize fairly quickly with other defects such as scratches, stains and water marks appearing. The Meguiars formula is aimed to remove these defects with ease to provide a powerful gloss finish.
You can apply this product by hand or by machine, but I had much success (See below) using this product by a rotary buffer machine.
The result of using this Meguiars compound with a buffer machine is an almost new glossy fiberglass finish. However, this is a safe cutting compound and not too abrasive. If  you feel that your boat has heavy oxidization, then look into a stronger polish.
Check it Out
Chemical Guys MBW11016 Marine Polish
Chemical Guys are an upcoming market leader in the detailing world with their range provided astonishing results. Their MBW11016 Boat Polish provides effective cutting of heavily oxidized fiberglass as well as scruffs, scratches and other defects.
If you have used Chemical Guys detailing products before, you will know the ease of use when applying this to a surface. The boat polish spreads fairly easy and is not difficult to remove residue after application.
It is recommended to use a machine buffer whilst applying the Chemical Guy marine polish. Below are results from Chemical Guys themselves which shows the effectiveness of this product.
The MBW11016 is designed specifically for marine applications and has a complex formula to provide the best results. Using advanced abrasive technology, the product starts strong to remove the oxidation (and other defects) and then finishes lightly for a deep shine.
The results speak for themselves and this product should be in your basket if you have a boat with bad oxidization to the fiberglass.
Check it Out
Flitz CA 03518-6 Boat Fiberglass Polish Paste

Flitz polish and paint restorer is based from an anti tarnish formula that is highly effective and can last up to 6 months. The polish is a non-toxic cream formula and is most effective on metal, plastic and fiberglass materials.
The hull and many other areas of a boat can suffer from oxidation, tarnish, rust, water stains, discoloration and scuff marks. This marine polish paste aims to rectify every single one of these defects with ease.
When using the Flitz CA 03518-6 polish paste, be sure to only use thin layers and do not let it dry. Drying the paste can cause abrasive marks that can be visible within direct sun light. If you have access to a garage then its advised to use this paste inside and not in the sun.
This product is highly rated across the US with thousands of users seeing excellent results.
Check it Out
TotalBoat Marine Fiberglass Polish

TotalBoat have gone for the direct approach of "doing what it says on the tin". This marine polish has been created to tackle the oxidization of the fiberglass body of a boat. Its a one step process where the polish cuts fast to bring through the desirable gloss fiberglass finish.
TotalBoat recommend themselves that you are able to achieve the same results by hand than using a buffer machine. All their products are created by boaters and made for boaters, so you can rest assure that the results you will see should be impressive.
Check it Out
How to Restore Fiberglass Finish to a Boat
Restoring the gelcoat to its original shiny finish requires a three step process.
Thoroughly Clean The Boat.
Using warm water and a strong washing solution, wash every inch of the boat removing all dirt and debris. Failing to remove dirt can result in scratches at step 3 where the dirt gets in between the polishing pad and fiberglass.
Polishing Using a Buffer Machine.
Using a buffer machine of your choice (rotary or dual action) add four dots in a square shape onto the pad and rub it onto the boat (switched off). After its rubbed in, apply the buffer machine onto the work area and work the polish until it turns clear. Wipe off the residue to display results, if its not shiny enough, redo the area until you are happy with the finish.
Wax to Provide Protection.
Waxing the fiberglass bodywork provides protection for the gelcoat against oxidation and stains. Regular waxing can see the gloss finish lasting over 10 years without needing a buffer. Apply the best boat wax for the fiberglass in a circular motion and let it haze up before removing the residue.
Below are some results of a neglected dory that I restored using a rotary buffer machine. As you can see, I also removed the painted name "Jemima" that was sign written onto the boat using a strong abrasive compound.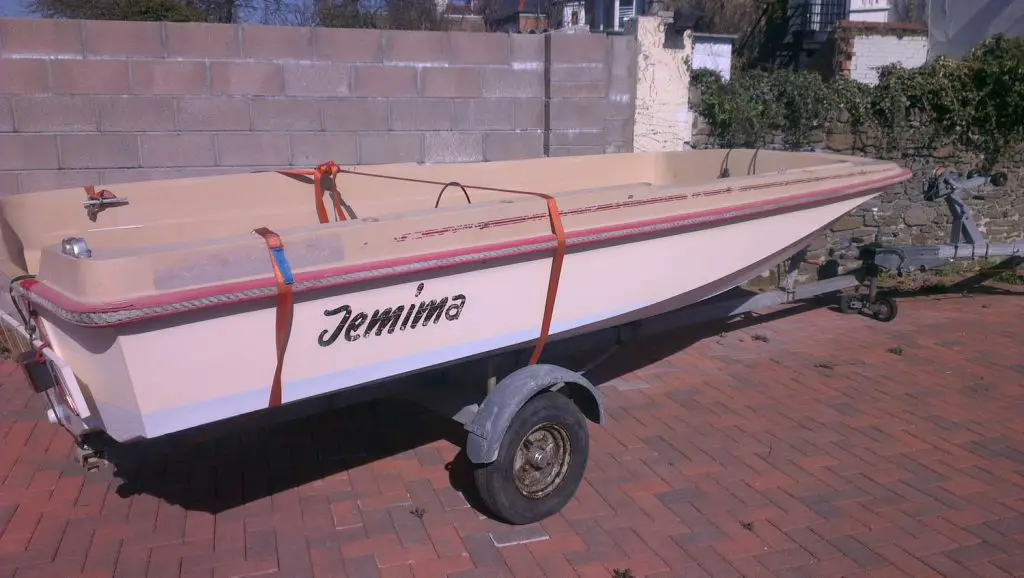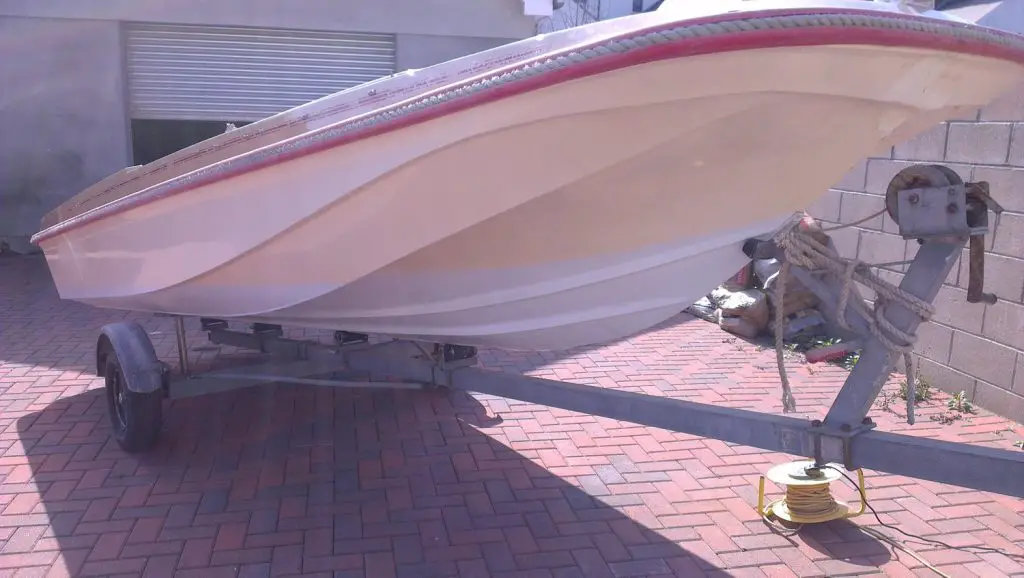 The client was blown away by the shine and couldn't believe the finish and the removal of the boat name was down to a polish. They put the boat up for sale at a premium and made good profits, which was mostly because of the excellent condition of the fiberglass finish.
Restoring the oxidized gelcoat of the fiberglass boat does not require the strongest polishing compound on the market. Refinishing the boat should always begin with the least abrasive to begin with as you don't want to remove a large layer of the gelcoat straight away.
For tougher stains or boat signage, you may require a stronger abrasive to restore the color and shine. The ease of restoring the shine is unbelievable but many people choose not to and lose out on their resale value of their boat.
Buffer Machine v Hand Polishing a Boat
A polishing buffer machine usually comes in two forms that are Rotary and Dual Action. They both do similar jobs but a dual action buffer machine usually allows more room for error. However, as a boat is larger and has less edges/curves compared to a car, both machines are more than capable.
Do you even need a buffer machine? Why can't you just use your hand? Of course you can use your hand but you will not get the best finish as well as having a painful elbow/shoulder after it. Invest into a buffer machine and don't look back.
Using around 10 to 12 pounds worth of pressure (or there about) and around 1200-1500 RPM you are able to cut through the dull bodywork. You simply cannot recreate this sort of movement by using your hand.
Using a top rated boat buffer as opposed to using your hands will see a huge improvement to the end result.
What is the Best Fiberglass Boat Polish?
As mentioned, I have had great success with the Meguiars marine polish on a dory boat that also had signage. However, if I need to polish a heavily oxidized boat again the boat polish by Chemical Guys would be my choice. It is a stronger polish that gives a faster and easier cut with little effort. It also provides excellent results from various sources that I have seen online and of course it is reasonable pried.