This page contains affiliate links. This means that we may get a small commission for recommending products, if you choose to click on something and buy it. This does not cost you anything, but we wanted to be honest and let you know!
(Last Updated On: April 10, 2022)
Boat detailing is becoming increasingly popular with many big brands offering various boat polish and oxidation removers.
These products are needed as the marine environment and UV rays over time cause fiberglass and gel coats to fade.
The best boat polish is the 3M 09005 Restorer and Wax, which removes heavy oxidation and defects whilst leaving protection for fiberglass and gel coat surfaces.
Marine polish should not be confused with boat wax because polish removes the defects whereas wax will provide a protective layer and increase shine.
You will want to use a buffing compound for boats to remove the defects before waxing.
Best Boat Polish
The application of boat polish can be achieved by machine or hand with both being able to remove heavy oxidation with the correct compound.
We highly recommend using a buffer for boat detailing. 
You will be able to cut into the fiberglass or gelcoat far easier, which will result in a better finish.
Boats that have been sat in the water all year round without using suitable boat covers may have a variety of defects.
Removing these defects will not only improve the appearance of the boat but also add to the resale value too.
It may be tempting to use an automotive polish but they are not designed to tackle fiberglass or gelcoat surfaces.
Below is a list of the best boat polishes that can be applied by hand or machine, which will remove defects and restore shine.
3M 09005 Marine Restorer Polish

3M are a market leader in both automotive and marine detailing products and their 09005 polish aims to remove heavy oxidation.
This marine polish is also a wax that provides protection to your fiberglass and gel-coat surfaces.
Features of the 3M 09005 Marine Restorer Polish include:
Combination of rubbing compound and wax
Suitable for both fiberglass and gelcoat
Leaves a high gloss finish
Protects against UV damage
Can also be used on RVs
Liquid formula
Application by hand or buffer machine
Overall, it is the best boat polish for those that want an all-in-one product that restores and protects.
It works great on both gelcoat and fiberglass boats where it aims to remove oxidation, chalking, fading and minor scratches.
Meguiar's M6732 Marine Polish

Meguiars are market leaders within the automotive detailing industry but they also produce a range of marine products too.
The M6732 is a boat buffing compound that effectively restores gelcoat and fiberglass that results in a high-gloss finish.
Features of the Meguiar's M6732 Marine Buffing Compound include:
Great results by hand or machine
Suitable for fiberglass and gelcoat
Cleans and restores the surfaces
Can also be used with RVs
The fairly aggressive liquid formula
With the reputable backing of Meguiar's, you have the peace of mind that this polish will produce excellent results.
It is the best buffing compound for boats that require a more aggressive formula to remove tougher defects.
STAR BRITE Premium Marine Polish
If you are looking for a polish you can apply over old wax or polish, the STAR BRITE Premium Marine Polish is the right pick.
The company boasts this product lasts up to 5 times longer than other marine waxes and will increase hull speed through its patented PTEF, Protected Polymer Barrier Coating technology.
The STAR BRITE Premium Marine Polish will stop oxidation and fading and will create a protective layer against oil-based stains and other residue deposits.
This product is made in the United States.
3M 09020 Aluminum Boat Polish

For pontoon and aluminum boats, you may want to invest in a polish that is specifically designed for aluminum .
This is where the 3M 09020 becomes very useful because it restores aluminum back to its original shiny finish.
Other features of the 3M 09020 Aluminum Polish For Boats include:
Removes heavy oxidation and chalking
Application by hand or machine
Concentrated formula
Suitable for bare aluminum
The formula contains both compound and wax
Protects against UV rays
Can also be used on RVs and cars
For tackling light to medium oxidation on aluminum boats, the 3M 09020 is the perfect solution.
It is the best aluminum boat polish available and can completely transform your boat with the concentrated formula.
Flitz CA 03518-6 Boat Polish

Flitz polish and paint restorer is based on an anti-tarnish formula that is highly effective and can last up to 6 months.
The polish is a non-toxic cream formula and is most effective on metal, plastic and fiberglass materials.
Features of the Flitz CA 03518-6 Polish Paste include:
Polishes and protects
Non-abrasive formula
USDA authorized
Can be used on a variety of surfaces
Application via hand or buffer
The hull and many other areas of a boat can suffer from oxidation, tarnish, rust, water stains, discoloration, and scuff marks.
This marine polish paste aims to rectify every single one of these defects with ease.
It is a highly rated boat polish that can be used on a wide range of different surfaces and tackles defects effectively.
However, as the formula is non-abrasive, it may require multiple applications to remove tough oxidation.
TotalBoat Marine Fiberglass Boat Polish

TotalBoat is known within the marine industry for its epoxy, paint, boat deck paint and various other products.
They are very reputable for these products but they also produce a fast cutting fiberglass boat polish with an easy on and off formula.
Features of the TotalBoat Boat Polish For Fiberglass includes:
One-step process
Application via hand or buffer
Provides protection against UV rays
Desirable high gloss finish to the fiberglass
Suitable for light oxidation and defects
TotalBoat recommends that you are able to achieve the same results by hand than using a buffer machine.
All their products are created by boaters and made for boaters, so you can rest assure that the results you will see will be impressive.
Boat Polish Buying Guide
Boats that spend the majority of their time on the water without a cover placed over it can suffer badly from the marine environment.
Defects such as oxidation, scratches, bird dropping and much more can ruin the appearance of your boat.
Boat detailing is becoming very popular with many of the automotive brands providing marine alternatives for people to use on their boats.
Some are all-in-one products whereas some are primarily a buffing compound for boats.
To help you make an informed buying decision when it comes to boat polish, we have produced an informative buying guide as shown below.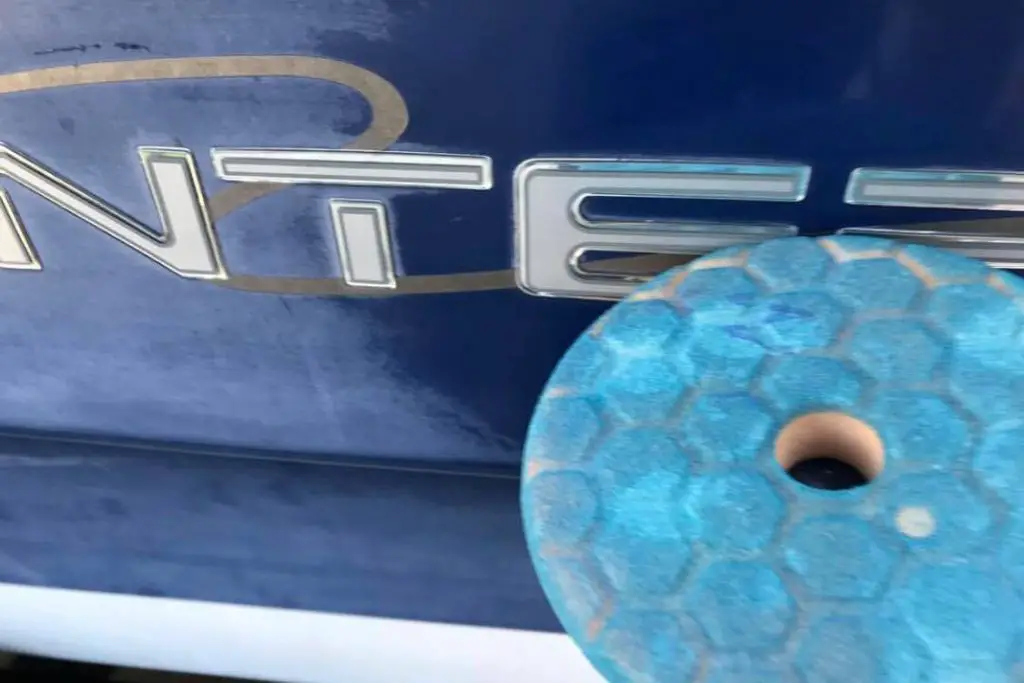 Automotive vs Marine Polish
It may be tempting to use a bottle of polish that you have for your car on your boat.
However, you will struggle to cut into the fiberglass or gel coat surface to remove the defects with most automotive polishes.
This is because almost all automotive alternatives are designed for painted surfaces.
Using a specifically designed boat polish that is designed for the marine environment will provide a much better experience.
Not only will it cut into the surfaces easily but many provide additional protection qualities that protect against UV rays, water spots and much more.
Machine v Hand Polishing a Boat
The application of boat polish can be very tiresome depending upon the size of your boat.
Therefore, it is recommended that you use a buffer to apply the polish as it will allow you to cover more of the surface faster as well as cut into the fiberglass or gel coat more easily.
Most professional boat detailers recommend that you use limited pressure and set the buffer to spin at around 1,200 to 1,500 RPM in order to cut into the dull surface.
Of course, there is no reason why you cannot use your hand to apply the polish.
Some people may use a mixture of machine or hand polishing for those tricky to reach areas.
However, if you have a large boat, it is going to take a lot of time and effort.
How to Restore A Fiberglass Boat
We recently took on a fiberglass boat restoration project where the boat had suffered heavy oxidation.
Our task restores the finish and removes the decal that had been glued onto the boat by the previous owner.
Below is a picture of the boat before using a buffer and boat polish.
To restore the dull finish to the boat paintwork, below are the methods we used:
Thoroughly Clean The Boat. Using warm water and a strong washing solution, wash every inch of the boat removing all dirt and debris. Failing to remove dirt can result in scratches at step 2 where the dirt gets in between the polishing pad and fiberglass.
Polishing Using a Buffer Machine. Using a buffer machine of your choice (rotary or dual action) add four dots in a square shape onto the pad and rub it onto the boat (switched off). After it rubbed in, apply the buffer machine onto the work area and work the polish until it turns clear. Wipe off the residue to display results, if it's not shiny enough, redo the area until you are happy with the finish.
Wax to Provide Protection. Waxing the fiberglass bodywork provides protection against oxidation and stains. Regular waxing can see the gloss finish lasting over 10 years without needing a buffer. Apply the boat wax in a circular motion and let it haze up before removing the residue.
Below are some results after restoring the fiberglass on the neglected boat.
As you can see, the painted name "Jemima" that was glued onto the boat was successfully removed using a strong abrasive compound.
Once we had completed the project, we put it up for sale and made good profits on the boat, which we were pleased about.
Seeing the end results is fairly impressive too and we strongly recommend using any of the polishes within this article to achieve the same finish.
Buffing Compound Strength
Removing the oxidation from your boat does not require the strongest polishing compound on the market.
Buffing the boat should always begin with the least abrasive, to begin with as you don't want to remove a large layer of the clear coat straight away.
For tougher stains or boat signage, you may require a stronger abrasive to restore the color and shine.
The ease of restoring the shine is unbelievable but many people choose not to and lose out on the resale value of their boat.
Conclusion
Polishing your boat can be a time-consuming task but with the correct boat polish and technique, you can achieve impressive results.
All of the recommendations are highly rated among boat detailing professionals and are relatively cheap too.
If you have multiple surfaces such as fiberglass, gel coat or aluminum surfaces, it may be worthwhile getting specific polishes.
This will allow you to tackle any form of oxidation or other defects with ease.