Using a quality boat wax to restore shine and increase the protection of your boat is highly recommended each year when its out of the water. Without protection, a fiberglass boats can suffer oxidization, which will result in a dull appearance.
The best boat wax is the Meguiar's M6332 Flagship Premium Marine Wax that provides a long lasting polymer protection against UV damage and wear.
Application of wax for a boat can be achieved by hand or using a buffer machine with the latter being the best option. We recommend that you avoid automotive waxes as they do not provide the qualities of a true boat wax.
Best Marine Wax For Boats
A boat wax needs to be more focused to the marine environment compared to the automotive alternative. This also includes additional UV protection and features that are dedicated to fiberglass and gel coat surfaces found on most boats.
Restoring your boats appearance with a boat wax that will enrich the color and shine is highly recommended. However, most waxes provide a long lasting protection layer that maintains the appearance.
Hopefully you will understand the benefits of waxing your boat but finding the best within a saturated market can be difficult. Below is a list of the best boat wax that protects and restores shine for gel coat surfaces and fiberglass boats.
Meguiar's Flagship Premium Marine Wax

Meguiar's is one of the most popular detailing companies in the world and cover both the marine and automotive industry. This M6332 Flagship Premium Marine Wax is designed for fiberglass and gel coat surfaces to provide a long lasting polymer protection and deep gloss.
Not only does this boat wax protect against UV damage and wear but it will also remove light oxidation and fine scratches. In terms of application, you can apply this wax by hand or by use of a buffer machine.
Overall, it is the best boat wax for the money and will instantly provide results when applied thoroughly. As with the majority of marine waxes, this can also be used on RV's too as an added bonus.
Check it Out
3M Marine Ultra Performance Paste Wax
The 3M Marine Paste Wax has been designed to provide your boat with a high gloss, wet look with exceptional durability. It is an easy on and easy off formula that will provide long lasting UV protection thanks to the unique 3M polymer technology.
3M state that you can use their Marine Ultra Performance Paste Wax on fiberglass gel coat, topside paints, painted aluminum and metal parts of the boat.
As with the Meguiar's formula, it can be applied via hand or machine buffer with excellent coverage. As it is a carnauba wax base, it provides a distinctive wet look with added protection.
Overall, it is the best boat paste wax that provides a high gloss result but it is on the pricey side of things. Many people prefer a paste as opposed to a synthetic formula but this is primary based upon your personal preference.
Check it Out
Collinite Fiberglass Boat Cleaner & Boat Wax

The Collinite Cleaner and Boat Wax combo package is aimed at those on a budget and can be used for marine, RV and aeronautical use. It does exactly what is says on the bottle and that is a Fiberglass Boat Wax and Fiberglass Boat Cleaner.
In terms of the boat wax qualities, it is designed to be durable and easy to apply with a powered buffer machine. Due to the cheapness, you can apply a double coating of this wax for the ultimate protection.
When it comes to the complete process of detailing your boat, its important that the surface is completely clean before applying the wax. Therefore, for a low cost you get both a cleaner and wax for fiberglass boats, which is great value for money and ensures you get the perfect result.
Check it Out
Boat Bling Quickie Sauce Quick Wax

Not everyone has the time to pull their boat out of the sea and spend hours detailing. However, the Quick Sauce detailing product by Boat Bling is a fast and effective wax that provide the protection of wax in half the time.
You can use this quick detailing wax on fiberglass, painted surfaces and vinyl decals and in terms of application, it hazes up, which makes wiping it clear much easier.
Overall, the Boat Bling Quickie Sauce Quick Wax is ideal for those that want to quickly wax their boat. However, at The Marine Lab, we do feel that it will not be as durable or long lasting compared to the alternatives within this article.
Check it Out
Mothers Marine Synthetic Wax

Mothers is a popular detailing in the automotive detailing world and this synthetic boat wax is the cheapest within this article. The formula is very similar to the Meguiar's alternative as its a polymer wax that also helps remove light oxidation.
The automotive waxes by Mothers are known for their durability and this marine boat wax is no different. The synthetic formula holds up well against the harsh saltwater environment for a long lasting shine.
If its a cheap boat wax that provides long lasting protection that you are trying to find, the Mothers Marine Synthetic wax is the answer.
Check it Out
Boat Wax Buying Guide
Generally, before waxing your boat you should thoroughly clean and remove the debris and particles that could have piled up during boating in the sea. Below are few steps to guide you on cleaning the boat before waxing:
Make sure the boat is out of the water and parked on a flat area
Spray the boat so that you can remove some debris. Spray from the top going down
Wipe using a material that will not damage your fiberglass. Use a soft scrub and a boat brush so that you can clean quickly
Completely clean every inch of the boat and dry before applying wax
Once the boat is completely free of any debris, you have the choice to polish your boat prior to waxing. If you notice any marks on the boat, applying a boat polish to the work area will remove the defect. We highly recommend you purchase a boat buffer to apply the wax (and polish) in order to make your job much easier.
Importance of Waxing
A boat requires good maintenance so that it can serve you for a long time and maintain its appearance. Therefore, waxing is a step that you cannot avoid. Despite the fact that the boat is always on water, it is also subjected to UV radiation.
Applying a layer of the wax reduces the chances of damages. Make sure to use the compound wax or boat polish that has UV protection. Additionally, it also gives your boat a shiny and pretty look for years to come and reduces the friction between the water and boat, giving you a smooth movement in the water.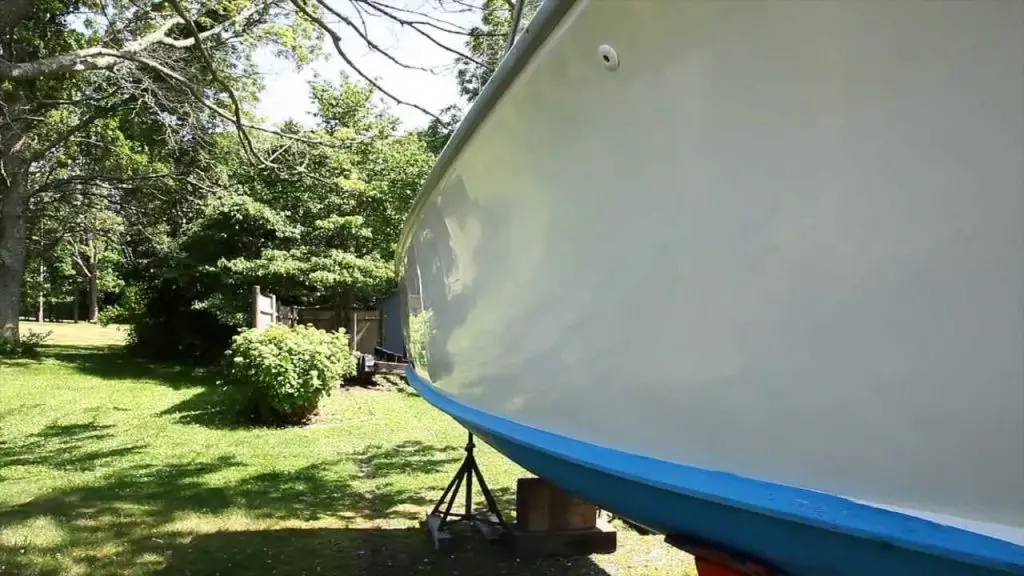 Fiberglass Boat Wax
For those that have a fiberglass boat with a gel coat, its vital that you provide adequate protection. The gel coat looks great from new and provides a large amount of shine but it can suffer badly from UV damage and turn the finish to a chalky look and feel.
The problem is that over the time as the sun damages your boat, and the wetness can erode. Nevertheless, if the boat changes in appearance you can bring the initial condition by using marine polish.
Automotive vs Marine Wax
The marine wax is specifically designed for the gel coat and the linear polyurethane surfaces, which are chemically different from automotive paints. Polyurethane coatings and modern gel coatings are hard and more water resistant compared to the automotive paints.
Their special chemical compositions require the special ingredients, which is specific for marine use only. The automotive products cannot achieve the same results on the boats and the protection levels will be far less.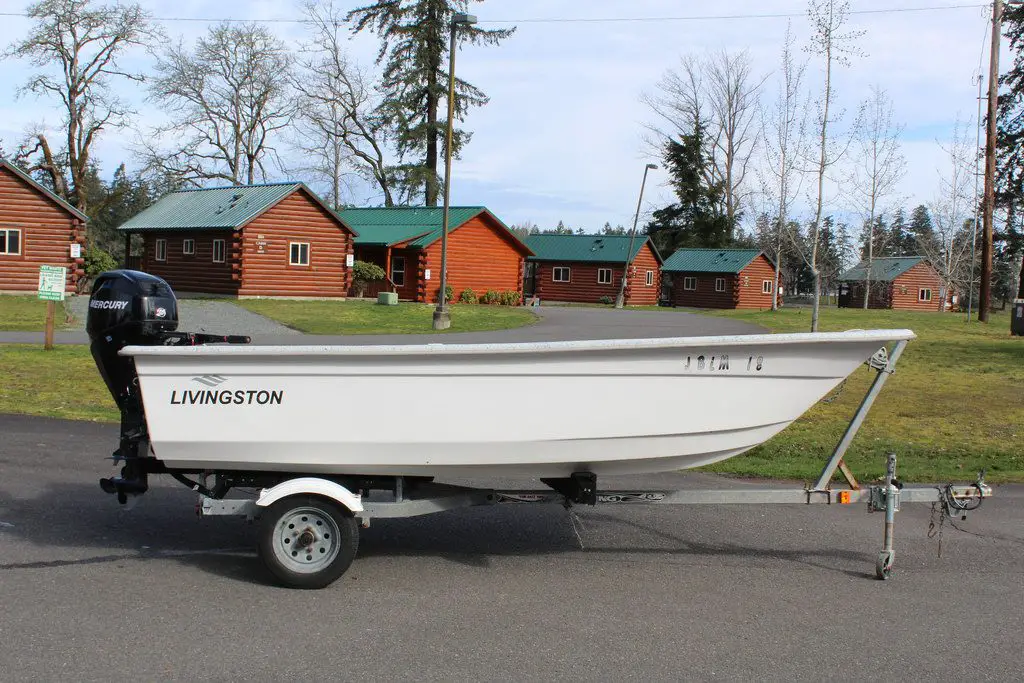 Tip For Boat Waxing
Remove debris and buff soon after washing. When you wax without washing, you will seal the dullness and imperfections, which took root over the summer.
Put the buffer aside then make the base coat of the wax a very thick paste. The thick pasty wax is labor intensive but is long-lasting and will protect your boat for a long period.
After you have applied the base coat. You will have to apply another third coat with a liquid product. Although it appears to be great, it does not last for a long time. After a few weeks of the rain and the sun, the gleam will disappear. Therefore, every weekend you should plan to apply it. This will make it shine and protect the base coat wax.
After the trip in saltwater, make sure you spray your boat with clean fresh water, even if it is not dirty. This is because once the saltwater is dry it will leave some white crystals behind. The particles can magnify the UV light and the rays from the sun, which are enemy of the wax. Therefore, the salt particles will increase the wax breakdown.
In case you spot some stains or debris, and you need to use a cleaner or a soap that has strong degreasers, immediately wax the gel coat again. Some of those cleaners contain acid, to remove rust and other tough stains. The acid can also melt down all the protective coating wax from the fiberglass. If you fail to replace it then oxidation will set in.
Make sure to store your boat under a shade. Keep it away from trees because they fall leaves. It is important to remember that the UV light destroys all the wax on your boat than anything else. Therefore, parking next to tall building or fence, will minimize direct sunlight and extend the lifetime of the wax.
Conclusion
Finding the best marine wax can be a confusing and challenging activity. There are many industries and possible options that you can choose. The challenge is there are very few boats, which exist and can be waxed or washed according to their nature. Generally, it is very difficult to find a boat made from the gel coat materials or fiberglass. However, some of the best boat wax include