Restoring your fiberglass hull back to life will require a boat buffer in order to work the cutting compound in. Boat polishing is not something you should do by hand as it will require a serious amount of elbow grease and time.
The best boat buffer is the Rupes LHR 21 Big Foot Random Orbital Polisher, which makes working on large boats much easier thanks to a larger orbit for fast cutting.
Whether you are preparing your boat for summer or attempting to increase the value of it, polishing is the best route to take. You will need a boat polish for fiberglass and a few hours of  your life to bring the fiberglass back to its original form.
Best Boat Buffers For Polishing
The two main stages of buffing your boat involve using a compound and working it into the gelcoat to remove any oxidization and other defects. Once complete, you will then want to lock in the shine and protect it with a quality boat wax.
If you are a beginner in terms of buffing a boat, you will want to be careful of any PVC or decals. The boat buffer with a strong cutting compound will leave a semi-permanent marking or tear the decals, which is something to avoid.
Investing into a high quality boat buffer is highly recommended, especially if  you own a bigger boat. Below is a list of the best boat buffers that will restore your fiberglass hull shine to its original condition.
Rupes LHR 21 Mark II Big Foot Buffer
If budget is not an issue as such and you want the best boat buffer money can buy, the Rupes LHR 21 Big Foot polisher is ideal. The name "Big Foot" may indicate what this boat buffer is about and it is due to the large 21 mm orbit, which is great for large surfaces such as fiberglass hulls.
It is the improvement to the popular predecessor with an increased starting RPM of 2,500 and a higher RPM at 4,700. This has the result of a faster cutting process as well as a superior finish when using the correct cutting compound.
As this buffer is designed to work with large surfaces, it has a two handed handle and rubber coated housing to provide the user with maximum control. It also makes it much easier to use with a variable speed dial located horizontally for easy adjustment.
It is by no means a cheap tool but this is the price you have to pay for the best boat buffer. The oversized orbit allows for a larger pad, which makes polishing fiberglass much a less painful and time consuming process.
Check it Out
Meguiar's MT300 Dual Action Variable Speed Polisher
The MT300 Model by Meguiar's is a very popular buffer that is used by both automotive and boat detailers. It has been ergonomically designed to reduce user fatigue, which if you are buffing a large boat, is a big factor to consider.
Other clever features include a digital torque management that adjusts the torque of the buffer to match what is required to maintain the loaded speed. It also has a adjustable speed dial for switching between speed of between 3,000 and 7,500 orbits per minute. This gives you much more control and you will find it much easier to achieve the perfect finish.
Meguiar's offer a range of other models that start to creep up in price but the MT300 is all you will need to buffer boats. It is the best boat buffer for the money and the lightweight ergonomic design is perfect for working with large boats.
Check it Out
PORTER-CABLE Variable-Speed Polisher
The Rupes alternative and even the Megiuar's MT300 will be out of budget for many boat owners but there is still a premium alternative. Porter Cable is a well known brand in the tool industry and their random orbit electric buffer is highly rated.
It is an electronic buffer with a variable speed dial from 2,500 to 6,800 orbits per minute for the perfect finish. A great feature which is not found on the others is the fact you are able to adjust the handle to a different position. This is an excellent idea because if you need to polish a certain area, switching the handle to the other side can make things much easier.
Overall, it is a top rated boat buffer that will certainly restore any fiberglass hull with the correct polish and technique to work it into the boat.
It lacks a few features compared to the more expensive alternatives but if you are new to polishing, you are very unlikely to purchase the most expensive buffers anyway. The Porter Cable is excellent for beginners and offers excellent value for money.
Check it Out
Griot's Garage 10813STDCRD Buffer
Griot's Garage is another big name is the detailing world with a range of buffers available. The 10813STDCRD model is the most popular with the choice of a 10 foot or 25 foot cord where the latter may come in useful for large boats.
It uses a powerful 7 amp, 850 watt motor as a source of power that produces 6,800 orbits per minutes with 6 speed settings to chose from.
Overall, it is a powerful boat buffer but its pricing point is similar to the MT300 by Meguiar's and that will win the battle of the two buffers. However, that is not to say the Griot's Garage buffer isn't worth a mention because its a great all round buffer.
Check it Out
WEN 10PMC Polisher Machine

For those that want to spend as little as possible but still have a good chance of fixing up their boats dull bodywork, the Wen 10PMC is a good option. It produces 3,200 orbits per minute from a 0.75 amp permanent magnet motor, which is more than enough to working a cutting compound into the boat.
The design is not the normal boat buffer style as it is a dual handle grip for maximum control. This does however make thing a bit harder for tight spaces or if you need to stretch in order to reach a certain part of the boat.
Overall, it is a cheap boat buffer with a low power output, which means it will be safe to use by beginners. There is a whole range of cheap knock-offs but WEN is a trusted brand and you can confidently use this boat buffer.
Check it Out
Boat Buffer Buying Guide
A dull fiberglass hull of your boat will never look nice and will devalue your boat when you come to sell it. Using a boat buffer and a proper cutting compound, you can get the hull back to it original shiny color in just a few hours and some elbow grease.
Long term investment in the correct tools will bring greater rewards further down the line. A buffer is something that you can use on your boat every year if you want and of course on your car or truck to remove any defects. Below are some factors that you should consider before jumping at the first boat buffer you come across.
What Else Do I Need To Buffer A Boat?
Alongside the boat buffer, there are other tools and products that you will require. The obvious being a cutting compound that will easily cut through the oxidization and other defects to reveal the shiny gel coat. Again, it is worth spending that little extra for the bigger brand that would have spent millions on research and development on everything to do with marine polishes.
You will also need a compounding pad and a polishing pad for finishing. The compound pad is a firmer pad, which makes it easier to cut into the gelcoat compared with softer polishing pads, which is simply for the finer stages of polishing or waxing.
For wiping any residue, a number of high quality microfiber towels will be very useful. Once you have everything, you are ready to get to work with your boat buffer.
How to Polish a Boat
It is very much similar to using a polisher machine for your car. You will need to wash down the boat, remove any dirt clinging onto the buffing space and then dry the surface. It is a very important step to reducing any damage because dirt can get trapped between the buffer and the fiberglass, which will result in scratching.
Once the boat is completely dry, you will want to add a small amount of polish to the pad and simply work the polish into the boat. If it is your first time, its advised to start at a low OPM and work your way to the higher speeds once confident.
You should continue to buff until the haze from the polish turns clear. You can then wipe it with a microfiber cloth and asses the difference where you can then decide if it needs more buffing or not. Below is the result of using a boat buffer on a dull fiberglass hull: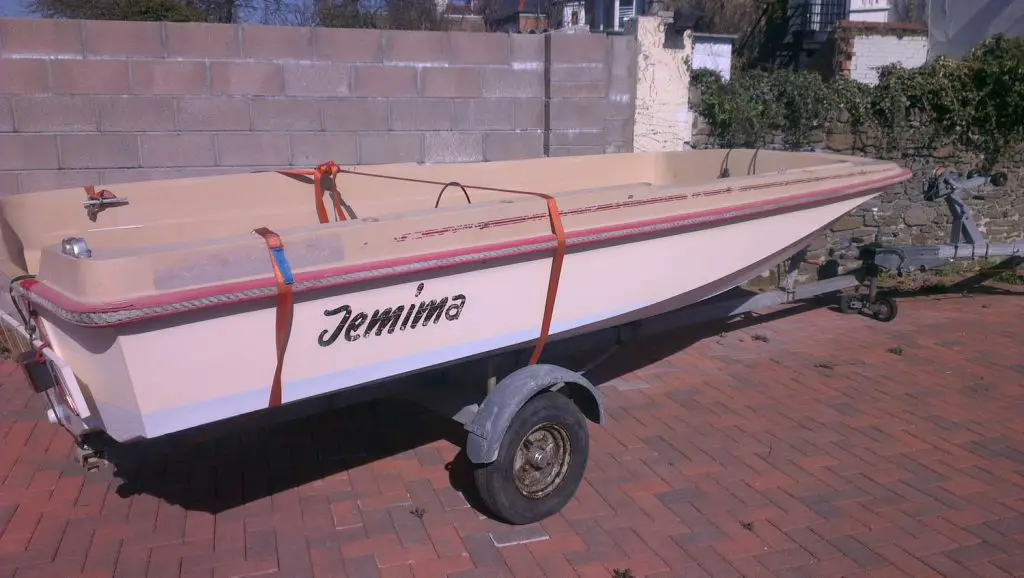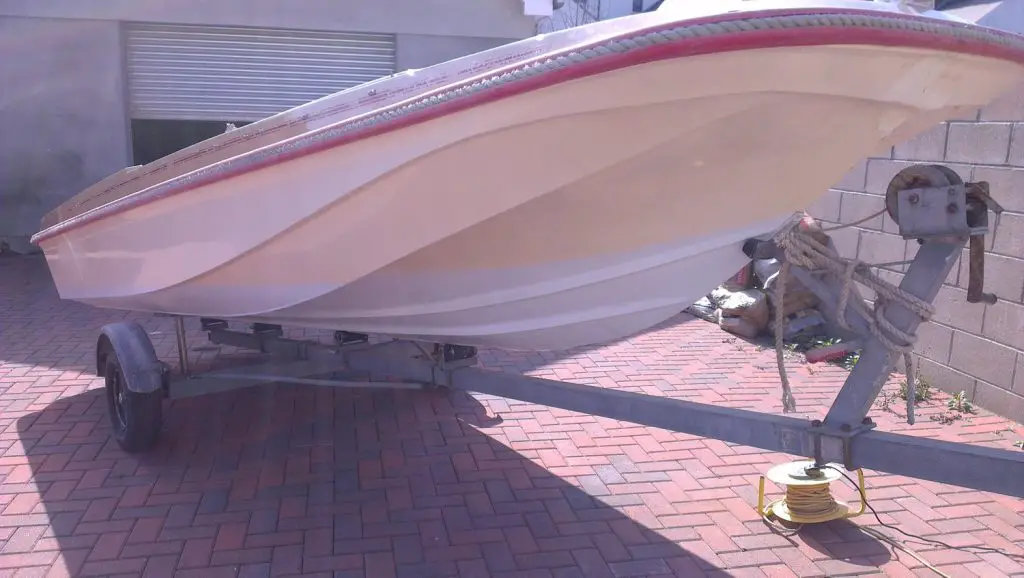 Common mistakes that many people will make are:
Using too much polish
Not working the polish into the area enough
Moving the buffer too quickly
Using the wrong cutting compound
Using the wrong pad
Too fast or too slow RPM
If you are a novice to boat polishing, you may notice you are guilty of some of these mistakes. Luckily, polishing a boat is much more forgiving that polishing a car, which can leave marring marks and other defects when not done correctly.
Conclusion
Get your boat back in tip top condition by polishing it using a boat buffer. It may take a few hours and purchasing the polisher machine may cost a lot of money but its a worthwhile investment that will add value to your boat.
As with any tool, the more you spend, the better features and gadgets you will have to play around with. The Meguiars MT300 and Rupes boat buffers are highly recommended in order to get the best finish to your boats fiberglass hull.