This page contains affiliate links. This means that we may get a small commission for recommending products, if you choose to click on something and buy it. This does not cost you anything, but we wanted to be honest and let you know!
(Last Updated On: April 10, 2022)
When it comes to detailing your boat, you will require a boat buffer to work the polish or wax into the hull.
Attempting to polish your boat by hand will take a serious amount of time and effort, which is why a polisher for your boat is a great investment.
The best boat buffer is the BLACK+DECKER 6-inch Random Orbit Waxer, which makes working on large boats much easier thanks to a comfortable two-handle design.
Whether you are preparing your boat for summer or attempting to increase the resale value, polishing it is highly recommended.
You will need a suitable boat polish and a few hours of your life to bring the fiberglass back to its original form.
Best Polisher For Boat
The two main stages of buffing your boat involve using a compound and working it into the gel coat or fiberglass in order to remove any defects.
Once complete, you will then want to lock in the shine and protect it with a quality boat wax.
If you are a beginner in terms of boat detailing, you will want to be careful of any PVC or decals.
The combination of a boat buffer and a strong cutting compound will leave a semi-permanent marking or tear the decals, which is something to avoid.
Investing in a high-quality boat polisher machine is highly recommended, especially if you own a bigger boat.
Below is a list of the best boat buffers that will restore your gel coat or fiberglass hull to its original condition.
BLACK+DECKER 6-inch Random Orbit Waxer
The Black & Decker 6-inch Random Orbit Waxer/Polisher is our "Best Pick" for an orbital buffer to detail your boat.
Black & Decker is a household name. For over 110 years, their name has been on the products we use in our homes, garages and are an ever-present staple on our tool bench.
The Black & Decker Random orbit waxer features:
        Runs at 4,400 orbits per minute
        A comfortable two-handle design reduces fatigue
        Ten-foot cord for greater mobility
        Includes foam applicator for easy application of wax or polish
The Black & Decker runs on a random orbit at 4,400 orbits per minute, to give you a professional finish. Use this buffer to detail everything from small projects to your car or boat.
This buffer will provide a smooth, swirl-free finish. The two-handle design gives you a secure and comfortable grip that helps make the job quick and easy. 
Meguiar's MT300 Dual Action Polisher
The MT300 Model by Meguiar's is a very popular buffer that is used by both automotive and boat detailers.
It has been ergonomically designed to reduce user fatigue, which if you are buffing a large boat, is a big factor to consider.
Features of the Meguiar's MT300 Variable Speed Polisher include:
Max OPM of 7,500
Starting OPM of 3,000
Adjustable speed dial
Digital torque management
Lightweight and ergonomic design
The clever digital torque management is a game-changer in terms of boat detailing.
It works by automatically adjusting the torque of the buffer to match what is required to maintain the load speed, which will help you buff the surface more easily.
Overall, it is the best boat buffer for the money with the backing of one of the leading detailing companies within the industry.
DEWALT DWP849X Boat Buffer
The Dewalt DWP849X is one of the most popular boat buffers available and built by the reputable Dewalt brand.
It uses a powerful 12 amp motor and an all ball bearing construction for maximum performance and durability.
Other features of the Dewalt DWP849X boat buffer includes:
Max OPM of 3,500
Variable speed buffer with soft start functionality
Includes a three-year limited warranty
Weighs 6.7 LBS
Wool ingestion shield
Spindle lock button for quick pad changes
Electronic module maintains the speed under load
Overall, the Dewalt DWP849X is a great option for buffing fiberglass or gel coat boats and is relatively cheap when compared to the alternatives.
As with all Dewalt products, this buffer has been built to last. Design features such as the wool ingestion shield, ball bearing motor and other components will enhance the longevity of the buffer.
PORTER-CABLE Variable Speed Polisher
The Rupes alternative and even the Megiuar's MT300 will be out of budget for many boat owners but there is still a premium alternative.
Porter-Cable is a reputable brand and its random orbit buffer is highly rated.
Features of the PORTER-CABLE Variable Speed Polisher include:
Max OPM of 6,800
Starting OPM of 2,500
Variable speed dial
Ergonomic grip
Powerful 4.5 amp electric motor
Ability to adjust the handle to a different position
A great feature that is not found on the others is the fact you are able to adjust the handle to a different position.
This is an excellent idea because if you need to polish a certain area, switching the handle to the other side can make things much easier.
Overall, it is a great boat buffer for detailing that will certainly restore any fiberglass hull with the correct polish.
It lacks a few features compared to the more expensive alternatives but if you are new to polishing, you are very unlikely to purchase the most expensive buffers anyway.
The Porter-Cable is excellent for beginners and offers great value for money.
WEN 10PMC Polisher Machine

For those that want to spend as little as possible but still have a good chance of fixing up their boat's dull bodywork, the Wen 10PMC is a great option.
It produces 3,200 orbits per minute from a 0.75 amp permanent magnet motor, which is more than enough for working a cutting compound into the boat.
Other features of the Wen 10PMC buffer for boats include:
Dual handle grip for maximum control
Heavy-duty housing to withstand impact
Includes accessories to get you started
The molded carrying case also included
10-inch polisher
Overall, it is a cheap boat buffer with a low power output, which means it will be safe to use by beginners.
There is a whole range of cheap knock-offs but WEN is a trusted brand and you can confidently use this boat buffer without causing damage.
Avid Power Polisher

(6-inch)
The Avid Power Polisher has a variable six-speed control that has a powerful motor for polishing and removing swirls, scratches and defects from your boat. You can also use the Avid to sand wood or metal.
The Avid Power Polisher features:
Variable speeds from 1,500 to 6,800 rpms
Six-speed control dial for adjusting speeds
Detachable D-handle for a comfortable grip
Easy On/Off Switch & Soft Start
Comes with 3 upgraded polisher pads 
The rubberized body of the Avid Polisher, along with the adjustable handle give you a comfortable grip and non-slip control during operation.
Easy to use, even if you are a beginner, and powerful enough for a professional, the Avid will bring the luster out in your boat's finish. 
Boat Buffer Buying Guide
A dull fiberglass hull of your boat will never look nice and will devalue your boat when you come to sell it.
Using a boat buffer and a proper cutting compound, you can get the hull back to its original shiny color in just a few hours and some elbow grease.
Long term investment in the correct tools will bring greater rewards further down the line.
A buffer is something that you can use on your boat every year if you want and of course on your car or truck to remove any defects.
Below are some factors that you should consider before jumping at the first boat buffer you come across.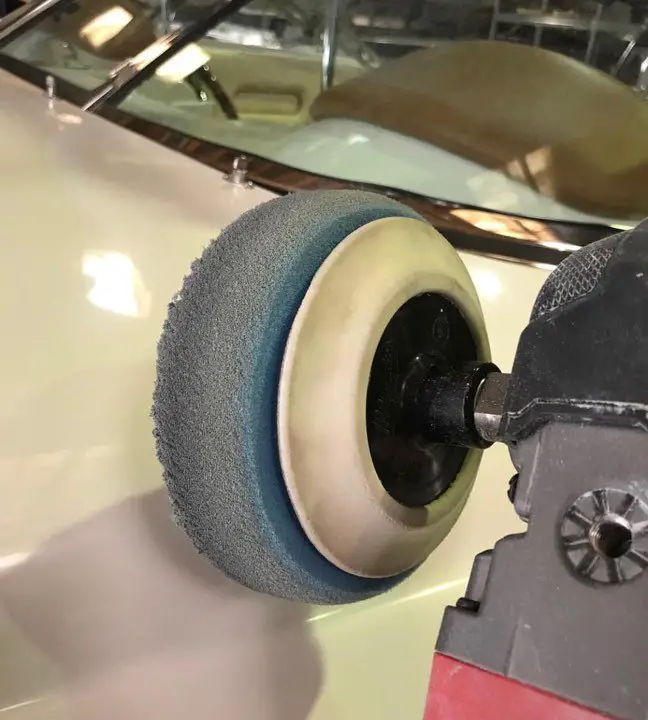 What Else Do I Need To Buffer A Boat?
Alongside the boat buffer, there are other tools and products that you will require.
The obvious being a cutting compound that will easily cut through the oxidization and other defects to reveal the shiny gel coat.
Again, it is worth spending that little extra for the bigger brand that would have spent millions on research and development on everything to do with marine polishes.
You will also need a compounding pad and a polishing pad for finishing.
The compound pad is a firmer pad, which makes it easier to cut into the gelcoat compared with softer polishing pads, which is simply for the finer stages of polishing or waxing.
For wiping any residue, a number of high-quality microfiber towels will be very useful. Once you have everything, you are ready to get to work with your boat buffer.
How to Polish a Boat?
It is very much similar to using a polisher machine for your car. You will need to wash down the boat, remove any dirt clinging onto the buffing space and then dry the surface.
It is a very important step to reducing any damage because dirt can get trapped between the buffer and the fiberglass, which will result in scratching.
Once the boat is completely dry, you will want to add a small amount of polish to the pad and simply work the polish into the boat.
If it is your first time, it's advised to start at a low OPM and work your way to the higher speeds once confident.
You should continue to buff until the haze from the polish turns clear.
You can then wipe it with a microfiber cloth and asses the difference where you can then decide if it needs more buffing or not.
Below is the result of using a boat buffer on a dull fiberglass hull:
Common mistakes that many people will make are:
Using too much polish
Not working the polish into the area enough
Moving the buffer too quickly
Using the wrong cutting compound
Using the wrong pad
Too fast or too slow RPM
If you are a novice to boat polishing, you may notice you are guilty of some of these mistakes.
Luckily, polishing a boat is much more forgiving than polishing a car, which can leave marring marks and other defects when not done correctly.
Conclusion
Get your boat back in tip-top condition by polishing it using a boat buffer.
It may take a few hours and purchasing the polisher machine may cost a lot of money but it's a worthwhile investment that will add value to your boat.
As with any tool, the more you spend, the better the features and gadgets you will have to play around with.
The Meguiars MT300 and Rupes boat buffers are highly recommended in order to get the best finish to your boats' fiberglass hull.
How often should I wax my boat?
At least twice a year. You could wax it as often as you feel your boat needs waxing, but twice a year will prevent hazing, chalking, fading, and any other type of damage the sun can bring.
What causes oxidation on gelcoat?
The oxidation makes the color of your boat fade, and the surface becomes somewhat chalky. UV light exposure causes that, but it can also have other causes like chemical reactions to different substances in the environment.
Can faded gelcoat be restored?
Yes, it can. You will have to use a good gelcoat restorer, particularly one that is suitable for fiberglass. Applying it will bring back the vibrant color and shine.
Should I wax the bottom of my boat?
No, you should never wax the bottom of your boat. The wax does not allow the water to stick to the bottom surface and, therefore, it only creates more friction during motion.