An inflatable towable tube is fun for all the family and requires no athletic ability apart from hanging on. A towable tube is the easy way to be behind a boat compared to water skiing or wake boarding and offers excellent fun for both adults and children.
The best towable tube is the SPORTSSTUFF 53-2223 Super Mable with heavy duty EVA foam pads and multiple grab handles for more of a chance to hold on.
Due to the heavy duty use in the water, inflatable towable tubes are made from high quality nylon covers with heavy gauge PVC bladders. This means they are durable enough for you to enjoy hours of high speed water sport fun.
Best Towable Tubes for Boating
The shape of the majority of tubes targets speed upon the water when inflated correctly. Tubes that are not correctly inflated will not ride the waves properly and will cause drag thus slowing you down. Even worse, the tube can become damaged from becoming distorted by the crashes of the waves.
Over inflation is also bad for the tube as it causes stress on the PVC bladders and cover seams. In hot weather, the air will expand causing the PVC to stretch. Cheaper inflatable towables will not be able to handle this sort of damage.
The enjoyment from being towed on an inflatable is unreal and totally worth the money. Below is a list of the best towable tubes where both adults and children can enjoy on the water.
SPORTSSTUFF 53-2223 Super Mable Towable

The SportsStuff 53-2223 is as you can tell from the checkered flag an inflatable towable for those who seek speed. The backrest means that the riders are not going to be flung into the water upon boat acceleration.
The design of the Super Marble 53-2223 inflatable is excellent, the bright orange will stand out quite clearly in the water when being towed. It is a fairly unique inflatable towable as you are able to tow it from the front and back for a different experience.
It is a 3 person towable tube with multiple riding positions and grab handles to hold onto. The material is heavy-duty K80 PVC bladder and double stitched full nylon cover with self bailing drain vents.
Overall, it is the best towable tube for adults as there are multiple grab handles and a backrest, which is good for adults that are not as fit as their children. It is also more spacious than many other towable tubes, which makes a big difference.
Check it Out
AIRHEAD HD-3 Hot Dog Towable Tube

A Banana has a competitor in the form of a Hot Dog towable. The Hot Dog towable is designed for up to three riders with separate seats and handles to hold onto.
The Hot Dog is towable by a boat with the heavy duty "Kwik-Connect" to make it very simple to connect. The inflatable itself has three 30 gauge vinyl air chambers that are protected by a double stitched 840 denier nylon cover.
There is a two seat version of the Hot Dog towable but if you are planning on having two big adults, you may find it a bit too small. The Hot Dog Inflatable comes with 1 years limited warranty to give you piece of mind if anything were to happen.
Overall, this towable tube provides excellent fun for both children and adults. The high quality material and well designed layout of the 18 foot hot dog can provide hours of enjoyment out at sea. It is the best 3 person towable tube with handles and offers great value for money unlike many other 3 person towable tubes.
Check it Out
AIRHEAD AHM2-2 Mach 2 Towable

Another inflatable by AIRHEAD is the AHM2-2 Mach Tube that provides seating for two people and they are recessed for less movement. This may be an issue however for larger adults because comfort may become an issue with less movement.
The secure seating means that you can feel more secure as they bounce across the waves with four handles to use for grips. The whole inflatable tube is 69 x 69 inches in size and made from high quality PVC and nylon.
Overall, it is the best 2 person towable tube and provides great fun on the water as well as comfort thanks to the inflatable seat bottoms. It is also reasonable priced compared to other competitor tubes and worth the money.
Check it Out
O'Brien Super Screamer Inflatable Tow Tube

The O'Brien Super Screamer is their latest towable tube that is a large 70 x 70 inches in size with six handles with EVA knuckle guards. This is a "laying down" inflatable and not a sitting down inflatable which may put people off straight away.
The Super Screamer features a 26 gauge PVC bladder that ensures both buoyancy and durability whilst being towed by a boat. The Boston valve that comes as standard enables quick inflation and deflation of the inflatable.
A towable that you can lie down on allows the design to be more curvy. This means that whilst in the water, the ability to get some air from a wave is more probable and there is less drag.
It is suitable for up to 2 rides and it is certainly a fast towable tube that will get serious speed on the water. For peace of mind, it does come with a one year limited warranty and the backing of O'Brien, who are well known for build quality.
Check it Out
AIRHEAD AHGF-3 G-Force Inflatable Towable

The competition to the O'Brien towable is the AIRHEAD AHGF-3 G-Force, which is even larger at 78 x 75 inches in size. It also has the Boston valve and high quality nylon covers for heavy duty use on the water.
With six handles and the capacity for 3 full sized adults, the G-Fore inflatable can travel through the water effortlessly. Whilst being towed by a boat, this inflatable has topside stabilizer fins to cut through the water with less drag.
The AIRHEAD 3 G Force Inflatable Towable is a popular choice and is known for being incredibly durable even when used in rough conditions. It is great for both children and adults to ride on and includes a speed safety valve for fast inflation and deflation.
Check it Out
Inflatable Towable Buyers Guide
There are several factors that come into play before going out and purchasing one. For riders that are not necessarily strong swimmers, its important that they feel safe whilst being towed by a boat in the water. Towables that have depth in the seat and are recessed when they are sitting down are best.
Fast Performance Towable or Comfortable Towable?
Performance designed inflatable towables will be designed to cut the wave and require additional skill to stay aboard. These will usually be in the shape of a wedge/curve with a harder plastic to reduce drag within the water.
A family friendly comfort towable are usually more stable in the water and easier to stay aboard. The seating position is usually deeper meaning that the rider can be more steady and have a foam/inflated seating area for comfort.
Additional Gear for a Towable
All riders should where inflatable life jackets when on board of a towable.
Have a fast inflating air pump for inflated towable tubes.
Flags to indicate to other boat users that you are towing an inflatable
Heavy duty rope to tow the inflatable from the boat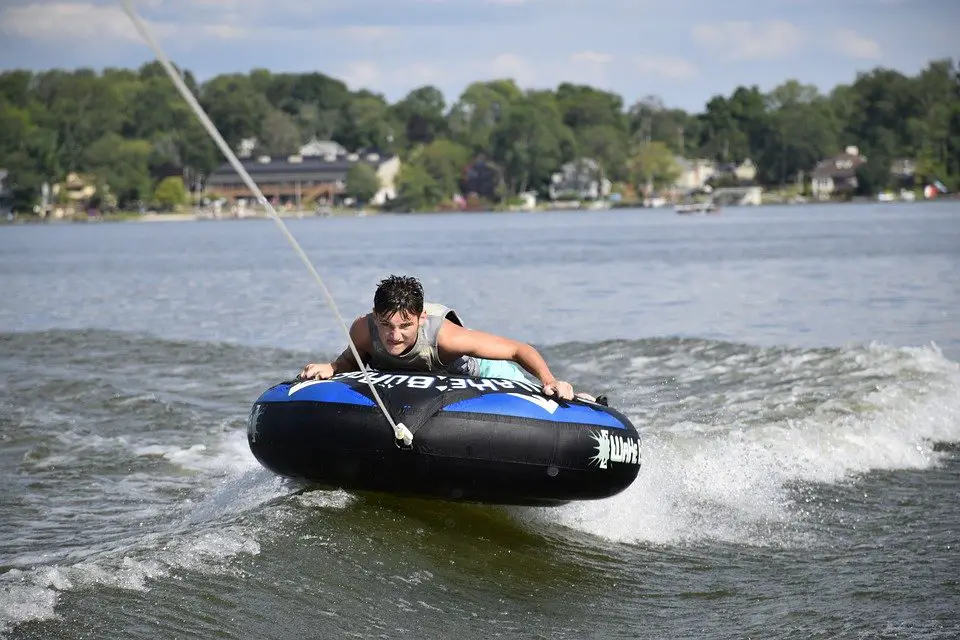 Increase the Lifetime of Your Towable
They are premium water sport products that you don't want to be buying every summer because they are not cheap. Tips to increase their life span are the following:
Do not leave them in the sun too long as the air inside will expand and stretch the plastic welds
Fix air leaks from ripped plastic properly before they increase in size
Always clean the tube and cover before deflating without using harmful products
Preventing the Towable from becoming a "Submarine"
A common problem that will ruin the fun but is fixed with the correct technique. With regards to the technique, always accelerate fast with the riders leaning back, which will get the towable on the plane.
If the technique is perfect, you will then need to look at your equipment. For correct setup of an inflatable tube:
Check the the towable is fully inflated
Ensure the tow rope is at least 40 feet long
Ensure the tow rope is hooked onto the correct position (higher is better)
What is the Best Inflatable Towable?
All five inflatables are great fun for being towed around in the sea by a boat. Never buy a cheap inflatable unless you only want it to last one season because they can break fairly easy.
The best inflatable towable in my opinion is the SPORTSSTUFF 53-2223 Super Mable. I find the front and rear tow hitches excellent for a different experience and the back rest is perfect for those who fall off. It also features EVA foam pads underneath the double stitched nylon material to provide comfort on the waves. It's fairly common to become bruised on other inflatable towables but thanks to the extra foam, this risk of injury is reduced.