Kayaking is great fun and the experience is made better when you share it with other people.
A tandem kayak allows yourself and a co-paddler to tackle tough conditions or simply go for a leisurely cruise on the water.
The best tandem kayak is the Ocean Kayak Malibu Two, which provides three seating positions along its 12 feet long rigid construction and is reasonably priced.
For those looking for the best inflatable tandem kayak, the Advanced Elements alternative is a huge 15 feet long convertible inflatable kayak.
Tandem kayaks do have drawbacks but paddling along with the company is completely worth it.
In terms of the construction, there is a variety of styles but the rigid and inflatable tandem kayak is the most popular.
Best Tandem Kayaks
Compared with single kayaks, tandems are far larger in size and will fit two paddlers and even a dog if you wanted to bring them along.
An additional paddler means you have a backup in case one of you becomes ill or injured, additional stability on the water and additional paddling power.
However, the drawbacks of a tandem kayak mean that it does make transporting the kayak harder and you must be able to work in a team when it comes to paddling.
Choosing between the different types of tandem kayaks is primarily due to your budget as they do vary greatly with some offering a whole range of features.
Below is a list of the best tandem kayaks that allow you and a friend to paddling along together.
Ocean Kayak Malibu 2 Tandem Recreational Kayak

The Ocean Kayak Malibu is a 12 feet tandem sit on a top recreational kayak that is suitable for a one, two or two plus a child.
In terms of the important measurements of this tandem kayak, it is 12 feet in length and has a weight capacity of 375 to 425 LBS.
The features of the Ocean Kayak Malibu include:
Three seating position (bow, stern, and middle)
Overlapping footwells
Side carrying handles
2 Comfort seats
Gear straps
Skid plate
3 Colors (Envy, sunrise & yellow)
68 LBS in weight
The best feature of the Malibu kayak it is multipurpose. The different seating positions mean that it can be both a single and tandem kayak and it can be used for a wide variety of kayaking from hitting rough waters to gentle cruises.
If you were going to use this kayak with just a single sitting position, this will mean you have ample space for all the gear you might be using.
This makes it a great tandem fishing kayak when carrying all the gear.
Overall, it is the best sit-on-top tandem kayak and offers excellent value for money when compared against other rigid alternatives.
Advanced Elements Inflatable Tandem Kayak
For those looking for a convertible inflatable tandem kayak then the Advanced Elements kayak is ideal.
It is a huge 15 feet long and has a weight capacity of 550 LBS thanks to 6 chambers within the multi-layer construction of the kayak.
In terms of the features of the Advanced Elements Convertible Inflatable Kayak, they include:
Built-in aluminum ribs
Three layers of heavy-duty material
Pre-assembled
Three seat locations
Seats are adjustable and offer high support
An integrated pressure relief valve in the floor
Molded rubber handles
Paddle holders
Ripstop fabric
Inflatables vary in price hugely and if you are looking for a cheap inflatable tandem kayak, you are best looking at the Intex alternative below.
The Advanced Elements solution is for those looking for a serious piece of kit that is long-lasting and performs well.
This can be seen with the impressive aluminum ribs to define the bow and stern for improved tracking with this kayak.
Overall, it is the best inflatable tandem kayak you can buy and the quality of the construction is of the highest standards and will not disappoint.
BKC TK219 12.2′ Tandem Sit On Top Kayak
The Brooklyn Kayak Company BKC UH-TK219-US is the perfect 3-person kayak for the adventurer family.
This capable craft can accommodate three paddlers at a time or just one. Its design makes it easy enough to be controlled by a single person.
Still, with 440-pound weight capacity and its twelve-foot length, there is no problem for three people to go on their next adventure in this kayak.
This kayak also offers waterproof storage. Safely store your wallet, keys, phone, and other valuables inside the BKC TK219's dual watertight storage hatches.
If you want to go fishing, this kayak is your best friend with four flush-mount kayak fishing rod holders and then another two adjustable rod holders to allow you and your fellow fisherman to keep multiple baited lines in the water at once or just to keep the rods out of your way.

Perception Kayak Tribe

The Perception Kayak is an affordable tandem kayak that comes in a range of sizes ranging from 9.5, 11.5 and 13.5 feet.
They each have a weight capacity of 300, 350 and 500 LBS respectively and are all fairly lightweight too.
The features of the Perception Kayak Tribe include:
Stackable design
Self-bailing scupper holes
Molded-in footwells
Skid plate
Smell molded-in center seat
2 adjustable seats with ventilated padding
Rugged side handles for transportation
Large front and rear open storage
Integrated drink holders
The front and rear open storage features is one of our team's favorite as they make for great locations to store a marine cooler to keep your drinks cool.
These drinks can then sit nicely within the integrated holders. Overall, it is a simple yet fun tandem kayak that offers excellent value for money and has the choice of sizes, which is desirable for those that prefer a smaller kayak.
Intex Explorer K2 Tandem Inflatable Kayak
For those looking for a budget tandem kayak, the Intex Explorer K2 is the solution.
Unlike the alternative inflatable tandem kayaks, it is a fraction of the cost and even comes with a high output air pump for inflating the kayak.
In terms of the dimensions, it is 10.3 feet long, 3 feet wide and suitable for 2 people with a maximum weight capacity of 400 LBS.
Features that are included with the Intex Explorer K2 are:
Adjustable inflatable seats with headrests
Heavy-duty puncture-resistant vinyl
Inflatable I-beam floor for rigidity
Aluminum oars, repair kit and air pump included
Removable skeg
Ergonomic handles at front and rear
Overall, it is a cheap tandem kayak that offers excellent fun and great value for money.
It does lack some features and won't perform as well as the more expensive alternatives but if you are only going to use it once or twice a year, this is the best budget option that will last many years to come.
Tandem Kayak Buying Guide
The use of kayaks for outdoor enjoyment by its fanatics has always been a source of entertainment for many enabling you to power yourself in water.
Kayaks are fun to use and come in a range of types with the single kayaks being the most popular but tandem being more desirable due to the fact you are able to have company.
A tandem kayak is a great way to introduce someone new to the kayaking experience as many may struggle on their own.
Once they have gained experience with someone else on a tandem kayak, they will have more knowledge and will be able to make a better decision when it comes to purchasing a kayak for a beginner.
In terms of tandem kayaks themselves, we have compiled an in-depth buyer's guide to help with your own buying decision as there are many factors to consider.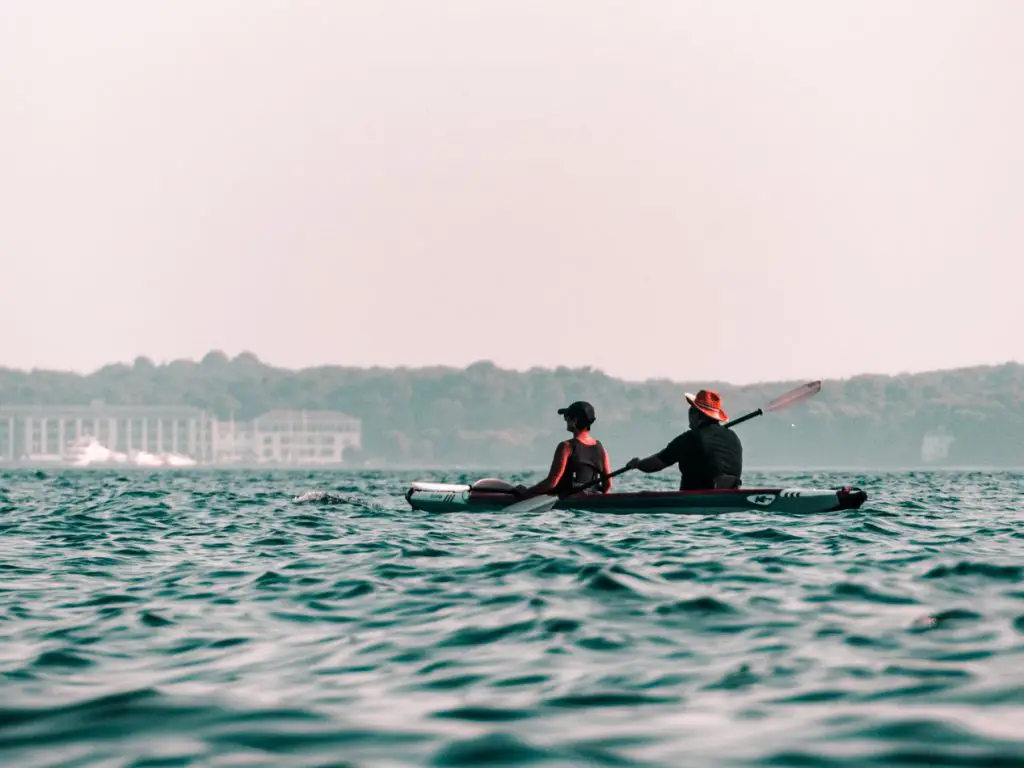 Advantages of Tandem over Single
In contrast to single kayaks, tandem kayaks dramatically improve the ease of kayaking since you have the company to help you with the paddling.
Moreover, in case you get tired, you can always take a break, and your partners do the paddling.
Tandem kayaks also are great when multitasking, for instance, if you want to take some pictures of the pace you are paddling through, being two in the kayak enables you to paddle as your partner takes the pictures.
Fishing too would necessitate having someone on board, especially if the fish you are trying to catch is enormous.
Higher speeds are achieved with a tandem kayak since with two people on board, and teamwork provides more power.
Additionally, tandem kayaks tend to be longer and have a wider stern, thus they would travel faster as you are taking your tour.
In case of an accident or some falls ill, having a tandem kayak can be a great safety backup.
When in a group and somebody gets tired or gets sick, the person can relax in the spare kayak seat as you do the paddling, unlike with a single kayak where towing would have been necessary, and despite it being possible, it would not have been practical.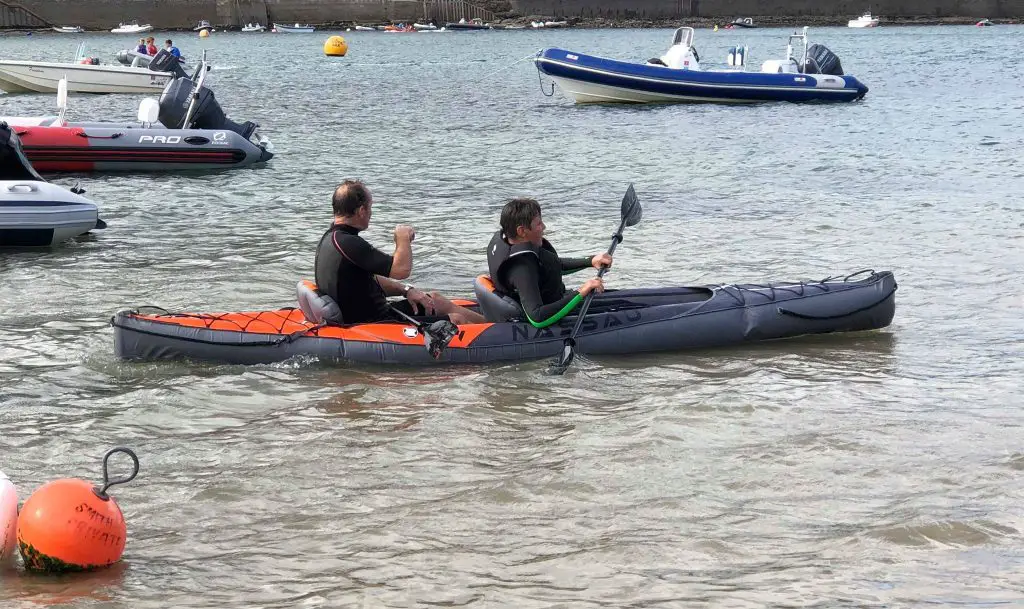 Tandem kayaks can be a great way to take your dog with you on this kayaking tour.
Consider looking for a kayak with removable seats so as leave the dog much more room and enjoy the ride as well as you are taking the trip.
Tandem kayaks can carry 1.5 times more luggage in comparison to a single kayak.
It is a vast space difference thus something you should consider if you have lots of equipment to carry.
However, taking too much gear can significantly hamper the navigation ability of a tandem, so it is critical to always carry weight not close to the tandem's weight capacity.
In comparison to single kayaks, Tandem kayaks are more stable, and this is predominantly important if you are less experienced at kayaking.
Moreover, it is hugely helpful in rougher waters since the higher the stability, the better the ride.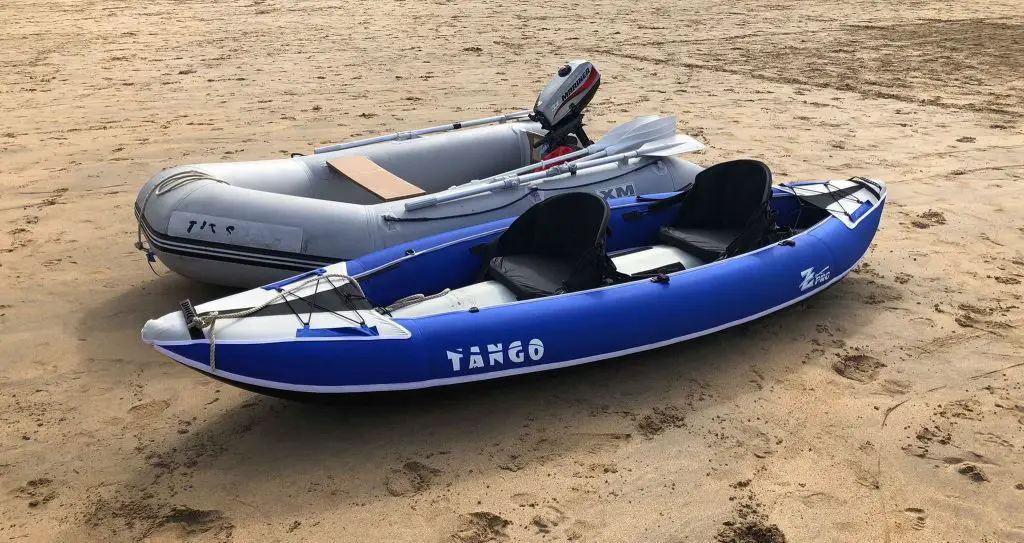 Disadvantages of Tandem over Single
One main issue you is the lack of freedom to paddle in the direction you wish since maybe your co-paddler may have a different idea in mind.
Furthermore, friction may arise if you may want to go faster and your co-paddler is of a different fitness level and wants to go slower, thus affecting the kayaking for both individuals.
Perhaps the most significant setback of tandem kayaks is its bigger size in contrast to a single kayak.
Subsequently, this makes the tandem kayak bulkier and you should always consider if you have been able to store and move it easily.
Therefore, before purchasing one, you should do your investigations on factors like if you have enough space to store your kayak or if your car can carry a bigger-than-average kayak.
It would also be advisable to purchase a kayak cart for moving it around the water and double-check the kayak roof rack loading capacities.
Suitable Accessories for a Tandem Kayak
With the additional space onboard a tandem kayak, there are many accessories that improve the safety and comfort of the kayaker.
Below are some accessories that are ideal for a tandem kayaker.
Paddles
It is an essential kayak accessory and choosing the right kayak paddle mainly depends on the individual's height and the width of the boat.
Recreational boats which are usually for short kayakers and need a paddle of 220cm to 225 cm, touring boats needing paddles of 230 to 235 cm and finally wider boats requiring paddles of 240 cm and above.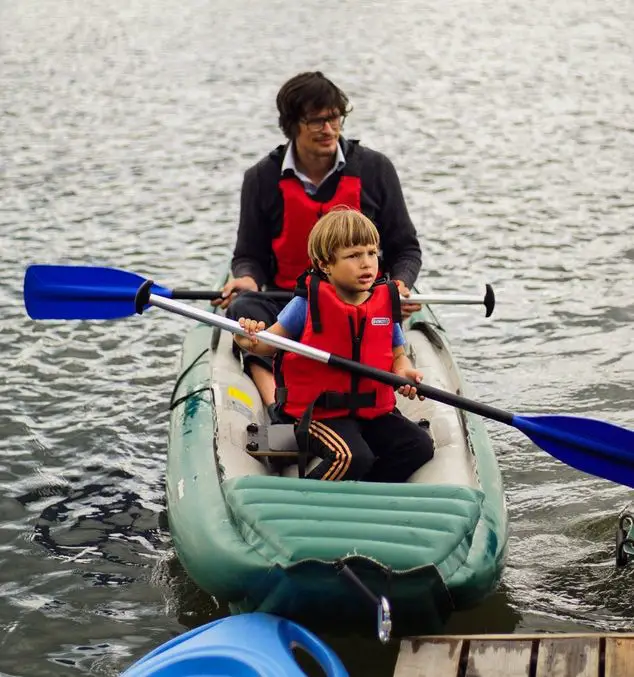 Bracing Devices
The bracing devices present in kayaks have extended benefits that help improve your general experience as you are paddling through the lake or ocean.
Footrests are valuable tools for the bracing of your feet within the boat allowing you to enjoy comfort and safety while paddling for a lengthy period.
Also importantly, they permit the kayakers to power their bodies while turning the boat, with thigh straps providing this advantage especially for sit on top kayaks.
Spray Decks and Skirts
When using a double sit-in kayak, skirts and spray decks prevent water from entering the boat's interior as you paddle.
Getting wet constantly and unable to do anything about it can be fairly frustrating, so spray decks and skirts are very desirable.
Floatation and Bailing Devices
Bailing tools include scoops, sponges, and pumps and kayakers like having these devices with them when operating a kayak especially a double sit-in kayak.
Additionally, inflatable life jackets are essential in case of an emergency, and you find yourself separated from the boat.
Conclusion
Tandem kayaks provide a source of enjoyment on the water with the company of a friend to help with the paddling power.
They come in a range of styles and budget to suit a range of people and are the next step up from a single kayak before opting for an inflatable boat.
All of our recommendations are fairly priced and not over 1,000$ and are durable enough to survive many years to come.
There are quite a lot of cheap tandem kayaks that will simply not last a year and are not a cost-effective solution.