This page contains affiliate links. This means that we may get a small commission for recommending products, if you choose to click on something and buy it. This does not cost you anything, but we wanted to be honest and let you know!
(Last Updated On: April 10, 2022)
Let's Wrap this One Up
You are one of the fortunate ones who can spend time on the water in a boat soaking up the sun!  Whether it is a big boat or one on the small size, it doesn't really matter.  Being out on the water makes life worth living! So how do you take care of your boat? One of the ways is by protecting it with customizable boat wraps.
Since your boat is an important part of your life, you will do the regular maintenance type things. Projects like changing your oil, do regular tune-ups, and clean your boat. Besides, protecting the outside of your boat is essential to making sure that you will be able to stay out on the foamy blue.
A wrap will protect the gel coat on your boat from any harmful UV rays and prohibit further oxidation and deterioration.
Paint Versus Vinyl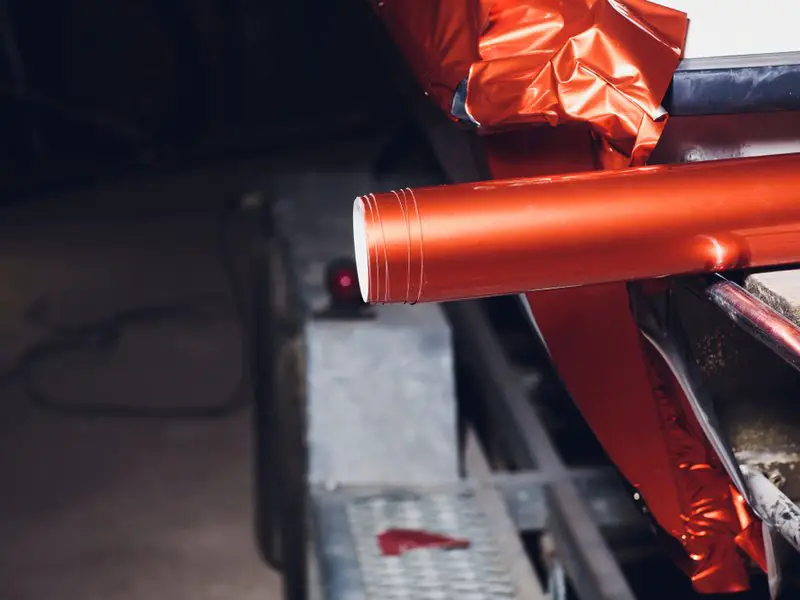 When it comes to choosing between paint and vinyl, isn't good old fashioned paint the best way to go?  As is often the case, the answer depends.  Painting a boat is expensive and means time out of the water.
The paint needs about three days to dry and another (up to) three weeks to cure, depending on the paint.  Whereas Vinyl can be professionally wrapped in a day, maybe two, depending on how complex the design of the boat, and then you are back in the water.
Vinyl is less expensive than paint.  We have not listed prices as they vary over time, the type of product used, and the hired company.  A good rule of thumb is that vinyl is about one-third the cost of painting.
Another excellent characteristic of vinyl is that it is easier to repair than a gel coat.  A rip or tear is an easy fix.  You just cut off the damaged area and apply a new patch with a heat gun.
Soap and water are all that is needed to clean vinyl, no special cleaners, which makes vinyl a low maintenance option.
Another thing to consider when choosing between paint and vinyl is that vinyl can be temporary if desired.  Let'say you were going to sell your boat and get a new one.  You can simply peel the vinyl from the boat if a prospective buyer does not like the flamingos emblazoned across the bow.
Vinyls are durable and will last up to five or more years without peeling, ripping, or lift.  If you have it done professionally, it will come with a warranty.
What is the Difference between Vehicle and Boat Wrapping?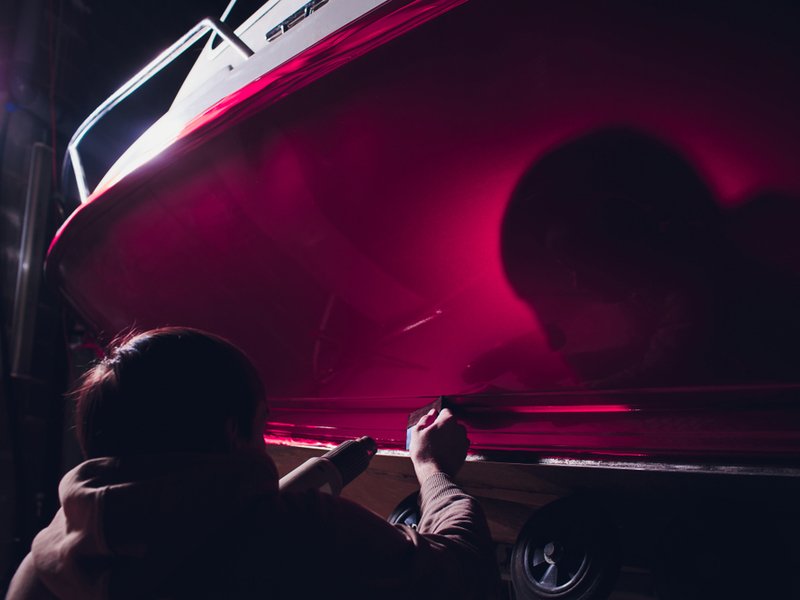 You might be familiar with vinyl wrapping in regard to vehicles; however, there are some key differences between wrapping a car and a boat.  For one, your boat will be subjected to elements that your car or truck will not.
Not only will your boat be exposed to water, but it will also experience that exposure at high speeds. You will need a vinyl that is waterproof and can withstand continued exposure to harsh elements.
A boat has deeper curves than a vehicle, along with exposed hardware, so your boat will require a custom template.
A huge bonus to wrapping your boat, in my opinion, is that you can print vibrant graphics on the vinyl, pretty much anything that you can imagine.  Fortunately, the only limitations in design would arise in the shape of the boat that is being wrapped.
Wrapping Everything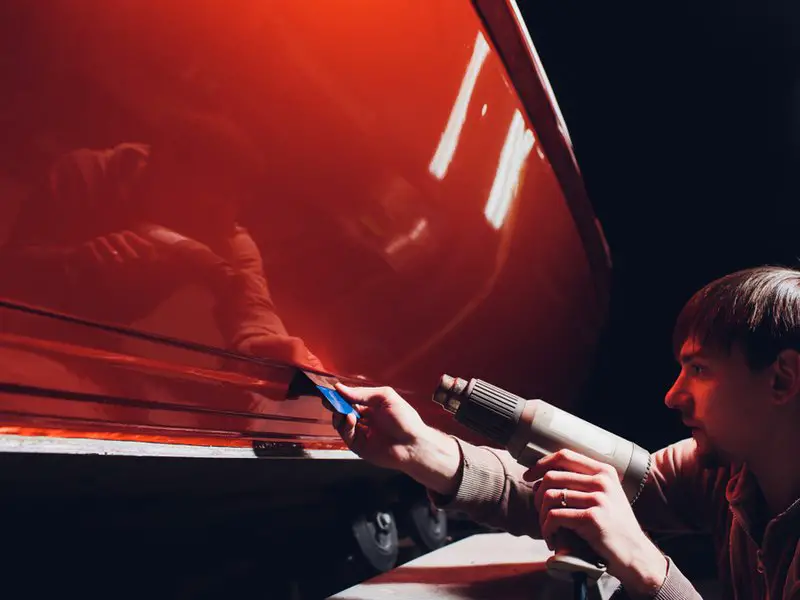 An expert commercial boat company will be able to apply a vinyl wrap to a wide variety of vessels. So here is a list of some of these vessels that a wrap can be applied to.
Aluminum (John) boats
Jet skis / Personal watercraft
Commercial fishing boats
Flats boats
Bass boats
Sailboats
Cigarette racing boats
Large yachts
Barges
EASY TO WRAP YOUR SANDWICH YOURSELF, BUT SHOULD YOU WRAP YOUR BOAT?
It is a big question. Could you wrap your boat yourself?  The answer is yes.  The next question is, should you wrap your boat yourself?  The answer is, maybe.  And maybe not.
If you have some experience with this type of work, you might be able to do it yourself. If you have a small area to wrap or logos that you want on your boat, it would be very feasible.
But the vinyl itself is expensive, especially if you want some custom graphics. If you make a mistake applying it, you have to start again, and you have just forfeited a chunk of money in the vinyl that was damaged.
Boat Wrapping Secrets You Need to Know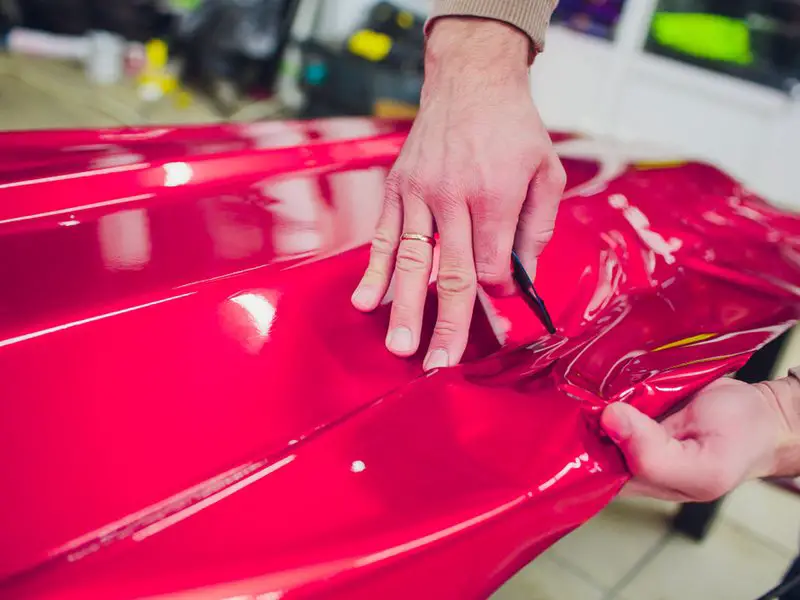 If you are tempted to do the wrapping yourself, then the warranty is a reason to consider letting a professional do the job. Non-professional installations can void the warranty. One of the most durable vinyl wraps on the market is made by 3M, moreover, the installing of 3M's vinyl yourself voids the warranty.
Saving money is the main reason to attempt to wrap your boat yourself, and it is a valid reason. But placing vinyl on a boat is not a straightforward operation.  It takes practice and skill to avoid bubbles and bulges, and you have to make sure that the vinyl is watertight in the bargain. 
The type of boat you have might also determine if you want to tackle the project yourself. The contours and complexity of the boat will affect how difficult the wrapping job will be. Extra corners and crevices can make wrapping tricky.
Here is a video of a self-sufficient boater and his experience wrapping.  Please note that his wrap does not cover the entire boat and that the vinyl is not placed near the waterline.
Demonstration of DIY Boat Wrapping
That being said, if you have your boat done professionally, wrapping can be anywhere from $1,400 to $5,000.  Many installers will give an estimate based on feet, not on square footage. 
The type of boat will also determine the price. Whereas an 18-foot runabout could be around $2,400, an 18-foot fishing boat might start at about $1,800. A 24-foot high-performance speedboat can run around $3,000.
Again, the price will vary depending on the length of the boat, the type of boat, wrap design, and if it is a full or partial wrap. So the price is another consideration when deciding if you will take it into the professionals or DIY.
The good news is that, as boat wrapping has become more popular, the places doing wraps have increased, and wrap prices have decreased.
Here is a video of professionals wrapping a boat. Totally different size boat. This was pretty much an all-day project, but again, way faster than painting.
Demonstration of Professional Boat Wrapping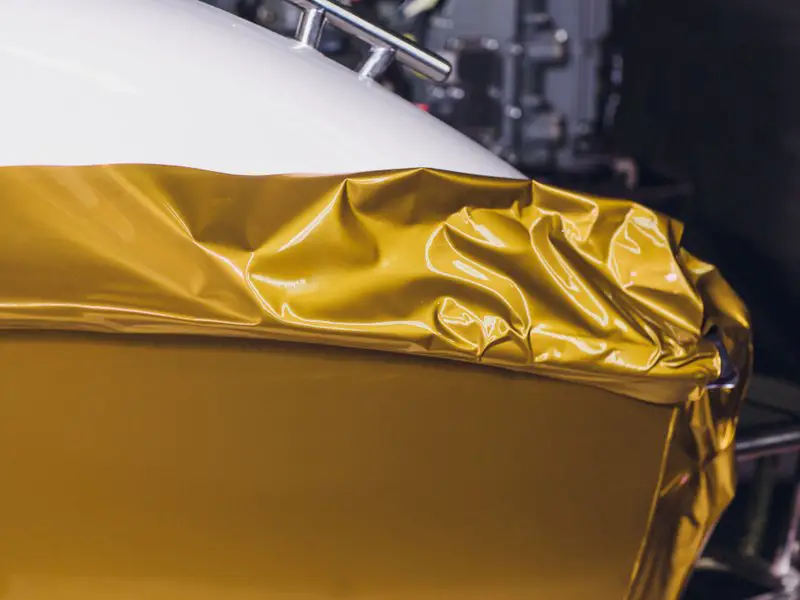 Preparing Your Boat
You have decided you are going to take the plunge into the deep end, and take a swing at wrapping.  What do you do first?  Pray. Then prepare your boat.
It makes perfect sense that you want to start with a clean surface.  You'll also need to remove hardware, handles, and i-hooks.  If there are other decals on the boat, those also need to come off.
There are differing opinions on this, but we were advised that it is a good idea to remove the rub rail.  Make sure to pull out all of the factory silicone that still exists. Otherwise, you will end up tucking your wrap into the rail and doing a re-silicone job. 
The reasoning behind this is that the rub rail is an area that takes a beating from the water, and you will want to ensure it has a tight seal.
As a final step in preparing the boat, wipe it down with alcohol. This is a step done on cars, too, but especially important to be done on a boat because of the velocity of the water that pulls against the vessel.
In order to get the job done, you'll need some tools for the job, like the same kind of squeegees that are used for vehicle wrapping.  A heat gun is a must, as you won't be able to wrap without it. 
Do not wrap below the waterline on your boat and always make sure that the vinyl above the waterline is sealed. Moisture under the edges of the wrap will cause the edges to lift.
Use an Accurate Template
Once again, wrapping a boat is going to be different from wrapping a vehicle when it comes to the template.  Most installers will use a template based on the car's model and make.  This does not work with a boat.
Perhaps the most difficult part of boat wrapping is getting an accurate template, with correct measurements of your boat.  A boat might look flat, but that is deceiving, and unless you are proficient at this when you create a template, the design might not come out as you want when it is printed.
Choose the Right Wrapping Material
Once the template is done, the wrap material needs to be chosen.  There is a lot out there on the market, so look for digitally printable cast vinyl.  "Vinyl" is a broad category, so it is essential to get the right kind, or it might not last through your first outing.
The experts that we talked to told us that two wraps are used by most professionals. Equally praised 3M's Wrap Film Series 1080 and Avery Dennison's Supreme Wrapping Film SW900.
Looking at 3M's website will give you a look at over 270 variations of series 1080 in various colors and finishes, including metallic.  Which makes this wrap is one of the most popular for marine use.
Avery Dennison makes SW900 in more than 100 colors and effects, and also have metallic effect wraps.
With most wraps, there is a grey adhesive that has a layer of microscopic spheres (I love science!) that allows the film to be both positioned and repositioned during the application process.  Once pressure is applied to the film, these same glass spheres are pressure activated into the adhesive, giving it an instant bond.
Wrapping It Up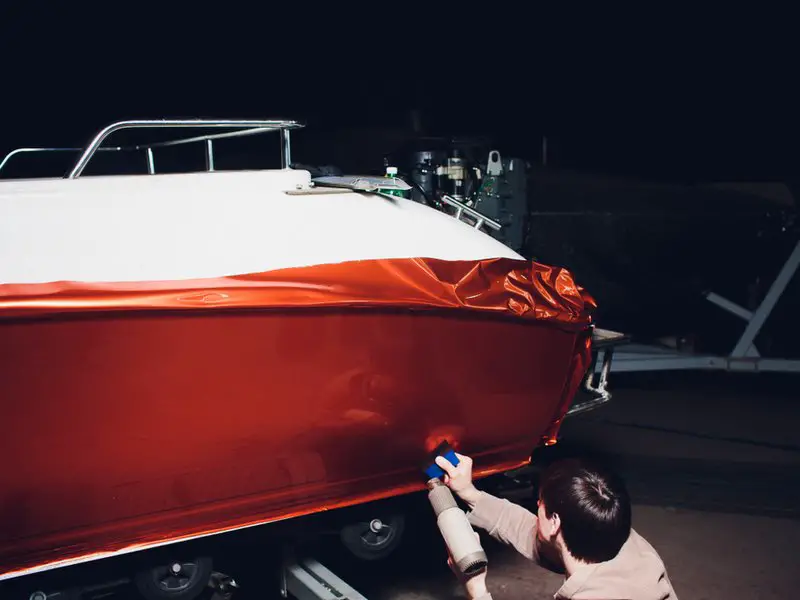 Boating wraps are an easy way to improve the look of your boat while protecting your investment. If you have an aluminum fishing boat that sees the water once in a while or are a tournament professional, boat wraps are just plain fun.
They are also an excellent way to promote your product, team, or dealership. More so, in the marine industry, wraps are the most common method for announcing the sponsorship, team image, and company brand.
Vehicle wraps have become very common in major cities, including them on city buses, shuttle buses, taxi cabs, and trucking companies. It only makes sense Marinas are no exception for their ability to advertise to prospective clients.
Having an excellent looking, custom-designed (by you!) boat that you can be proud of is part of the appeal of being on the water.
We hope that we have given you something to think about as you are turning the unique design you have in mind into a reality.