This page contains affiliate links. This means that we may get a small commission for recommending products, if you choose to click on something and buy it. This does not cost you anything, but we wanted to be honest and let you know!
(Last Updated On: April 10, 2022)
Bass boat wraps are an ideal way to personalize your boat. You can make it stand out among other boats or just give it a fresh look that takes years off the look of your boat.
Boat wraps are thin vinyl material that gets wrapped around the boat. You can have an elaborate, detailed design or a solid color and almost anything in between with a bass boat wrap.
After a few years, your bass boat needs a pick-me-up to look up to date. There is always maintenance with a boat, both to the outside and to the deck. Both of these areas get a lot of wear and tear.
Caring for your bass boat deck with The Best Boat Deck Paint 2021 will protect it from the harsh marine environment. It will also give you years of durable protection and an improved appearance. You also can have the deck of your boat compliment the wrap on the sides of the porch.
While there are many wraps out there, we have listed 10 of the best bass boat wraps out there that will take your boat from blah to spectacular!
#1 A Striking Blue Marlin Skimming The Side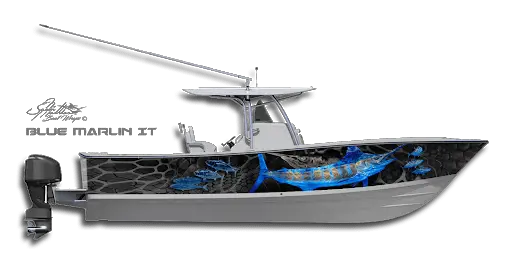 Image Credit: https://stores.jasonmathias.com/boat-wrap-blue-marlin-IT/
This impressive wrap is sure to draw attention to the water with its huge Blue Marlin. It looks as if this giant fish on the side of the boat is leading the way. 
Blue Marlins are one of the most beautiful and distinctive-looking fish in the ocean. They are among the largest, fastest, and most recognizable fish in the world. 
Having one of these spectacular creatures on the side of your bass boat will undoubtedly be attention-grabbing!
#2 Walking The Plank Is Not An Option With This Pirate Wrap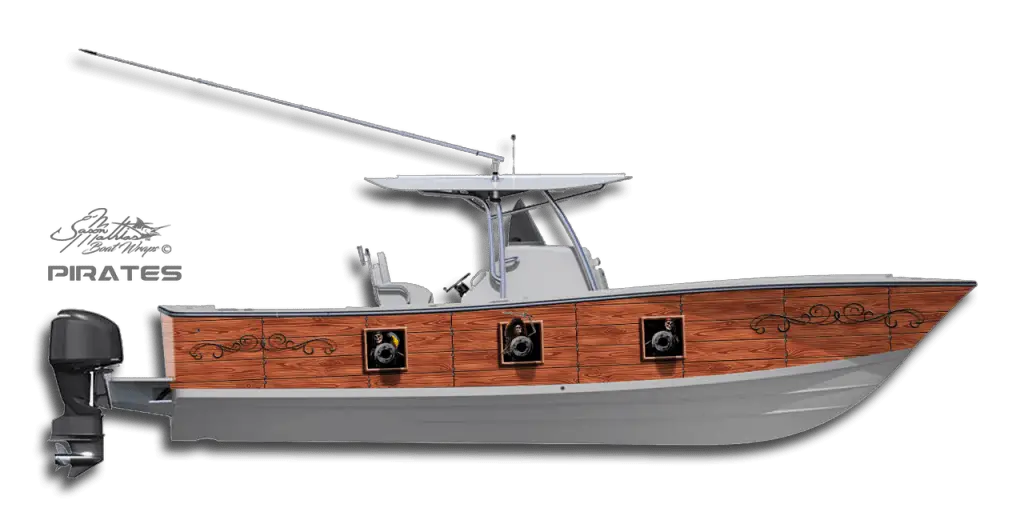 Image Credit:https://stores.jasonmathias.com/boat-wrap-pirates/
Ahoy maties! And watch out for these pirates of the seas! You will get people looking with this tongue-in-cheek version of a pirate's barque. You can give The Black Pearl and Jack Sparrow a run for their money with this realistic wrap. 
Add a plank and a Jolly Roger to this setup, and you will have your pick of the best fishing spots!
#3 Use A Little Stealth With This Camo Wrap

Image Credit: https://zdecals.com/collections/bass-boat-wraps/products/bb-rambo?variant=31904632242231
Ever popular, camo bass boat wraps come in various colors and designs. There are tigerstripe, Multicam, brushstroke, and woodland, like the boat above. Camouflage is Parisian slang that signifies "to mask." 
Militaries have long used camo in several diverse styles and colors to give their soldiers a strategically favorable position. And while camo patterns will not hide your boat from your prey, they will surely make you look good out on the water.
#5 An Armored Tank Wrap Tells The Bass You Mean Business

 Image Credit:https://www.bassaholics.com/bass-boat-wraps/
With this bass boat wrap, there will be no doubt that you are on a serious hunt for that big bass! This wrap looks like a massive armored tank that is ready to go the distance on the water. Your quest for bass is sure to be successful with this stealthy craft.
#6 First At The Finish Line With A Checkered Wrap
Image Credit: https://www.bassaholics.com/bass-boat-wraps/
This checkered flag wrap is sure to have you hitting the finish line in first place! You are in it to win it, and everyone will know that when your bass boat is decked out with this racing-style formula. Your bass boat may not be on a racing track, but this splashy wrap will let the other boaters you are angling make an impression!
#7 Promote Your Business Or Sponsor With A Logo Wrap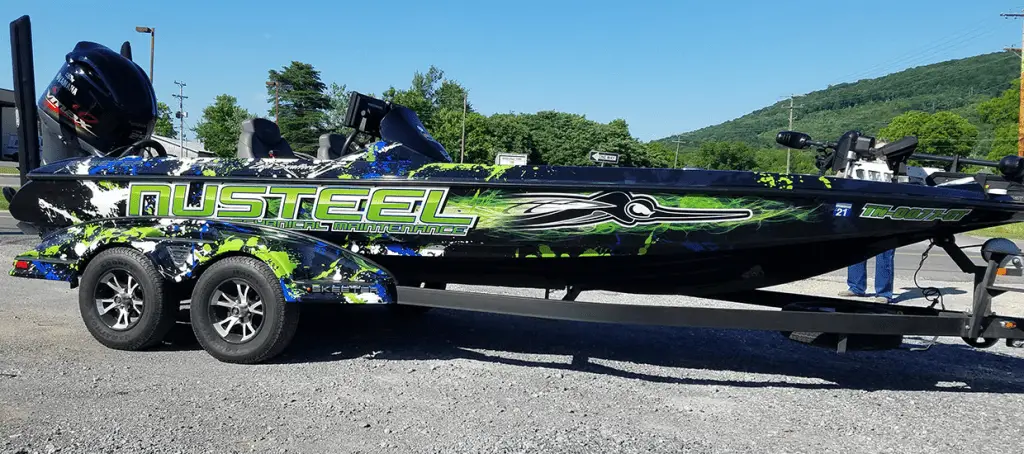 Image Credit: https://accelgraphics.net/portfolio/nusteel-boat-and-trailer-wrap/
Boat wraps are an ideal way to promote your business or sponsor your bass boat. It is the perfect way to get yourself front and center and reach the attention of others. 
When you display your company or logo in this way, it sticks in the viewer's mind. The eye-catching colors of the wrap above have appeal and look good while keeping this example of the Nusteel business at the forefront.
#8 The Red, White, And Blue Is Always True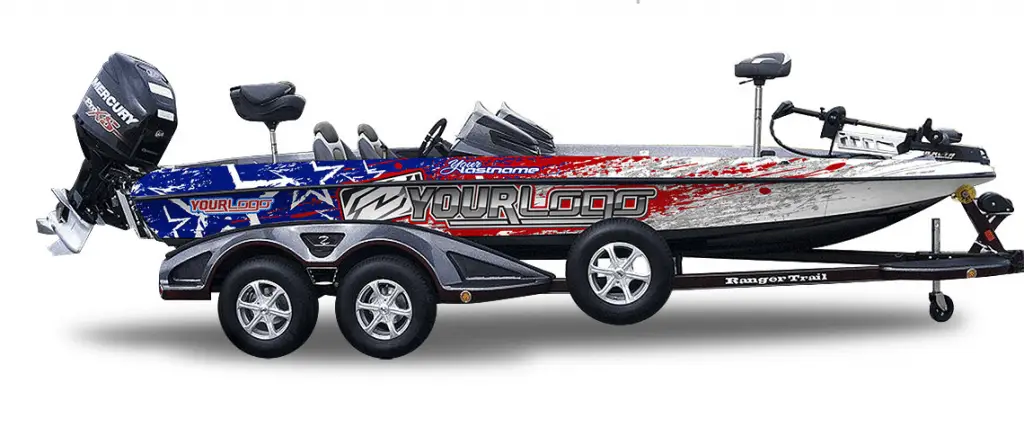 Image Credit: http://wrapworld.com/bass-boat-wraps/patriot-boat-wrap/
Show your patriotic spirit with a red, white, and blue wrap. Your love for your country is evident in this classic wrap. There are several variations of this theme, but they all feature the red, white, and blue synonymous with the United States. This type of design never goes out of style.
 #9 Creatures Of The Deep Skim The Surface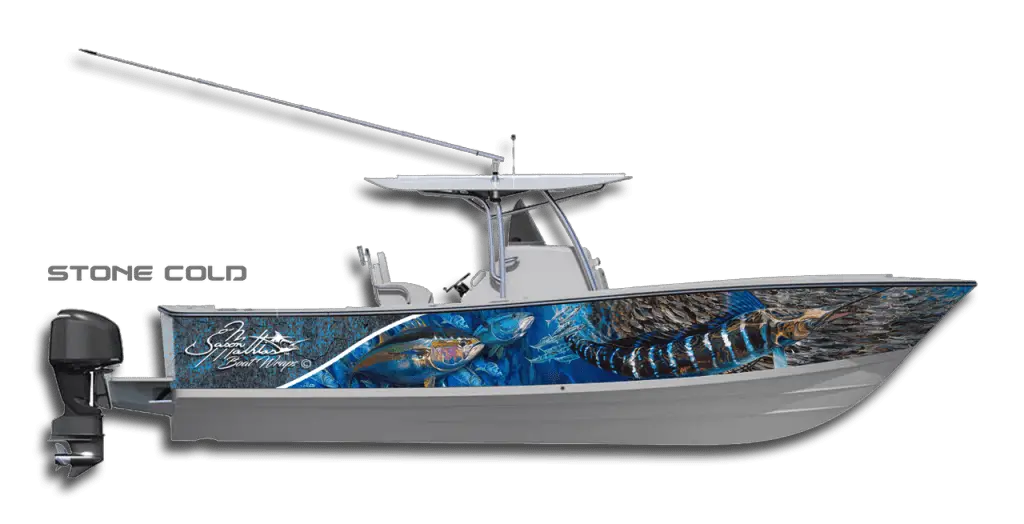 Image Credit:https://stores.jasonmathias.com/boat-wrap-stone-cold/
The wonders of the deep are on display for all to see with this colorful wrap. Bring the unique and bright fish species to the surface with this intriguing wrap.
Seeing these magnificent creatures up close and personal on the side of a boat is inspiring! These water dwellers can spend some time skimming the water's surface for a change!
#10 Customize With Your Favorite Color And Pattern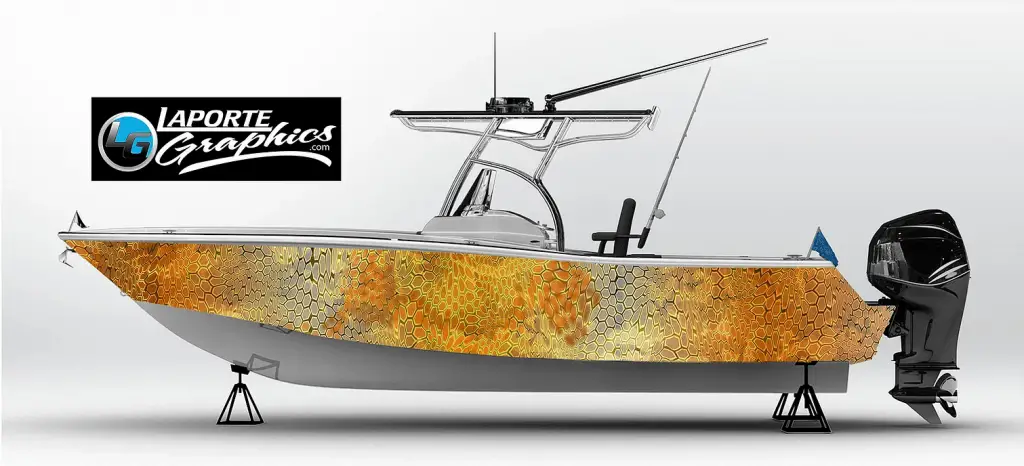 Image Credit: https://www.laportegraphics.com/boatwrapdesigns
This bass boat wrap is just one example of the many colors and patterns that are available. There are boat shops that will customize colors and patterns to your liking. 
Like those at Design Your Own | Custom Boat Graphics, custom wrap shops allow you to upload an image and apply color schemes according to how you want your boat to look. Your boat will be like no other out there on the water when you design your one-of-a-kind wrap.
FAQ
How long does a boat wrap last?
A boat wrap will last about 5 to 7 years before it begins to deteriorate or peel. You can extend the life of the wrap by using a polish that is tolerant of vinyl. Flat colors will last longer than metallic finishes because of the effect of sunlight on the wrap.
Can I install a boat wrap myself?
Yes, you can, but it is not an easy process. If you are adding a stripe or partial wrap, it will be easier to handle. If you want an elaborate wrap, like those pictured in this article, it is best left to the professionals.