This page contains affiliate links. This means that we may get a small commission for recommending products, if you choose to click on something and buy it. This does not cost you anything, but we wanted to be honest and let you know!
(Last Updated On: April 10, 2022)
Have you considered including electric fishing reels in your fishing arsenal? The reason for this inclusion is simple. The electric-assisted fishing reels makes fishing easier and simpler!
We have found that the best electric fishing reel is the Daiwa TANACOM1000 Dendoh Fishing Reel because of its reasonable price and its popularity among anglers. 
We have also put together a buying guide telling you what to look for in an electric-assisted fishing reel. 
Our Picks For The Best PowerAssist Fishing Reels
1. Daiwa TANACOM1000 Dendoh Fishing Reel
Daiwa Tanacom 1000 is a reasonably priced electric reel that has proven to be a popular choice among anglers. 
Both the price and the fact that the reel holds enough line to fish deep lends to it being a favorite. 
Made of black composite, the top of the reel has an LCD readout with a decent size screen. The screen can display in either feet or meters. 
Waterproof keys activate the LCD menu, and you can control it using the power lever. You will appreciate the line counter and depth memory functions on the reel. 
Load the line automatically with the level wind on the reel, which makes for even placement. 
The retrieval rate is 426 feet per second with a momentary winding power of up to 154 pounds. 
The power cord has clips that allow you to connect to your boat's battery or, (purchased separately) you can add a rechargeable battery pack.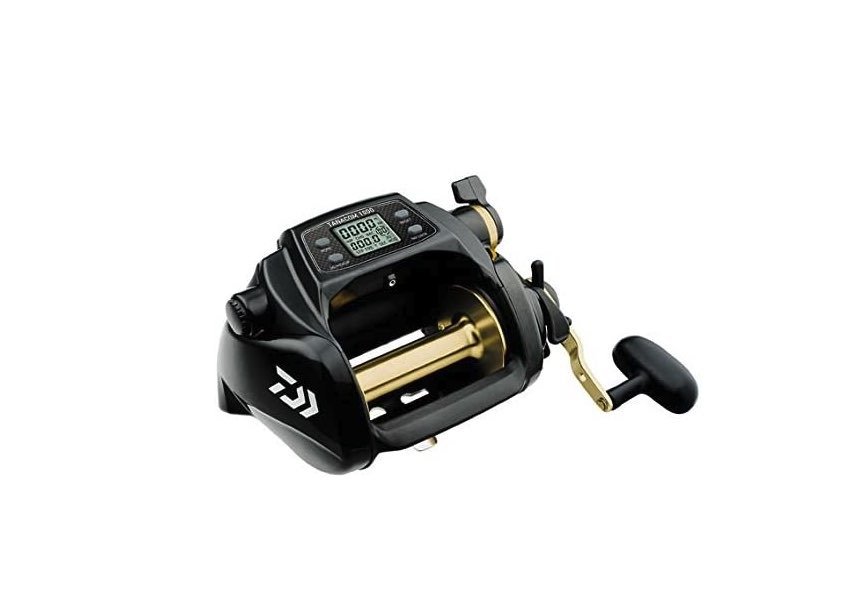 One of the critical components of this electric reel is a jigging feature for any water depth, a large line guide opening, and a sealed drag system.
You will have two hands-free to battle the fish, and the reel will stop automatically upon completion. 
The smart programmable jigging function allows you to work the jig up without touching the handle.
The Tanacom has an autostop function that is a default setting and will stop the reel at 5 meters. 
If you want, you can also use the custom settings to have the reel stopped at any pre-set distance from the tip of the rod. 
When the reel stops the line, bring the line up the rest of the way using the right side mounted reel handle. 
The reel is a smooth spool and allows the use of braided lines without the line slipping on the spool. 
Drag: 48 lbs
Weight: 3.31 lbs
Retrieves 16.5 in/turn
Line capacity: Mono 500yd/40lb  Braid 880yd/80lb
2. Banax Kaigen 1000 Electric Reel 
The Banax Kaigen comes with a braided line capacity of 800 meters per 100 pounds. 
Made from a diecast aluminum frame, this electric reel has a double anodized aluminum spool, six carbon drag washers, and a soft EVA handle knob. 
The Kaigen has a signal system that is a great feature. When it reaches its full length, it beeps before it rolls up. 
The adjustable LCD will show depth and has a memory backup. The Banax Kaigen can be used as an electric, manual, or both.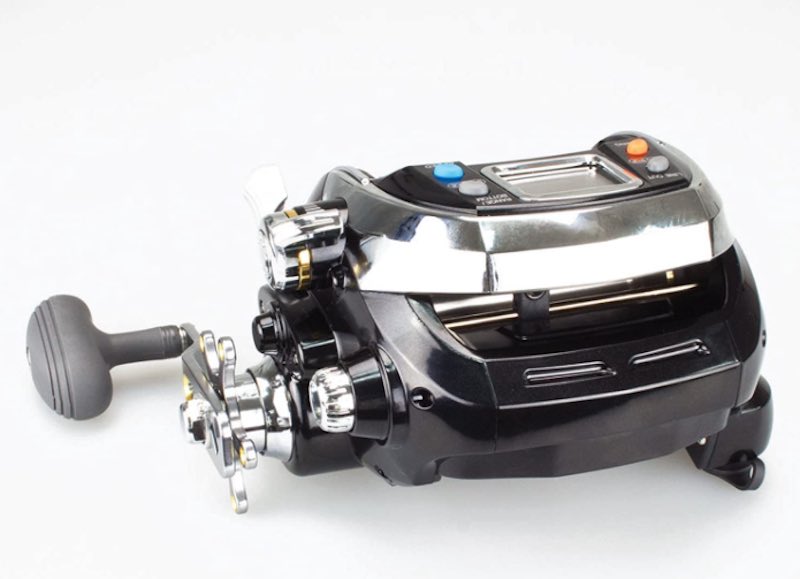 If you use the speed adjustable accelerator lever, you will be using it as an electric reel. Using the right mounted hand crank, it will be manual.
You can also use the accelerator lever and the hand crank at the same time. The reel comes with a nine-foot power cord and alligator clips for use with your boat battery. 
You can also purchase a battery separately for the reel. If your unit becomes unplugged, there is a memory backup in the unit. 
Drag: 40 lbs
Weight: 5.6 lbs.
Retrieves 525ft/min
Line capacity: Mono 40/490, braid 875/80
3. Shimano Reel Electric Reel 18 Beastmaster 
The Shimano reel uses a brushless DC motor. It is a GigaMax motor that offers superior winding strength. 
A high level of torque creates fast reel speeds without compromising durability. 
The design of the Heat Free System II prolongs the reel's life. The system works by dissipating motor heat quickly so that internal components are protected. 
The LCD is done in a fine dot matrix to make it easier to see when you are in full sunlight.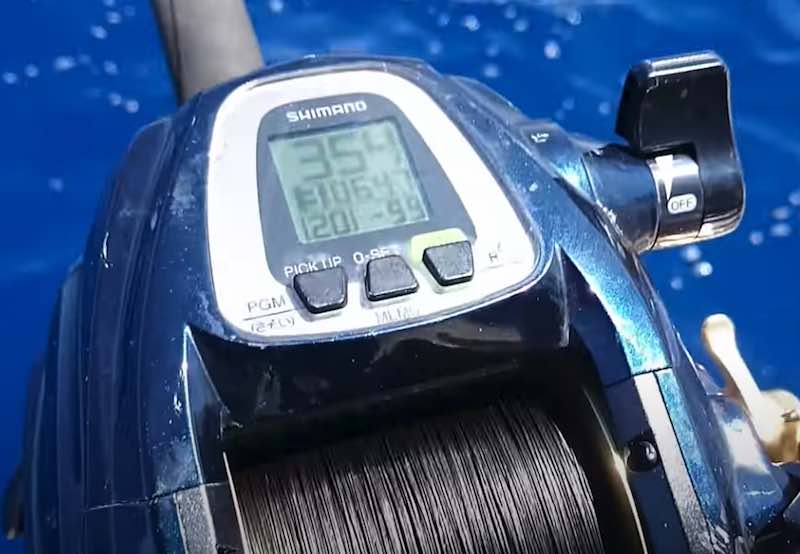 The metal reel body eliminates body flexing to channel all the power into cranking, which provides higher efficiency. 
On the electric reel, a thermal adjust drag is a control function on the reel that suppresses abnormal heat generation and buildup by reducing motor speed automatically if drag begins to slip. 
It provides a stable and consistent drag performance.
Drag: 35 lbs
Weight: 1.7 lbs
Retrieves 442ft/min
Line capacity: 50/1870, 65/1650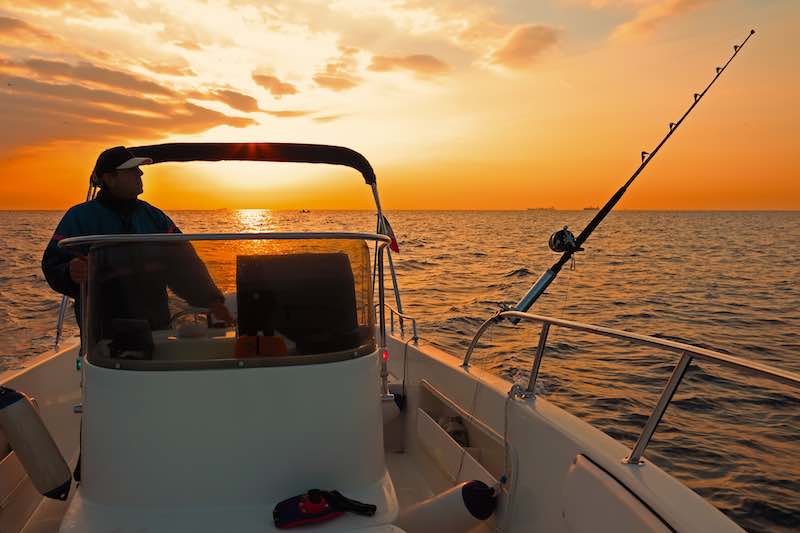 ELECTRIC FISHING REEL BUYING GUIDE
A reel with a brushless motor is a good choice, as you will not lose any torque or drag. It is also 
You will want a function that measures the length of the line that has left the reel. 
This is handy as it will help with accuracy as you will know if you have the right length of line released behind your boat.
Check out the line capacity on a reel. If you are planning on doing deep drop fishing, you will need to be able to have enough lines to get your bait to the bottom.
Make sure that there is sufficient drag. The drag on a reel ensures that the line does not snap or break.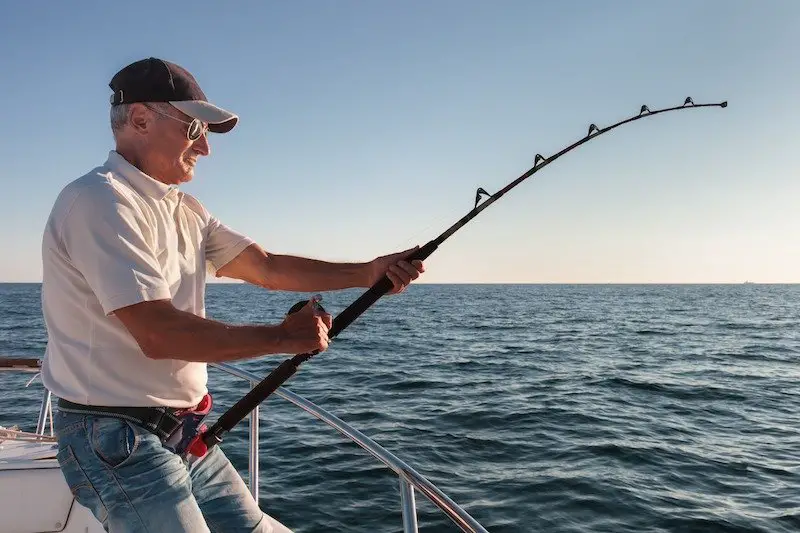 How An Electric Fishing Reel Works
It may seem obvious, but the main difference between a conventional reel and an electric reel is the motor. 
The motor turns the spool on a reel and brings the fishing line in. All the angler needs to do is to hold down a button or flip a switch. 
Electric reels come in all sizes. Small electric reels are convenient for an angler who needs help due to a physical condition. 
There are also larger electric reels used on commercial fishing boats.
The Main Types of Fishing Reels
Based on the type of fish a person is going for, there are many different reels for the job. There are three main types of reels, a spin cast, a spinning reel, and a baitcasting reel.
Infographic By FishingBooker
There are also:
Freshwater spinning reels
Electic reels
Salmon fishing reels
Fly fishing reels
Saltwater spinning reels
Surf fishing reels
Ultralight spinning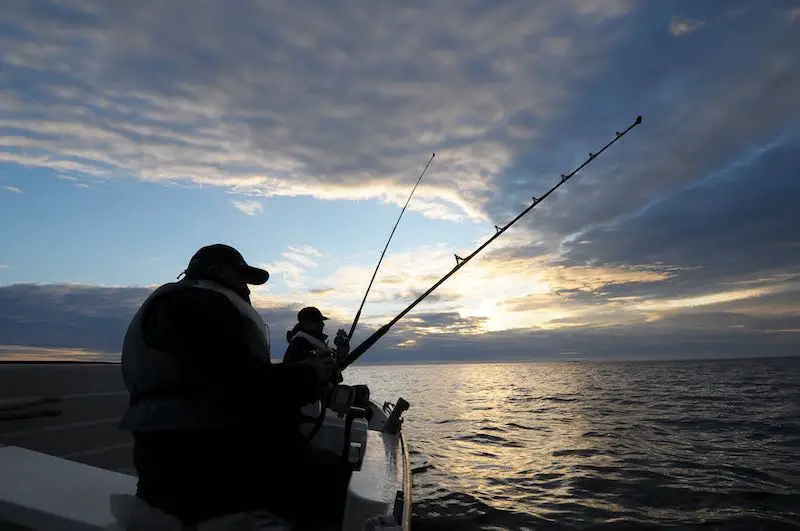 Is An Electric Fishing Reel For? 
An electric reel can be of benefit to any angler, young or old, someone new to the sport or to a seasoned veteran. 
An electric reel can be a great benefit for someone who might have arthritis in their hands. 
It takes a lot of strength in your arms to reel in a fighting fish, along with weights from the bottom of the water. 
An electric reel helps make that less of a task. You can be out on the water all day and not tire your arms. 
It is also great for kids to use because it is so easy to use. 
It is for the commercial anglers who earn their living by fishing. 
An electric fishing reel is for anyone who loves to fish!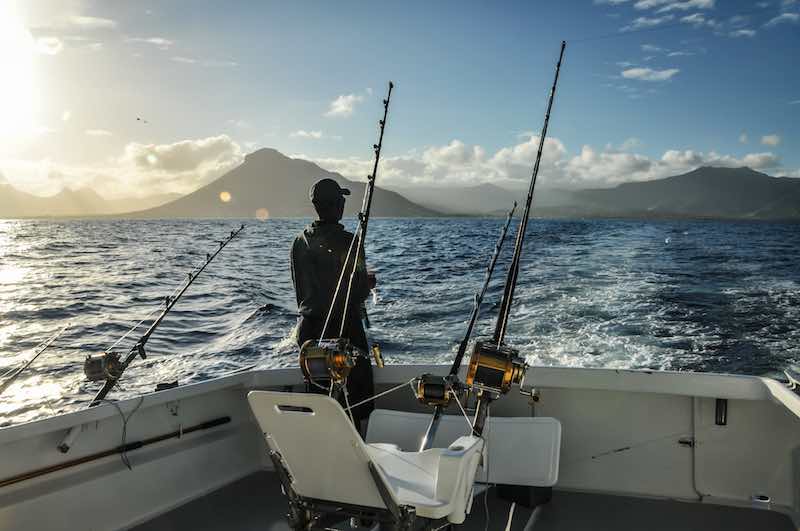 What Fishing Rods To Use With An Electric Fishing Reel 
Rods have a power rating that should match the type of fish you want to catch. 
Small fish can be caught on ultralight rods while fishing in lakes, rivers, or bays. Medium-light rods are for bass and walleye, and various saltwater fish. 
Medium-heavy or heavy rods are for the larger fish. Those would be pike, muskies, tarpon, striped bass, or big catfish. 
It is best to match the rod to the fish when choosing the rod to use with your electric reel.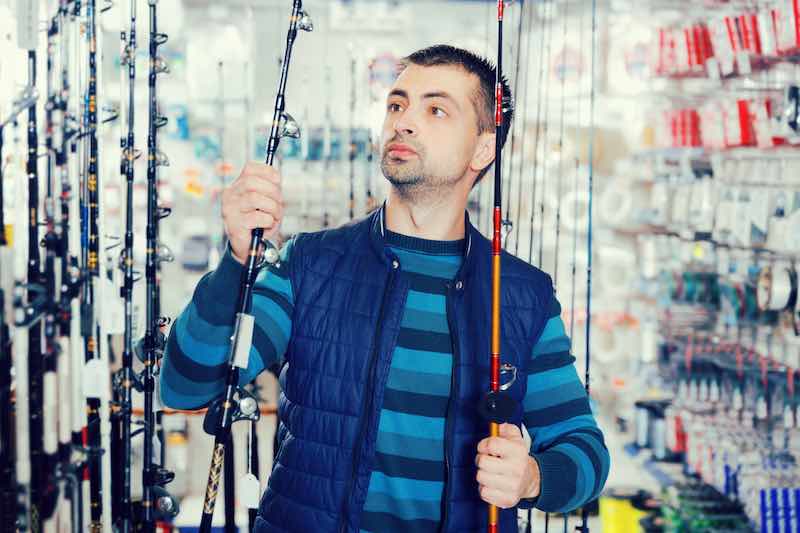 Are The Electric Fishing Reels Worth The Cost?
If you are an angler that goes out once a year, then an electric reel is probably not worth the cost for you. 
If you primarily fish from a pier, a dock, or from shore, an electric reel will not be the right tool for the job. 
If you are an avid angler who is out on the water every chance you get, the electric reel is worth considering.
The design of an electric reel takes the heavy work out of fishing. An electric reel will improve the efficiency of your fishing tackle. 
They are the most useful when you are offshore deep drop fishing. 
Bottom fishing benefits from using an electric reel, especially if you need that assist to reel in or go into battle with a big fish.
In cases like these, an electric reel is worth the cost. It can help you hook the big ones and bring them in.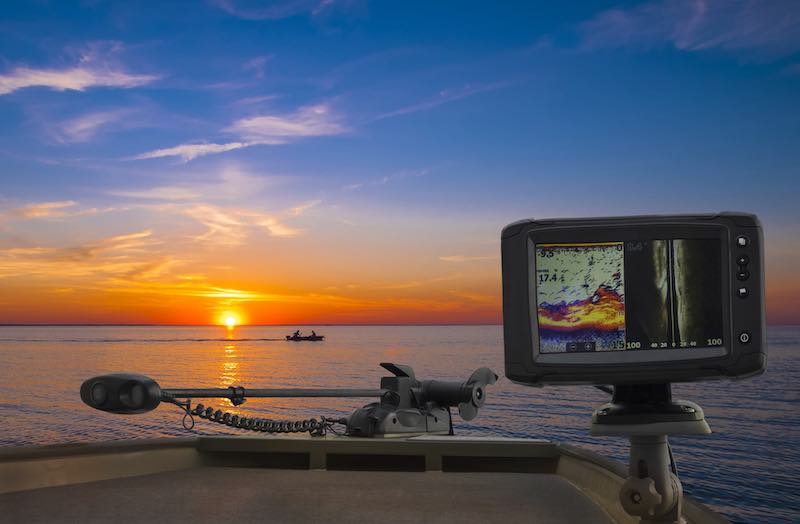 Accessories To Use With An Electric Reel 
Since an electric reel gives you an advantage in bottom fishing, it would not be amiss to include a fish finder with your gear. 
A fish finder is a device that helps you locate fish in the water. The device uses SONAR (sound navigation and ranging) to display the location of fish on a digital screen.
You will be able to see where to place your bait to the best advantage when bottom fishing. 
There are varied opinions on which type of line is best to use when bottom fishing. 
There are both advantages and disadvantages to each type of line, and in actuality, you may need to use a combination of two of these. 
One popular combination is a braided mainline used with a fluoro leader.
Monofilament Line: It is an inexpensive line and is easy to handle. However, most monolines are buoyant, which makes them less desirable for deep drop fishing.
Braided Line: This is the strongest line going, but it is expensive and can be challenging to handle.
Fluorocarbon Line: A good choice for bottom fishing as it is resistant, which makes it great for rocky areas. However, it can be hard to handle and tie knots with it.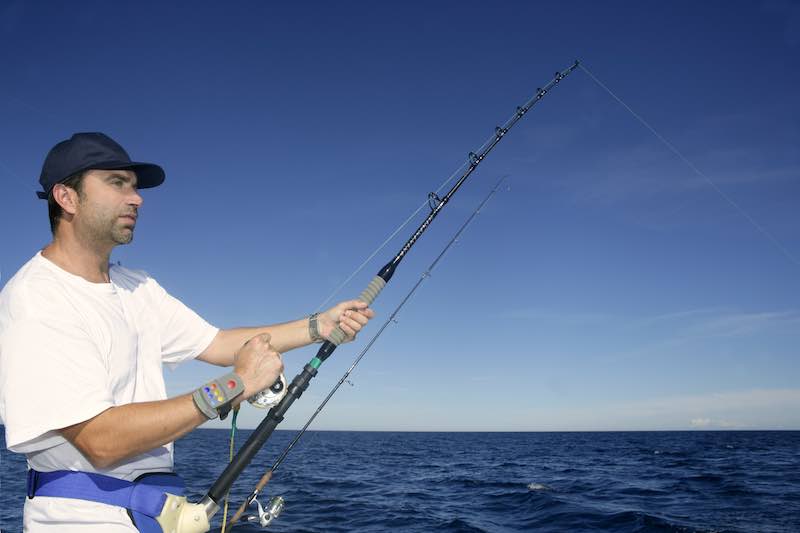 Sinkers
A sinker is a weight that is going to get your line with the bait to the bottom. The typical kinds of sinkers are:
Pyramid sinker
Good for bottom fishing because the sharp tip holds the bottom in the sand.
Egg sinker
Anglers like this sinker because it has a hole in the middle of the sinker that the fishing line goes through. This allows the fish to move off with the bait without feeling any resistance.
Bank Sinker 
Suitable for rocky bottoms, these bowling pin-shaped sinkers don't get easily lodged in the rocks.
Deep Drop Lead weight
Depending on the depth of the water, along with the strength of the current, most anglers will use a weight of between one and eight pounds. 
The weight can be in a stick or ball form. Some anglers choose to make concrete weights, but these tend to have a larger diameter and more significant drag in the water. 
Steel is another alternative and provides for a low drag profile. 
If you are fishing in about 100 feet of water, you will only need an ounce or two of weight. 
Three hundred fifty feet will need one or two pounds of weight. 
If you are doing deep drop fishing, four to six pounds is the typical amount of weight you will need.
Hooks
Circle hooks tend to work best when going after large fish. They lodge firmly and are more likely to stay put during a reeling in process. 
Deep drop fishing rigs
Deep drop rigs allow you to set multiple baits on a single line.
There are variations of rigs for bottom fishing; here are a few of the most popular:
The Carolina rig (sliding sinker) is very effective and consists of a simple barrel swivel connected to a single leader. It has a sinker, bead, and hook at the end.
The chicken rig (spreader rig) is versatile because you can cover more ground with its two hooks. Often used with bank sinkers, this can be an excellent option to use when fishing over rocky bottoms. 
The 3-Way (drop rig) has a 3-way swivel that connects the mainline, a leader, and the shorter sinker line. 
Use this rig when surf fishing to keep your hook floating above the bottom.
The knocker rig is one of the simplest of the rigs. It is a straight line, and therefore it is almost tangle-free. You will also be able to feel the fish bite immediately.
Infographic By FishingBooker
How To Maintain An Electric Reel 
Check the manual that comes with your electric reel to see how the manufacturer advises caring for your reel.
In general, at the end of your day of fishing use a fine freshwater misting spray over the housing of the electric reel. 
Dry the unit off with a towel. You can use a small amount of protectant on the reel's housing if you prefer (like salt-x or armour all), but be sure not to overdo it. 
The electric reel itself will not need to be greased or oiled. 
Some electric reels will need to have a specific grease that is for the electrical terminals, cable ends and the electric connection on the reel itself. 
Please don't use this grease on anything else because it has a fine grit in the grease. That grease would wear a gearset if applied internally to the reel.  
The grit serves a purpose for the battery connectors. As the components are connected together, the grit will remove any dirt, grime, or corrosion. 
It will add to the longevity of the cables.
How To Spool An Electric Reel
Spooling an electric reel is a relatively simple process, but it does take a bit of time. It can be half an hour or more, depending on how much line you are putting on the reel.
This is an expert who walks you through how to spool an electric reel and gives you the whys and wherefores.
In Conclusion
Fish smarter, not harder. With an electric reel, you have speed,power, and you can bring in more than one reel at a time. 
If you hand crank a manual reel from a great depth several 20 or 30 times in a day, you can get worn out really fast. 
Having an electric reel as an assist will make the fishing experience even more enjoyable and allow you to fish at depths that you might not have attempted before.
An electric fishing reel will give you extra power in case you hook a big fish that puts up a formidable fight. 
It will also give you extra speed. When you need to bring your line in fast, an electric reel will retrieve it faster than you would ever be able to reel it in manually. 
Whether you are going after the big fish or just want the extra power when spending the whole day on the water, an electric reel will fit the bill.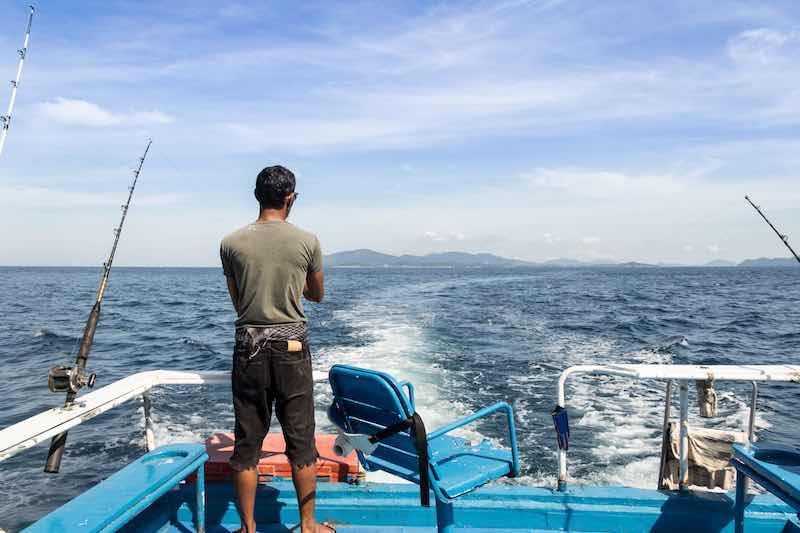 FAQ
Can you use a monofilament line on an electric reel?
An electric reel can get hot and melt a monofilament line. If you use dacron or braided line as a backing material, you will be able to use a mono line.
Do commercial anglers use electric fishing reels?
Some commercial anglers use electric fishing reels, but mainly for bottom fishing. They are more likely to set up skates bought up with hydraulic reels.
Can You Use An Electric Reel In A Fishing Tournament?
It will depend on the tournament. Some charity tournaments allow electric reels.
The International Game and Fish Association (IGFA) prohibits its use in any of the IGFA tournaments.
They also prohibit ratchet handle reels, and reels cranked with both hands at the same time.